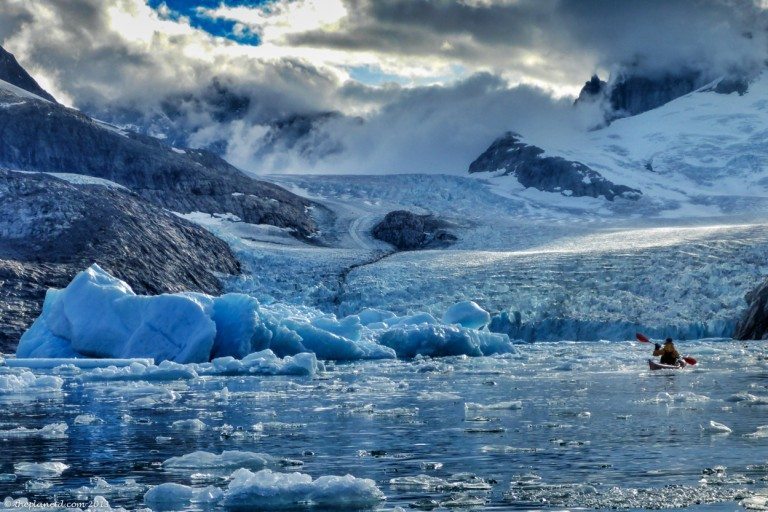 Greenland is one of the final frontiers on the planet! It is the most sparsely populated country in the world and there are no roads connecting any of its towns. As a result, travelers must journey around the country either by ship or by flying.
The PlanetD explored Greenland on the Sea Spirit ship and enjoyed a 14-day adventure that started from the north of the Arctic circle all the way around to Reykjavik, Iceland. This Greenland travel guide will help you plan your next vacation.
Fast Facts
Greenland power voltage is 220 V 50Hz; Plug C & K
Currency is the Danish Krone and is around 5.4 DKK to 1 USD
Foreigner credit cards are valid at banks and ATMs but travelers are advised to bring some cash as these foreign cards may not be accepted at all shops.
Random fact: Greenland is part of the Kingdom of Denmark but is not a member of the European Union.
Budgeting
Accommodation
Greenland is expensive to travel and even basic hostels can be pricey. We visited on an expedition ship and it is easiest to go to Greenland on a tour or cruise. But there are options.
Budget – Hostels start at about $130. You can camp in Greenland, but it is recommended to have experience coming in harsh climates.
Mid Range – Mid range hotels cost $200
High End – High end accommodation cost $300 – $375.
Check out our favorite booking platforms Booking.com, Tripadvisor and Air B&B for the best deals on accommodation in Australia
Food
Food: Greenland has an arctic climate so fresh fruit and vegetables are scared. A diet of fish and meat is the staple food for Greenland.
You will encounter marine mammals like whale and seal. Reindeer, muskox, and lamb are also on the menu.
Transportation
Getting to: There are no direct flights from North America to Greenland. The best way to get to Greenland is from Reykjavik, Iceland.
Flights:
You can check for the best flights to Spain on Skyscanner.
Transportation: Greenland doesn't have any roads between cities and communities. The vest way to get around Greenland is by expedition ship.
Taxis/Uber: Towns are small so you don't need buses, taxis, Uber or car rentals. .
Places to Stay
Packing Tips
Insect Repellent – Along with natural beauty and warm weather, summers in Greenland (specifically July and August) are known for their mosquito swarms. Travels are advised to bring a mosquito net, insect spray or mosquito headnet if planning to hike a mountain, particularly near any glaciers.
Layers – The general rule of thumb is to pack at least four layers: a base layer, long sleeve shirts, a fleece (mid-layer) and a top layer such as a windbreaker (waterproof!). Base layers should be make of wool or synthetic fabrics are these fabrics offer superior moisture-wicking and temperature control protection than cotton.
Hiking Boots – pack a good pair of boots with good grip that are waterproof and insulated for spring/winter travel.
Binoculars – great to have if you plan on going on cruises, and/or hiking, boating or nature tours.
See our packing tips: packing tips
When to Go
April thought August is summer and the warmest time to visit this Arctic climate.
June and July is the time to visit for 24 hour daylight.
November through April is the best time for Northern Lights.
Things to Do
Booking Resources
Whenever we travel to we make sure to start with these companies.
We have tried a lot of different ones over the years and all of these have consistently proven to be the best when it comes to offering great prices.
We have used every one of these personally and continue to do so.
Booking.com: This is our go site to when comparing prices for accommodation. It is usually the has the cheapest prices, not to mention you get free cancellation and you are guaranteed the best price.
Trip Advisor: What we like about Trip Advisor is that we can look at all the reviews and then book our accommodation.
Air BnB: Airbnb is the main search engine we use when we are looking for a home or apartment rental. It is the best way to stay in areas that offer a more local feel.
Skyscanner: This is the first place we check for flights. It consistently comes back with the cheapest and best options. It allows us to compare a lot of airlines to get the best price.
Hostelworld: With one of the largest databases of hostels in the world, Hostelworld is the go-to site when you are looking for budget accommodation.
Rome 2 Rio: If you want to see how to get somewhere by plane, train, bus, ferry or car Rome2Rio lays it all out for you as well as related costs. I love how they show it all to you on a Google Map and it works offline.
Get Your Guide: For all your day trip and city guide needs, we use Get Your Guide. It has the world's largest collection of things to do with more than 30,000 activities in 7500 destinations.
World Nomads Insurance: When traveling you should always have travel insurance. We do.
Related