We all know that Iceland is the land of fire, ice and water. Whenever someone speaks of the country, they always mention its famous thermal baths. Well, Greenland has a thermal bath or two itself.
Whenever we tell people that we just returned from Greenland, they say to us "Did you know Greenland is white and Iceland is Green?" As a matter a fact we did!
Greenland is 80% covered by a polar ice cap. It has the second largest body of ice in the world after Antarctica ice and it creates the most icebergs in the Northern Hemisphere.
Needless to say, there isn't a lot of Green in Greenland. So when we heard that there was a thermal bath at one of our landings, we had to check it out.
Bathing at the Top of the World in Greenland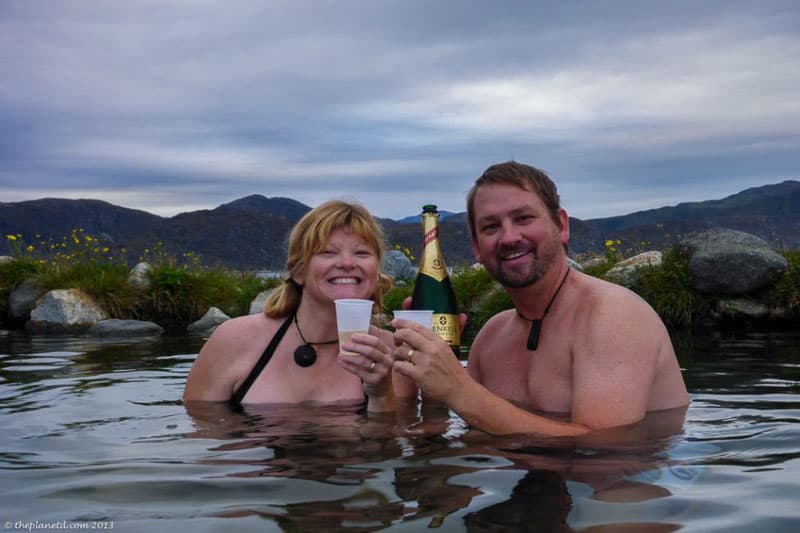 Uunartoq means 'the warming island'.
We had been blessed with sunshine and balmy weather during our expedition around the West Coast of Greenland but that's not to say we weren't thrilled to take a dip in a warm pool.
The thermal pool was first established by the Norse settlers over 1000 years ago.
When the Norse disappeared, the Thule People took up use of it and today, Greenlandic people and tourists like us continue to use it.
It is thought to have healing qualities and was used by the Benedictine nuns dedicated to Olaf the Holy to help heal the sick.
We went to help soothe our aching muscles, but I don't think a whole lot of healing went on once the bubbly was brought out.
It was a treat enough to strip down to our bathing suits in the Arctic Circle and jump in the warm water, but quite another to enjoy champagne while sitting in a hot pool surrounded by glaciers, mountains, water and ice.
Stunning Scenery of Greenland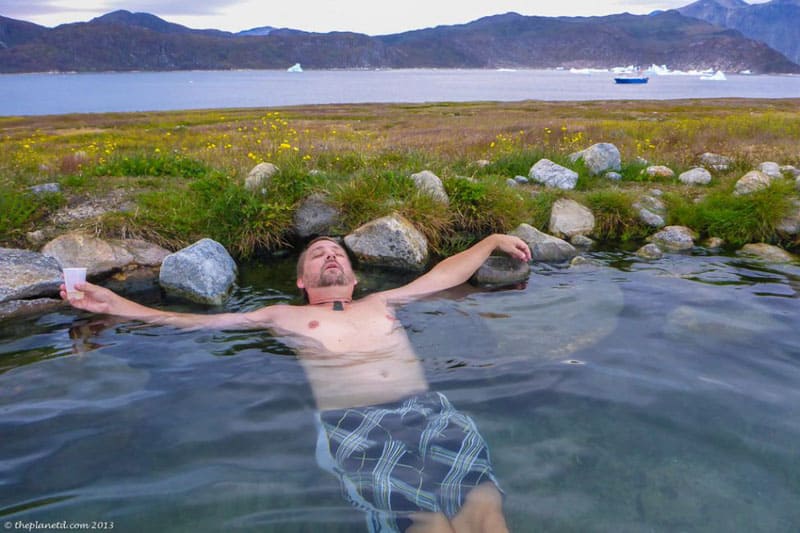 The surrounding scenery was astounding. Greenland surprised us.
We didn't quite know what to expect when travelling to Greenland and worried that we should have visited Greenland before seeing Antarctica.
Antarctica was beautiful and we thought that nothing could compare to it.
As it turned out, Greenland gave it a run for its money. What we loved about Greenland was the diversity of the destination.
The colourful tundra was a sharp contrast from the blue ice.
Enormous glaciers snaked through jagged peaks leading out to the sea. Sometimes the terrain would be rocky while others it would be covered in moss.
Sometimes mountains were black as coal, other times they were covered in ice.
Each turn of the head offered a unique and completely different view. Sitting in the pool, we had a 360-degree view of the entire landscape and we couldn't get enough of it.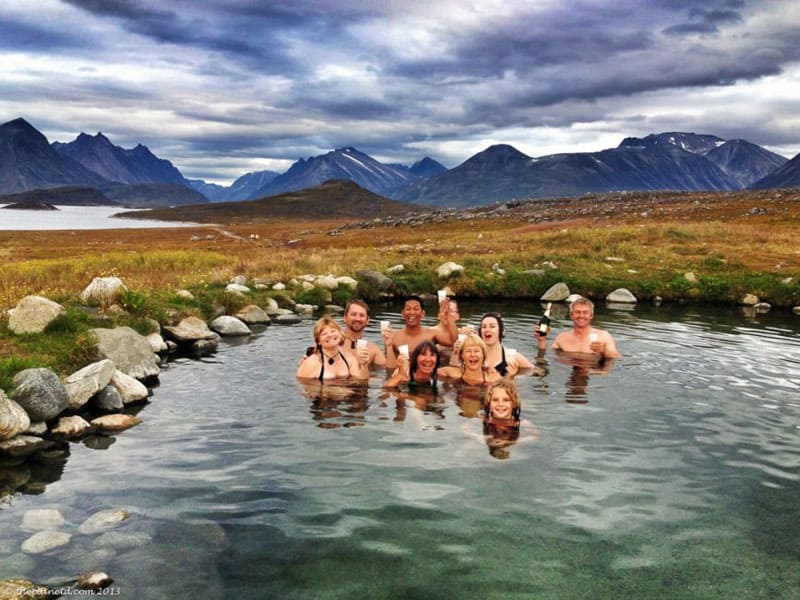 For more articles on our polar adventures check out our Antarctica posts.
Not many people from the ship opted for a dip in the Uunartoq thermal pool, and the staff brought quite a few bottles of bubbly anticipating more people.
They kept filling our plastic cups with champagne informing us that we weren't allowed to leave until it was all gone.
Hey, it was a 20-minute hike out there, would you want to carry a cooler full of the bubbly back?
We dutifully listened to their orders and by the time we had to return to the ship, nobody was feeling pain.
Alas, all good things must come to an end and after our skin was perfectly pruned and every drop of bubbly was gone, it was time to return to the Sea Spirit.
Back to the Ship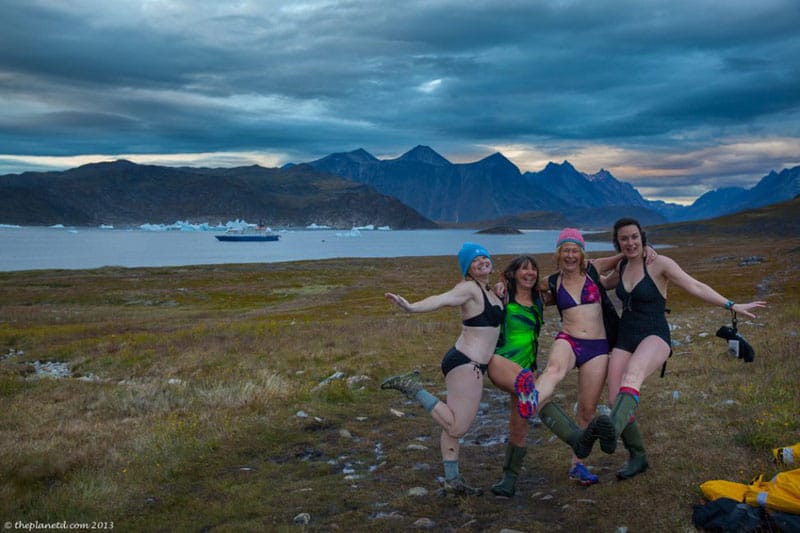 Following the command of fellow passenger Dale from England, all the women went back to the ship in our bathing suits.
Normally we all dress up in Quark parkas and hats, but Dale decided that we should return as we would for a Caribbean Cruise.
It was one thing to hike through the tundra in our swimsuits, it was quite another to get on the zodiac whisking through the freezing water to take us back to the ship.
With parkas in hand, we put on our life vests, sat on the rubber sides and held on for the short, and very cold ride.
Hot Tub on the Ship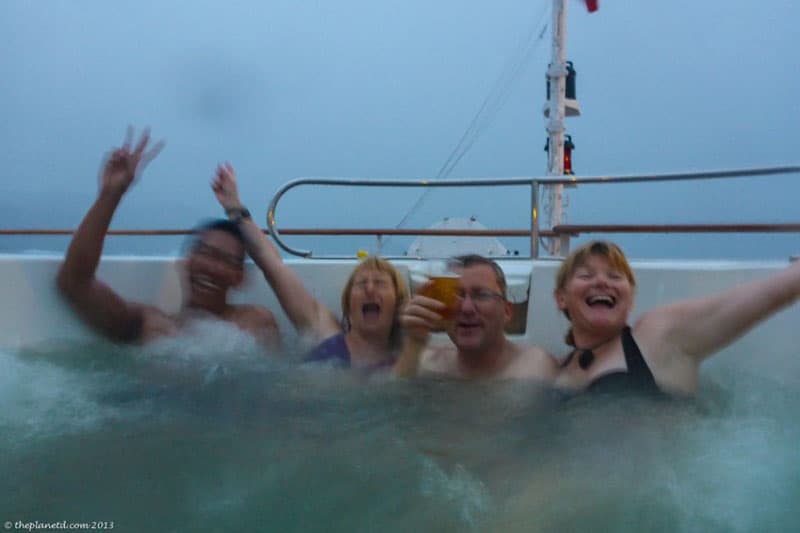 Luckily, the Sea Spirit has a hot tub on the top deck, so instead of retiring to our rooms before dinner, we all hiked upstairs and kept the festivities going.
We may not have been on land, but the scenery was still outstanding as we sat outside enjoying our last look at the Fjord before heading off to our next destination.
Each day is an adventure in Greenland, we can't wait to see what comes next.
Travel through Greenland is difficult. There are no roads leading from one town to another.
With a polar ice cap covering most to the country, the only way to travel is by plane, dogsled, kayak or ship.
An expeditions cruise is your best way to see a lot of Greenland at the most reasonable rate and fastest time.
Read More:
Greenland, Where an Ancient Culture Meets the Modern World
23 Epic Photos of Remarkable Arctic Ice
Kayaking in Greenland – The Greatest Arctic Adventure in Photos
Incredible Greenland – The Final Frontier for Adventure Travel