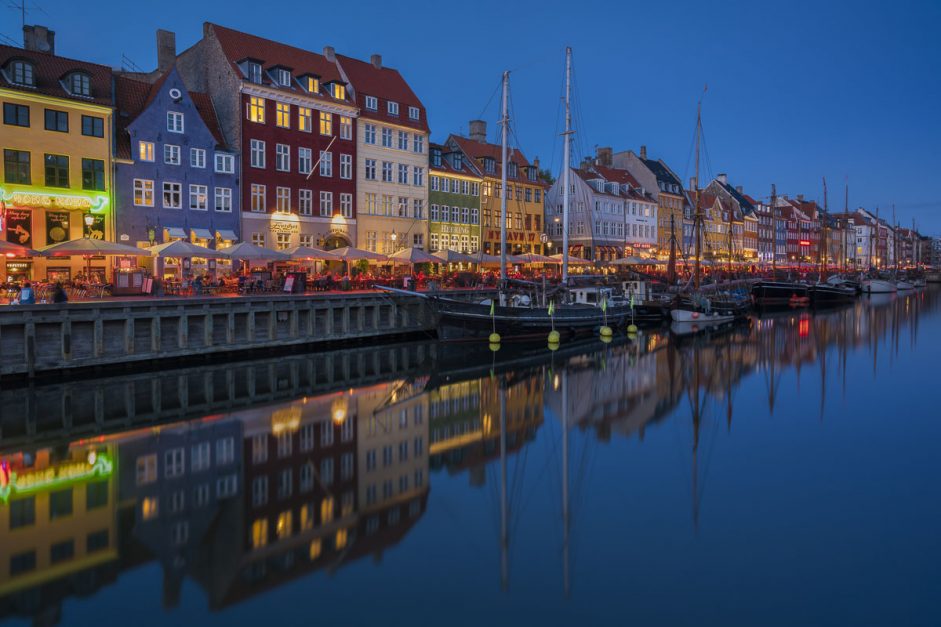 North of Germany and south of Norway and Sweden, Denmark is renowned for many things.
Many might think of the fairy tale The Little Mermaid, which originated here in Denmark by Danish author Hans Christian Andersen.
But Denmark also offers beautiful architecture, historic buildings and castles, friendly locals, progressive values, and lovely scenic views.
There is much to do and see in Denmark.
This Denmark travel guide will help you plan your next vacation.
Fast Facts
Power voltage is 230V at 50 Hz.
Denmark's currency is the Danish Krone (DKK) and 1 Krone is equal to 0.15 USD.
The best way to get around Denmark is by rental car or bus.
You do not need a tourist visa to enter Denmark as long as your stay is under 90 days. You do need a passport that will be valid at least six months after your trip.
The best cellular networks in Denmark to purchase a SIM card from are Lyca Mobile and Lebara. You can purchase a SIM card from these networks at a local grocery store or 7-Eleven. Note that these SIM cards can only be used in Denmark and no other European countries.
Denmark has a sales tax rate of 25%.
Budgeting
Accommodation
Budget: Denmark offers a variety of bed and breakfast or budget hotels for roughly 350-600 Krones per night that come with communal kitchens, free high-speed Wi-Fi, and great central locations.
Mid-Range: For mid-range hotels, expect to pay between 750 to 1,200 Krones per night and enjoy services like private rooms with a microwave and refrigerator, cable TVs, bar and lounge areas, complimentary breakfast, and wonderful city views.
High-End: Upscale hotels will cost about 1,300-2,300 Krones per night. Experience the best of Denmark hospitality with top-of-the-line service, refined suites, fitness rooms and spas, and elegant dining and bars, among other things.
Check out our favorite booking platforms Booking.com, Tripadvisor and Air B&B for the best deals on accommodation
Food
Food: Flæskesteg (pig roast) is one of the main national dishes, while a bowl of Leverpostej(pork liver with dairy, onions, and spices) is another.
If you're vegetarian, try some Danish blue cheese or the popular smørrebrød (an open-style dark brown rye sandwich with your choice of toppings).
You can find café treats and coffee for around 100 Krones. When dining in restaurants, meals are priced at around 150 Krones.
In general, expect to pay around 340 Krones per day for food.
Transportation
Getting to Denmark: While Denmark has 8 total airports, Copenhagen Airport is the main one and is just 5 miles from the city center.
Flights: You can check for the best flights to Copenhagen on Skyscanner.
Buses: are a cheap way to get around Denmark and are offered throughout most of Denmark. Expect to pay around 20-25 Krones for a bus ticket, which is valid for one hour. In major cities like Copenhagen, buses run every ten minutes during peak business hours.
Train: The train system in Denmark is well connected, and most trains do not require booking in advance. Ticket prices depending on how far you're going. For example, take the train from Copenhagen to Elsinore for 84 Krones, or just through the city of Copenhagen for 24 Krones.
Taxis: Denmark has one of the highest taxi fares in the world. If you want to book from the airport, we suggest transfers with Viator.
Rent a car: Renting a car is an alternative way to get around Denmark. You can rent a car if you are at least 21 years old and have had your driver's license for at least 1 year. Prices start at around 460 Krones per day.
You can also compare car rental prices here
Places to Stay
Scandic Copenhagen: See something different in this colorful and stylish hotel in Copenhagen. Centrally located, nearby landmarks include the Tivoli Gardens theme park, the Little Mermaid statue, and the popular Strøget shopping area. The hotel comes with free breakfast, a gym, and an upscale bar.
Helnan Marselis Hotel: Located right behind a beach that overlooks Aarhus Bay is this relaxed four-star hotel. Enjoy numerous amenities such as free breakfast, yoga classes, an indoor pool, a sauna and fitness facilities, and a restaurant. If you feel like exploring the city, the Aarhus Central Station is under 2 miles away, as well as local shops and cafes.
Hotel Knudsens Gaard: A relaxed four-star hotel in Odense. Just a few minutes' drive from the Odense Zoo, H.C. Anderson's House, and the Funen Village, this is a great location to stay at. While you are there, enjoy free breakfast and Wi-Fi, as well as the hotel's own restaurant.
Packing Tips
Power Adapter: Due to the higher power voltage, a power adapter will ensure all of your electronics can be charged appropriately.
Layers: As the weather can change on a dime, bring multiple layers of clothing so that you can be prepared.
Waterproof coat: Denmark is known to rain throughout the year, so a solid waterproof coat will help keep you dry.
See our packing tips: Our Ultimate Packing list and How to Pack for Europe
When to Go
The best time to go to Denmark is the summer months of June through August.
In this period, the weather is warm (up to 63 degrees Fahrenheit), and you can go do many outdoor activities and join in festivals, including Denmark's Independence Day (June 5th).
However, this period is also the busiest tourist season. If you want to beat some of the crowds and don't mind a slight dip in temperature (roughly 50 degrees Fahrenheit), going in April or May is a good option.
Things to Do
Culture
Tivoli Gardens: Opened in 1843 and still running, this is the second-oldest amusement park in the world and a very popular attraction for tourists and locals. Included in this unique theme park is a Chinese theater shaped like a peacock, symphony orchestra, and plenty of rides. While it is known to be a more peaceful experience than other theme parks, it also has rides like the Dæmonen (The Demon), a rollercoaster where there is no floor and the rider's legs hang out beneath them.
What not to Miss
Nyhavn: Included in many "must-see" lists of Denmark is this 17th-Century waterfront. With colorful buildings and deep history, as well as numerous bars and restaurants, spend a few hours learning more about the history of Copenhagen. Take a city tour that includes Nyhavn or explore on your own.
The Little Mermaid: No trip to Denmark would be complete without seeing one of the country's most famous characters. One of Copenhagen's most popular attractions, the statue has been around for over 100 years. Don't miss your chance to visit the bronze statue of this iconic character from the Hans Christian Andersen fairy tale up close.
Tour Company Suggestions
We toured Scandinavia with GoAhead Tours and saw the best of the area. They are an excellent tour company for mature travelers over 35 years.
Get Your Guide – We use Get Your Guide to book city tours in Europe and it is excellent offering free cancelation with 24 hours of the tour plus last-minute bookings.
Booking Resources
Whenever we travel to we make sure to start with these companies.
We have tried a lot of different ones over the years and all of these have consistently proven to be the best when it comes to offering great prices.
We have used every one of these personally and continue to do so.
Booking.com: This is our go site to when comparing prices for accommodation. It is usually the has the cheapest prices, not to mention you get free cancellation and you are guaranteed the best price.
Trip Advisor: What we like about Trip Advisor is that we can look at all the reviews and then book our accommodation.
Air BnB: Airbnb is the main search engine we use when we are looking for a home or apartment rental. It is the best way to stay in areas that offer a more local feel.
Skyscanner: This is the first place we check for flights. It consistently comes back with the cheapest and best options. It allows us to compare a lot of airlines to get the best price.
Hostelworld: With one of the largest databases of hostels in the world, Hostelworld is the go-to site when you are looking for budget accommodation.
Rome 2 Rio: If you want to see how to get somewhere by plane, train, bus, ferry or car Rome2Rio lays it all out for you as well as related costs. I love how they show it all to you on a Google Map and it works offline.
Get Your Guide: For all your day trip and city guide needs, we use Get Your Guide. It has the world's largest collection of things to do with more than 30,000 activities in 7500 destinations.
World Nomads Insurance: When traveling you should always have travel insurance. We do.
Related