When a person has a bad experience doing something normally they will say to themselves."Never Again."
When Dave and I have a bad experience, we say to ourselves…"We need to find way to give this another shot."
Another Camel Safari in Rajasthan, Two Times a Charm
Our safari didn't go quite as planned in Jaisalmer, Rajasthan.  We had a sly guide and a disappointing experience that you can read all about in our post Desert Safari Adventure, Not So Mystical in Rajasthan.
When we learned that we could go on a camel safari in Bikaner, a town 300 km north of Jaisalmer we just had to give it another try. We made the mistake of not going with our instincts in Jaisalmer, and booked with a company that we had never heard of. This time in Bikaner, we went straight to the guide book recommended expert on Camel Safaris.
The Camelman
The Camel man is an eccentric man that drives around in a Range Rover wearing a wide brimmed hat and impeccable suits. Vijay is his name and he has been running camel safari's since 1983.
We booked our one day one night safari to the desert and we were told that we were in luck. A group of 20 doctors would be meeting us there for dinner. We would get better food and entertainment and have some company at the same time. It sounded like a good idea to us.
The Safari
We had a rough couple of days before Bikaner, so our expectations were quite low. We weren't too disappointed when we saw that even at the Camel Man the safari wasn't going to be very good.
I guess camel safari's in India just are not very fulfilling even for the average adventure traveler. We were jeeped out about 10 km where we met our two camels, 3 guides and camel cart.  Two men walked in front of our camels leading them along the path as one man drove the cart.
Since we had a cart carrying supplies, we were stuck to the well trodden trail and we never left it. Soon our two guides hopped on the cart and tethered our camels to it.  We were now on a pony ride type excursion following the cart in a slow and boring fashion.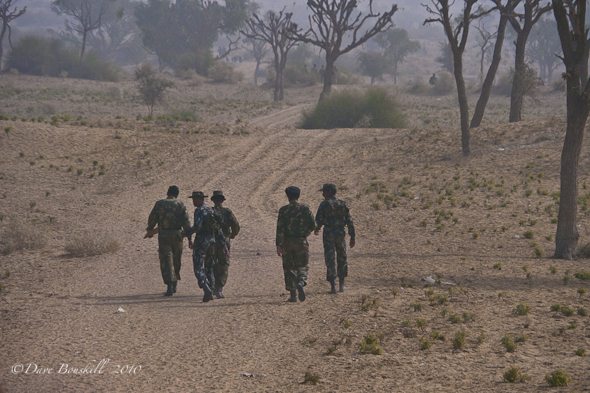 Luckily a troop from the Indian Army was practicing their navigation with their GPS.  We had them to talk to for awhile and it was cool watching them run by, stop for a chat and then run off again.   We kept catching up to them so it passed the time a bit.
The desert isn't nearly as nice in Bikaner as it is in Jaisalmer and as the day went on, we actually started to think that our Jaisalmer Safari might not have been so bad. We had only rode for about an hour and a half when we stopped for lunch. Our guides brought a precooked meal with them and we ate on a tarp and table cloth.
Different Experience
The camel man safari is far more comfortable than our other safari, but it is also far less interesting. We sat for 3 hours at lunch. We had wished that we had taken our travel scrabble or a deck of cards with us.
Our last safari was so busy and exhausting that we didn't need any luxury items with us to entertain.  This safari however was so mellow that we wished that we brought everything along.
After lunch we rode for about an hour and made it to camp quite early. Unlike the safari in Jaisalmer, we had tents, tables chairs and even a dining area.  The Camel Man has a permanent camp that all safaris go to for the night and it certainly isn't rustic.
We had a long time to go until sundown and since we were waiting for the doctors, they didn't start a fire. The entire staff was preparing for the VIP's that were about to arrive, and we seemed to be forgotten.
We hiked up a dune for some privacy. It was a hazy day and the sunset was nonexistent, so we pulled our IPhone and played games of Tap Tap Revenge. It is the iPhone version of guitar hero. Yep, we were bored.
The Doctors Arrival
Things got better once the sun went down, the doctors came and the food started flowing. Everyone spoke excellent English and we had great conversations.
Waiters came around to serve us like we were at a dinner party as we huddled around the warm fire. The musicians began and it was awesome to watch with people who actually knew what was going on.
They told us that these men were descendants of the courtesans that used to sing for the Kings adoration.  They are self taught and it is an inherited tradition.
Desert Movie
Just as we were starting to have enough of the entertainment, the Doctors pulled out a movie projector. The generator fired up and bright lights came on in the middle of the desert.  We thought that we might be watching some sort of slide show, but instead, they put on The Three Idiots.
India's number one movie at the moment. We had wanted to see this movie while we were in Mumbai and here we were watching it in the middle of the desert of Rajasthan. It was a surreal moment.
Bollywood movies have a strange mix of English and Hindi, so we had an easy time following the story, especially with explanations coming in from all directions from the doctors.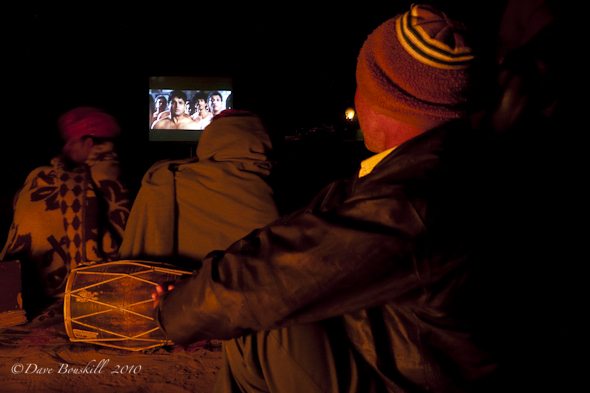 One Cold Night
The party lasted well into the night and the temperature dropped dramatically.  Once everyone left, it was just Dave and I alone in the camp with our guides and camels.
We settled into our tents and wrapped ourselves in 4 thick blankets to protect us from the cold. Thank God for the tents, it would have been impossible to sleep outside here.  The desert is much colder than in Jaisalmer.
While the Camel Safari was lacking and we can now say that we will never do one again, we certainly enjoyed our unique experience hanging out with the orthopedic surgeons of Rajasthan having our first and possibly only movie night in the desert.
Notes: Make sure to ask for all prices up front.  We thought that Vijay was doing us a favor by having the doctors join us.  We ended up paying for the hospitality.
While he made it out that we would be getting extra food and entertainment because of the doctors, he ended up charging us for the luxury tour. It cost us 1600 Rs. each for 1 day 1 night safari. – In Jasailmer we paid 800Rs per day
We should have asked, but normally if someone says that "you are lucky tonight, a group of doctors booked a dinner in the desert, so you can just join them and get extra food and entertainment." We tend to think that he is giving us some extra stuff for free since the doctors were going to be there anyway and we didn't have another choice on where we would camp.
As one person put it at the guesthouse," Vijay has a sneaky way of making you think he is giving you hospitality, but in the end, it is just extra charges with a smile."
The morning ended quickly with a quick breakfast and a short ride back to town with us sitting on the camel cart not even on the camels.
If we hadn't already spent 3 days in the desert, we would have been very disappointed.
Read More
Car Hire in Rajasthan, What Were We Thinking?
Dave and Deb's Surreal Moments Deserts Around the World
Beggars in India – the Art of Begging and Guilt of Travel
You Might Also Enjoy