Adventure travel is taking over the world and increasingly people are adding an element of excitement to their travels. When people visit a destination, they want experiences. The profile of a traveler is changing and the attitude of a traveler is changing with it. Gone are the days when polar expeditions or mountain summits were only for the elite or ultra rich.
Adventure Travel is for everyone
We believe it and while some people feel that climbing to the top of Mount Kilimanjaro or jumping out of an airplane is the only way to have a thrill, there are many other ways to add an excitement to your travels. Here are our top picks for adventure travel ideas for everyone that you can do anywhere.
Water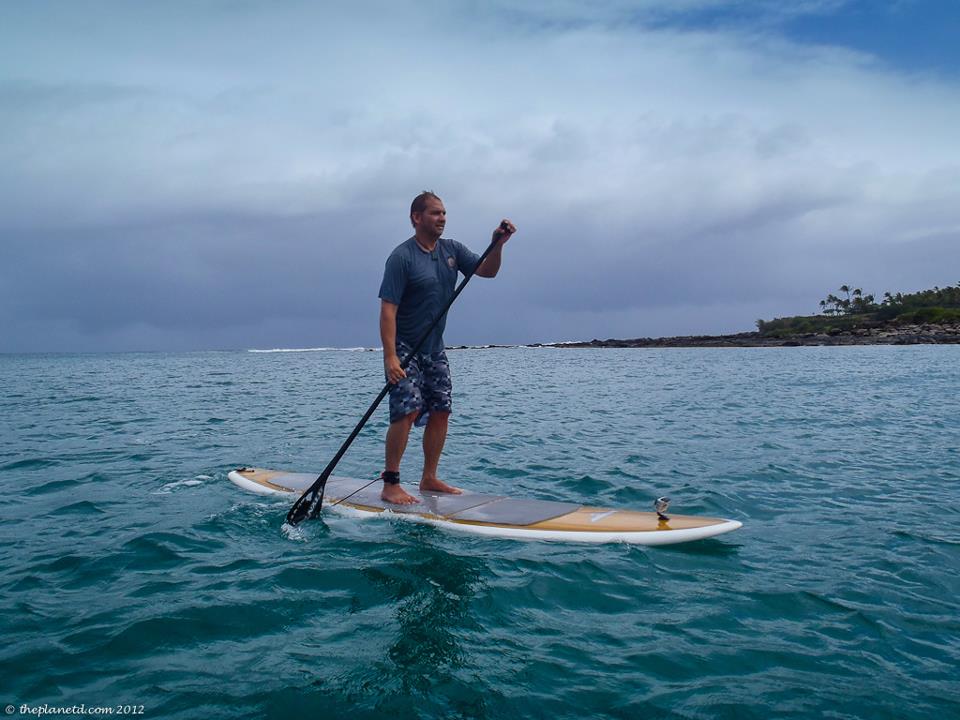 Everyone loves a vacation by the water, but why not try something outside the normal snorkelling or sailing trip? Scuba diving is a great option, but it can be expensive and not everyone is comfortable under the water.
If surfing or kite boarding is a little too adventurous for you, why not try paddle boarding instead?
It's a great workout and a fun adventure. You can do it anywhere in the world and if you practice on calm waters, you'll be up and paddling in no time. We gave it a try in Hawaii and were instantly sold on making paddle boarding experiences part of our regular travels.
Land:
Hiking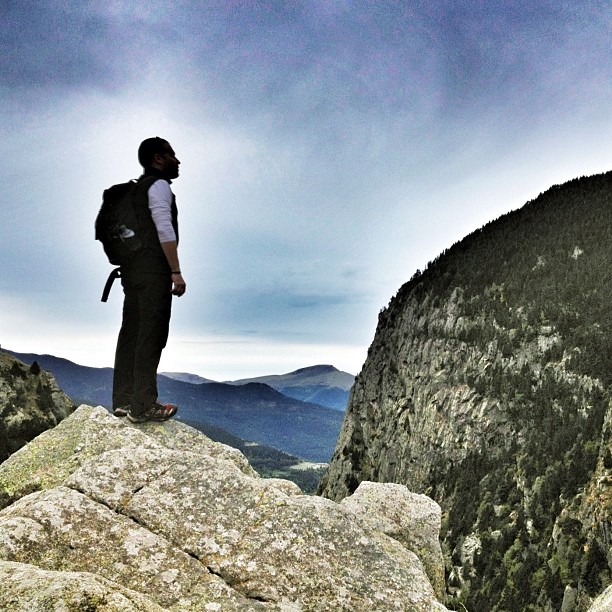 Hiking is a great way to add adventure travel to your holidays.
You can do it anywhere in the world. We've hiked in Asia, Africa, North and South America and New Zealand, but there is something special about hiking in Europe. Particularly Switzerland.
Switzerland is known for its amazing hikes through the Swiss Alps. They've been catering to hikers for decades. With well-marked trails and organized routes, hikers can head out for a day from their hotel or take extended hikes cross country from lodge to lodge.
You'll be mesmerized by the dramatic vistas of the snow-capped mountains as you listen to cowbells ring in the distance. Switzerland has some of the most pristine trails on the planet from easy strolls through foothills and farmland, to advanced treks over rocky outcrops and even expeditions to the summit of the Matterhorn.
Biking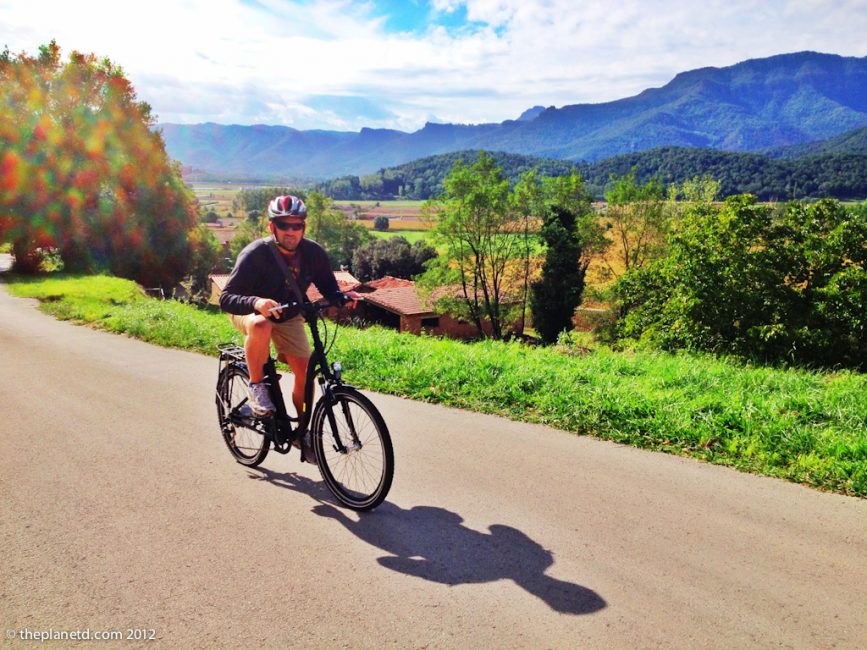 When going on vacation, why not rent a bike to explore your destination.?
You don't have to go hardcore mountain biking to have an adventure. Exploring the countryside while visiting villages and taking in the incredible scenery is a great way to pass the time. E-bikes are becoming increasingly popular in Europe and we gave it a whirl in Spain when we were there.
Spain may be known for its fine wine and dining, but it is also an excellent destination for the great outdoors. Spain is home to the stunning Spanish Pyrenees and the Tour de France makes several stops in these parts.
You can ride through history from town to town taking in the beautiful region of Catalunya. So many places in the world are bike friendly and you'll find that once you try it on vacation, you'll always add cycling into your next adventure.
Sky: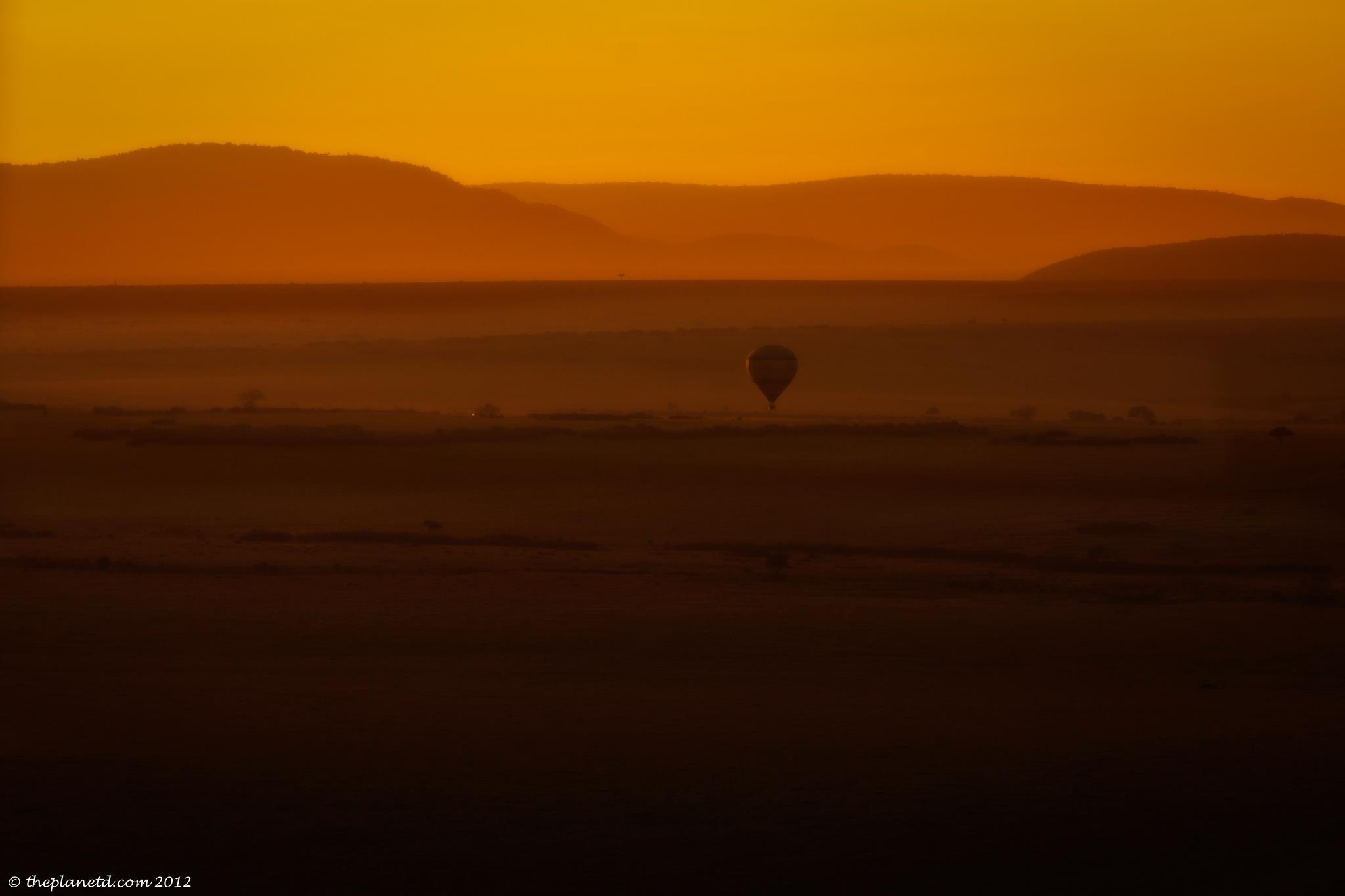 Not everyone wants to jump out of a plane or bungy jump over a gorge. But you can still have a great adventure in the sky. Paragliding is fast becoming popular. It's all the thrills of parachuting without the fear of having to jump out of a plane first.
It's also more affordable than taking a flight. With paragliding, you can strap on to a tandem flight with no experience and let the wind take you up into the air while having no fear of free falling at all. Or if that is too much for you, try a hot air balloon ride. 
Hot air balloons fly all over the world from the Masai Mara of Kenya to Cappadocia Turkey, to most likely right in your own backyard at a country fair. If you are a little more adventurous, try rappelling over a cliff. If you have a good guide with you, you don't need any experience.
He'll give you a quick lesson and within minutes, you'll be dangling in the air, letting yourself fall gently into the abyss.
Snow
Vacations don't always have to be to tropical destinations. Some of the most fun we've ever had is in cold weather destinations.
Be it kayaking through ice in Antarctica, trekking on glaciers in New Zealand and Alaska or skiing and snowboarding through Canada and Europe, we love our cold weather adventures.
Snow can be a lot of fun! Be creative and try something new. Sure, everyone has tried a ski vacation, but while you're at that winter destination, give snowshoeing a try. It's not much harder than walking, anyone can do it and it's a great way to enjoy nature and get into the backcountry.
Adventure Travel is For Everyone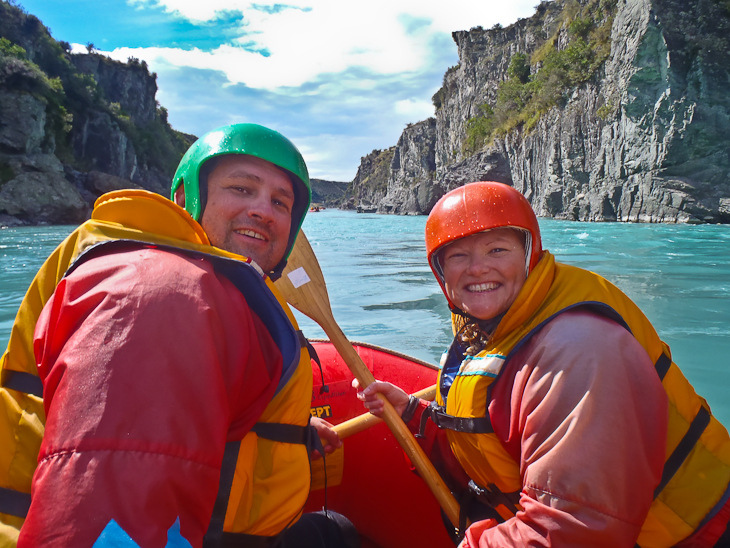 The world is filled with adventure and as more people look for ways to get off the resort, destinations are catering to the explorer in everyone. Adventure is what you make it.
You don't have to trek to Everest Base camp in Nepal or canyon over waterfalls in Jordan to be an adventure traveler, just get outdoors, embrace the culture and step out of your comfort zone to enrich your travels and ignite your wanderlust
So book a safari in Kenya or try scuba diving the barrier reef. Sea Kayak through the Hongs of Thailand or zip over the jungle canopy of Costa Rica. The possibilities are endless and it's all up to you what to do.
Ever since we started this Travel Blog we have sat back each December to reminisce about our adventures from the past 12 months. Every year we are amazed at the opportunities that we've had.
When we finish each year and do our adventure travel round-up, we think to ourselves, we'll never be able to top this. How can we improve on a year that was so much fun?
And yet, we always seem to be lucky enough to try even crazier and more unique adventures than the last. 2013 was one of the most eclectic year's of travel for us. From diving with Great White Sharks on two continents to taking part in a 10 day adventure circumnavigating an island in Baja California, Mexico and trying our hand an Olympic sports to facing our fears around the world, we had a lot of excitement.
So, enjoy our adventure travel round up and maybe we can inspire you to try something unique and exciting for 2014!
Adventure Travel Round-Up, The Biggest and Best of the Year
13: Polar Plunge Above the Arctic Circle
The Polar Plunge is an activity for the truly insane, and I guess Dave and I  just happen to be part of the truly insane since we have now done two Polar Plunges in our life; One in each Polar Region.
The second Polar Plunge we took in our lives happened in Greenland with Quark Expeditions. I may hate cold water, but being the "Adventure Couple" that we are, there is no way I am allowed to back out of anything.
Not because anyone makes me feel that way or pressures me, no I do that just fine on my own. When we have a challenge that must be done, I can't let myself say no.
12: Kayaking with Crocodiles in South Africa
When South Africa tourism asked us if we'd like to go kayaking with crocodiles and hippos in St. Lucia, it sounded like a good idea at the time. We didn't really know what to expect, but hey, we love kayaking and it sounded cool.
Once we got to the river to start our excursion, it was another story. I started to ask myself, why am I doing this again? See what we thought of it at Kayaking, Hippos and Crocs Oh My!
11: Swimming With Dolphins in Shark Country South Australia
We may not have been pushing ourselves to the limits or huffing and puffing up any mountains, but it was here that we hopped into some of the most daring waters on earth.
Everyone always thinks of sharks when swimming in Australia, it's the first thing that everyone mentions when you say you're going in the water. Before jumping into the chilly 16? waters,
We had a quick briefing on our swim where we were told stay close to our guide who was wearing a shark deterrent. Read on at A Dolphin Swim in Shark Country
10: Driving a Ferrari on the track in Italy
Our first Italian fast car experience took place near the town of Modena, the birthplace of Mr. Enzo Ferrari. Here you can have the ultimate Ferrari experience, exploring two museums and having the chance to take one for a spin on the track at Auto Dromo di Modena.
Isn't everyone's fantasy to get in a race car just once in their lives? Read on at Get Your Adrenaline Fix with Ferrari
9: A Flight over Wilpena Pound
Whenever we have the chance to fly, we take it. I'm not talking about flying on a commercial liner (we hate that process of going through security and being crammed on a flight for hours on end) but a scenic flight over spectacular landscape can be one of the most breathtaking adventures you can ever do. (yes, I used a lot of cliches to describe the experience)
There is no better way to take in the beauty and scope of a place than from a plane flying overhead and Wilpena Pound in South Australia is one of the most extraordinary landscapes on earth. Visit Fly the Flinders to Witness Wilpena Pound
8: Snowmobiling Whistler
Canadians know how to embrace the cold. When the snow falls, everyone gets outside and celebrates winter. We wanted to show the world that winter can be fun and there is no better place to celebrate winter than in Whistler, British Columbia.
After a fresh snowfall in Whistler, tourists and locals alike hit the trails not only to ski and snowboard but to snowmobile the backcountry of the Rocky Mountains. Read about our first snowmobiling experience at Snowmobiling Thrills for Amateurs
7: Bobsledding Olympic Bobsleigh Tracks
Have you ever wondered what it would feel like to be an Olympian for a day? We had the chance to when we hopped into a bobsled while visiting Whistler, Canada and Calgary Alberta both with Expedia.com.
Imagine the thrill of speeding down the track just like the Olympic athletes of 2010. With former world-class bobsled drivers at the helm, we had a once in a lifetime opportunity.
Read on about Whistler at  Bobsled Olympic Style and in Calgary at  Whipping Through the Olympic Village.
6: Backcountry Skiing Whistler
As we trudged up the mountain feeling light-headed from overworking our out of shape bodies, I thought to myself, maybe I bit off more than I can chew? It sounded like a great idea.
We had never been backcountry skiing, and when Whistler Blackcomb offered us our choice of a steep class or backcountry adventure, we thought, let's go backcountry snowboarding.
Read how it went at Beyond our Limits in the Back Country. 
5: Circumnavigating San Jose Island
We first met Ben of Baja Outdoor Activities at the Adventure Travel World Summit in Switzerland.
He wanted to know if we'd like to Kayak in Baja California, Mexico in the divorce boat. Aka a double kayak. His exact phrase was, ""do double kayaks really threaten marital bliss?"
We love a challenge and hey, if we could survive four months of rubbing butt butter on ourselves in a tiny two-man tent as we cycled down the continent of Africa, we figured we could handle the divorce boat for 10 Days.
Read more at Reigniting the Adventure in Mexico
4: Kayaking in Greenland
Kayaking in Greenland is serious business. For centuries, Greenland was known as the land of kayakers and today, the tradition still holds strong. We had the opportunity to kayak many times during our Arctic travels with Quark Expeditions.
There is nothing more wondrous than being surrounded by giant glaciers calving in the distance as you float through a thin veil of ice crackling beside your kayak.
Read on at Greenland, The Land of Kayakers, Our Journey Through Uncharted Fjords
3: Microlight Flight in Durban South Africa
We always wondered what a microlight flight would feel like and when we went to South Africa, we finally had our chance. Dave and I flew on separate flights through the air and at one point, his aircraft came up beside us for a closer look.
Within a few minutes, we were flying over the warm Indian Ocean and looking down at dolphins playing below. Read the story at Microlight, an Adventure in the Sky
2: High Mountain Trail Ride
While visiting Southern Alberta and exploring my roots at the Bar U Ranch and High River, we had the opportunity to go on a high mountain trail ride in the Canadian Rockies. A High Mountain Trail Ride, means exactly what it says.
It's a trail ride that goes high into the mountains. We gained 1000 metres (3000 feet) reaching an altitude of (2500 meters) 7250 feet. One misstep and we could be in trouble.
Our horses seemed excited for the challenge as our guide Dewey chopped at trees to clear our path and we clung to the side of mountainous slopes.
Read about this extraordinary adventure at A High Mountain Trail Ride, Your Buns Have Come a Long Way Baby. 
1: Diving with Great White Sharks South Africa & Australia
It's the ultimate adventure. We never thought we'd be shark diving with great whites in our lives and yet here we were climbing in the cage off the Coast of South Africa to witness these creatures in person.
When you see a shark up close and personal, all your fear disappears. Everything you ever saw in the movies or on TV melts away and suddenly you see a beautiful creature who feels and thinks and has a natural curiosity.
Read on at Diving with Great Whites in South Africa
Shark Diving Video:
Australia is known for its killer great white sharks. Even though more people die each year in California from shark attacks than off the coast of Australia, there is something about being Down Under that makes you think twice when you go in the water.
That didn't stop us though from Diving with Great White Sharks in Port Lincoln with Adventure Bay Charters
Read all about it at  Diving with Sharks in Australia
See our favourite shark encounters at Shark Week on ThePlanetD
Did you do any amazing adventures this year that surprised you? We'd love to hear about them.
Leave a link to your articles, blog posts, Pinterest Pins or Instagram shots. We love adventure and our readers do too!
See more of our past favourite adventure roundups of the year
You Might Also Enjoy