When one thinks of Rome, the first thing that comes to mind besides the ancient sites like the Roman Colosseum and Trevi Fountain are Vespa scooters.
Vespa Tour Rome
Everyone remembers Audrey Hepburn riding with Gregory Peck during Roman Holiday, and the tradition continues decades later.
Visions of "Euro-chic" women clad in designer fashions and fine Italian leather boots ride colorful Vespas through the roundabouts with not a hair out of place!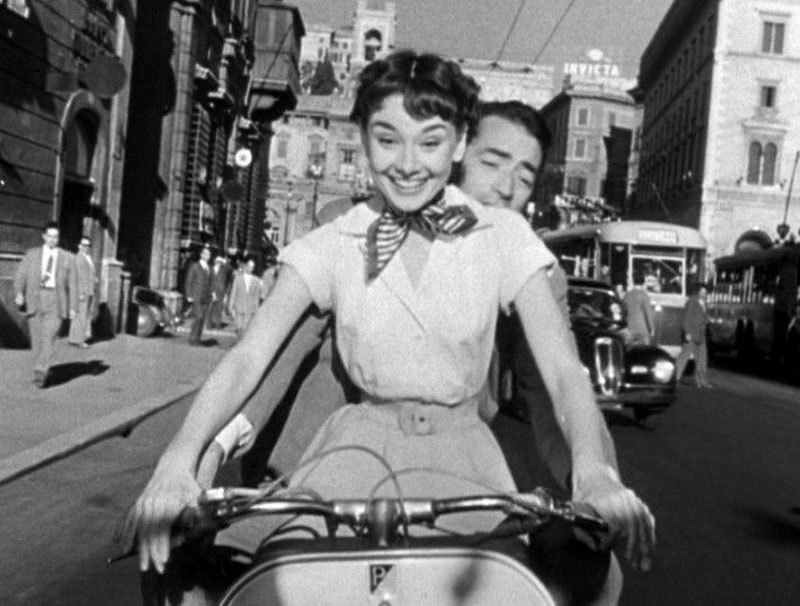 Well, we had a chance to live the fantasy of scooting around the ancient city on our own.
It has been a fantastic couple of days, and to give you an idea of how awesome things are, this is the view from our bedroom window of our lavish apartment in downtown Rome.
When our Taxi pulled up to our building, we thought that he must have the wrong address – There is no way we could be staying here.
Our Apartment in Rome
It's too beautiful. And then when we entered the apartment to Ryan's cheerful smile, we knew we were in for a glorious few days! I felt like the queen and made sure to open my window overlooking the Colosseum grounds to give my admirers a wave before disappearing into my decadent digs.
At only 349€ per night for an apartment in Rome that sleeps 8, it is an amazing deal.
I have got to get my family to Rome where we could all stay in this apartment together. With this price, I may even be able to talk them into flying overseas!
Adventure Time
It was 8:00 pm sharp when our rides arrived outside our swank building. We introduced ourselves to the gang and hopped on back for a ride down to the Piazza Venezia where we met up with our fellow bikers.
Being a part of this trip in Rome with fellow travel bloggers, Traveler's Playground, Kirsten Alana, Angie Away, Monkey's and Mountains, and Destination Europe has been an incredible experience.
One thing that HouseTrip really tries to emphasize is the local experience.
By staying in this apartment downtown Rome, we almost feel like true Romans. If only we had the wardrobe to match!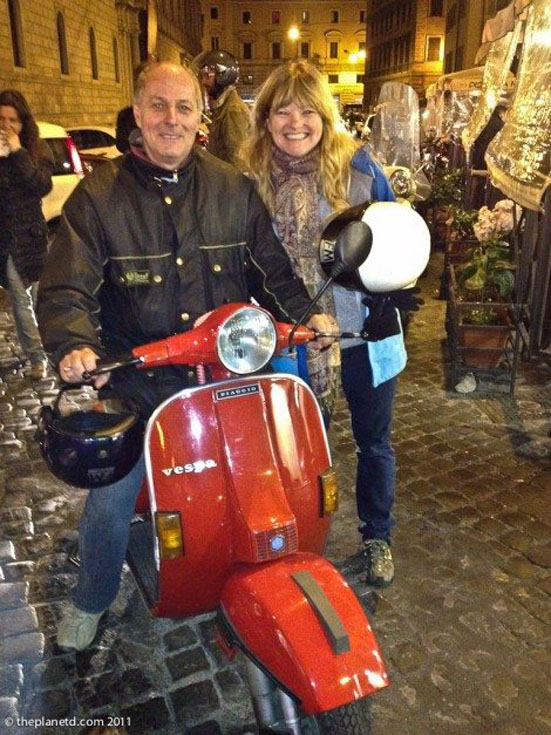 Staying in an apartment helps you to feel like you are living in the city as opposed to visiting the city and taking a vintage Vespa through all the different neighborhoods makes you almost believe that you are Roman!
We all had huge grins on our faces as we sped through town.
Our own little bike gang ruled the streets and when we pulled up to a traffic light we turned quite a few heads.
We not only drove for a couple of hours, we also stopped at the usual show stoppers of Rome like the Colosseum, Vatican, Forum and Roman Baths.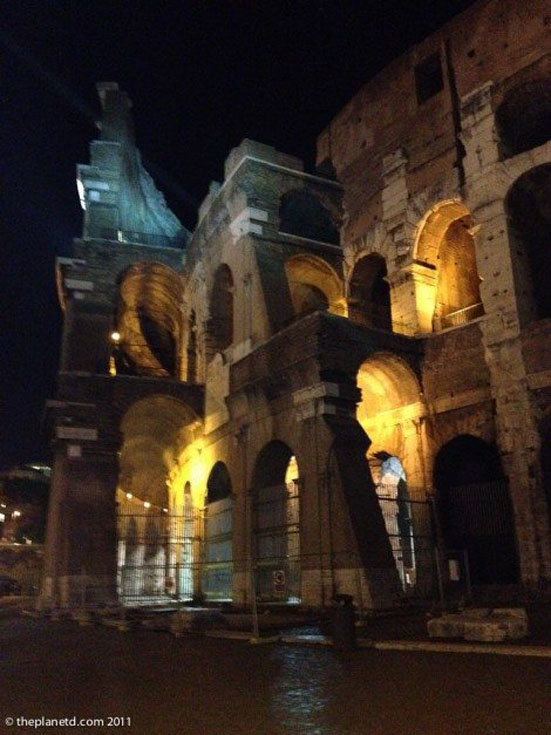 History Lesson
Most of our drivers were friends of each other with careers in fields far removed from tourism. Some were architects or doctors and they all loved their Vespas.
Every once in a while they take a group of tourists out for a spin and we were lucky enough to be that group.
We would drive to each stop where our guide would walk us through Rome's colorful history while our drivers waited and puffed on their smokes. A common sight here in Rome.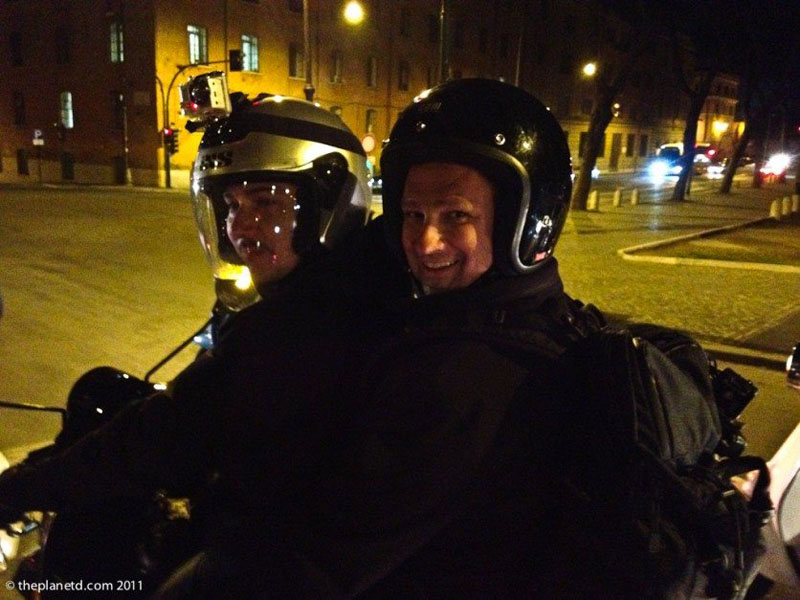 I had a difficult time concentrating on the history lesson, I just wanted to get back on the bike!
We did visit one extremely interesting location. There is a place in the center of Rome where nobody is allowed to enter except for the Sovereign Military Order of Malta – A Roman Catholic Religious Order and world's oldest surviving order of chivalry, according to Wikipedia.
(I had to look it up, I didn't have a clue what our guide was telling us about the place)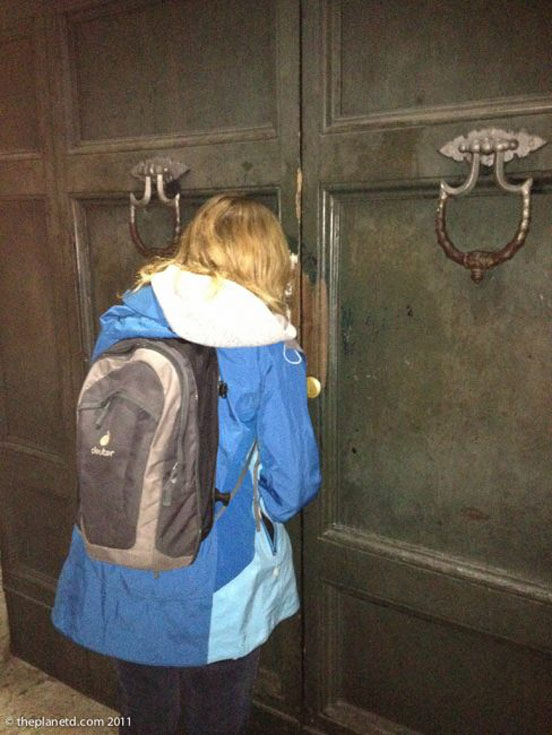 So poor Rome has two sovereign nations within their city that lay claim to their precious land.
We couldn't enter the grounds to have a look because they are strictly off limits, but we were able to spy a peek through a little peephole that was clearly put in place for tourists.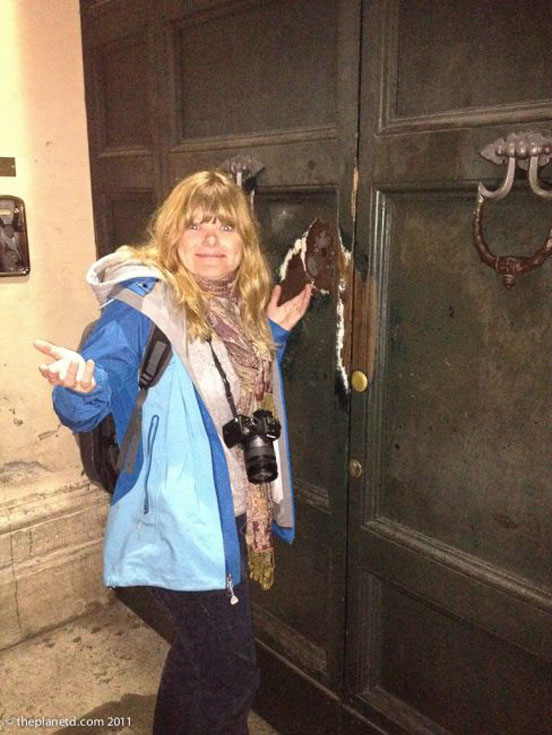 By the wear-and-tear on the door, I could see that many people stop here for a quick view inside the forbidden zone.
Best City Tour of Rome
We've done a few city tours in our travels, but our Vespa tour is one of the most unique we've ever taken. It's a great alternative to your regular everyday bus or walking tour.
With the Vespa, you can spin around the city quicker and take in more sights while exploring Rome in a more intimate way than you ever could be stuck behind the glass of a tour bus.
If you happen to find yourself in Rome, you have got to give this a try.
The Vatican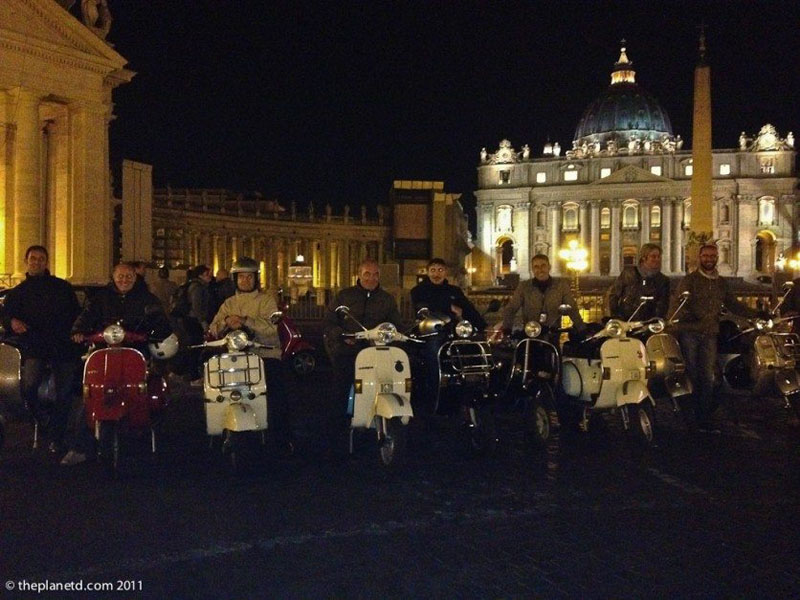 Our tour wrapped up at the Vatican, (that other sovereign state) where we snapped a shot of our trusty drivers. There are ways to see Rome's most famous sights free and clear of crowds, you just have to go at night!
…And better yet, make sure you do it on a Vespa.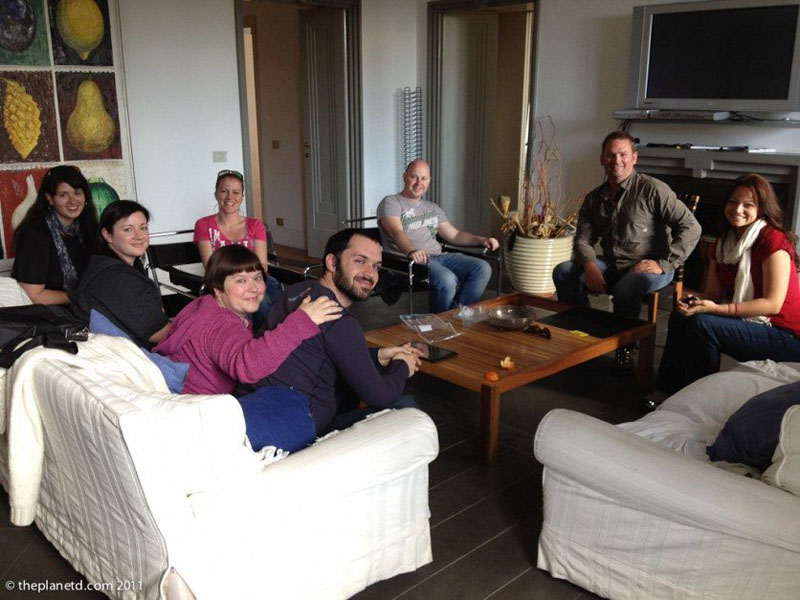 So get yourself to Rome and see that city that really does live up to the hype, it is a fascinating place where the buildings are either old and older or downright ancient.
You can book your own Vespa Tour of Rome at Get Your Guide with Private Driver
---
Read More
7 Unforgettable Reasons to Visit Tuscany Right Now
Tuscany Dreams – A Luxury Tuscan Villa Escape