As we flew from TBU to the SATW we pondered how we would be received upon landing in Indianapolis. We were just in Porto, Portugal for the terrific Travel Bloggers Unite where we were the opening keynote speakers. We had many friends in the audience as well as friendly faces. We were speaking to our peers and an industry that we know well. It was invigorating.
At the SATW (Society of American Travel Writers) we don't know anyone. Well, we had met two members in the past, but they have never been the friendliest and would prefer to pretend that they don't know us, so we don't count them. It is a different ballgame here, but it's a challenge we've been willing to embrace.
SATW Outstanding Reception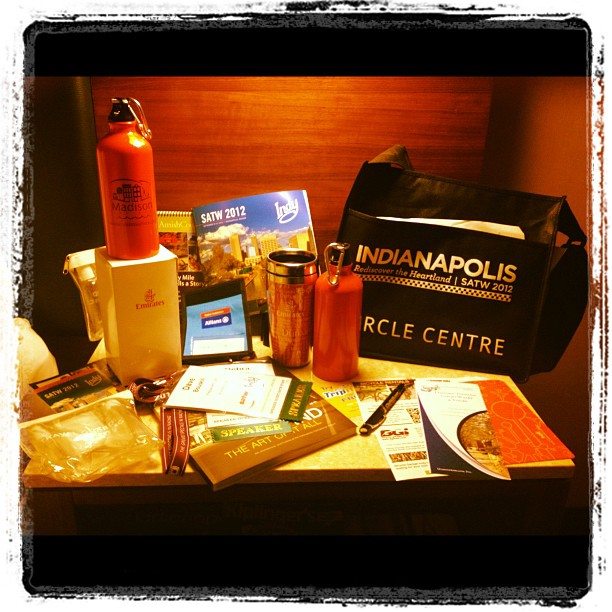 It has been an honour and a pleasure to have discussions with some of the most esteemed travel writers on the planet. These are the type of people who are actually friends with Tony and Carol Wheeler (founders of the Lonely Planet). These are people who are editors of the most respected travel magazines and newspapers in the nation and these are people who traveled the world when you didn't have the security of having google maps loaded onto your iPhone.
As the week's gone on, we have met the most wonderful and welcoming professionals who are innovators in their field. We have had discussions about the digital space and received the most surprising welcome.
SATW, A Pleasant Surprise
Some of our fellow travel bloggers warned us that we may receive and icy reception at the SATW and admittedly, we landed with our backs against the wall. But sincerely, that hasn't been the case. We have been laughing and discussing ideas, picking brains and enjoying ourselves. When people ask us what we are going to be speaking about and we reply travel blogging, their eyes light up and the questions start flowing.
The people we've had conversations with know that the world is changing rapidly. Unfortunately being a great travel writer isn't enough in the digital age. As our SATW newsletter stated this morning, "Each of us must learn to be videographer, blogger, tweeter and Pinterester" – Miranda Metheny. This is so true. We talk about the same thing during our presentation as we wear many hats from marketer, to photographer and editor to business manager.
Embracing Change
During our careers in the film industry, production budgets were cut drastically and instead of hiring a fleet of make-up artists and hair stylists for a project, the make-up artist suddenly had to know how to style hair, do all the special effects and be psychiatrist to the stars. As lighting budgets were slashed, crews received little or no prep time and had to light hundred million dollar budget movies on the fly with half the manpower and even less money. Dave and I learned to become multi-taskers and we knew that to stay competitive in that industry, we had to evolve and work on our craft. However, we didn't have the passion for the industry and were eventually left behind. Luckily, we found our new passion in travel and have been thriving and loving every minute of exploring this new frontier.
When we speak tomorrow, we aim to give these gifted writers the tools to begin their own blog. It is the fear of the unknown that keeps people from moving forward and we hope to show them that there is nothing to be afraid of. If we can do it, they certainly can. With their credentials and experience, they will quickly catch on to the business of blogging and hopefully grow to love it as much as we do. We've sequestered ourselves in our room every spare second working on our presentation. With each conversation we have, we add a new idea as to what people want to know about. We want to give them a kick ass session where they can decide if they want to join us out there in cyberspace or not.
It's and exciting time for travel writing, travel photography and videography. The sky is the limit and the possibilities are endless. We have never been in such a creative field. We came away from Travel Bloggers Unite excited and inspired from our meetings with the companies there. At the SATW, we are excited for the future of travel writing and how the two industries will be able to work together. We thank them for having us and look forward to sharing what we've learned over the past four years of our travel blogging career with everyone.
A huge thank you to Indianapolis for the reception. This is a beautiful city and we'll be telling my parents to make sure they give this hidden treasure of America a proper visit during their migration to Florida this winter. They keep a place in the Sunshine State, but tend to skip the beauty of the land between Canada and the far south. We'll be sure to change all that.
For more information on Indianapolis, check out VisitIndy for everything you need to know.