Who wants to circumnavigate the Arctic Circle? Better yet, who wants to join the Canadian living legend Colonel Chris Hadfield on the voyage? Quark Expeditions is excited to announce that for one leg of four separate journeys circumnavigating the Arctic, the retired astronaut, will join the legendary icebreaker ship Kapitan Khlebnikov presenting his science based variety show.
See what Chris Hadfield Has to Say
We all remember Colonel Hadfield's humorous tweets from space. He spent 5 months commanding the International Space Station and tweeting about his experience to the world. He's been called the most famous astronaut since Neil Armstrong and we're proud to say he's Canadian!
Why the Arctic: See why we say Greenland is the 'It' Destination of 2016
See Chris Hadfield's full bio here: Quark Expeditions special Guests
He's now taken his experience and knowledge from his 35 year career as a revered astronaut blending it with knowledge, perception, music and comedy.
See Chris Hadfield's Desire to Explore
One of the things we enjoyed about our polar adventures with Quark Expeditions was the onboard lectures and information sessions. However, I always thought they could use a bit more entertainment in the demonstrations. Now they've got it! On an Arctic expedition, you spend your days exploring icebergs and fjords, small Inuit Villages, glaciers and wildlife. There's a lot to do each day.
Even nights are filled with excitement as you look for the dancing lights of the Aurora Borealis and now there's the added bonus of Chris Hadfield's Generator variety show. Oh how I want to see this!
See why we say Greenland is the Final Frontier of Adventure Travel
He's joining Quark on one of the most spectacular legs if I do say so myself exploring the West Coast of Greenland and Canada's far north. You already know how much we love Greenland. Hadfield will get to see places we explored from Sisimiut and Ilulissat Icefjord.
Save on Select Arctic Voyages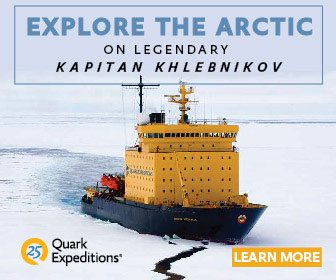 Save up to 25% when you book before 15 March, 2016. Contact a Quark Expeditions® Polar Travel Adviser. Bookings can be made online at QuarkExpeditions.com or by phone. Call 888.979.4073 or +1.802.490.1843 outside North America
Voyages included:
What's exciting about this trip is that passengers will board the Kapitan Khlebnikov icebreaker that can explore the most remote regions and break through ice choked fjords with its incredible ice-crushing power. So not only will you have a great Arctic adventure, you'll also get a glimpse into the real life adventures of a Space Commander.
The Arctic is more than just ice and mountains, there's a fascinating culture there as well: Read: Where Ancient Culture Meets the Modern World. 
And he's not just any space commander.
"Colonel Hadfield was the first Canadian to operate the Canadarm in space, and the first Canadian to board a Russian spacecraft as he helped build space station "Mir." In 2001, aboard Shuttle Endeavour, Colonel Hadfield performed two spacewalks – the first Canadian to do so – and in 2013 he was Commander of the International Space Station – the first and only Canadian to ever command a spaceship – so far"
So if you have always wanted to take an Arctic Expedition, 2016 is the year to do it. With Chris Hadfield joining the trip, great savings and the fact that it's the hottest destination of the year, what are you waiting for?
For more information on this voyage, visit the Arctic Icebreaker Page featuring Chris Hadfield. For other polar voyages, check out Quark Expeditions.