I didn't want to do it. I looked for every excuse leading up and during to our voyage to Antarctica trying to justify why it would be ok if I didn't take the Polar Plunge.
It was in the back of my head the entire trip and it took nearly the entire trip before the moment finally arrived where they made the announcement over the intercom that it was time for the Polar Plunge.
Dave has no fear of the Polar Plunge
I can't understand where Dave's head is when it comes to thrills. He isn't afraid of anything and actually embraces each challenge with a smile. He would have no problem jumping off a cliff and trying out a flight suit or canyoning to the deepest depths of the earth exploring a teeny weeny cave. He's up for anything and it frustrates me that I am always facing my fears.
Lucky for me, I have a husband that never pressures me to do anything.
When we got back from a beautiful morning of kayaking, we were told that after lunch we would be jumping into -.5 degree celsius water in Antarctica. Instant panic set on my face and I told Dave that I was going to video the moment instead of doing it. "No problem" he said. You don't have to do anything you don't want to do.
It was then that my mood changed. 
Antarctica had been the most incredible experience of our lives. We have only scratched the surface of writing about our trip for you, but we have never seen any landscape quite like it or had such memorable moments in all our travels. We were both on a high each day and at this moment I was resenting the fact that the polar plunge was even offered. I didn't feel adequate  and I felt that I was letting myself down, but I still didn't want to do it.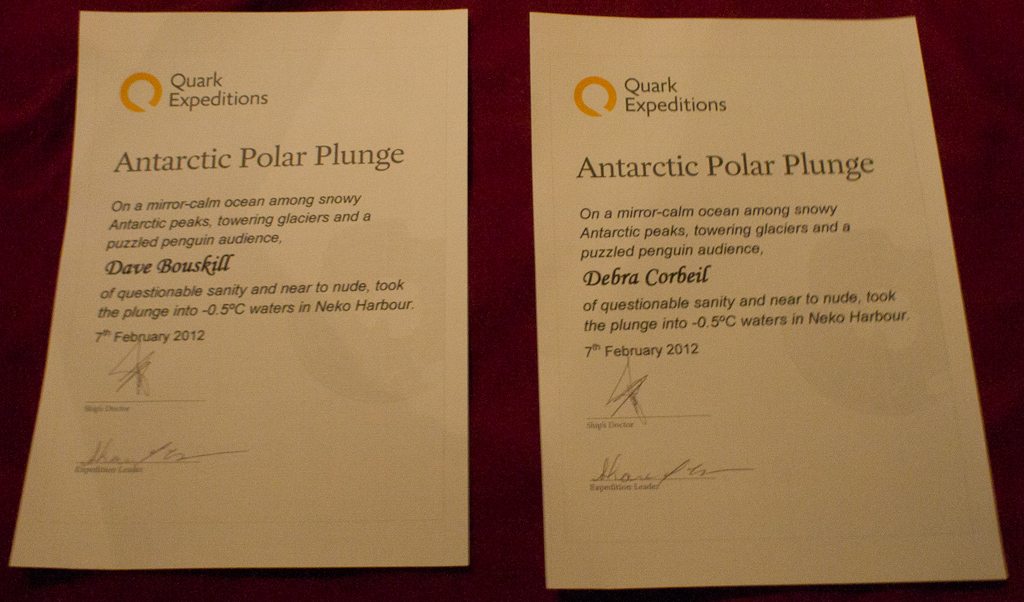 Dave put on his robe and swimsuit and we walked to the embarkation deck to stand in line. We were told that 40 people from the 107 passenger list had signed up.
As I stood in line, I listened to everyone talk and started to really feel low. I asked them their reasons for doing it and if they were nervous. As I felt the excitement and energy around us and saw the high on people's faces as they one by one came out of the water, I decided at the last moment to go for it.
I raced back to our cabin, changed into my bathing suit and asked myself "What the Hell are you doing?"
Dave was so happy that I decided to take part, but he said to me that he was never going to try to talk me into it. He left for that everyone else to do and he let me make up my mind on my own.
When the time came for the two of us, I was terrified. 
We caught it all on film, check out our video of the Polar Plunge
I felt numb as Solan and Val (our kayaking guides from Quark Expeditions) put the tether around my waist. This water is cold and it can be dangerous. A couple of minutes in freezing water without being saved will kill you, and Quark Expeditions wasn't taking any chances. We were tethered to the boat and if anything happened, they could pull us back up.
Facing Your Fear
I had thoughts race through my heads. Has anyone had a heart attack from this? Will I be able to swim? What if I jump in and instantly freeze and sink? I had no idea how I would react to the cold water. All I know is that my entire being was telling me. Don't Jump.
I stepped onto the zodiac and was about to jump when Jamie (the photographer and expedition team member) yelled at me to wait a minute. He had to fix something with his camera. I freaked out. I mustered up all my courage and needed to jump right now. I did a little scream and dance and as if Duncan (another amazing expedition team member) could read my mind, he lightheartedly said "I've never had anyone die from doing the polar plunge." I heard those words and went for it.
I didn't wait for Jamie's signal and I jumped in before he could take a proper picture, but I had to go now or never.
As I hit the water, I instantly lost my breath. I felt panic and it felt like my lungs were being squeezed. Most people popped out of the water and continued to swim towards Jamie sitting on a Zodiac 10 meters away. I however, popped out and dog paddled my way back to the Sea Spirit in complete panic.
"Get me out of here" Was All I could think.
My ears plugged up, my muscles seized and my lungs felt like they were being squeezed.
I climbed out of that water so fast, that I barely remember the feeling of being in it.
Dave caught it all on film and my instant reaction after taking the plunge was "I didn't like it! I didn't like it!" When Dave asked me how it was, I replied "Terrible!"
Elation
At the same time, I felt invigorated and happy. I would have regret not taking the plunge for the rest of my life and I am so happy that I did it.
Dave was up next and he didn't have any reservations or inhibitions.
He walked out to the "plank" Gave a yell to the camera and leapt in with style. He got a lot of air and plunged right into the ice waters with ease. As soon as he popped out, he swam with grace to Jamie allowing for more photo opportunities and swam back with some kick in his stroke. I heard the guides behind me even comment on how strong and confident he was.
I was so proud. That's my guy. Always keeping me inspired and motivated, Dave can do anything, and he does it with a grin and without pretension. He's laid back, relaxed and does everything with confidence, yet everyone loves him because he just does what he does and doesn't need to brag or justify anything.
After our jump, we were both feeling elated. We walked up to the Lido Deck for a dip in the hot tub and to share our excitement with fellow Polar Plungers. Everyone was on a high afterwards and the ship was abuzz with energy. It is something that I highly recommend doing.
Young and old were taking the plunge and everybody who did it loved it!
Thanks Dave for being patient and supportive.
Thanks Red Hunt Travel for telling me that I would regret not doing the Polar Plunge if they offered it in Antarctica. Thanks Alicia of My Life Untethered for telling me I had to do it because even her boyfriend Mike's mom did it and I'd regret it. Thanks to Helen of May Day Travel for pumping me up before leaving Canada. Thanks to everyone on the boat who took the plunge before me and told me that if they could do it, I could do it. It's the people around you who inspire one in life, so make sure to surround yourself with inspiring people. Life is much more fun that way!
—
Check out Quark Expeditions for planning your own Antarctic Expedition.