Looking for things to do in Edinburgh? Look no further, as this comprehensive guide will give you a wheeng (Scottish word for a huge amount) of information so you can make the most out of your time in Scotland's historic capital city.
Travel writer, Edinburgh native and official Edinburgh tour guide Karen Worrall shares her extensive knowledge of her city with us.
This will help guide you through some of the highlights of this beautiful city.
Things to do in Edinburgh
There are some affiliate links in the post below where theplanetd will earn a commission if you make a purchase but there is no extra cost to you!
Edinburgh is full of stories. Historic stories, royal stories, gory stories, and ghost stories. It is a potent blend of old and new at every turn.
I'm going to give you my top tips of where to go, and what to see and things to do in Edinburgh to make the mos tof your time.
The Top Edinburgh Attractions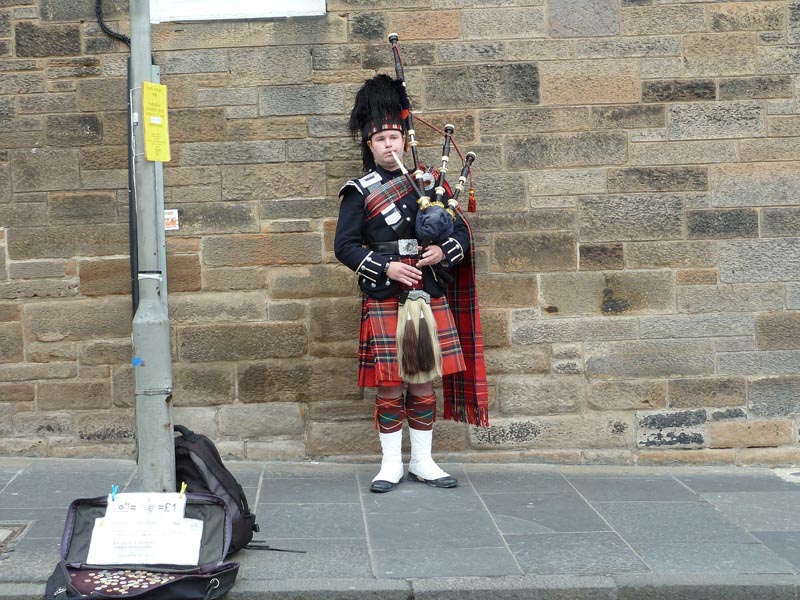 Edinburgh is living history. The Old and New Towns of Edinburgh's city center is a World Heritage Site. Every street, alley, and almost every building has a tale to tell.
Edinburgh is the home of JK Rowling, Arthur Conan Doyle, Alexander Graham Bell, and Greyfriar's Bobby. It appeals to all tastes.
1. Edinburgh Castle
Edinburgh Castle has been a vital fortification involved in military and strategic endeavors since the 12th century and has been continuously occupied in some form since then.
Archaeologists think the castle's site has been occupied since the Bronze Age.
The castle has been home to royalty, the chief seat of power, and a military base throughout the years.
The one o'clock gun goes off from the front of the castle every day except Sunday.
The gun was implemented to help with shipping and to keep time.
How to Visit Edinburgh Castle
Hours: Summer (April 1-Sept 30) 9.30am-6pm (last entry at 5pm). Winter (Oct 1-Mar 31) 9.30am-5pm (last entry 4pm).

Price: £19.50 gate price (£17.50 online), £16 gate (£14 online) concessions, children 5-15 £11.50 (£10.50 online). Under 5s free. Book tickets online for the reduced price.
What to see in Edinburgh Castle
Honors – See Scotland's Crown Jewels and the Stone of Destiny.
St Margaret's Chapel – the oldest building in Edinburgh dating back to 1093, built for Queen Margaret. It is still used for worship and weddings.
The Great Hall – Late September until May, actors dressed as period characters give information about "their" life and times.
The War Memorial – The poignant memorial hall is dedicated to the soldiers who fell in the First and Second World Wars.
Mons Meg – The giant canon built in the town of Mons in Belgium was made to destroy castles.
Mary Queen of Scots' chambers – The bed chamber where Mary gave birth to her only son James, who became her legacy and became the first King of both Scotland and England is worth climbing up to.
Prisons of War – Built in 1781, you can go in and see what the prison would've been like then.
Save valuable vacation time and book a Skip the Line tour of Edinburgh Castle.
This 1.5-hour guided tour lets you skip the line and gives access to the castle, National War Museum, and National Monument. After the tour, feel free to explore on your own time.
Free cancellation within 24 hours notice.
2. The Royal Mile
The Royal Mile is the oldest part of the city.
In brief, The Royal Mile runs from Edinburgh Castle all the way down the volcanic tail that takes you to Holyrood Palace – a mile down.
This is Edinburgh's Old Town and Old High Street. It is chock full of history and stories worthy of its own guide.
I'd recommend spending a few hours here, beginning at the castle and working your way down – it is easier walking downhill!
The street itself is charming and has many traditional pubs with live Scottish music and Scottish menus and many places to have a scotch whisky experience.
It also has a plethora of souvenir and quirky shops, 49 of which sell tartan (I counted!)
Hours: The street open 24 hours. Shops generally 9am-6pm, restaurants and bars generally 11am-11pm but some will differ.
Cost: Free to stroll.
3. Holyrood Palace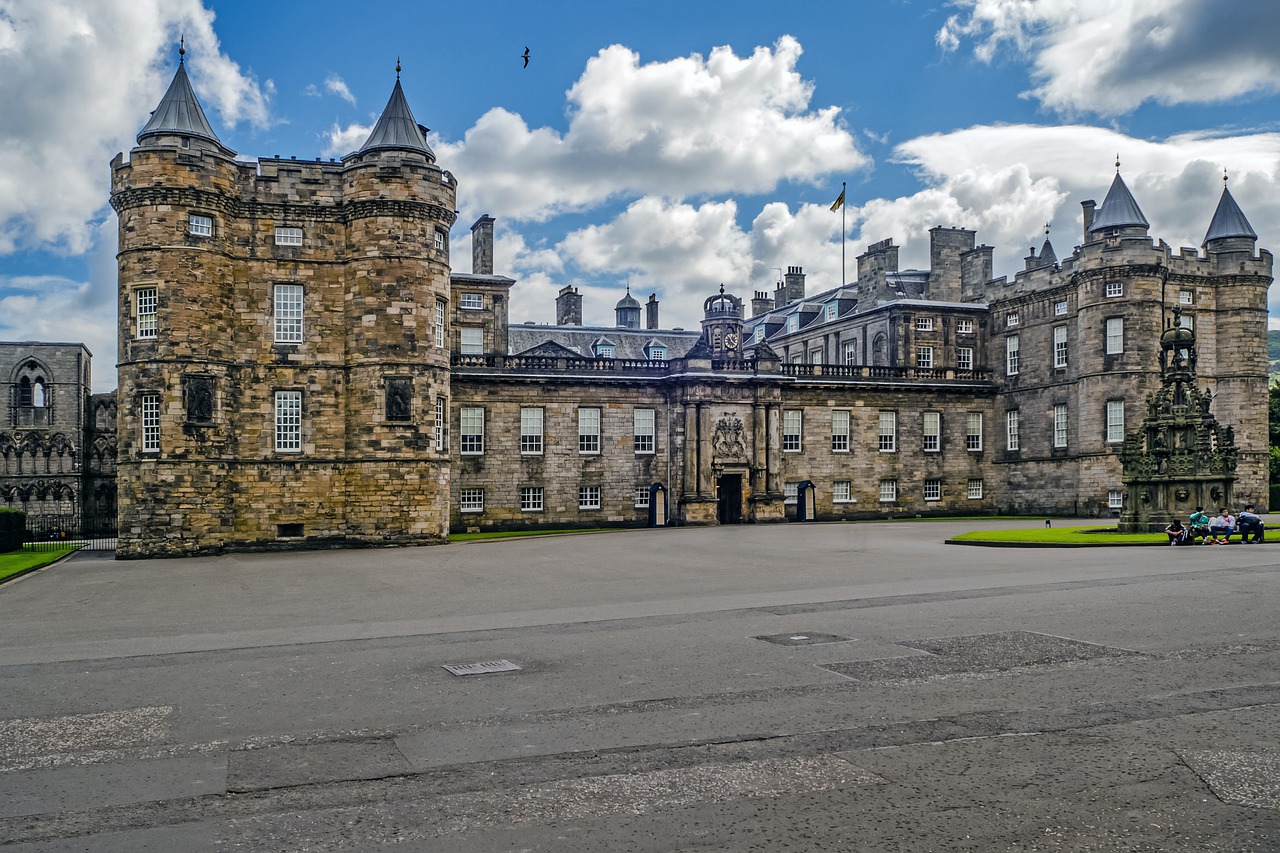 Holyrood Palace is one of the most important palaces in Scotland. It is used as a museum for most of the year, and Scottish home for the Royal family when they come to visit.
The Abbey was built before the palace dating back to 1128, by order of King David 1st of Scotland
In the 15th century, the abbey's guesthouse was made into a royal residence and has been used by British royalty ever since.
4. National Museum of Scotland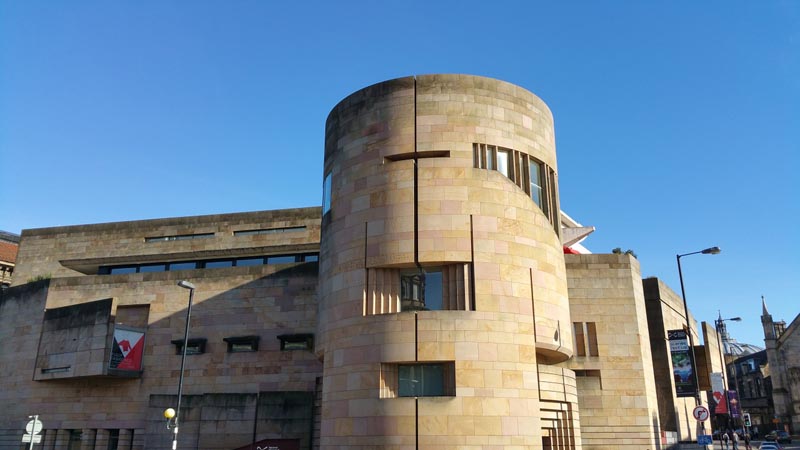 The National Museum of Scotland is situated in Chamber's Street in the old town and is a fine Victorian building that opened in 1866.
The museum is free and is very extensive.
The range of topics covered is fantastic. Whether you're interested in history, technology, inventions, world cultures, music, natural history, royalty, gory history, ancient civilizations, natural disasters, it will have something for you.
Scottish Section of National Museum
The new Scottish section of the museum does its country proud.
It showcases a lot of important aspects of Scottish history, with an exhibition on the Stewart Royal dynasty, floors on technology and the industrial revolution.
There is a section dedicated to medieval torture instruments, statues, and paintings of royals.
There is also an exhibition on the Jacobite rebellion, clan maps, and important ancient artifacts.
Hours: 10am-5pm daily.
Cost: Free for permanent exhibitions.
There is access for disabled visitors.
Some temporary exhibitions have a fee of about £10 and change every two months.
5. Scottish National Gallery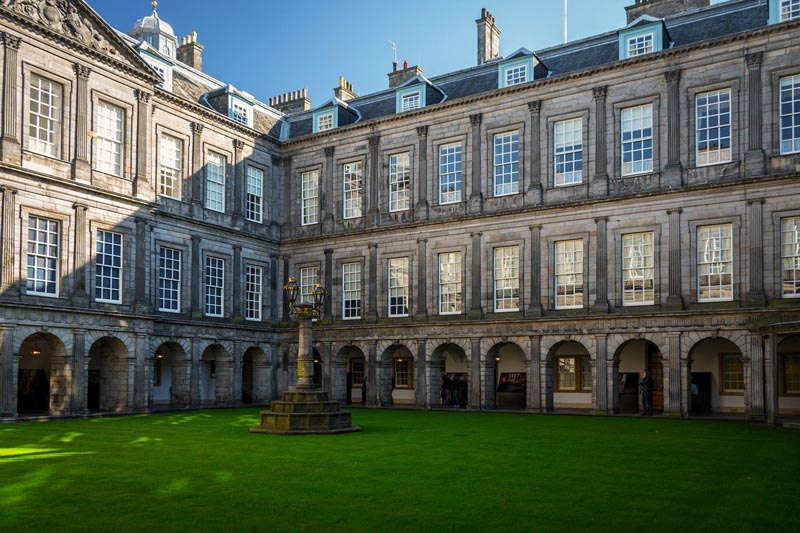 The Scottish National Gallery is a fantastic art gallery situated right in the middle of Princes Street in the very center of Edinburgh.
It consists of two buildings; the main National Gallery is the building at the back, with the one at the front being part of the Royal Scottish Academy.
The main gallery holds permanent collections and is always free to visit.
Artists on display in the gallery are Van Gogh, Cezanne, Gauguin, Scottish artists Reverent Robert WAlking and Henry Raeburn
Note: There is currently a renovation going on outside the east side of the gallery. It is due to be complete by September 2020.
Hours: 10am-5pm daily (Thursdays extended until 7 pm).
Cost: Free for permanent exhibitions, some at RSA have a fee.
6. Arthur's Seat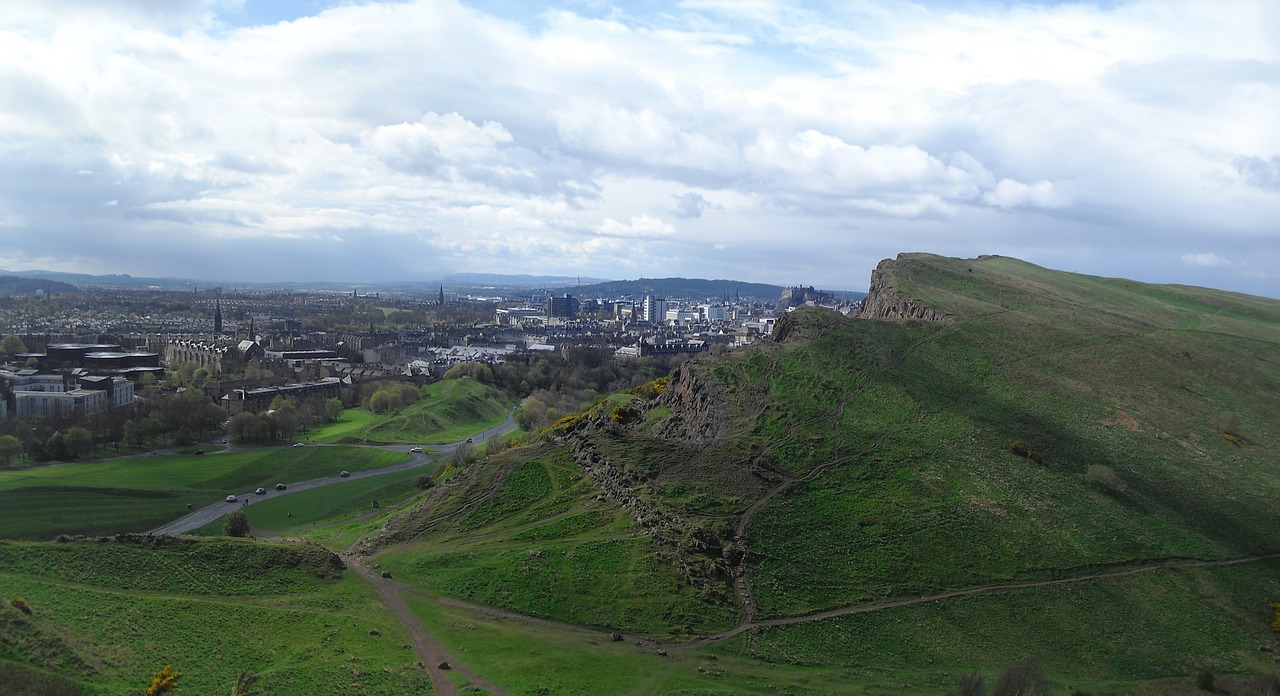 Arthur's Seat and Salisbury Crags are the hills in Edinburgh's city center and can be seen from almost anywhere in the city.
It is the site of a 350 million-year-old volcano. The last eruption was more than 100 million years ago.
The hills are located within Holyrood Park, which is one of the largest enclosed urban parks in Europe.
It used to be a royal park (you can see from noting the crowns on the lamps on the way in), but was gifted by the Queen to the people, so is now a public park.
It takes about an hour to reach the summit, and there are three main paths to choose from and it offers great views of the city.
Hours: Park open 24 hours, but hiking not recommended after dark due to steep drops at points.
Cost: Free.
7. Dynamic Earth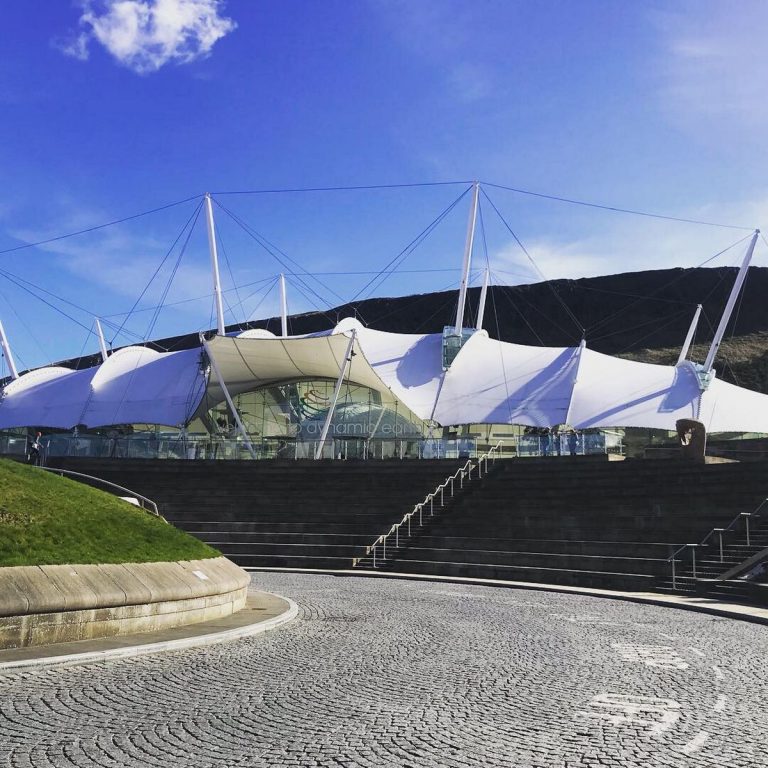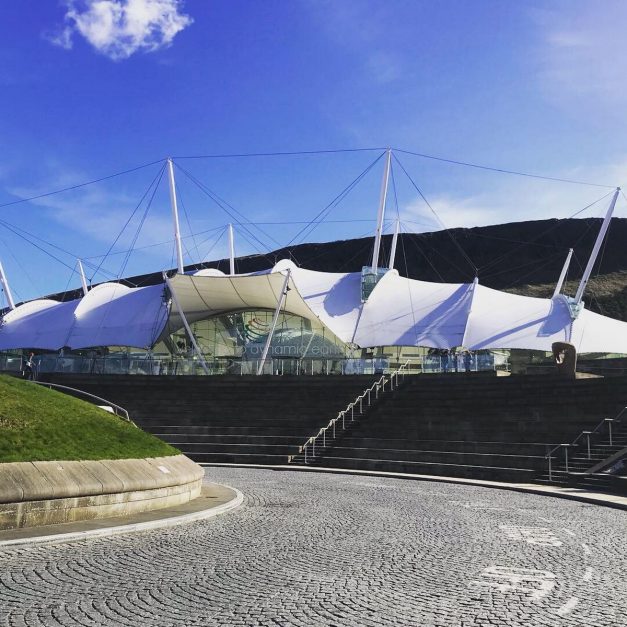 Dynamic Earth was built as part of the Millennium Project, in 2000.
It is an interactive range of exhibits that teach about the formation of the earth, geology, and how our planet has evolved since the Big Bang.
This is a great place for any age to visit, but especially families and people with younger children. It really makes science come alive in an interesting way for children (and adults).
There are many fascinating exhibits and eras covered within the place. You are taken from one interactive exhibit room to the next by a series of hosts working there.
Hours: Daily February-October 10am-5.30pm, July & August 10am-6pm.
Cost: Price at door £15.95/13.95 concession, £9.95 children. Online £14.50/12.50 concession, £8.95 children.
8. Princes Street Gardens
Princes Street Gardens is located in the middle of Edinburgh, right beneath the castle.
They used to be the site of the Nor Loch – the North Loch which was drained when the New Town was built in the 1760s.
The gardens have a wonderful view of the castle, and it is a great place to stroll or stop for a picnic.
Hours: 24 hours.
Cost: Free.
Green Yonder gives a walking tour of the gardens that takes in the foliage, history and scenery of the city center's most popular picnic spot.
Things to see Near Princess Street Gardens
Apart from the general prettiness of the gardens, there are a few great spots to visit.
The Scottish National Gallery is situated on The Mound halfway along it (see number 5).
At the West End, there is the Ross Bandstand. This is used for concerts and dancing throughout the year, especially in summer and for Hogmanay (Scottish word for New Year).
The Victorian House, which is a Victorian house once lived in by the garden's gardener – currently under renovation – will open its café in June 2019.
The Floral Clock, which was first planted in 1903, and is the world's largest Victorian floral clock, and is lovely to see from April until October.
There are lots of statues to visit in the gardens, including;
famous Edinburgh poet Alan Ramsey
explorer Dr. Livingstone
Bum the Dog from San Diego (their Greyfriar's Bobby)
writer Sir Walter Scott, underneath the Scott Monument.
Edinburgh Nightlife
9. Live Music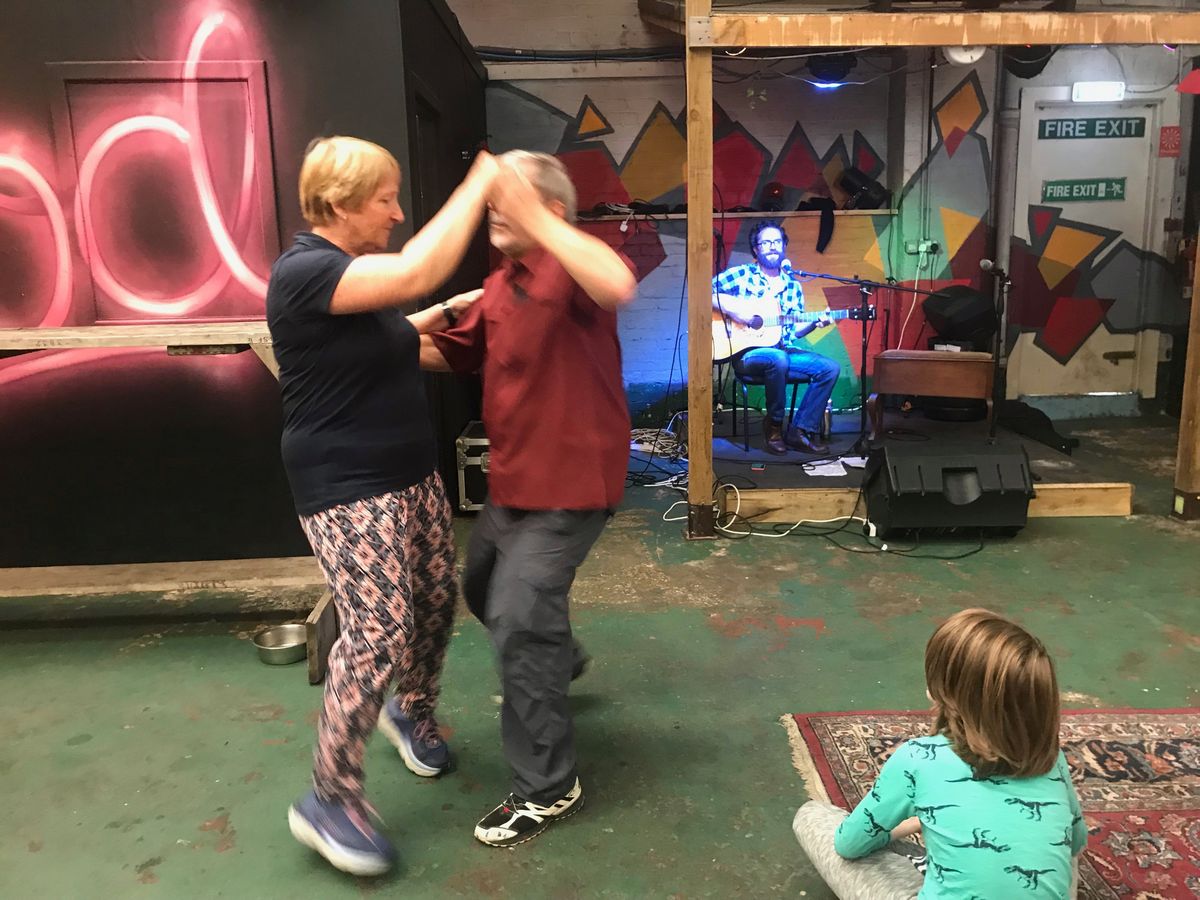 Edinburgh is a fantastic city for live music.
You can find live music available – and mostly free of charge – seven nights a week, as well as afternoons on Saturdays and Sundays.
Pick up a Gig Guide from any music venue, or check online for a comprehensive listing guide.
If you want to hear traditional Scottish music, the largest concentration of venues for this is in the Old Town, especially on the Royal Mile and by Potterow area.
Suggested Live Music Venues in Edinburgh
The Mitre, The World's End and The Royal Mile on the Royal Mile are always good choices.
Sandy Bell's on Forrest Road and Captain's on S College Street are excellent choices for real Scottish 'trad' music.
The Jazz Bar on Chambers Street is my pick for Jazz fans
For rock fans, Whistlebinkies on South Bridge is always a fun raucous evening.
The Jam House, previously owned by Jools Holland on Queen Street has great top 40 bands at the weekend.
For a taste of Edinburgh nightlife, take a Pub Crawl Tour where you'll enjoy four shots & unbeatable drink deals in each place along with drinking games, dancing, and even a shot of the bagpipes. For a full refund, cancel at least 24 hours in advance of the start date of the experience.
10. Go to a Ceilidh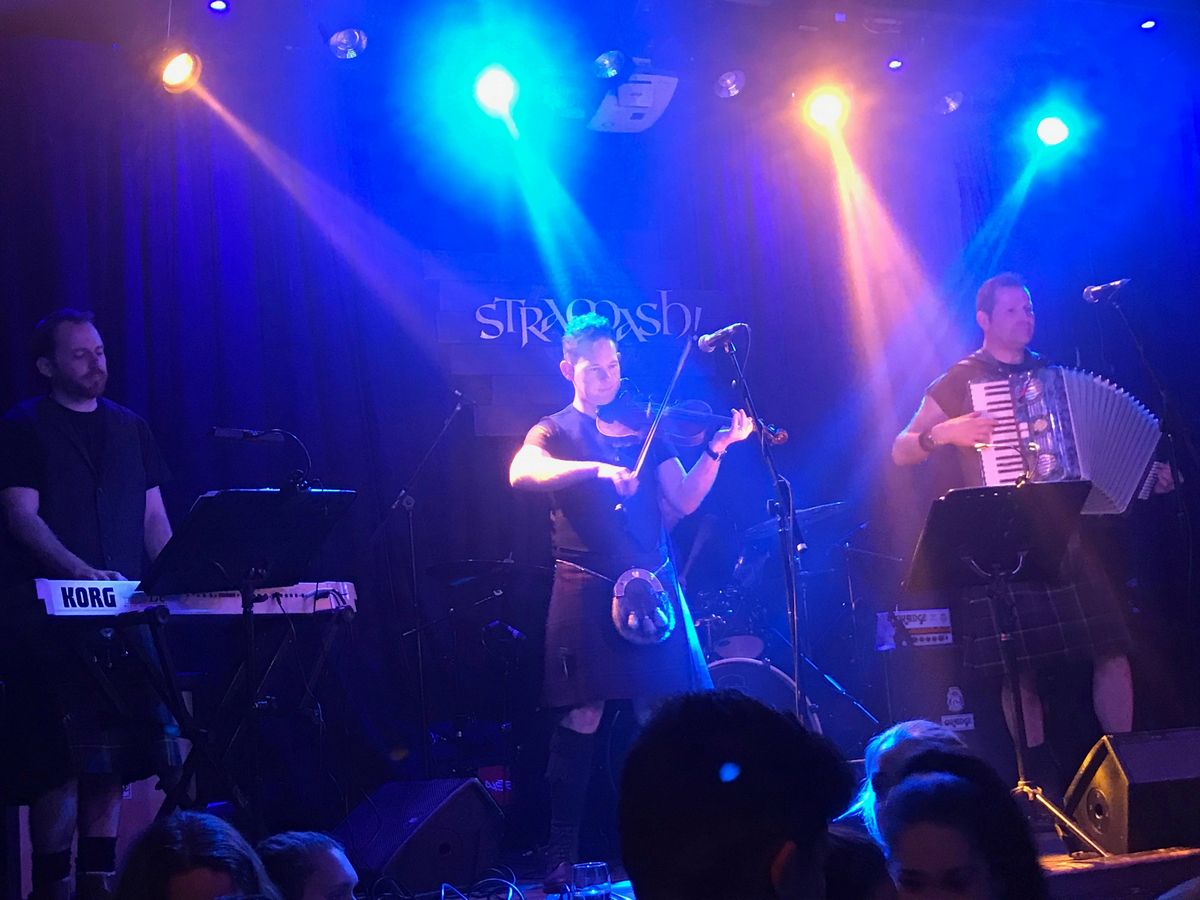 While you're in Edinburgh, you'd be missing out if you don't attend a proper Scottish party, a Ceilidh.
Ceilidh is Gaelic for "party," and consists of a live band playing traditional Scottish Ceilidh dance music, with a "caller" who teaches the moves for the dances to the hall full of people, who then dance it.
There is no better way to really get stuck into Scottish culture and the psyche of the country in my opinion.
11. Live Comedy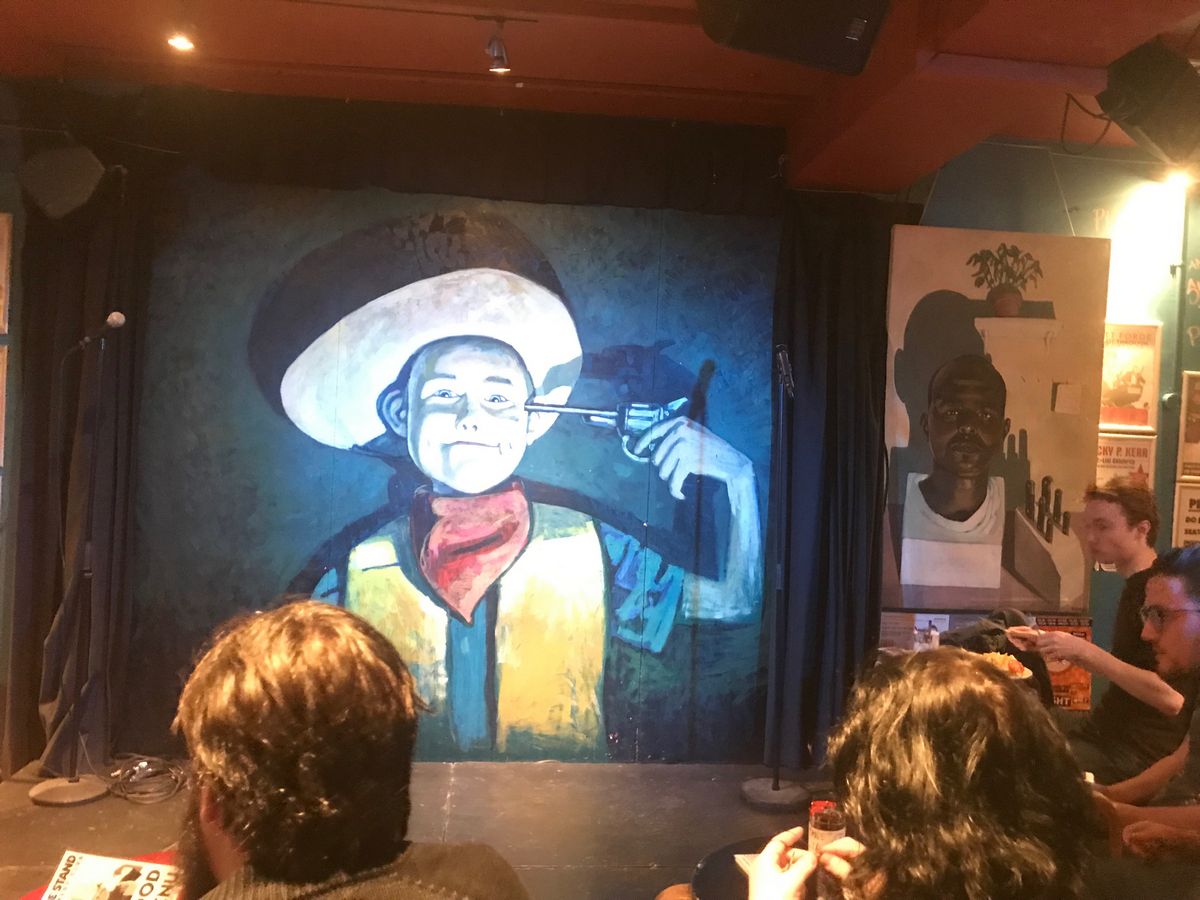 Edinburgh is a city renowned for its comedy.
Comedy takes center stage during the Edinburgh Fringe Festival every August with performances in many bars, cafes, restaurants, and parks.
Where to see Comedy in Edinburgh
You can find comedy seven nights a week, at the Monkey Barrell on Blair Street, Just the Tonic at the Caves in Cowgate and The Stand on York Place.
Acts vary from famous comedians, to up and coming acts working the circuit and Monday nights they have Red Raw, where brand new comedians show their stuff.
One of my favorite events is the long-running hilarious Stu and Garry's Improv Show every Sunday.
Comedy tickets can be booked online as well as at the door at many places.
Booking in advance or arriving early is advised, especially for popular acts and to get a good seat.
12. Calton Hill
Edinburgh is built on Calton Hill, like Rome in Italy and Bergen in Norway.
The top of Calton Hill is one of the best spots for a spectacular view of Edinburgh.
It is a much easier climb than Arthur's Seat, taking less than ten minutes to reach the top from Regent Road.
The top of the hill is home to Nelson's Monument (that looks like a sort of upside-down telescope), the National Monument, which is designed similar to the Parthenon in Athens in Greece, and the City Observatory.
Hours: 24 hours, but best during daylight hours for the views.
Cost: Free.
13. Royal Botanic Garden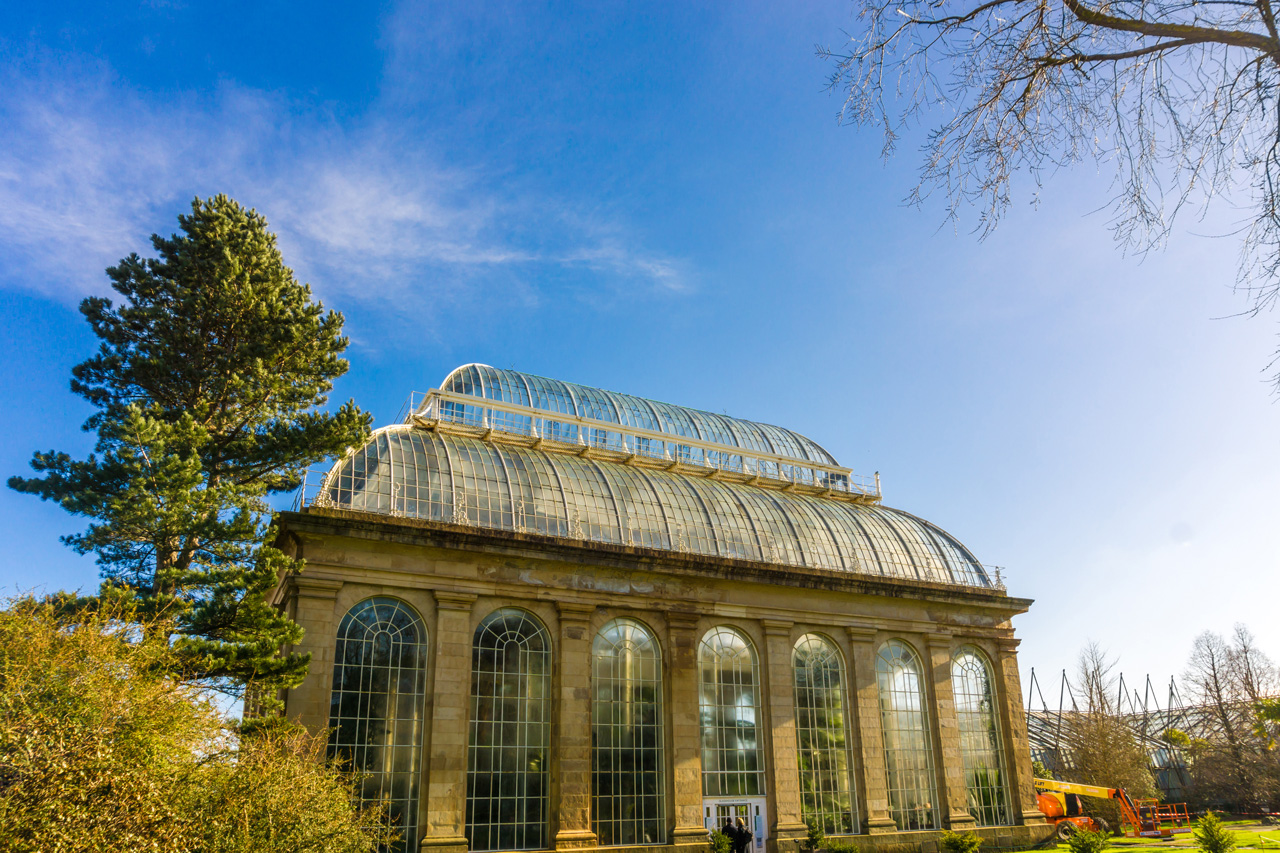 The Royal Botanic Garden is situated by the lovely village of Stockbridge and has been there since the Victorian era.
It is another great place to get away from the crowds and enjoy nature, but here it is cultivated nature, with many beautiful flowerbeds.
There are gardens and flora from many different countries including China, Japan, France, Spain, and Australia.
Hours: Daily 10am-6pm.
Cost: Gardens free. Glasshouse £6.
14. Royal Yacht Britannia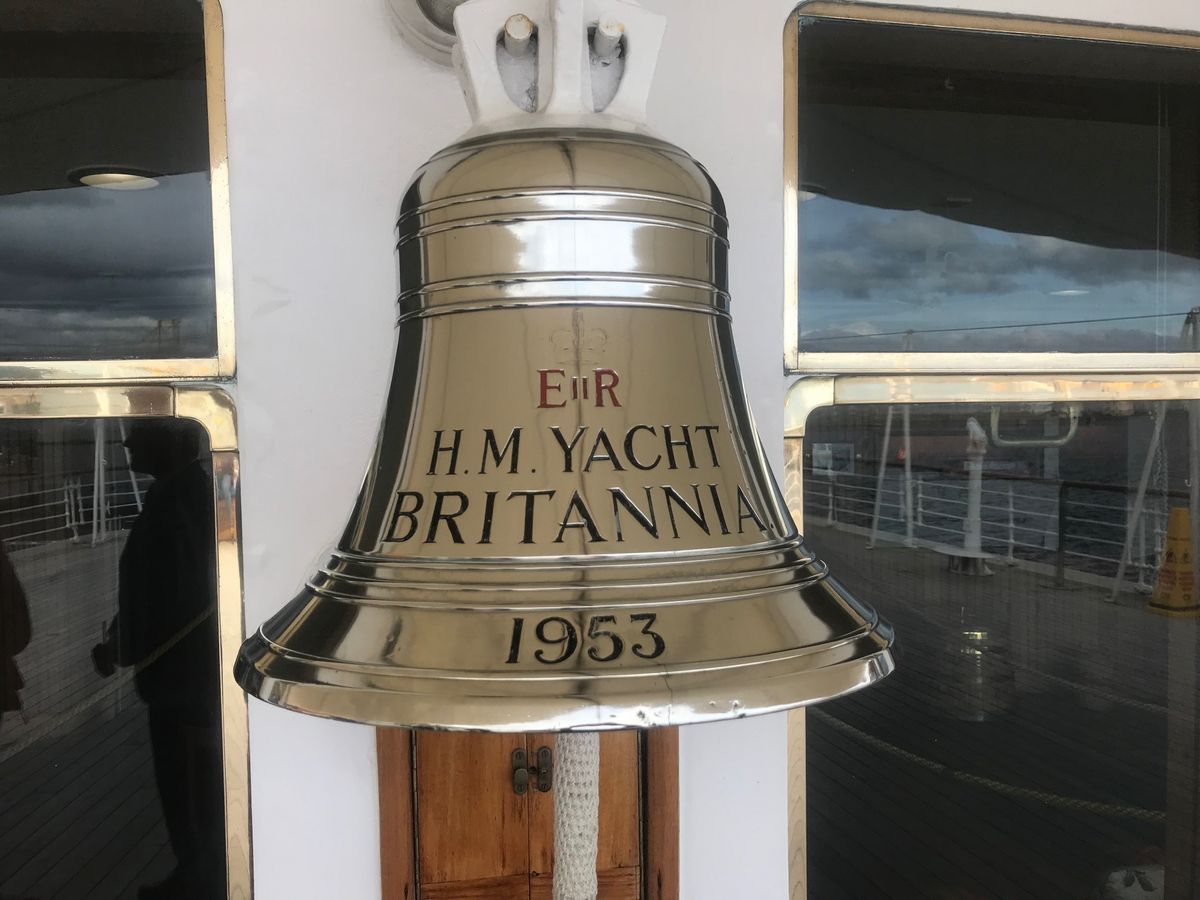 The Royal Yacht Britannia is Her Majesty the Queen's ex-Royal Yacht. It now serves as a floating museum.
Built in 1953 it served as the Royal Yacht until it was decommissioned in 1957. Several decks are open to the public to view the various staterooms and public rooms of the vessel.
Hours: 9.30am-4.30pm.
Cost: £16.50/14.50 concession, £8.75 children 5-17.
Book your audio tour ahead of time for $21 on GetYourGuide to gain insight into the lives of the royals. Easy cancellation within 24 hours.
15. Georgian House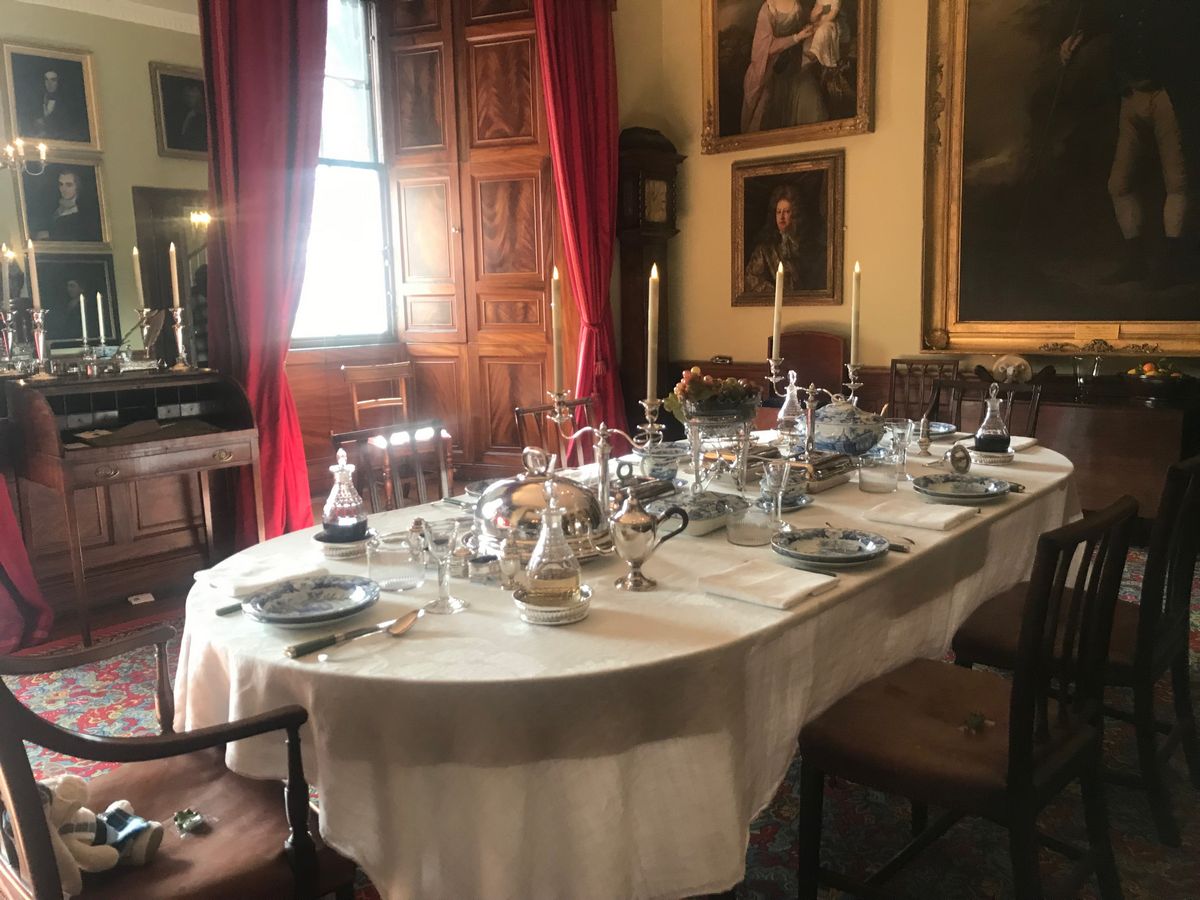 The Georgian House is a museum in Charlotte Square, which showcases the lifestyle of the high Georgian society in Edinburgh's New Town.
Built in 1796, its first owner was John Lamont, who was the 18th clan chief of the clan Lamont.
He moved to the city to find the best education for his sons and the best husbands for his daughters.
People interested in Georgian times, architecture and lifestyles would enjoy the Georgian House.
Hours: Summer hours (April-October) 10am-5pm daily. Winter hours (November-March) 10am-4.15pm daily.
Cost: £8 adults, £6 concessions & children.
16. Scottish National Portrait Gallery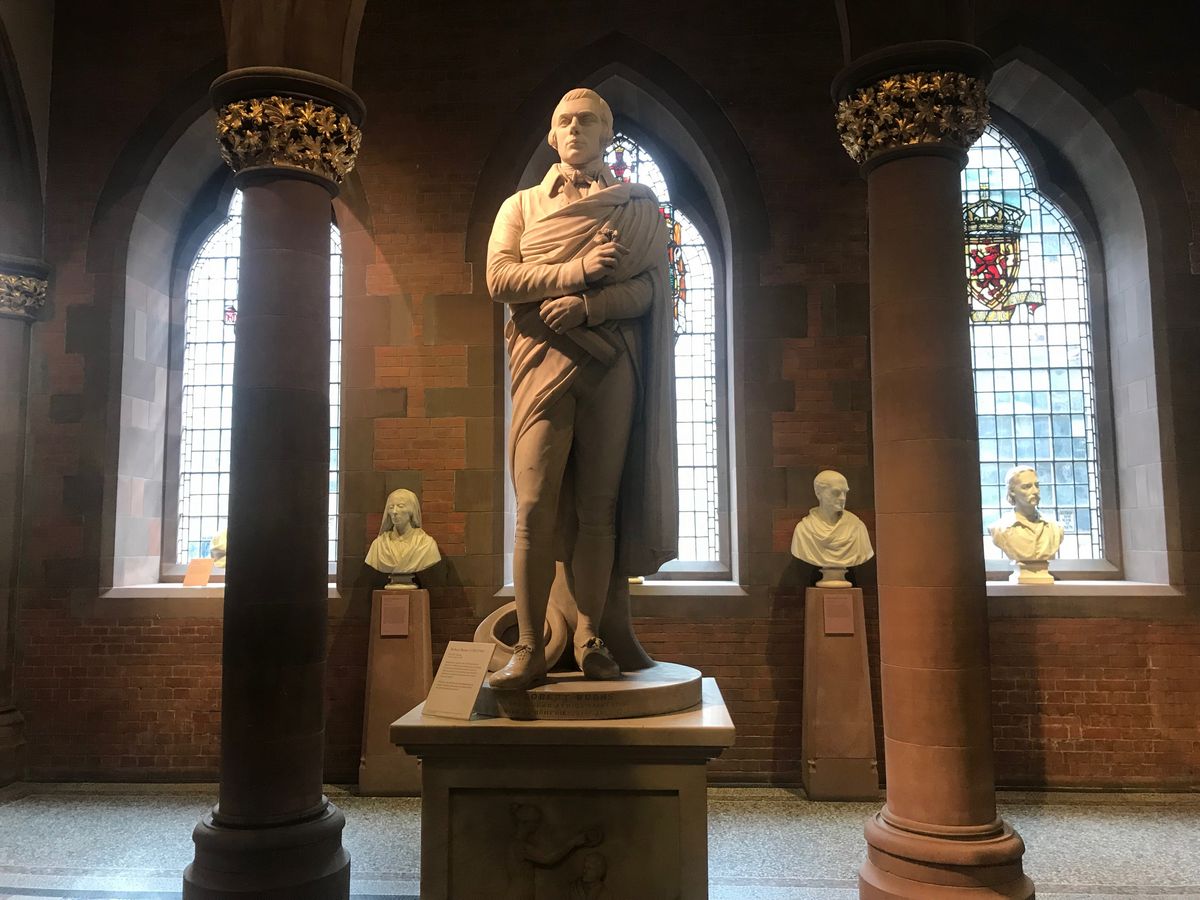 The National Portrait Gallery is one of Edinburgh's best art galleries.
It is situated on Queen Street, which is parallel to Princes Street, conveniently centrally located.
It is free to visit and is the place to visit if you're interested in portraiture.
It holds hundreds of paintings of distinguished Scots from royalty, lords, and ladies, to artists, poets and writers.
The gallery has a mix of mediums, from oil paintings to watercolors, to photography.
Also, there is a statue of Robert Burns – Scotland's bard – welcoming in the foyer.
Hours: Daily 10am-5pm.
Cost: Free.
17. Ghost Tours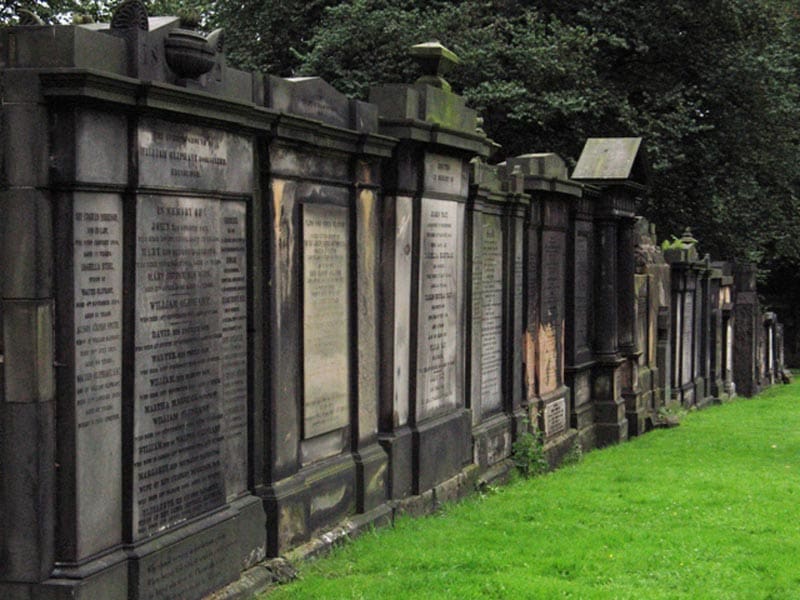 Edinburgh is reputedly one of the most haunted cities in the world.
One of the factors that contribute to this include the hundreds of plague sufferers who were walled in, in the old streets underneath the Royal Mile.
Another factor is all the hangings that happened in the Grassmarket, where some of the unhappy souls, and grieved innocent people hanged haunt the city.
Edinburgh is one of the world's most haunted cities, and you can see for yourself on one of the many Ghost tours on offer. The Double Dead tour takes in the underground vaults, as well as a graveyard.
Mary King's Close – One of the scarier tours, with an exhibition on site as well as a walking tour.
Most haunted Parts of Edinburgh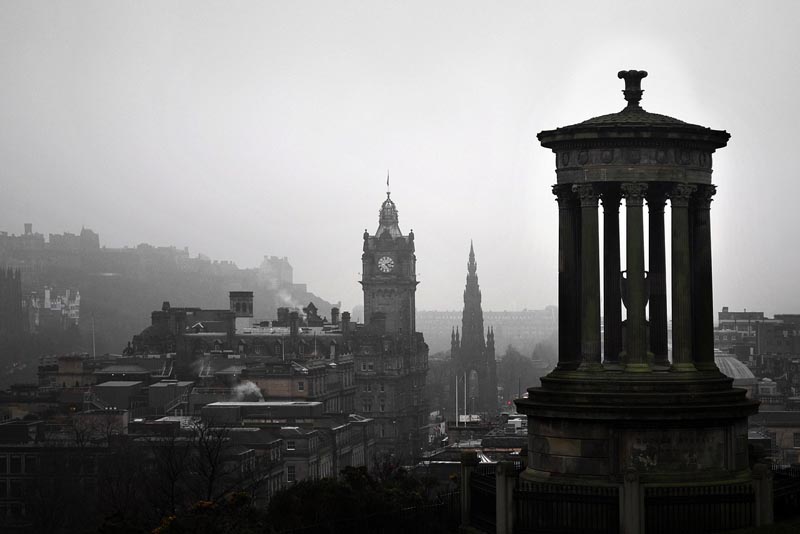 Some of the most haunted parts of the city are; Mary King's Close, the Vaults under the Royal Mile, The Grassmarket, and Greyfriar's Kirkyard.
There are many ghost tours to choose from in Edinburgh. Mary King's Close, Haunted Edinburgh, and City of the Dead are all good scary options.
The Edinburgh Dungeon is another place where you can learn of Edinburgh's dark and haunted past.
It is a good spot for teens to adults and leads you through multiple exhibits on some of the city's dark characters including Burke and Hare the mass murderers, and Sawny Bean the cannibal.
You cannot walk around here unsupervised but you can take a led tour. (book ahead during busy seasons and at weekends year round as it is popular).
18. Churches and Graveyards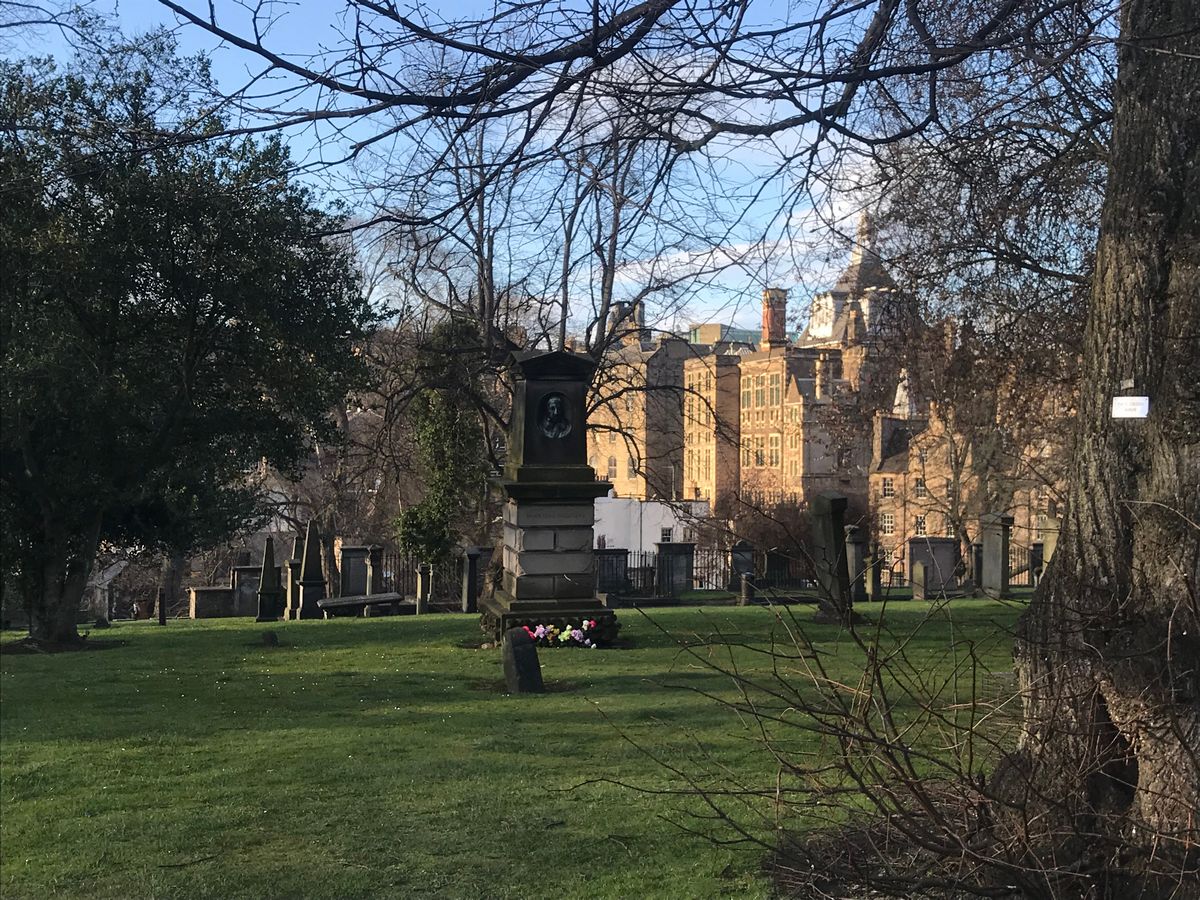 Edinburgh is full of fascinating churches that are worth a visit whatever your faith is.
These churches also are the final resting places for many famous people and characters from Edinburgh and names who inspired various writers to create characters.
19. Churches to visit in Edinburgh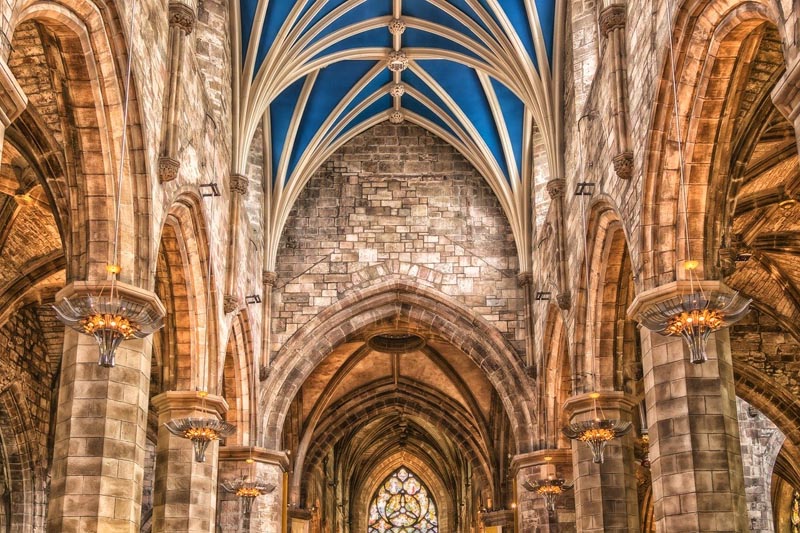 Here are a few of the most interesting churches and graveyards in my opinion and what to look out for there:
1. Greyfriar's Kirk – Apart from the wee famous dog (see number 20) this grave has inspired JK Rowling's character Ms. McGonagall in her Harry Potter novels from the grave of William McGonagall, who was infamously Scotland's worst poet.
2. Canongate Kirk – Where The Queen worships when she is in Edinburgh. It has the grave and statue of poet Robert Ferguson who penned Auld Reekie. A young Charles Dickens visited Edinburgh and was surprised to see a grave that he thought read "Ebenezer Scrooge, Mean Man".
3. St Cuthbert's Church – One site of oldest Ecclesiastical site in Edinburgh. Hosts many choral concerts. In the graveyard is the grave of Henry Raeburn, famous Edinburgh artist who painted 'The Skating Minister'.
4. St Johns – Stunning protestant church with 16 gorgeous full stained glass windows portraying stories of the life of Christ, and with a Tiffany window.
20. Greyfriar's Bobby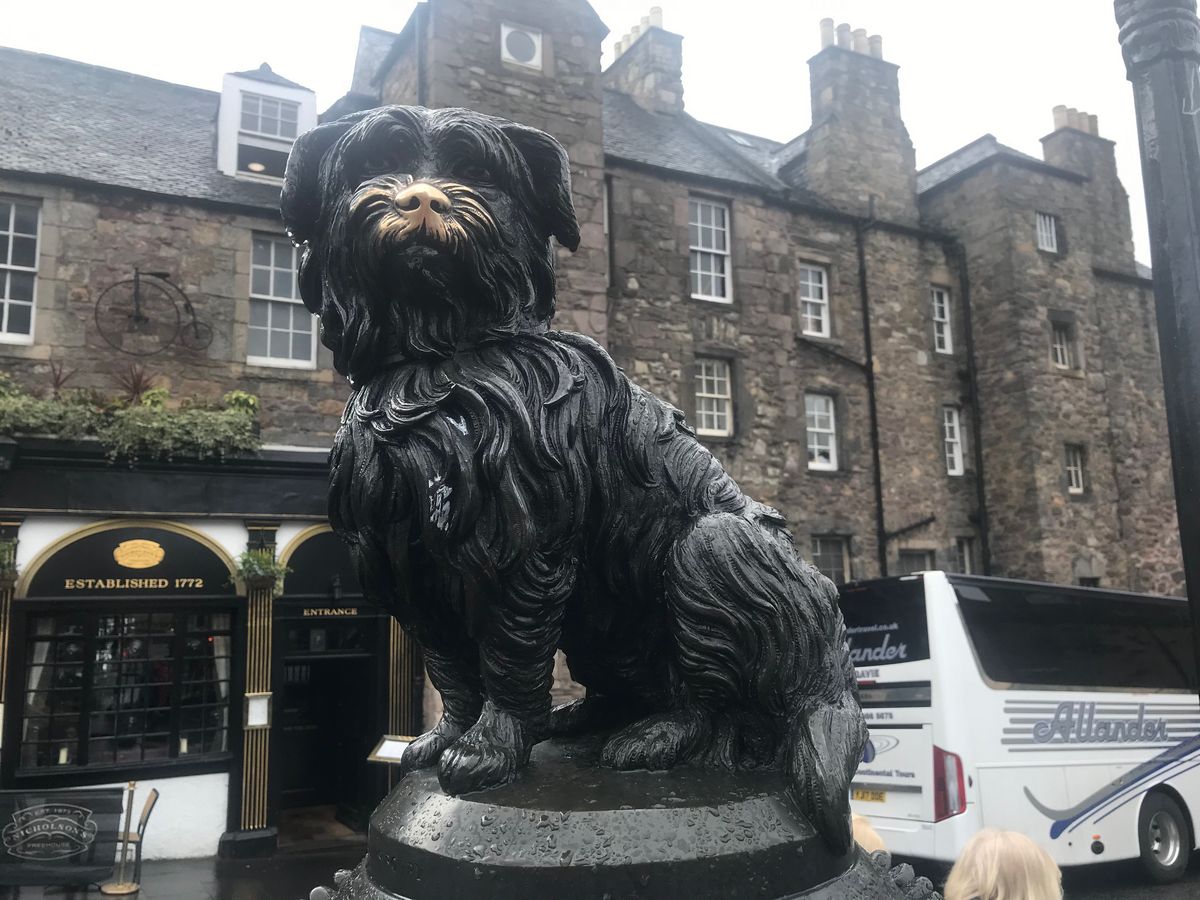 Greyfriar's Bobby is the tale of a wee dog from the Greyfriar's area of Edinburgh. His is a tale of friendship and devotion.
A kind local policeman named Jock Grey adopted a little Skye terrier and named him Bobby when he was just a couple of weeks old.
The pair soon became the best of friends, going everywhere, including the local pub by Greyfriar's Kirk (church), together.
Sadly after only two years together, Jock passed away from tuberculosis, and Bobby was left master-less. The wee dog was broken-hearted, so spent every night of the rest of his life – another 14 years – sleeping on Jock's grave.
He was taken in by the community and given a license by the Lord Provost of Edinburgh and has been a sort of folk hero since.
Many people have taken to rubbing the statue of Bobby's nose for luck and taking a photo with him, so don't miss visiting the city's favorite canine.
Hours: Statue 24 hours. Greyfriar's Kirk, usually 10am-6pm.
Cost: Free.
21. The Grassmarket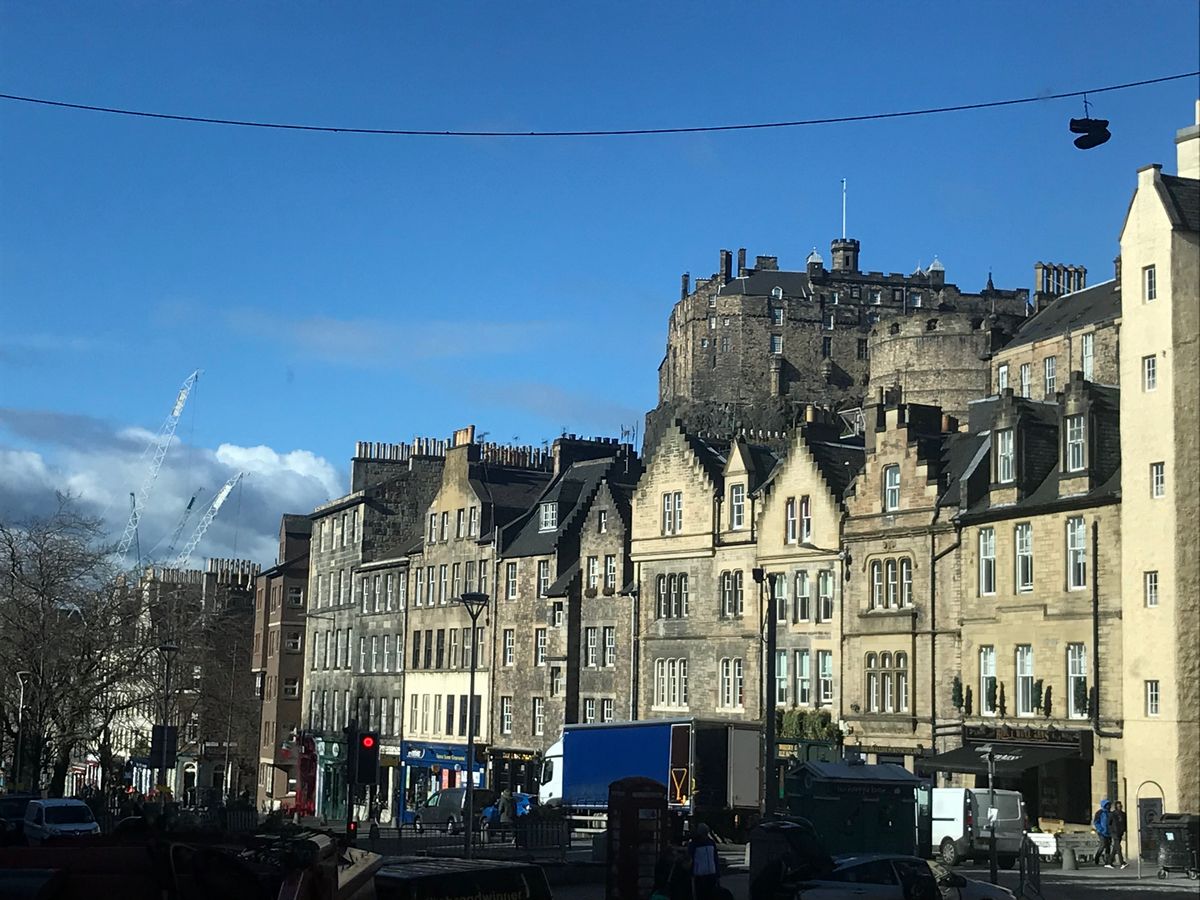 The Grassmarket is a bustling part of Edinburgh, which has great nightlife and places to eat, as well as an intriguing past.
Situated in the shadow of Edinburgh Castle to the south, it is named, as it was the market where all animals that ate grass –as well as the grasses to feed them – were sold.
Cows, sheep, pigs, and goats were led along the Cowgate to market. The market also sold all other manners of food, drink, clothes, and crafts.
22. The Gallows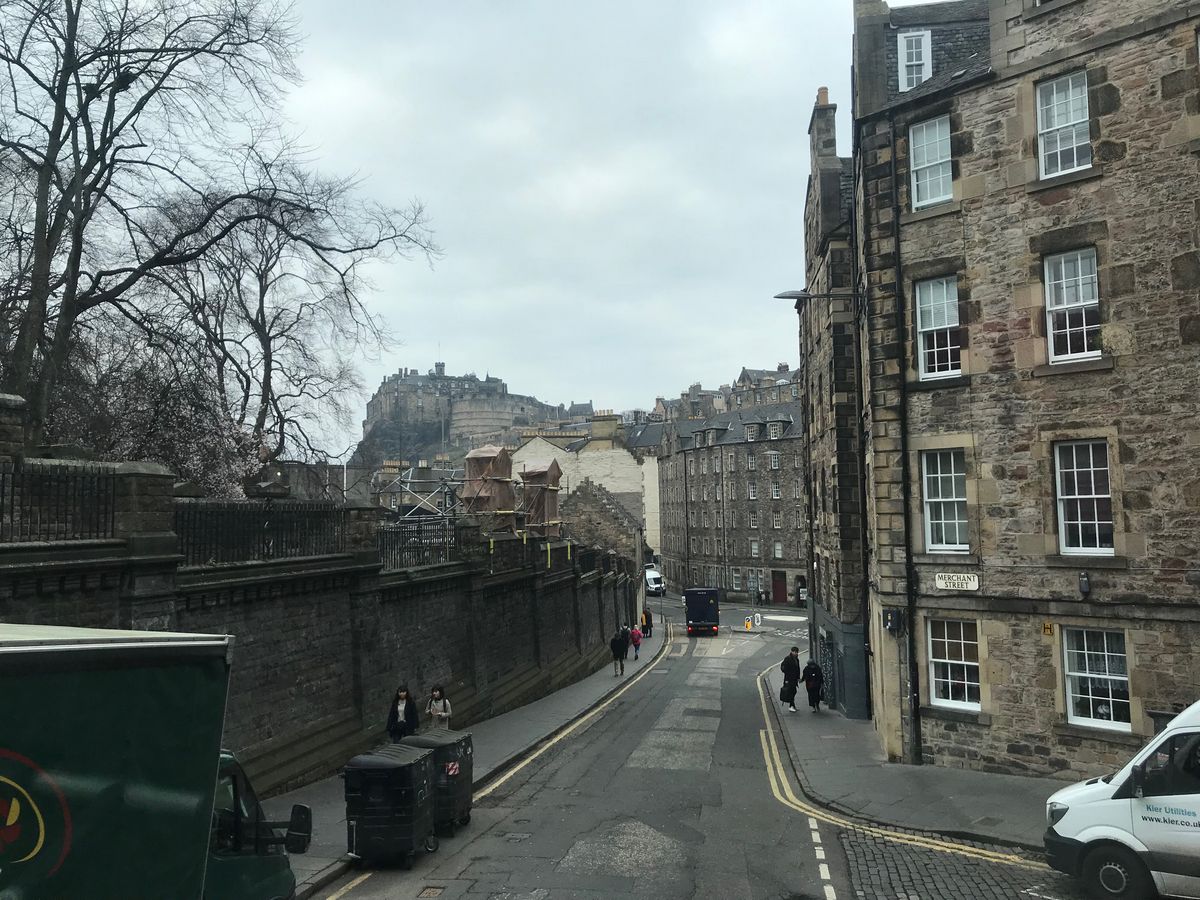 This bustling square hosts a food and craft market on Sundays and has a plethora of great old character-filled pubs to visit and great restaurants to sample Scottish or international food.
Common criminals who had been sentenced to death were hanged here on the spot, which now is a raised platform with a cross on it.
Some infamous Edinburgh criminals such as mass murderer William Burke and thief Deacon Brodie met their end here.
23. Maggie Dickson's Pub
The names of the pubs around the square make a nod to this grizzly past with The Last Drop not referring to the last drop of the day, but your last drop ever.
Maggie Dickson's is named after a woman who was hanged for "killing" her child who was stillborn but didn't actually die. She survived the hanging and as she couldn't be tried for the same "crime" twice, she lived another 30 years with the nickname "half-hanged Maggie".
24. Harry Potter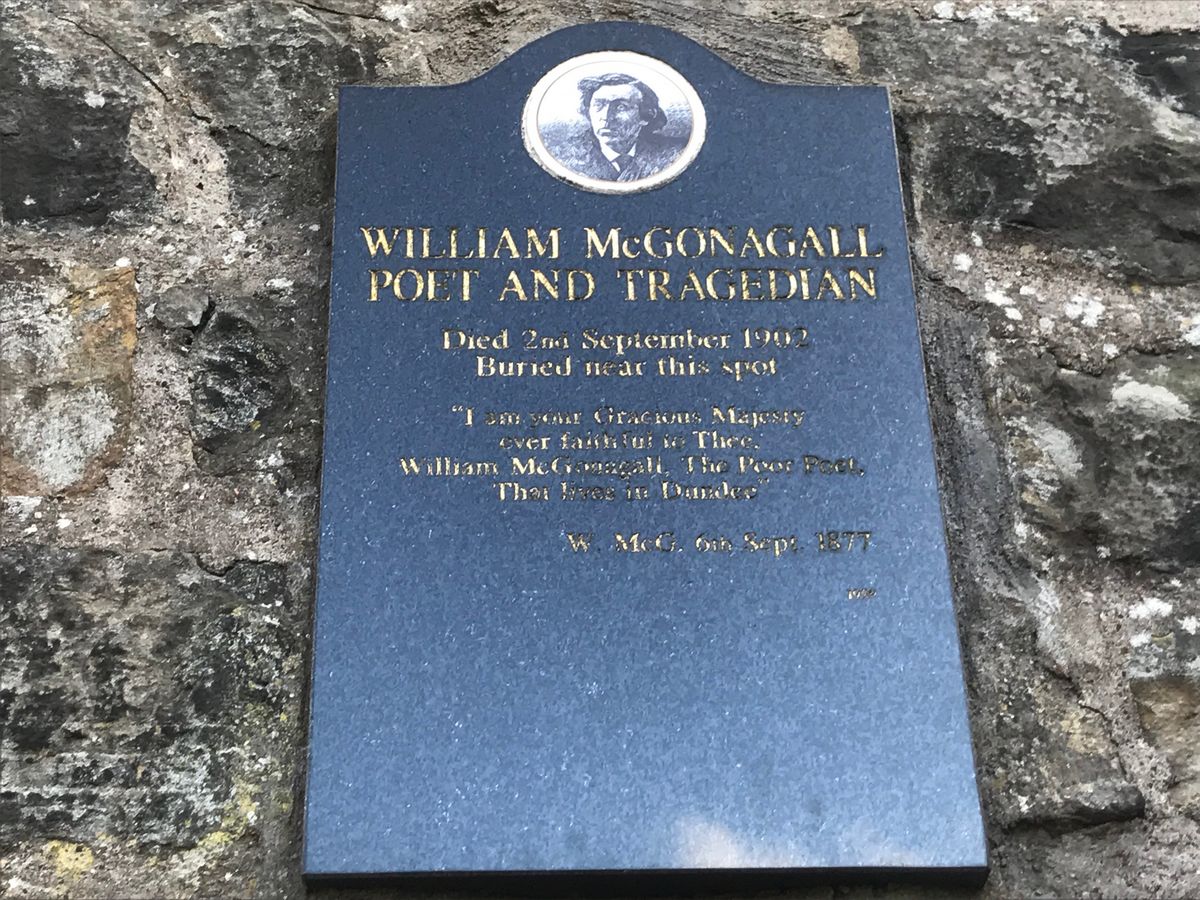 JK Rowling lived in Edinburgh when she started writing Harry Potter, and during most of her time writing the tomes, so there are lots of links to the stories for those interested.
Harry Potter Locations in Edinburgh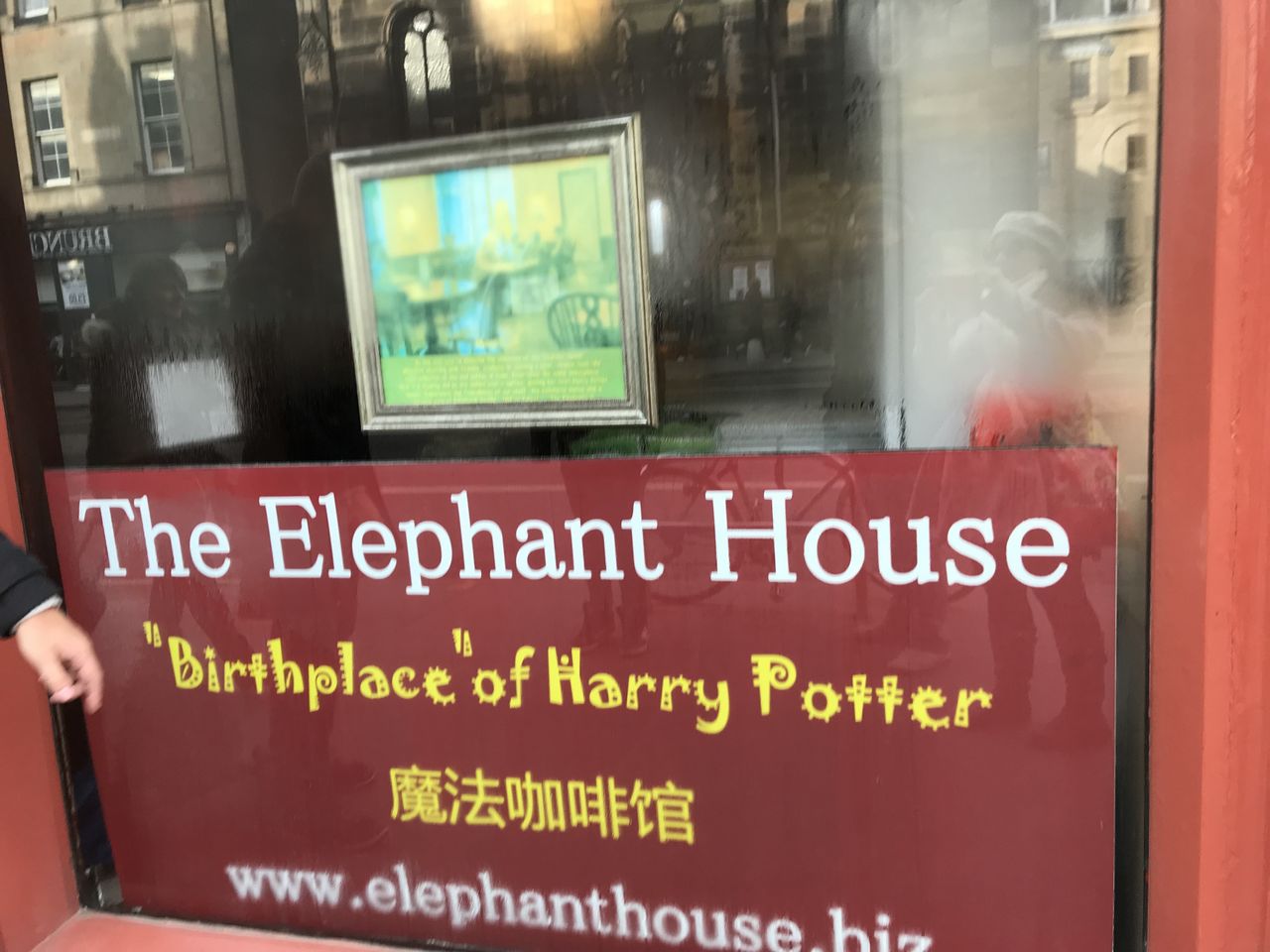 The Elephant Café – On George Fourth Bridge. This is a café where Rowling did a lot of writing during her early stages of the books.
Greyfriar's Kirk – The grave of Scottish poet McGonagall was the inspiration for the character Ms. McGonagall, as Rowling enjoyed the irony of naming a very literate and clever character after someone infamous for his terrible poems.
Hogwarts – The description of Hogwarts is said to be an amalgamation of inspiration from three private schools in Edinburgh, Stuarts Melville, Fettes College, and George Heriots. All three schools aren't far from the city center, with George Heriots situated right behind Greyfriar's Kirkyard if you visit there, so are easy to go to see.
The Boy Wizard Shops– Harry Potter shops called The Boy Wizard are popping up around Edinburgh for all your Potter merchandise needs. There is currently one on South Bridge, The Royal Mile, inside the Tartan Weaving Center right next to the Castle downstairs, and one just opened in Edinburgh airport!
Hours: Various times for each place.
Cost: Browsing shops, looking at schools, and graveyard free. Tour prices vary.
25. Outlander and Harry Potter Tours in Edinburgh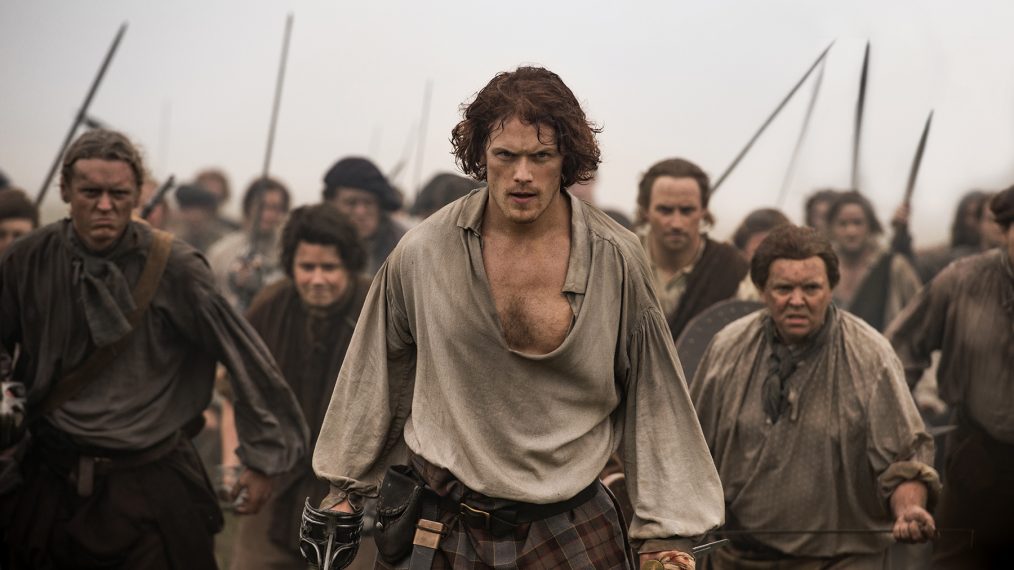 There are several Harry Potter themed tours to choose from for real enthusiasts, and my pick is Potter Trails.
We use Viator and Get Your Guide when booking day tours and can confidently recommend their tours when visiting a city.
26. Royal Mile Free Museums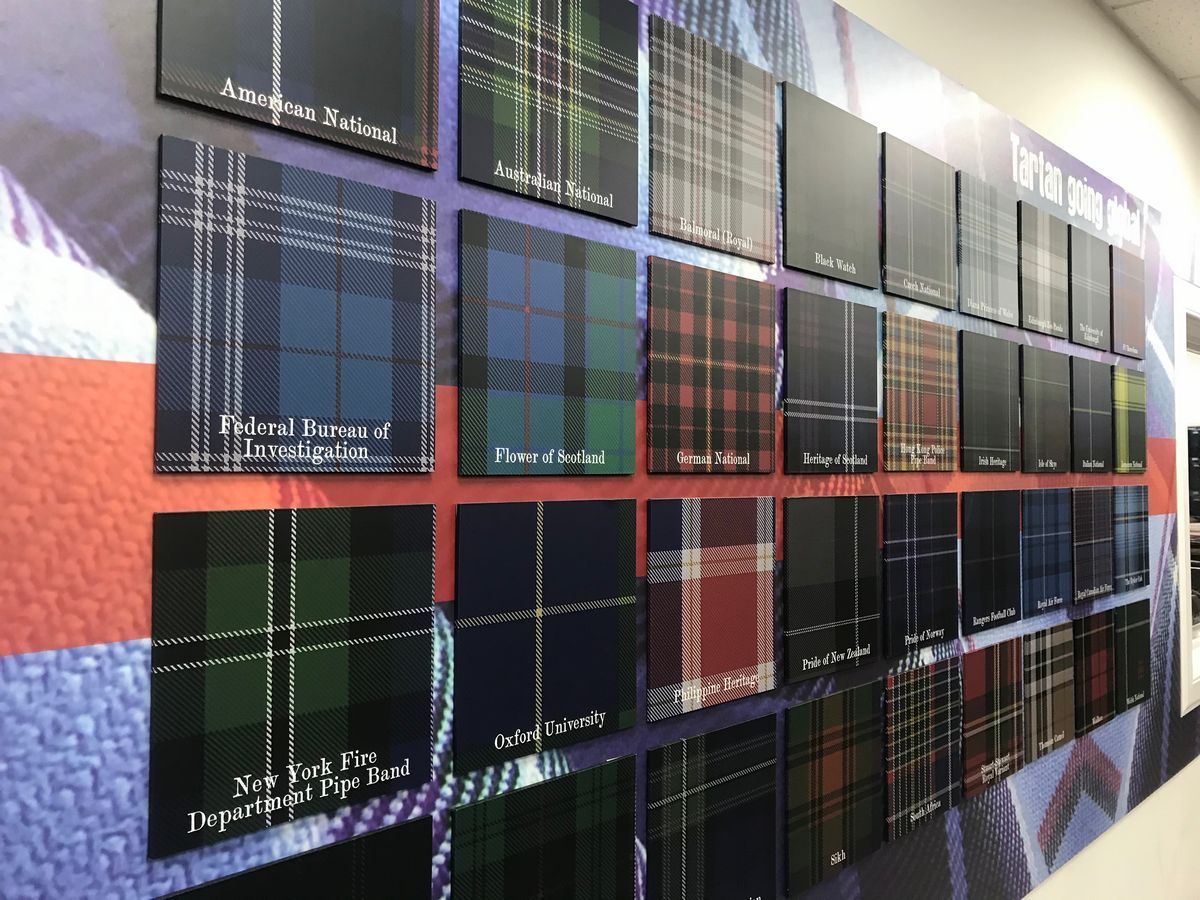 The Royal Mile is home to several lovely, specialized museums, which are free and worth checking out.
Here is a rundown of them, in order from going from the castle down the hill.
Free Museums of Edinburgh
Tartan Weaving Center – Ever wondered how tartan is made? Well, head down into the basement of the weaving center to see the exhibit on how tartan is made, including seeing weavers in action on weekdays.
Writer's Museum – This small but charming museum pays homage to some of Edinburgh's most illustrious writers. INcluding Robert Burns, Robert Louis Stevenson, and Sir Walter Scott and JK Rowling.
Museum of Childhood – This museum is a great place to bring the kids and grandkids. It showcases toys from the Victorian era through to today,
Edinburgh Museum – This museum showcases information about old Edinburgh and what life was like in the old town before modern conventions.
The People's Story – This museum shows the story of various peoples in Edinburgh – mainly showing what life was life for the working classes.
Information for Visiting Edinburgh – Resources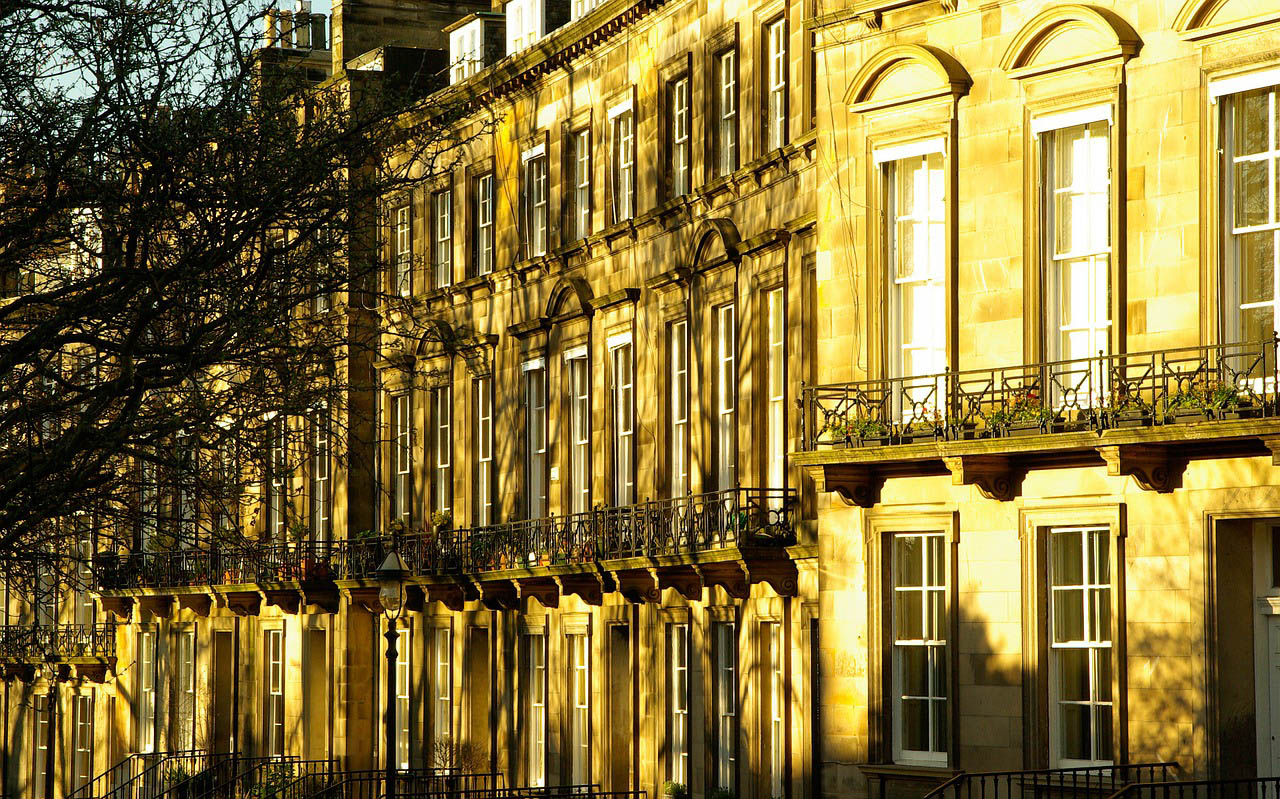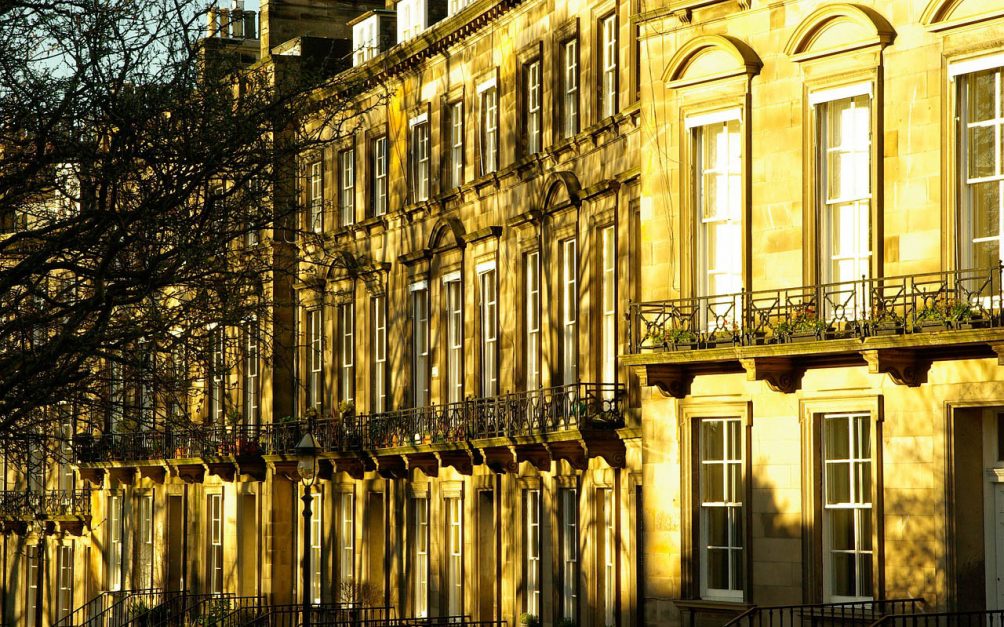 Best Time of Year to visit Edinburgh
Edinburgh is a busy city year-round and there is no bad time to visit Edinburgh, but there are better times for weather and crowds.
But weather is unpredictable in Scotland so be prepared for rain at any time and pack layers and an umbrella.
For the best weather in Edinburgh – June to August are the warmest months to visit. These are also the busiest time to tourism, so expect higher prices and more crowds.
August is the festival time in Edinburgh, so hotels and tourist attractions will be booked out.
Shoulder season – April to May and Sept to Oct is a good time to visit as the weather is mild and you will find better deals.
November to March is the low season and you'll find the best deals at this time. During this time you'll be able to find cheaper flights and accommodation.
What to Pack for a Trip to Edinburgh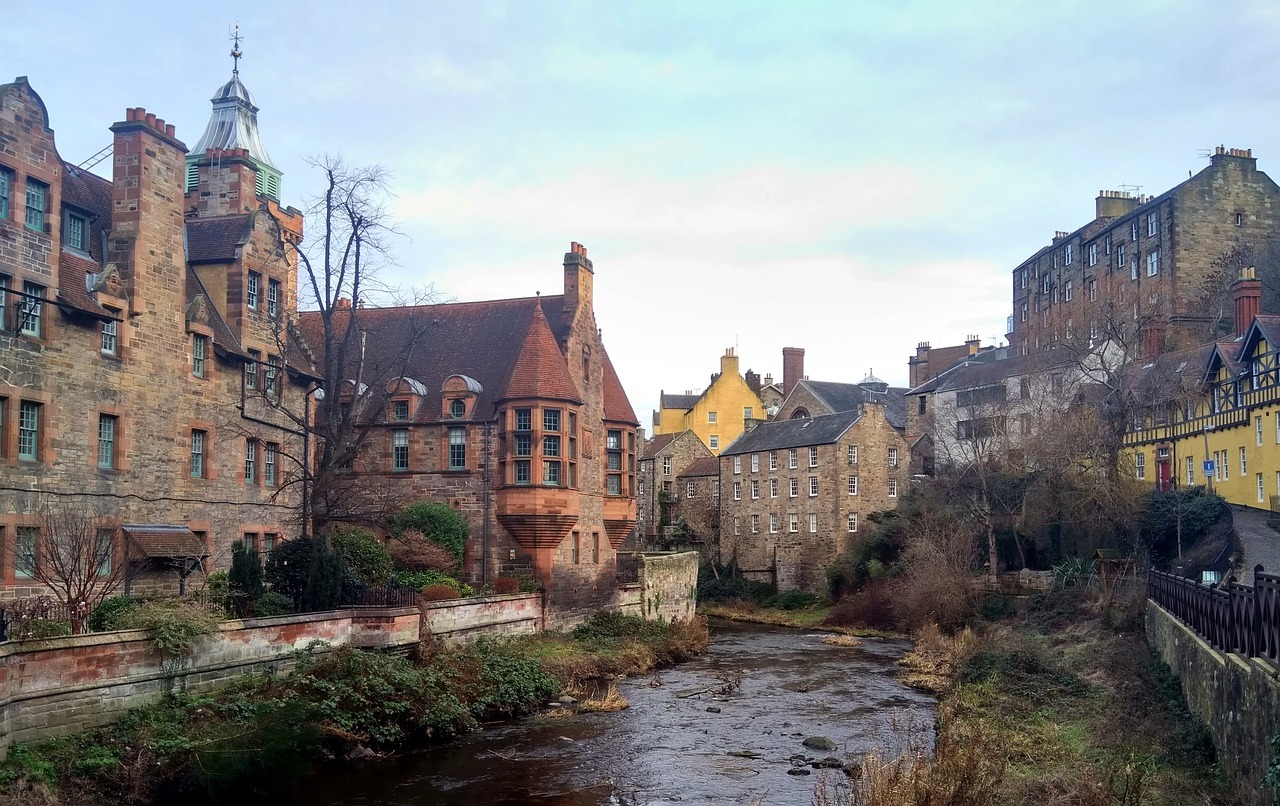 Scottish the weather can be unpredictable. Dressing in layers is always a smart move, and bring a small but sturdy umbrella.
Trenchcoat – Being an urban center, a fashionable waterproof trenchcoat is a good recommendation. I prefer a coat with a hood and am a fan of Arc'teryx brand
Breathable lightweight clothing works best.
Comfortable waterproof shoes or boots are a must.
Eagle Creek Plug Adapter – This all in one adapter is all you need for Edinburgh and other European and world travels.
Belkin Mini Surge Protector – A perfect accompaniment to the plug adapter this will help protect all of your electronics from unwanted power surges. We take this wherever we go.
Where to Stay in Edinburgh
Karen gave an in-depth breakdown of all the Neighborhoods in Edinburgh.
To find the best Place to Stay in Edinburgh by Neighbourhood, click on the links below. They will take you to a break down of each area of Edinburgh and suggested hotels.
Getting Around Edinburgh
Edinburgh's city center is mostly walkable, but public transport is widely available and pretty easy to navigate.
If you are planning on visiting several areas in a day, getting a day pass, weekend pass or week pass for the bus system is a smart move with Lothian Buses.
Single tickets are £1.70.
A day pass that is valid from 5 am, until midnight costs £4.00.
Weekly tickets on the bus cost £19.
Night buses are available too, simply look out for the N sign on bus stops and they cost £3.00.
You can find full details for timetables for Lothian buses here.
Hop On Hop Off – Edinburgh's green Hop On Hop Off Bus begins its tour of the city's major attractions from Waverley Bridge.
Getting to and from the Airport in Edinburgh
Ready to fly to Edinburgh Check out Cheap Flights here.
Take a private transfer to your hotel for only $17 USD
To go further afield, buses and trains leave regularly for Glasgow, south Lothian towns, and sunny Fife to the North from the St Andrews Square Bus station and Waverley Train Station respectively.
And that is my guide to the very best things to do in Edinburgh Scotland.
If you haven't been, come and visit, I'm sure you'll love it.
I think this quote by famous Edinburgh author Alexander McCall Smith sums up Edinburgh quite nicely: "This is a city of shifting light, of changing skies, of sudden vistas. A city so beautiful it breaks the heart again and again."
And if you'd like to come on one of my tours, check my website and drop me a line of when you'll be there.
Read More: