Whenever Dave and I travel, we always want to learn about local culture and traditions. And there is no place better to explore culture than in our own backyard. Canada is filled with fascinating Aboriginal Experiences. 
5 Aboriginal Experiences in Ontario
When it comes to our own country, we've neglected to open our eyes to the culture that is right in front of us.
We ignored that we have a rich heritage and interesting (sometimes dark) history here in Canada. It was while travelling around Ontario this summer that our eyes were opened to the extraordinary culture that is right in our own backyard.
The Anishinabek People of Manitoulin Island
We don't have to fly to Borneo or India to see an ancient culture in action, Canada's First Nations People are one of the most captivating cultures on earth.
Yet, I think very few people know or understand their culture. While visiting Manitoulin Island, we learned about the Anishinebek people.
The Anishinebek nation is comprised of the Odawa, Ojibwe, and Pottawatomi peoples.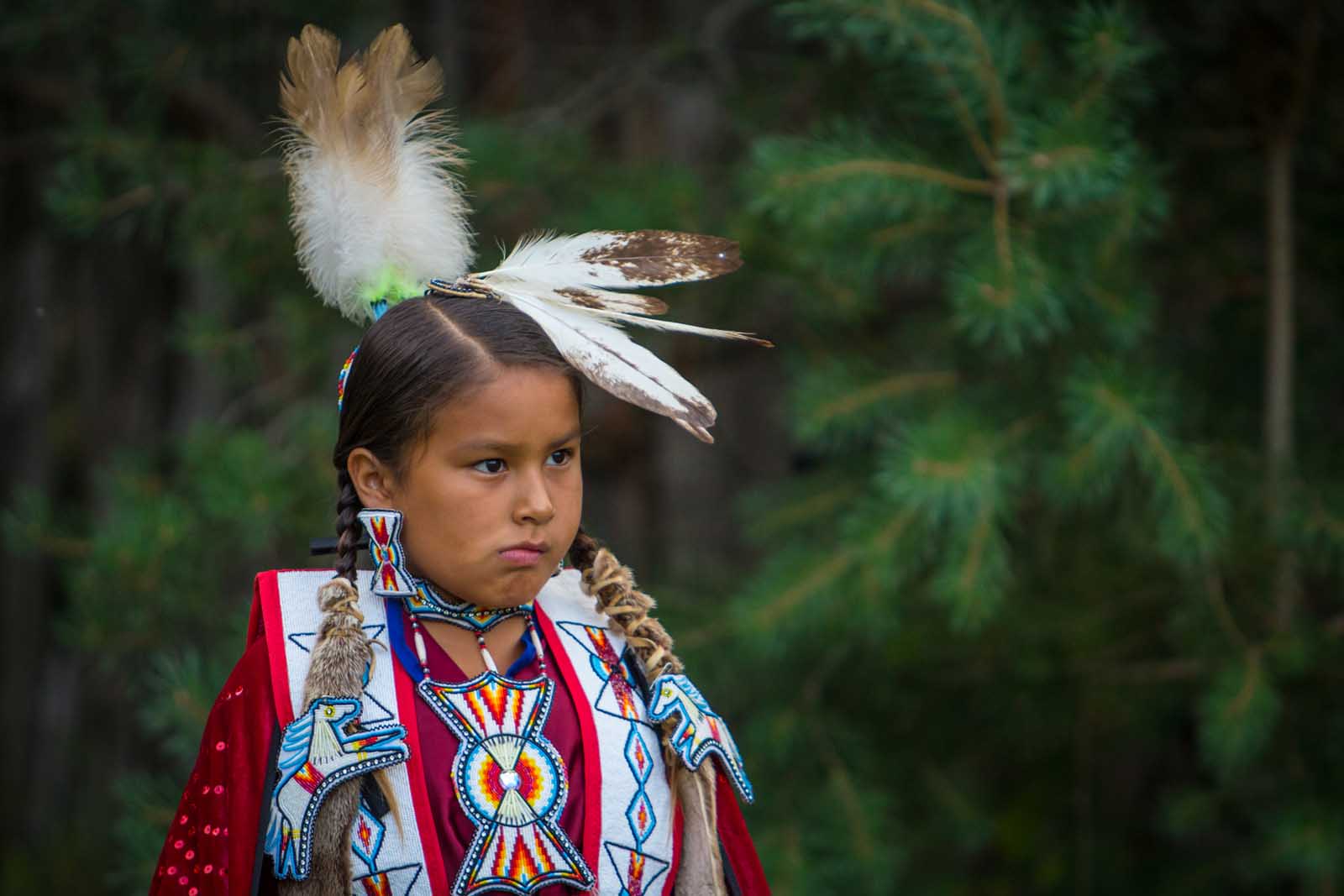 Canada's First Nations People are the foundation of our country, and too many of us don't know enough about them.
There is a good reason for that. For over a century the First Nation's culture was repressed and people were forced to live separate from society.
Residential Schools
Dave and I only recently learned all about residential schools that were open right up until the 1990's here in Ontario.
These schools were funded by the government and run by the Christian, Catholic, and Anglocan churches of Canada. They removed native children from their families, forbade them to speak their native tongue and stripped them of their cultural identity. Abuse was wide spread and common and many children died within the system and grew up with severe trauma.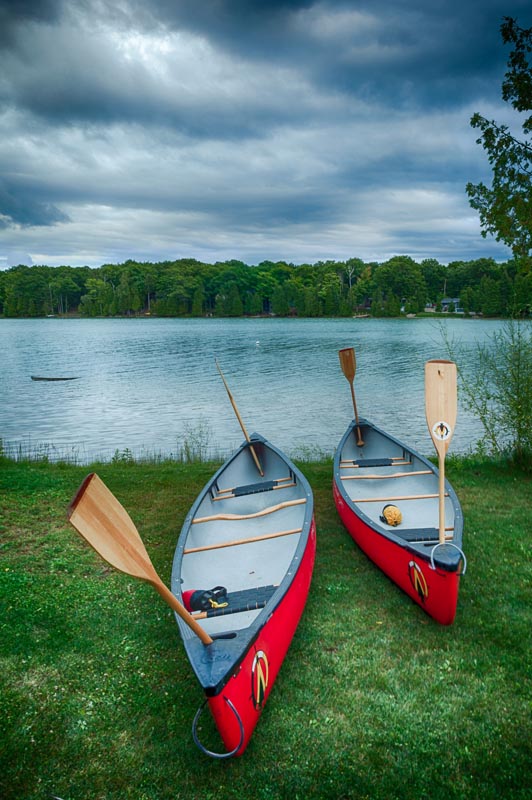 It has only been recently that the Aboriginal Culture has started to heal. They are now starting to preserve their heritage. Native languages are being taught again in school and old customs are being embraced and practiced throughout the land.
We learned so much this year and have come away richer from our experience. Not only through the knowledge that we gained, but the friends that we made.
Manitoulin Island
If you want to visit Canada and learn about its Aboriginal culture, Manitoulin Island is definitely the place to visit.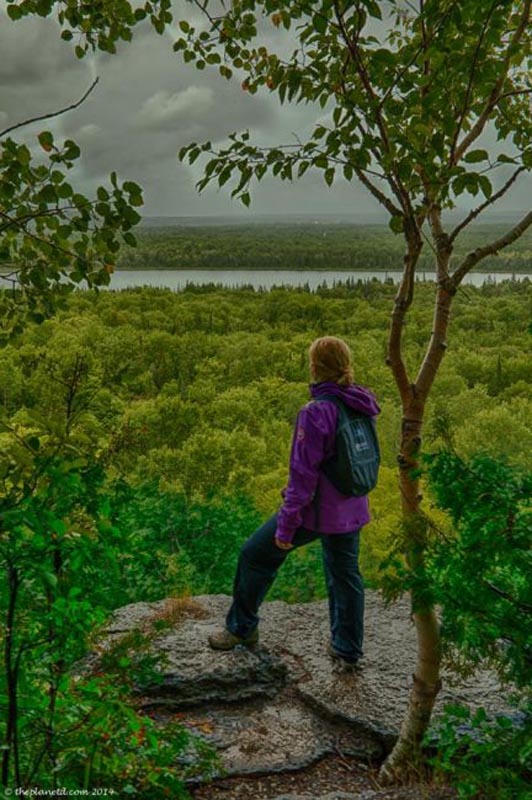 There are seven reserves on the Island and they are open and ready to talk to you about their traditions. We were inspired by their sincerity, their spirituality, and their generosity.
To truly get a taste of Aboriginal culture, you must visit the Great Spirit Circle Trail, here you will get the chance to take part in Aboriginal Activities and learn about their ways first hand.
You'll come away with a better understanding of Aboriginal Culture and you'll have made new friends too! We had some incredible cultural experiences on the Great Spirit Circle travel and here are our picks for what you should do on Manitoulin Island.
Top 5 Aboriginal Experiences on Manitoulin island
1. Song and Dance Performance
Watching Rolling Thunder Dance Traditions accompanied by the vocal and drum stylings of Genaabaajing Jr was definitely the highlight of our time on Manitoulin.
It was a privilege to have a front row seat at our private performance.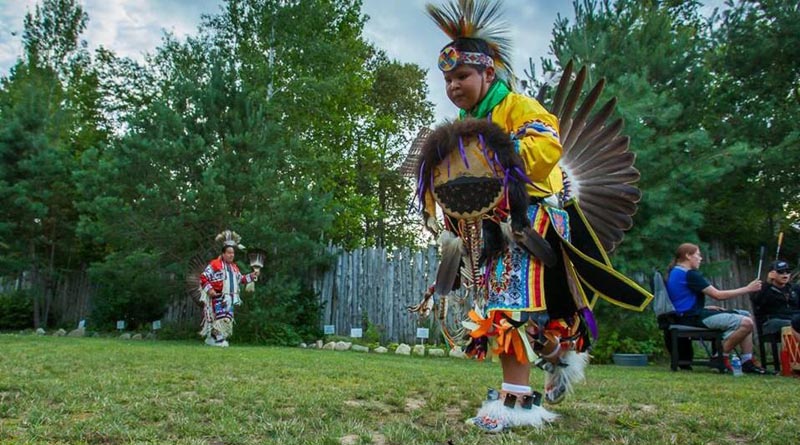 Anyone can book a private dance performance through the Great Spirit Circle Trail. It gives you the chance to talk to the performers and gain intimate knowledge of the meaning of the dance and the clothing.
It's very relaxed and fun, but also informative and captivating.
You come away from the dance performance feeling better about everything. I think we smiled throughout the entire performance. The dancing and the singing lifted our spirits.
2. Song of the Drum
Making your very own drum to take home is a special experience, but getting to learn about the history and importance of the drum in Aboriginal culture while having two talented musicians perform for you is a real treat.
Genaabaajing Jr of our private song and dance were talented vocalists and performers, but Falcon and Steven of The Great Spirit Circle trail are equally if not more talented.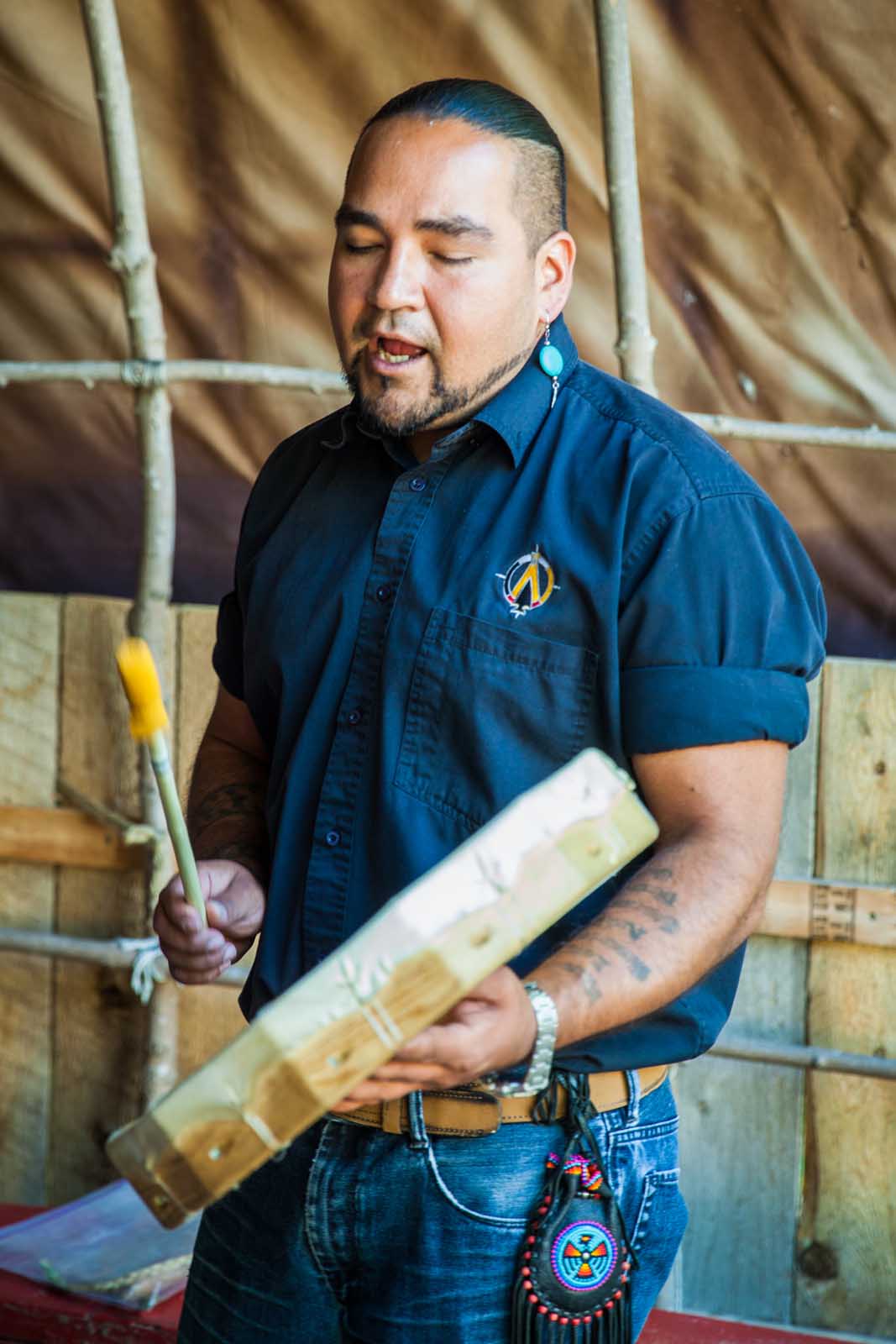 The staff that works at the Great Spirit Circle Trail are all accomplished performers and story tellers. The afternoon flew by as guide Steven told jokes intertwined with storytelling and made us feel relaxed while sharing detailed accounts of his Inishinabek heritage.
Besides, who wouldn't want to take home a drum that you made with your own hands?
For aboriginal experiences on Manitoulin Island visit the Great Spirit Circle Trail website. 
3. Aboriginal Feast
An Aboriginal Feast is a fun and interesting way to be immersed in First Nation's culture.
Sitting around a campfire you prepare for your meal with smudging ceremony.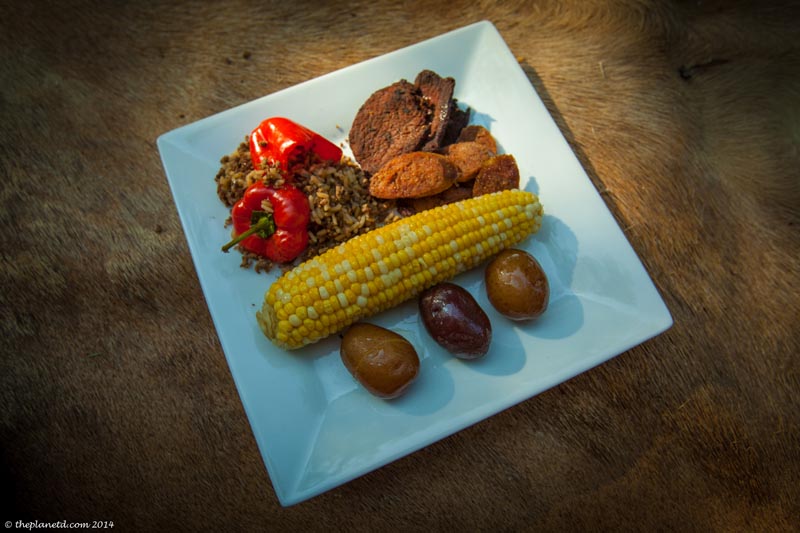 This is a ceremony where local herbs and tobacco are placed in a bowl lit just enough to create smoke. The smoke is used for cleansing. As it rises to the air, it reaches the creator and their ancestors taking away any bad energy of the day.
The bowl is passed around and each person silently spreads the smoke over their five senses performing a silent prayer or affirmation. It's up to you how much you want to take part. Nothing is made to make you feel pressured.
4. Ojibwe Cultural Foundation
One could get lost for hours in this museum featuring a teaching lodge, Aboriginal art, historical artifacts and facts about the Anishnaabe people.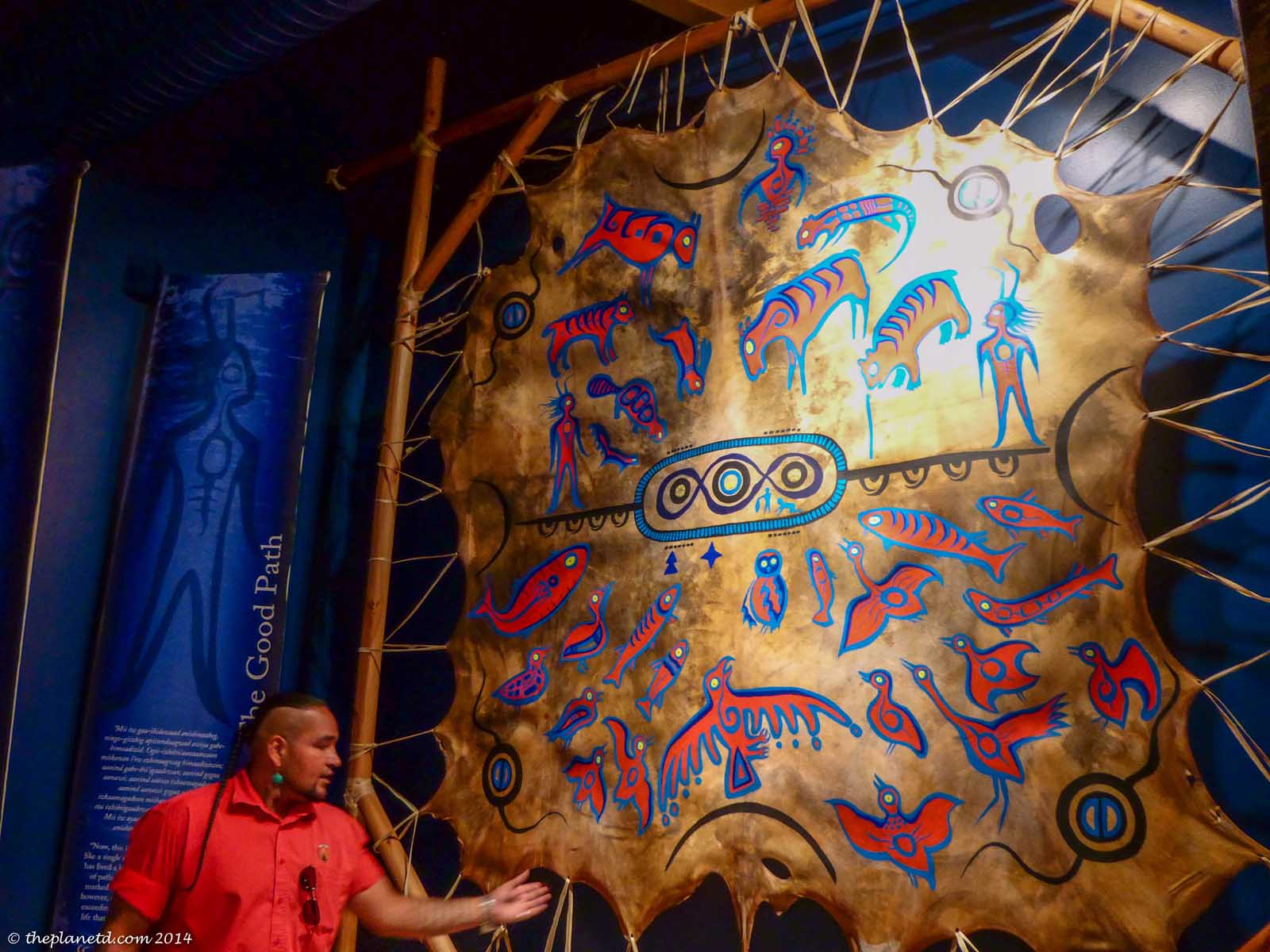 Having our guide Falcon talk to us about the culture made for an even more fascinating experience.
Once you are finished in the museum, you can cross the street to visit Lillian's Arts and crafts where you can buy Aboriginal arts but also browse its small museum in the back.
Both of these centres are located in M'chigeeng
www.ojibweculture.ca
5. Local Church Visit
A visit to the Church of Immaculate Conception is an interesting stop on the Great Spirit Circle Trail.
It is the local church of the Anishnabek people infusing Indigenous Spirituality with Christianity.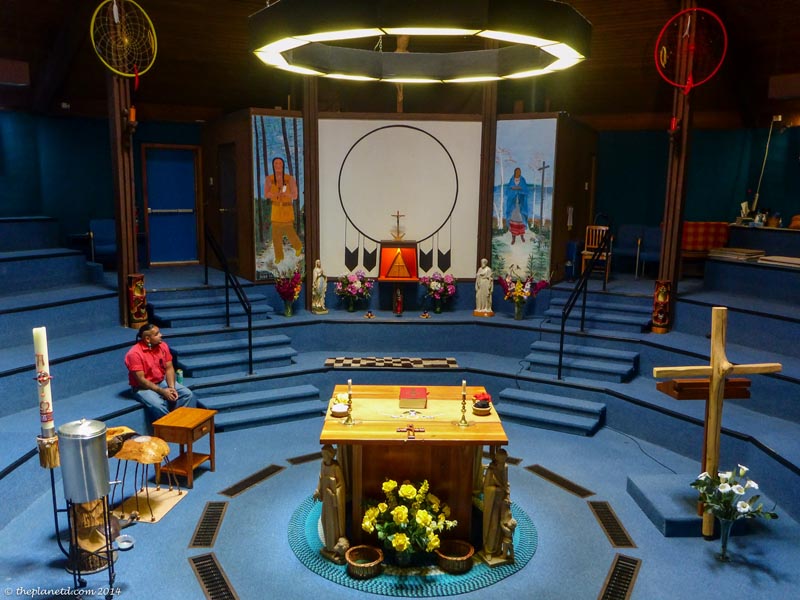 The church is in the round reminding me of a teepee. All seating is in a circle and is theatre style surrounding the altar. It's a beautiful building to sit in contemplation.
I was particularly drawn to the wooden door filled with animal carvings.
6. Walk and Talk
There are several hikes and activities around the island, but to hire a local Anishinaabe guide will offer plenty of insight to the history of the region.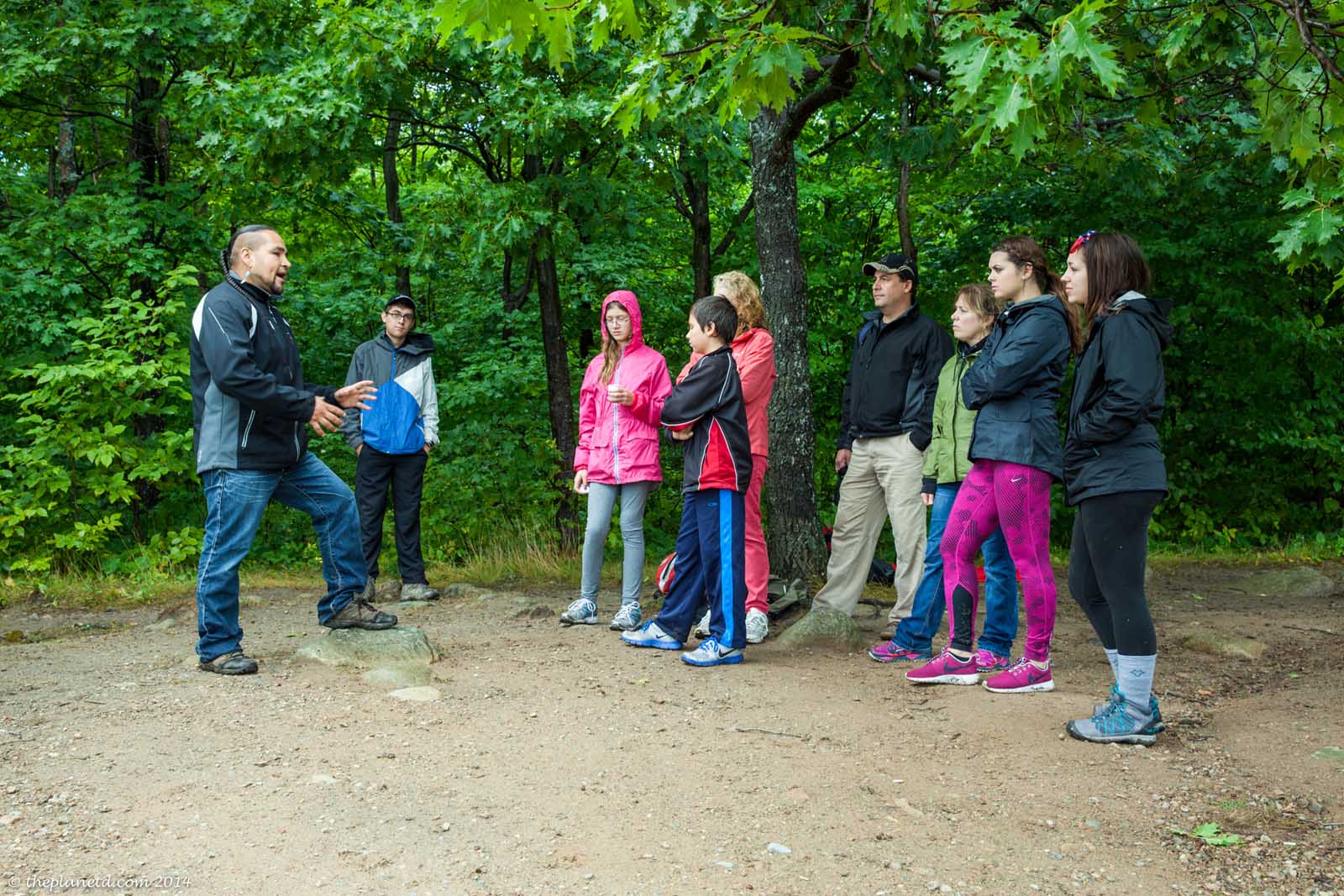 Not only do you learn about different ceremonies such as the smudging ceremony mentioned above and the tobacco ceremony where you give thanks to Mother Earth, you also learn about the legends of the area.
You could easily walk trails like the Cup and Saucer trail on your own, but to have a local guide tell you about the medicinal plants and local legends makes it a richer experience.
See our full Aboriginal Experience on Manitoulin Island
When traveling to Canada, it is important for visitors to enjoy an Aboriginal experience.
It's a culture that is very open to speaking to outsiders about their heritage and history and they are very cool and hip people too.
They have plenty of stories to tell and talents to share. If you enjoy immersing in culture when visiting a country, a visit with the Anishinabek People of Manitoulin will be a very fulfilling experience.
Plus, you'll have a lot of laughs and moments to remember forever too.
We came away from Manitoulin Island with a better understanding of our First Nations neighbours and we made new friends that we hope to continue. You can guarantee we'll be back.
 For more information on Manitoulin Island and the surrounding area visit North Eastern Ontario Tourism 
Where to stay
Manitoulin Hotel and Conference Centre 

– Little Current: The conference centre also has an excellent dining area with patio overlooking the harbour.
Food Options
Our trip was provided by Outdoor Ontario as part of the Best of Ontario Outdoor Contest.
Read More:
5 Things to do on Manitoulin Island
You Might Also Enjoy