Summerfest in Milwaukee is the world's largest music festival that's been running for forty years. It attracts the hottest names in the music industry showcasing popular acts to up and coming talents.  How had we not heard of this before?
Milwaukee Summerfest – Have you heard of it?
We went to Milwaukee to experience Summerfest a summer music festival that takes place on 11 stages, over 11 days and has been running for the past 35 years. It is the world's largest music festival and we have never heard of it.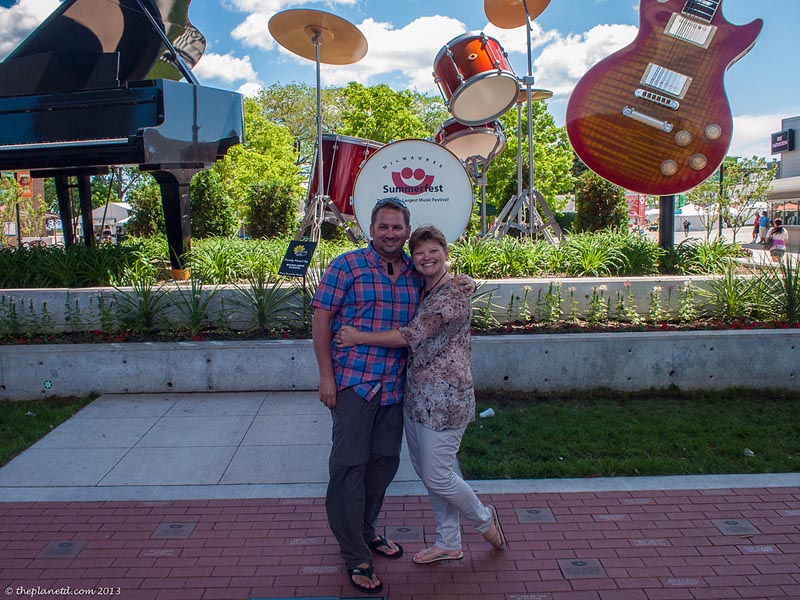 So how does a festival that's been going since 1968 attracting big name acts like The Foo Fighters, Katy Perry and Kanye West, go unnoticed by so many people?
About Summerfest in Milwaukee
After attending Summerfest we've come to the conclusion that it is not only the largest music festival in the world. We'd rank it up there as one of the best in the world!

One thing we did conclude is that now we know where the catch phrase "Hello Wisconsin!" comes from.
Forget Kelso from That 70's show, bands have been playing on these stages since the Vietnam War! I'm sure they were yelling Hello Wisconsin decades ago.
This isn't your usual summer festival that attracts only up and coming acts.
No, Milwaukee has big name artists mixed in with the up and comers and the night we were there, we saw Tom Petty, Cake and L.L. Cool J all perform at the same time on different stages.
Cost of Summerfest

What we love about Summerfest is that it's affordable and fun. At $17 for an all day pass once the doors open at 12:00 noon, you're free to roam the grounds in search of your favourite band or the next big thing.
We went to see the late Tom Petty perform for about an hour and he was awesome. The guy is getting better with age and we were thrilled that he didn't waste any time getting into his big hits.
Unfortunately there were some other acts that we were dying to see, so feeling satisfied that we heard what we wanted from Tom, we moved on to catch a couple of tunes from LL Cool J. We know a bit of his older stuff and we're both fans of Mr. "Ladies Love Cool James," so we wanted to see him in person.
I didn't know a lot of what he was performing tonight, so it was on to see Cake.
Long Skirt and Short Jacket by Cake.
Dave and I are definitely Cake fans. We love their sense of humour. Come on, how can you not love titles like "Sheep go to Heaven, Goats go to Hell" and Short Skirt Long Jacket."
Like the song above? Buy Cake's album at Amazon...we thought we'd make it easy for you and earn our .30 cents commission.
Cake's performance was in full swing to a packed house when we arrived, but we were determined to get to the front of the stage. Standing way at the back of a very large crowd, we ran into fellow Visit Milwaukee guests Michael and Stephanie of Art of Adventuring and Twenty Something Travel.
We were way too far back for our liking, so we told them to follow us. We were determined to get a closer look.
We wove our way through the crowd and got to the front row. It's amazing what a smile and a 'cheers' can do for you. (Oh yes, I forgot to mention that you can carry your beer with you wherever you go during Summerfest)
I stood right in the front row, centre stage and watched them perform their magic before stepping back to the second row to join Dave and the gang. I couldn't hang out there all night squeezed between a couple of strangers now could I?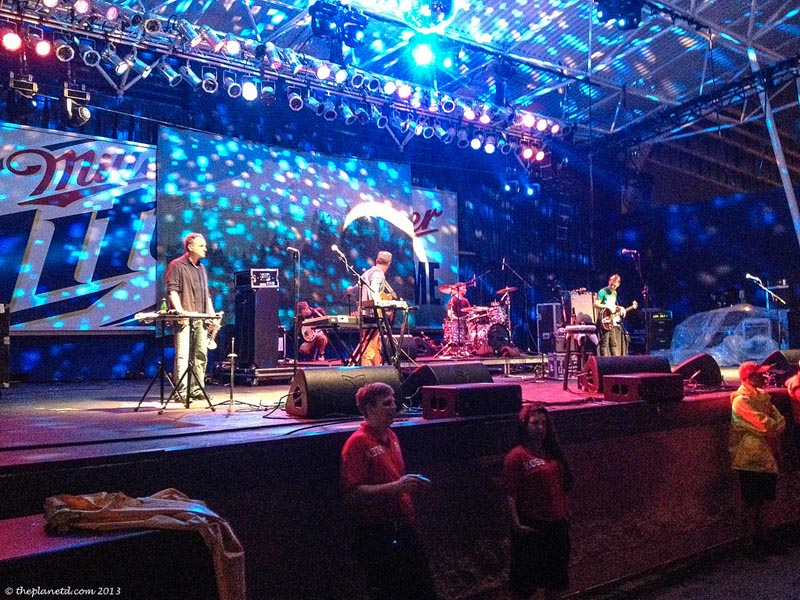 We had the Summerfest bus booked to bring us back to our hotel, but the venue is so close to downtown, we could have walked back to our hotel, The Hilton Garden Inn in the heart of downtown in only about 10 minutes time!
Being after midnight though, I was happy for the shuttle.
Summerfest shuttles run every 7 to 10 minutes from downtown and cost $3
Why Would I go back to Milwaukee for Summerfest?
I think it's one of the best festivals we've ever been to and the price is outstanding.
Even the T-shirts were affordable. We bought a Summerfest shirt for $20!
The headlining act is only an extra $30 – $80.
And besides the music acts, there's a lot to do for the whole family.
We saw a family fun park and kids zone, there's water front activities and there are small solo acts and bands playing along the waterfront where you can even join in and play the bongos.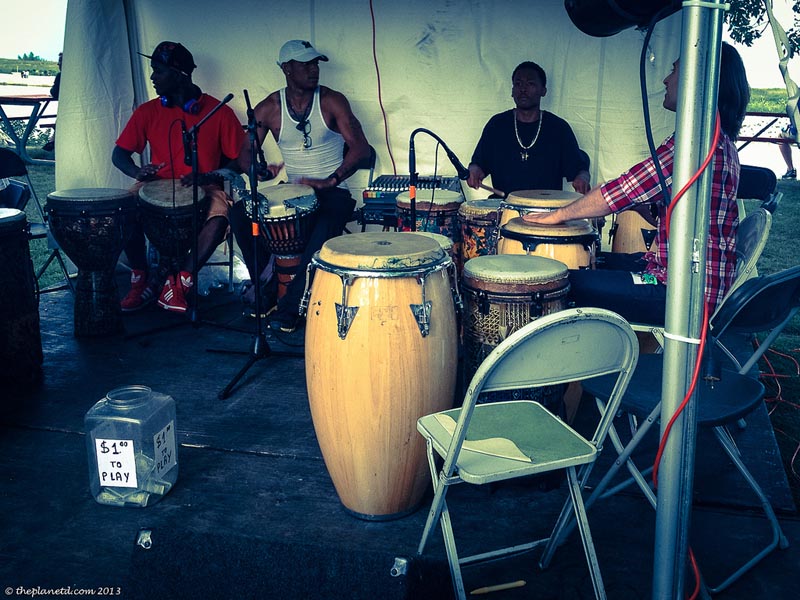 I can't believe we've never heard of Summerfest before and when Dave and I tell friends about it they agree! How could we all not know about the largest Music Festival in the World?
Other acts performing this year were Rush, The Eagles, John Mayer, Barenaked Ladies, Violent Femmes and Billy Idol just to name a few.
I'll tell you what we'll be doing next June if we're in town….Road Trip anyone?
For more information on Summerfest visit their website and check out Visit Milwaukee.com for more events in the city.
Read More:
Where to Eat and Drink in Milwaukee
About Milwaukee – A cool Town that will Surprise You
Sziget Festival – Everything You Need to Know
You Might Also Enjoy