Life can be pretty surreal at times. And travel is no exception to the rule. We seem to have some of our strangest experiences when we are on the road. Some of them are completely out of our control and we just have to hang on and enjoy the ride.
While others have been completely our own doing. A momentary lapse of reason if you will.  Either way, they make for some fun stories around the campfire. Here are a few of ours in no particular order.
Strange Travel Experience Wierd Stories
Camped in a zoo in Sudan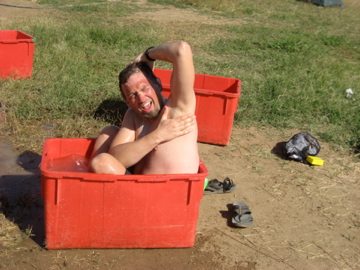 We arrived in Dongola, Sudan after 6 days of cycling in the desert.  We hadn't showered and we were covered in dirt and sweat. We weren't treated to luxury though, we had set up camp in an old abandoned zoo.
Apparently a turtle still roamed the grounds but we never saw it. The zoo had high steel walls and nobody was allowed in.  It was pretty strange, because we were fenced in while the town looked at us from outside. We were monkeys in a cage?
This may sound a little odd already, but it didn't become really strange until we all started bathing in our red supply boxes.  They were carried on our supply trucks and held all of our gear. someone found a hose, so we all filled up our little 100 litre boxes and took a bath.  Weird.
Showered in a Brothel in Ethiopia
Yet another African experience.  We had been cycling once again for days on end through sand.  Once we crossed the Ethiopian border, we camped in a patch of grass which we shared with cows and donkeys.
We had to keep an eye out for cow patties and at one point I saw a cow drinking out of the bottom of one of our trucks.  Our trucks carried our water through the desert in a big bladder underneath. They kept us alive through the unforgiving desert and here was a cow slurping from the bladder like it was sucking on its mums teet.
This may sound like a strange experience, but it didn't get wierd until we all lined up to have a shower at the brothel next door.  We raved about how amazing it was, your standards lower a lot when you are in the desert.
The stalls were tin shacks with cement floors and cold water, but the pressure was good and we loved every minute of it. And we even sat down for a beer in the bar afterward as the "ladies and gentlemen" watched on.
Creepy Camp Site in Namibia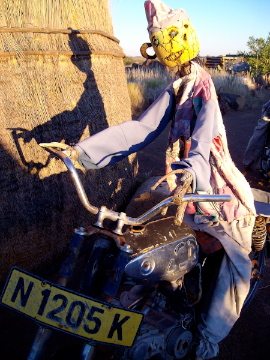 We approached a campsite in Namibia that completely freaked me out. I was riding alone and in the distance, I saw a scary-looking guy standing at the side of the road.  He never moved. As I road closer, I was beginning to wonder if I should turn back.
But I was on the right route, I followed the flags, it had to be O.K.  Then I realized that it was a statue.  I was relieved, but then again, why is a statue standing alone in the middle of the Kalahari desert?  I hope I didn't make a wrong turn?
I kept riding down the long-abandoned path and more of these creepy sculptures kept popping up.  They were set up in various strange scenes. Sitting on motorcycles, working at a wagon and perched on go carts and bicycles.
They had these heads that looked like pumpkins and every horror movie from my childhood flashed through my brain. I eventually made it to camp thank God.  I was happy I was with a crowd, I wouldn't have been able to sleep at night if it was only Dave and I.
Shared a bus with a load of Lobsters
This one was pretty surreal.  We got on a bus downtown Hanoi en route to Vientiane Laos.  It ended up being a 24-hour journey. There was a handful of us waiting for the bus and we assumed that we would be picking people up at different stops along the way.
Well, we stopped alright, but instead of people, we picked up flour, rice, electronics; you name it, we got it.  We actually started to wonder if we were on a bus that was smuggling stuff across the border.
Oh yeah, I said Lobster, didn't I?  Dozens of lobsters wrapped in pretty packaging that started to" turn" in the heat as time went on.  It was getting pretty ripe in there by the end and we couldn't understand why they weren't packed in ice. Were the lobster carrying something??? We'll never know.
Being Stoned all the way Through Ethiopia
No, it is not what you think….
In Ethiopia, the children have an odd pass time of throwing rocks at cyclists.  They get a kick out of using us as target practice.  We spent 23 days in Ethiopia, and each day we could count on getting a rock whipped at our heads or sticks stuck in our spokes.  It was nuts!
Most kids carried these big staffs to herd their cattle and as we rode by, they tried to stick them in our tires to take us out.  You may think that it was because they wanted us to stop and talk. But no, even when we stopped and shared a nice little conversation, they would hurl rocks at us as we left.  It was infuriating.
They had great aim and they could run fast.  I would try to get off my bike and run after them when I was hit by a particularly painful shot, but they were long gone. They didn't do this in Sudan, or Malawi, or Tanzania, or Namibia….so why in Ethiopia.  I also have no idea who taught them this, but as we cycled from the Sudanese border in the north all the way through Ethiopia in the south, everyone yelled You, You, You at us.
It is weird.  Not a hello or even a wave,  "you, you, you" oh and "give me my money."  I was luckier than most, I had Dave with me to keep me safe and I didn't get it near as bad as other riders.  Plus, we rode fast.  We were through early in the day, and it wasn't so bad yet.
As the day went on however, people got hit worse. They knew people were coming and they were ready for them.  Here is a list of what happened to other riders in Ethiopia.  While cycling by, a woman was peed on, a man had cow dung thrown at him, another woman ran into a child and the town mobbed her demanding money and would not let her leave.
The child was ok by the way, and after settling on a payment, she was allowed to go.  Many including myself were whipped with a bullwhip, and yet another woman was asaulted, but a bunch of villagers came to her rescue. Thank God.
Most people are good in this world, it is just a few that make everyone else look bad. Unfortunately, Ethiopia is a very populous country and as we were cycling we passed thousands and thousands of people.  So the hundreds and hundreds that got us, made it seem like everyone was out to take us down.
Bed Bugs in Malaysia
I have already talked about when we were eaten by bed bugs in Chang Mai, Thailand in a previous post, but there was something very surreal about this bed bug experience in Malaysia.
We were in Penang in a highly recommended guest house which will remain nameless. I was walking back to my room after a morning shower and I saw Jimmy the owner, squishing these creepy creatures leaving bloody smears all over the floor.
He had a big piece of wood and was swatting at them in the room next to ours. All the while, he had a big smile on his face and kept reassuring us that we didn't have any in our room. I was so grossed out by the blood all over the floor and wall, that we had to get out of there.
Getting taken to the cleaners in Mexico
We had just spent a week diving in Cozumel and were about to embark on our Central American Adventure. On the ferry from Cozumel to Playa Del Carmen, we were approached by a time share seller.  We know all about time shares and weren't interested.
But they offered us $100 US Cash each to come and take a look.  We said, wow, we can go see it and make sure to say NO, collect our $200 and be on our way.  Well we got their and the pressure was high.  They kept throwing everything our way and we kept saying no.
The price kept going down and down and then they finally said that they would give it to us for $1000 and upgrade us to the level where we can get African safaris and luxury tours for cheap cheap cheap.  We gave in and bought.  Right after I freaked out and wanted my money back to no avail.
We did get our $200 though and they agreed to put us up in their luxury resort for a week in Playa Del Carmen. It was beautiful and we were pampered staying in this incredible hotel.  We had just come from an all inclusive dive resort  and this one made that one look like a Days Inn. So we figured it all evened out in the end.
$800 bucks for a week at a luxury resort. Why is this surreal, we were supposed to be back packing in Mexico and should have been roughing it in Tulum by now. Insead we had white robes and slippers and were sitting by the pool bar.
We cut almost a month of travel off of our trip because of that resort, but we still talk about how nice it was and to this day, we still get emails from that vacation club offering us great discounts.  They do have great discounts admittedly, maybe one day we will take them up on it.
Shopping in Hoi An
It doesn't sound very strange, but in Vietnam, Hoi An is famous for its designer suits and cocktail dresses tailor made for a steal. Well, we were backpackers and our jobs at home never call for suits and formal attire.
We told everyone that we were never going to buy clothes in Hoi An. We just wanted to see the town and the sights around it.  However, when we were approached on the street we thought we would be nice and humor the sweet lady and go to her shop. We ended up spending $250 on suits, dresses,  silk shirts, pants and skirts we bought it all.
We stressed about our purchases that night and reprimanded ourselves thoroughly. When we went back the next day to pick up all of our clothes, we loved them so much, we bought more!!  That night again, we kicked ourselves again and again.
What were we thinking? We ended up sending a giant box home to Canada and speding over $300. That cut into our travel budget quite a bit. When we were staying at inns for $4 a night and eating meals for a couple of bucks.
Well, thats a lot of days on the road that we just spent on clothes.  What is strange about this you ask? Well we would love to know where our brains went while we were in Hoi An. (Travel tip-if you get clothes made in Hoi An, be sure to make them double stitch the threading.  It lasts better.)
Going to Bokor Hill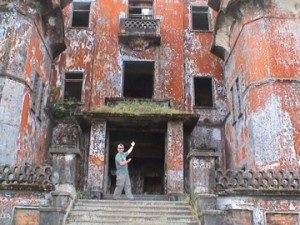 A popular tourist destination in Cambodia, we thought it would be a good place to visit.  We hired a truck to take us up themountain.  He asked us if we wanted to pay a couple of bucks more and he would take us on a hike to the waterfall. Sure, OK we said.
We hiked a path and then came out to a bunch of rocks.  It was dry season, and there wasn't any water. No biggie off we went to the casino.  Another creepy place that is said to be haunted.  I don't know what it is like today, but back then we just walked through dark hallways and looked at the abandoned hall.
It was a little unsettling. But the view was beautiful. I think they are turning it into a big resort now, I am glad I saw it when it was all run down and abandoned makes for a better story.  Oh wait, that's not the strange part yet.
Our truck broke down at the top of the mountain, so we all had to pile into the back and coast our way down.  I remember the guys checking the engine scratching their heads and wondering what to do.
We decided that we would have to walk, but a while later, they came up behind us and we had no choice but to hop on. It was night time in the Cambodian Jungle, plunging down a mountain in the box of a coasting truck seemed like a safer option.
Read More
Needed Rest from Cycling in Addis Ababa
5 More Ridiculous Travel Experiences