Preparing for the Pukaskwa Coastal Hike on the north shore of Lake Superior can be daunting. Situated on the wildest shore of all the great lakes, this is one of the most remote hikes in all of Canada.
Pukaskwa Coastal Hike Tips
And it is known as the toughest hike in Ontario. Unlike many of our other treks around the world, the Pukaskwa demanded that we carry enough gear and food to take us through the seven day hike on our backs.
We've never been quite as nervous about being underprepared as we were for the Pukaskwa. We knew we could hike, but we weren't sure how we'd manage with 35-40 pounds of gear in our backpack.
For treks like climbing to Mount Everest Base Camp and to the summit of Mount Kilimanjaro we hired porters, this trek was all self supported, plus we had no idea what the trail was going to be like.
If something goes wrong on the Pukaskwa, there's nobody coming to save you anytime soon.
You do have to check in with the park staff upon arrival and listen to an orientation about safety and precautions about hiking in the backcountry, but once the boat shuttle lets you off a few hours up the North Shore, you're on your own for the next 7-days. If you aren't back by your expected date, they'll send someone out looking for you.
Naturally Superior Adventures
That is why we hired a guide through Naturally Superior Adventures located just outside of Wawa.
With their expertise and knowledge, we felt safe hiking through the backcountry along the shores of the largest freshwater lake on the planet. NSA has been running tours on Lake Superior for 20 years and focuses on customer safety and comfort when it comes to exploring Ontario's North.
They prepared delicious meals by dehydrating a ton of food and brought along water filters, a spot satellite phone and emergency medical kits. If anything should happen, we'd be able to get out of a jam fast.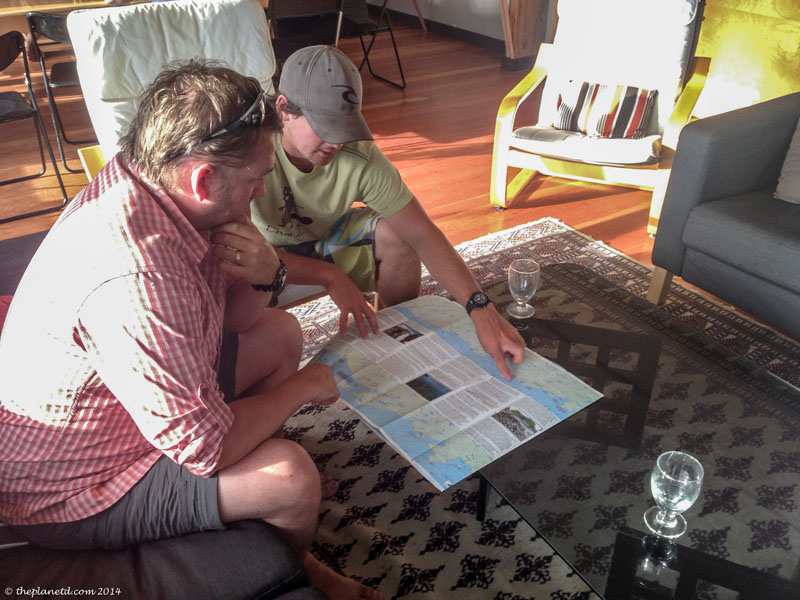 Our preparations consisted of zero hiking.
Dave and I had every intention of doing practice hikes on the Niagara Escarpment while carrying heavy packs, but with our hectic travel schedule, we didn't get the opportunity to do any day hikes leading up to the epic adventure. Needless to say we were worried.
I'll never forget sitting with David of Naturally Superior before our kayaking trip with them to the Slate Islands. He and his friends of experts warned us that this is not a hike to be taken lightly and maybe we should consider only doing half of the trail.
It was tempting, but in the end, we said "Let's do it all!" After all, our motto is "Adventure is for Everyone" so we really wanted to show people that if we could do it, they can too!
A week before our hike, we met with our guide Brendan over the phone.
How Long is the Pukaskwa Trek?
He talked to us about what to expect and broke down what we'd be hiking each day.
The Pukaskwa is a 60 km hike along the rocky shores of Lake Superior, with some serious backcountry trails through the wilderness.
60 km may not sound like a lot, but when you are climbing up and down rugged terrain with all your gear on your back, it can be exhausting and time-consuming.
The trail map recommends between 5-7 days to hike it.
We took the entire 7-days for photography and rest time and we highly recommend taking your time to thoroughly enjoy it and to allow for any unforeseen circumstances like severe weather.
When we finished, we decided that 6 days would have been perfect.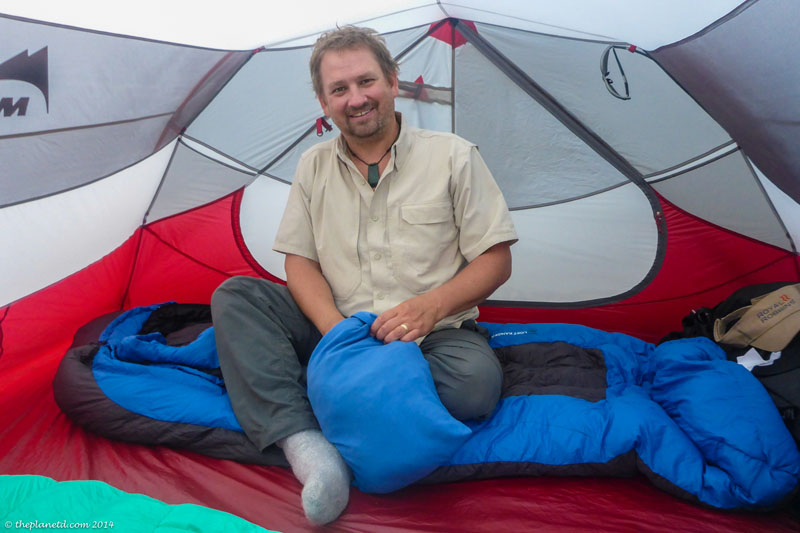 Naturally Superior sent us a breakdown of what to pack and even though we kept everything to a minimum, we still carried 62 and 65 Litre packs. They were just large enough.
How To Pack for the Pukaskwa
Between tents, food, pots and pans, thermarests, warm clothes and our hiking gear, we were fully loaded.
Here's a list of what we packed: This is a list for 1 person.
Clothes
1 long sleeve quick dry Royal Robbins hiking shirt
1 short sleeve quick dry Royal Robbins hiking shirt
2 convertible hiking pants/shorts – Royal Robbins quick dry
1 pair long johns – Icebreaker Merino Wool
1 Icebreaker merino wool shirt  for sleeping
7 days of underwear (more than they recommended but glad we brought rather than washing)
3 pairs of hiking socks – merino wool lightweight (I wish I brought 4 pairs)
1 pair of wool camp socks
Warm hat – toque here in Canada
1 pair hiking boots
1 pair camp shoes – preferably crocs  or similar to be able to wear socks
1 lightweight down jacket – Brand Canada Goose
1 rain jacket
1 rain pant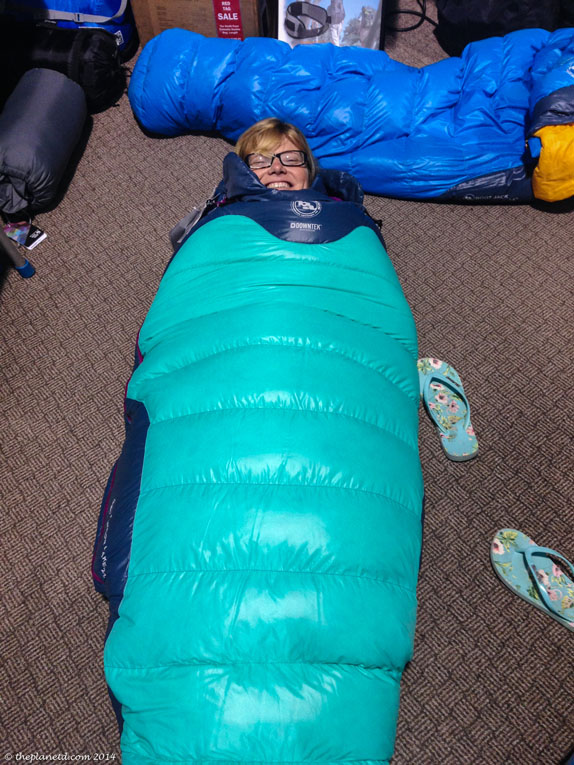 Gear
Tent
Thermarest
Sleeping bag to -7 degrees Celcius
2 water bottles each
Hiking poles
headlamps
Naturally Superior Adventures recommended that we use hiking poles and we nearly declined. We've never needed them before. But when hiking with a fully loaded pack over boulders, rocks and steep cliffs, the pole is a huge help to keep balanced and to help you step up on high ledges. We wouldn't have been able to survive without them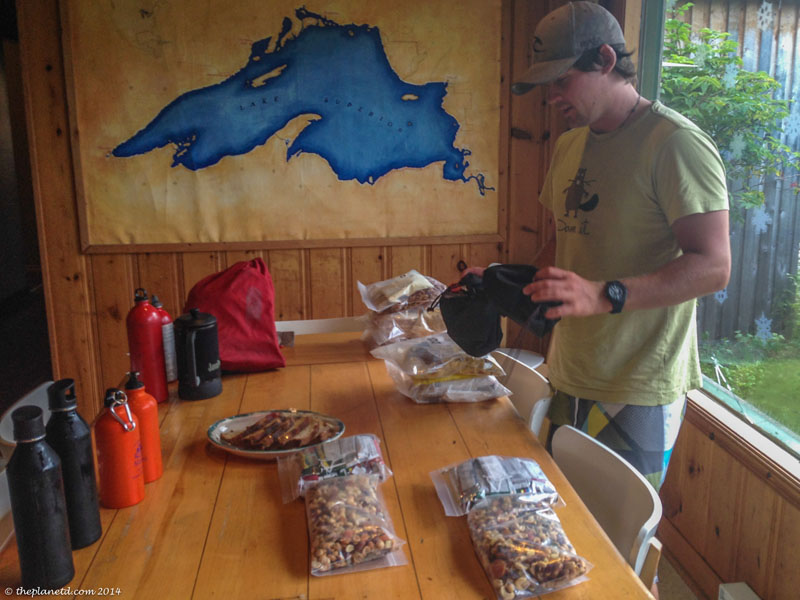 Photography
We carried a lot of photography gear because of our job and you definitely don't have to carry so much. Although the scenery is spectacular so you will want to bring a camera.
2 DSLR Cameras – 1 Full Frame, 1 Crop sensor
2 Lenses
1 Waterproof point and shoot camera
1 GoPro
1 Flash
1 Tripod
2 cases – chest carrier and hip carrier (very highly recommended)
set of filters
Polarizer
portable USB chargers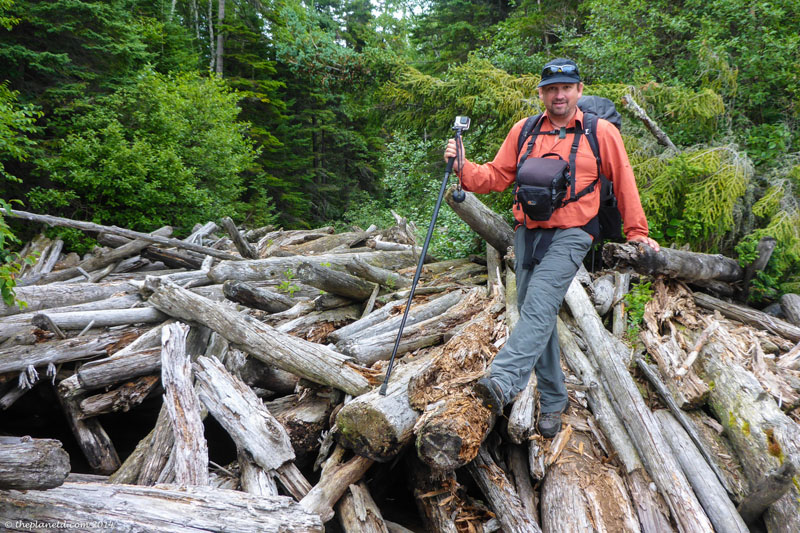 Gear supplied by Naturally Superior
Water filter
Cooking gear: pots, pans, mugs, plates, forks/knives
Food
Satellite Radio
First Aid
toilet kit
map
Naturally Superior took care of the major gear needed for the hike so that we didn't have to worry about organizing or buying everything we needed. However, we all divided up the gear in our bags and carried equal parts of food, pots and pans and other gear.
How Safe is the Pukaskwa Coastal Trail?
There is a very real possibility of coming face to face with a moose or a bear on the trail.
That is why it is highly recommended to travel with a group. There is safety in numbers. Should an injury happen, there is someone to help you out and wildlife generally likes to keep away from noise and crowds.
We actually had an encounter with a huge moose and her calf while hiking the Pukaskwa. Luckily we were on a bend in the trail when they came running through or we may have been trampled. And because there were three of us walking and talking, she had ample warning to stop dead in her tracks.
She was running at full speed and abruptly stopped when we saw us.
We backed into the trees to show that we weren't a threat and she turned around sending her calf the other way. Moose are extremely dangerous, but when travelling in groups, you have a better chance of remaining safe.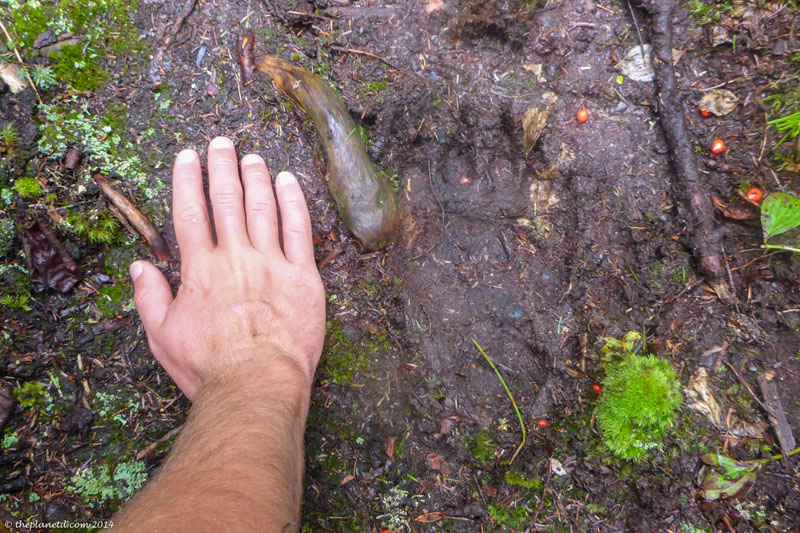 Bears on the Pukaskwa Trail
When camping, you want to make sure that all food is stored away from the camp.
The Pukaskwa Trail has bear boxes at each campsite where we could put our gear into a metal container and lock it up away from our tents. You don't ever want to keep any food in your tent with you to tempt wildlife.
It's much safer to store it away from the site. We didn't see any bears, but during one day of hiking, we saw fresh bear tracks and knew that they were close by. We're in the wild Canadian wilderness, there is plenty of wildlife lurking nearby.
Chances are they are more afraid of you than you are of them!
Safety Precautions
Brendan checked in via satellite phone every night to let Naturally Superior know that we made it to camp and that we were doing ok.
If they didn't hear from us, they'd be able to notify the park and send out people to start looking.
Because they had a breakdown of our day by day itinerary right down to which backcountry campsite we'd be staying in, everyone would have a good idea of where we'd be on the trail each day.
Even though we were far away from civilization, we felt comfortable that we'd be ok should anything major happen.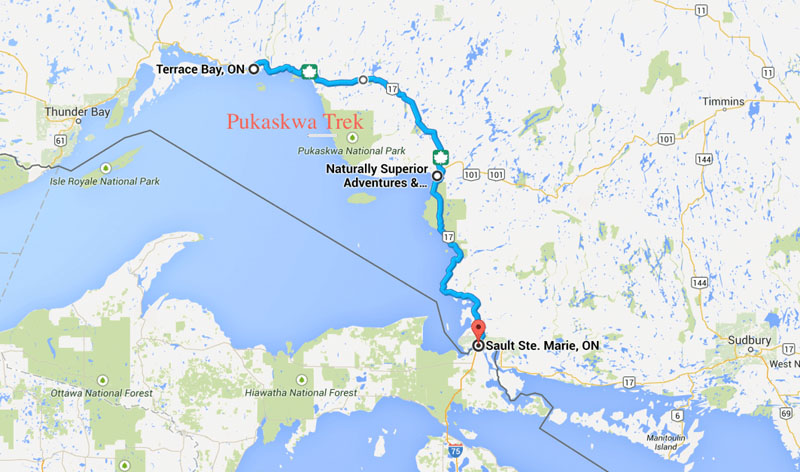 Toilets.
We were completely floored by the clean outhouse toilets throughout the entire 60 km of campsites. Pukaskwa put in new private outhouses with clean seats inside wooden outhouses.
Unlike so many national parks we've been to, these were quite comfortable and I didn't have to hold my breath each time I went in.
We didn't have to worry about digging a hole in the rocky ground and we kept our footprint impact to a minimum by focusing all waste in one place.
It was so nice to have a toilet to go to each time you needed a trip to a loo. A little toilet paper and hand sanitizer and you are good to go.
When hiking the Pukaskwa you also carry everything out that you carried back in. Right down to your apple core.
We had the pleasure of having Pukaskwa Park supervisor Annique Maheu on part of the trip with us and she said that even though it's biodegradable, it's important to take all food out with you. It's about keeping the trail pristine.
You don't want to see apple cores or banana peels on the trail. You want to feel that you are the only one that has been here and you want to interfere with wildlife and nature as little as possible.
Extra Pukaskwa Coastal Trail Tips
We had a few things of our own on the trip with us that we are glad that we brought. If you ever talk to Sean Keener of BootsnAll Travel, you can be sure he'll have a good laugh if asked, what is the one thing Dave and Deb suggest you bring in your travel bag.
It's always Gold Bond! When you aren't showering for 7 days, a little medicated powder goes a long way to relieving itch and stickiness. We swear by it.
Gold Bond
Wet Naps
Bug Spray
Moleskin (for blisters)
baseball cap
Sunglasses
A book (we downloaded books on our iPhone downloaded from iTunes to keep weight to a minimum)
The Pukaskwa Coastal Hike is a great adventure and if you are an avid hiker or someone who has done some hiking and is seeking a challenge, this is the hike for you!
To book your canoe, kayak, hiking or even if you are on a road trip through Lake Superior and need a couple of nights to relax in paradise, visit the Naturally Superior Adventures website. It's a great weekend getaway too!
Read More
Unplug and Recharge – My Sojourn in Banff, Alberta
Pushing Our Limints in Pukaskwa
7 Sizzling Outdoor Ontario Adventures for Summertime Fun
You Might Also Enjoy