A fellow traveller in Borneo told me that he had left a little piece of his heart in Myanmar, I, on the other hand, left a little piece of my wallet.
Yangon – The Arrival
We arrived at Yangon Airport and took a $4 cab ride to downtown.
After settling into our guest house the Beautyland II, we took a walk to the sacred Sula Paya, a 2000-year-old temple of worship and the place to change money on the black marketIt didn't take long for a man to approach us with a great exchange rate.
We handed him our $100 US  dollar bill and he handed us back 81,000 Kyats.
We recounted our money and verified that all was well and were on our way. We were feeling very proud of ourselves accomplishing our first transaction on the black market with such ease and by negotiating a great rate.
The Scam
Soon another man approached us with an even better exchange rate and it was here that we let our guard down.
We agreed on 83,000 kyats to $100 USD.  The first 40,000 K was counted out and all was well.
Dave,recounted the stack and then handed it to me.
Suddenly our little con man started acting paranoid and told me to hide the money in my bag because the police were everywhere.
I did as I was told and he proceeded to count out stacks of 10,000 at a faster pace, handing Dave each stack for him to verify.  Five stacks later and we were finished.
I put the money into my bag, the three of us walked together talking about life in Yangon.
I liked this fellow so much that I reached into my sack of cash and gave him a tip!
Upon returning to our hotel and recounting our money to stash some of it away, we noticed that we were 30,000 K short of our 164,000 k.–
Moving on
The next morning, after thoroughly reprimanding ourselves, we went to the travel agent behind the train station to book our bus to the Golden Rock.
We took our taxi to the Highway bus station 14 km out of the city, hopped on to our decrepit coach where we proceeded to sit in the overwhelming heat for another hour.
The bus station was full of vendors selling food and drinks and stacks of books and magazines.
They frantically looked through their stacks to find an English paper to offer us, but nothing was to be found except for some magazines with a few English words in their titles.  This didn't stop them from trying to sell us them, however.–
The Ride to the Golden rock
The five-hour bus ride, an hour of waiting in the back of an overly crowded pickup truck where my legs fell asleep from the lack of circulation, and then the gruelling climb with our packs to the top of the mountain, was definitely worth the effort.
Myanmar's fabled Golden Rock is a sacred monument balancing on the side of Mount Kyaiktiyo.
The giant boulder perched on the side of a mountain threatens to plunge into the valley below.
A pagoda is built on its top and it is covered in solid gold leaves that people leave as an offering to the Gods.
Myanmar's Golden Rock. A Hidden Treasure
–
Legend has it that the Golden Rock is balancing on the hair of Buddha; given to a hermit by Buddha himself, who in turn found a boulder which resembled his own head.
He built a small Stupa on its top and pilgrims have made their way to see it ever since.
It is not clear as to how this spectacle has balanced on this cliff with almost half of its base hanging over.
It has survived for centuries, weathering earthquakes and erosion.
We reached the top at 7:00 pm only to find out that the hotel where we wanted to stay was $25, not the $10 that we were expecting.
Kindness of Strangers
We made the decision to hike the three hours down in the dark to stay in Kin Mon the village at the base of the mountain.
Resolving ourselves to the walk ahead, we rummaged through our packs to find our flashlights.
The next thing we knew a man from the entrance office came to tell us that they would waive the entrance fee and allow us to see the rock for free.
They felt that this was an important sight and it shouldn't be missed.  It was the nicest thing that had happened to us on our trip and we thanked them profusely bowing, shaking hands and being in complete shock at their generosity.
–

Alone with Pilgrims at the Balancing Rock

It was an exhilarating experience.

We were the only westerners on sight among hundreds of worshipping families and monks.

People approached us to practice their English, to have their pictures taken with us and to just have a look at these two people who have come to see their national treasure.

A crowd of people followed us as we walked around the grounds.

We walked underneath its base to further examine this phenomenon, We felt assured by the fact that it has been standing for centuries and has yet to topple over, but we couldn't explain how it managed to do so.  Only men were allowed to approach the rock and to feel it's magic.

It is said to bring prosperity in the year ahead.
No Women can Touch the Balancing Rock
Dave walked through the gate and felt its pure gold leaf finish while I watched from a distance. We are both looking forward to the riches that he will be receiving this year!
The people that we met travelling were thrilled to have us visit their country, they knew several facts about our country of Canada and genuinely appreciated our conversations.
It is a country left off of many people's travel itineraries in South East Asia, but they are missing out on one of the friendliest and moving experiences you will have.
Our Governments have put sanctions on Myanmar and has told our citizens to boycott the country.
We asked many people in private conversations if they wanted the world to follow this advice and heir answers were a resounding No.  They only ask that we do not visit on package tours which fatten the pocket of the repressive government officials.
Tourism in Burma
For many, the only way they have to  make money is through tourism as guides, taxi drivers, horse cart tours and bicycle rentals among many other businesses.
When former students who were previously imprisoned are now working as private guides to tourists, it shows me that tourism is something that is welcomed.
It gives them an income that they would otherwise not have, a voice to the outside world and a chance to show off a country that even though it has a government whom they hate, they are still proud of it's people and it's beauty.
Responsible Travel in Myanmar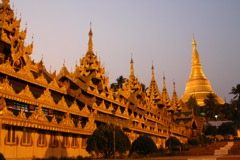 If you are a careful traveler, you can minimize the amount of money that goes into the wrong hands.
By taking local transport, staying in family run guesthouses not the luxurious hotels built for package tours, using local guides, and eating in small establishments and buying from the market, you can give hope to a people who are in desperate need of help.
You can't avoid everything, but I believe that the more people that go to a country, the more it will eventually open up and give the people a better way of life.
To those who have left Myanmar off of their Asian adventure, put it back on.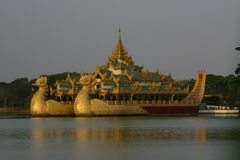 To those who have taken our governments advice, ignore it, and to others who have never really thought about Myanmar before, give it a look.
It's breathtaking scenery, unspoiled countryside, friendly people, and thriving tradition, make it a must stop for anyone looking for something different.
You Might Also Enjoy