Don't believe dreams come true? It happened to me and it can happen to you! I found love through the Shwedagon Pagoda in Myanmar (Burma). One event connected to another and changed my entire life.
Finding Love Through the Shwedagon Pagoda
I spent an inky black night after sunset at Schwedagon Pagoda with a musician named George back in 2000. I have never forgotten the feelings of harmony and belonging I had that night looking at the golden spires. I always knew I would be back but I never imagined it would be with another musician named George who would also be my husband!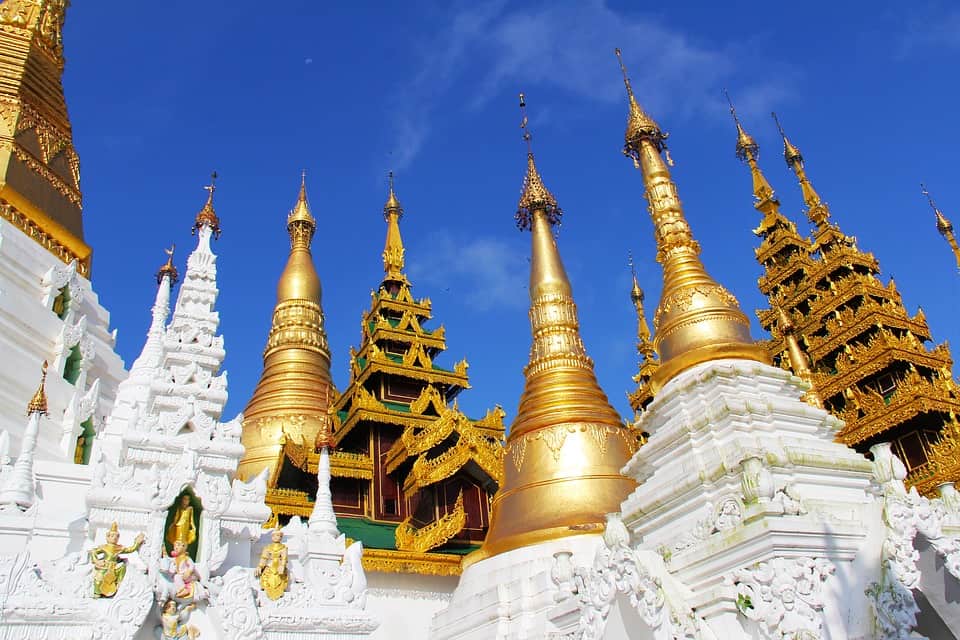 Prior to showing up at the stupa, I had made a series of choices that led me to be an Ivy League Graduate working as a shuffleboard helper on a cruise around Asia for fifty days and fifty nights.
My Journey to Shwedagon Pagoda
Dropping out of a top five medical school allowed me the time to learn to SCUBA dive. Desiring to dive but earning the pittance of a schoolteacher's salary encouraged me to leap into a position at Club Med as a GO and trapeze artist.
My next hop onto a series of cruise ships meant I sailed on the Yellow Sea into Yangon in 2000. After seven years of pulling into different ports, the most remarkable sunset was at Schwedagon Pagoda. I will never forget that night.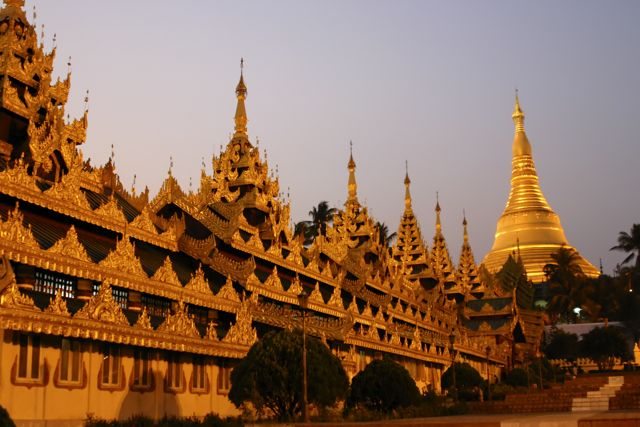 The gilded sanctuary and the sounds of conch shells with novice monks parading together burnt memories in my brain. As the colors of the evening merged from light blue to dark blue to black and the gems encrusted at the top of the temple were lit from below, I wondered, "What will happen next?" But, at the same time, I felt engulfed in a sense of peace and serenity.
The following year after 9/11, my cruise line went bankrupt on September 26, 2001. It seemed a small hardship to lose my job after others lost their lives but returning to live in my parent's house and searching for another teaching job felt like my days of dashing debonair ports were all over. Feeling bereft that my traveling was completely curtailed; I turned to food as a new companion.
What Next?
I was searching for a job, a home and for love online, each of these feeling like a monumental task. After many first Internet dates that never became second dates, I felt even more despondent. Maybe I was too old? Did I miss my time to find love? Would I just go it alone all my life?
At a friend's going away dinner, I met a man who married a woman he met online. Intrigued, my friend Debbie and I grilled the newly married man, "What was the site? How long ago did you meet?" Although I initially felt inspired, I did not join the new site. Debbie did. And Debbie had dates! Several with the same nice man.
See our video: Shwedagon Pagoda
WATCH: He Said, She Said at Shwedagon Pagoda: How We Met
I decided to give the Internet one more chance. I signed up with The Onion Personals where Mr. Married met his new wife and allowed myself a small bit of hope. The men on this site were actually funny. Reading the profiles made me laugh out loud. That had never happened before on a dating site.
The first man to write to me was George. It was a few days before my thirty-ninth birthday and just before I was to have a major fight with my doctor about my weight gain. I was attracted to George and his story of Peace Corps Paraguay as well as his love for travel and music. Although I was interested, I just could not make contact.
Fortunately, in January 2007, George contacted me again. And this time I wrote back. When he asked me a question about travel, I said simply, "Shwedagon Pagoda is my favorite place in the world." He was so intrigued. He could not imagine that anyone would mention Shwedagon Pagoda without mentioning the country. He was excited to meet me, envisioning an exotic female travel companion. But then he was perplexed, for when he asked, "Did you like Bagan?" I responded, "I have never been."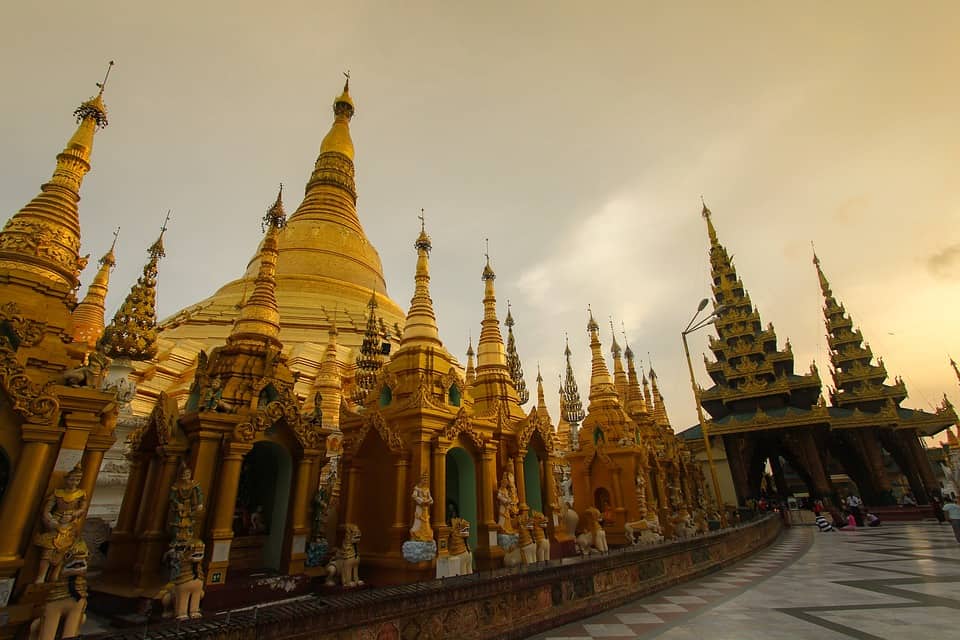 There are so many moments where we almost never met. I did not want to go on the new dating site. I did not write George back the first time he contacted me, and he almost did not show up on January 18, 2007 when we planned to meet at the beach in Santa Monica for our first date. But he did. George showed up and brought photos of diving in Indonesia and the children he worked with in the Peace Corps. I thought, "This is a nice man."
From before we ever met, we were destined to go to Shwedagon Pagoda together. When we traveled for a year in Asia in 2008-2009, we made an attempt to get visas to visit Myanmar but there were challenges at that time for Americans to travel independently so we skipped it. On this sabbatical year in 2012, it was our priority to see Shwedagon Pagoda together. Getting a visa in Bangkok was easy once we knew the steps and our 27 days in country were filled with awe inspiring experiences from a waterfall hike in Hsipaw to standing next to the giant Buddha in Monywa. In addition, a week of viewing the ancient temples of Bagan and participating in the famous Phaung Daw Oo Pagoda Festival at Inle Lake were inspiring.
But the highlight for me was sunset and the full moon at Schwedagon with my one true love, George. Thank you Shwedagon Pagoda and Myanmar for making all my dreams come true!
---
ABOUT THE AUTHOR:
Travel writer Lisa Niver Rajna is spending the year in Southeast Asia with her husband (both of whom are members of the Traveler's Century Club).
Follow her adventures on their website,wesaidgotravel.com, and on Twitter @wesaidgotravel. Join in their Independence Travel Writing Contest
Read More:
Myanmar's golden Rock a Hidden Treasure
Kiayktiyo – Myanmar's Balancing Rock
You Might Also Enjoy