Life is made of up moments. Good moments, bad moments and moments that truly enrich our lives. We want to make each moment count and bring them together to create a meaningful story of our life.
In Search of Living an Enriched Life
We've been thinking about this a lot lately. As our schedules become more hectic and pressures mount, we've begun to evaluate what we want our life story to be.
Do we want to look back and see that we worked too hard or worried too much? Do we want to be so busy that we stop seeing our friends and family?
Do we want to get back in shape and feel energized instead of sitting day in day out at our computer screens or binge watching the latest hot TV series? It's time for us to enjoy quality moments rather than moments that zap the energy out of each day.
What does an enriched life means to us?
We have worked hard for the past decade building our website. We've been lucky to travel to the four corners of the world sharing our travel stories.
But I think as our schedule has become more hectic and the demands of our jobs have grown, we've lost the art of taking the time to smell the roses. We've seen and done a lot of things, but we haven't stopped to take in the quiet moments that end up staying with us forever.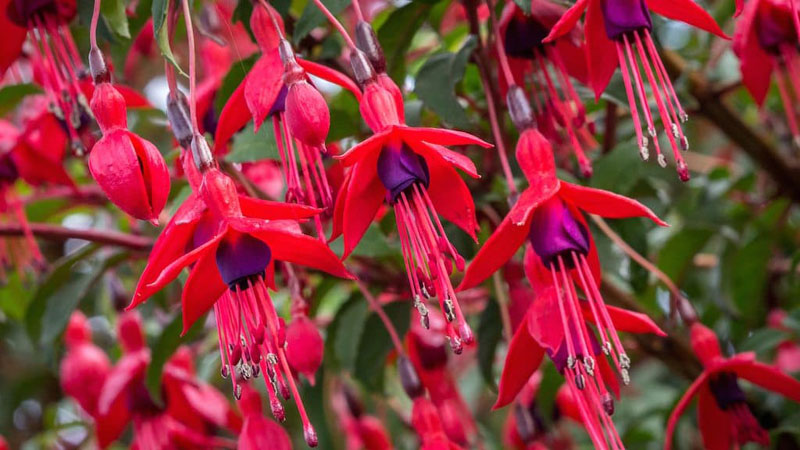 Exploring Hong Kong
A few of weeks ago we were in Hong Kong and we ran around that city seeing everything from the Ten Thousand Buddhas Monastery to the world's longest outdoor escalator. They were amazing sights to see, but it was the night we spent meeting an old friend in Kowloon that sticks with us.
We almost didn't make it. We were in a dinner meeting with a representative from the Hong Kong tourism board that ran late. We nearly decided to walk back to our hotel to relax after a long day, but instead we made the time to meet up with our friend. It was amazing to see her face when we walked up to patio where she was sitting.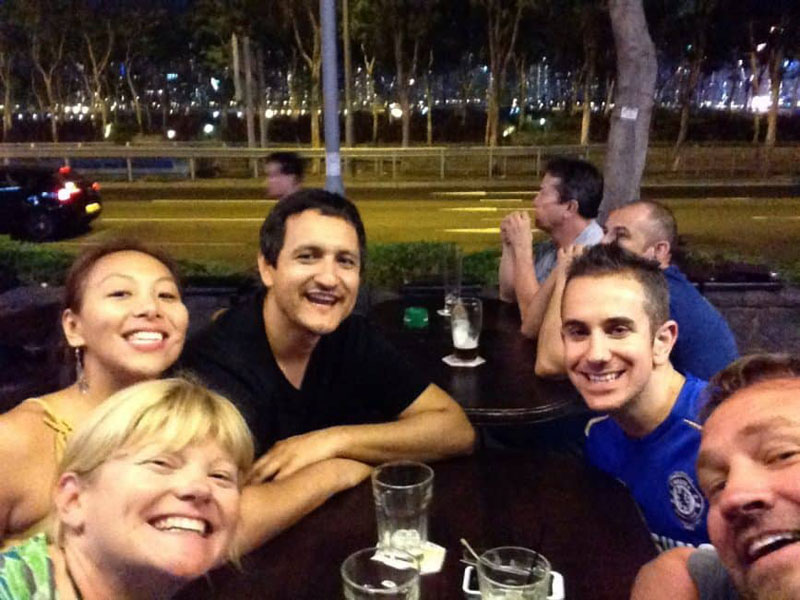 Adventure in Sri Lanka
A week later we were in Sri Lanka. We spent five days zipping from sight to sight, snapping photos of places and things, but it was when speaking to a group of our peers at a conference that we felt inspired.
We were talking about travel blogging and working with partners. As many of you may know, we are American Express Ambassadors, and one of the points we talked about at our presentation was how we love working with a company that inspires people to live a better life.
From motivating people to Realize their Potential to supporting local businesses, we are always taking part in American Express campaigns that help make life better. And we are always inspired by the work we do with them.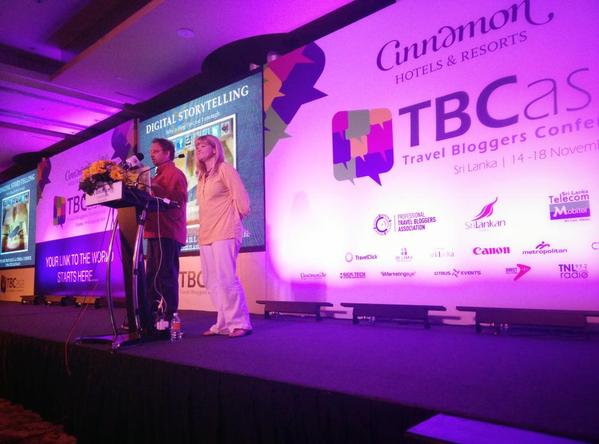 photo courtesy Flashpacker HQ
American Express Platinum Card
When American Express asked us if our Platinum Card has enriched our lives in anyway, we had an easy answer. Yes, and it has been through our travels. In the past two and a half months, we've flown to 7 different countries on 4 different continents.
That's a lot of time in an airport that would normally be impossible to face. But our Amex Platinum Card gets us into over 600 airport lounges around the world. During a flight from Greece to Hong Kong, we stopped for a long nap in the Beijing Priority Pass Lounge.
En route from Toronto to Sri Lanka, we had a shower in the Heathrow Airport Lounge. And before flying out to Cancun Mexico, we enjoyed a light dinner and glass of wine in the Plaza Premium Lounge at Toronto Pearson. Our life is a state of constant travel and the Platinum Card makes our time in transit more comfortable and easier.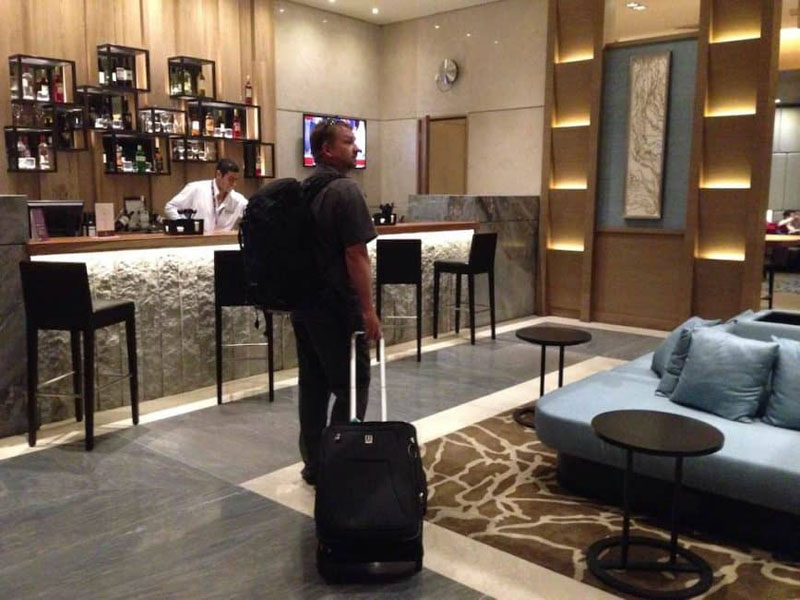 Amex isn't just a credit card company, it is a business that believes an individual should have no limits and they should be empowered to live life to the fullest. It may sound cliché but having one little credit card has helped us over and over again during our hectic travel schedule.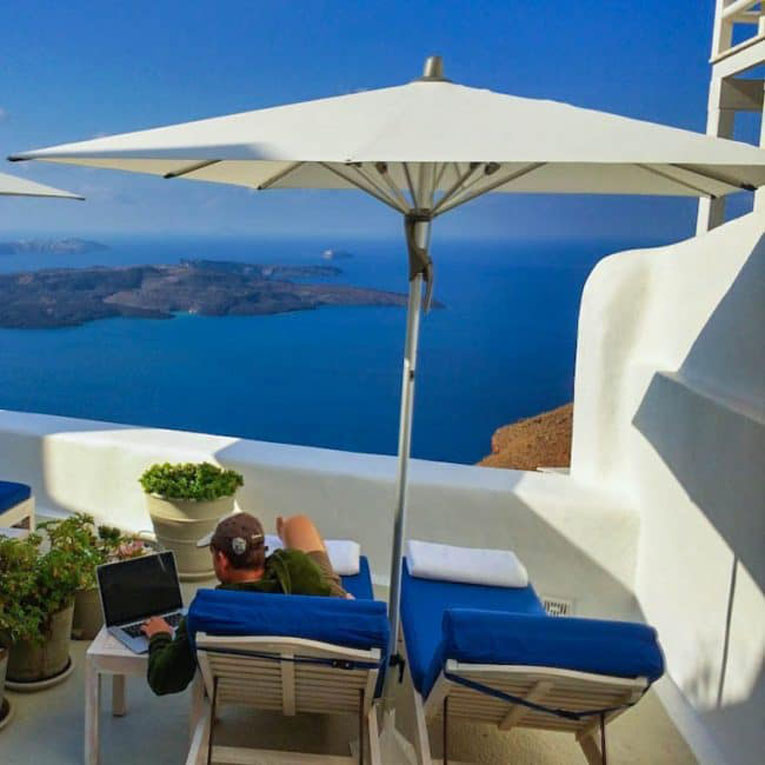 Membership Rewards
While in Santorini, we had to book a hotel for another conference in Athens. Athens was more expensive than we expected, but we didn't want to stay in a rough neighbourhood. Luckily we didn't have to.
We used our $200 yearly travel stipend that comes with the American Express Platinum Card and combined that with using  Membership Rewards to book a stay in the heart of town at Syntagma Square. We were walking distance from the Acropolis!
Travel is more fulfilling when you are comfortable and close to all the attractions. We booked this all from our hotel room in Santorini using Amex's online booking tool. Agents are available 24 hours a day so you can call anytime from anywhere.
For the next month, we, and American Express Canada are encouraging people to share your own stories of how you live an enriched life. We want to hear from you. Tweet us at  @theplanetd and @AmexCanada with the hashtag #AmexLife to show us how you've been living an enriched life.
Is there an opening at an art gallery or museum you've attended? Have you been taking yoga classes or did you take a recent vacation somewhere that inspired you? It is time to enjoy the big and small enriched moments in your everyday lives.
Be it making a phone call to an old friend, meeting your newborn nephew for the first time or snuggling up by the fire with a good book.
So what are you waiting for? Get out there and enjoy each and every moment and create your own story of life.
Read More
Gifts for Travelers – 50 Unique Ideas for 2018
Dave's Broken Back and a Little Healing Time