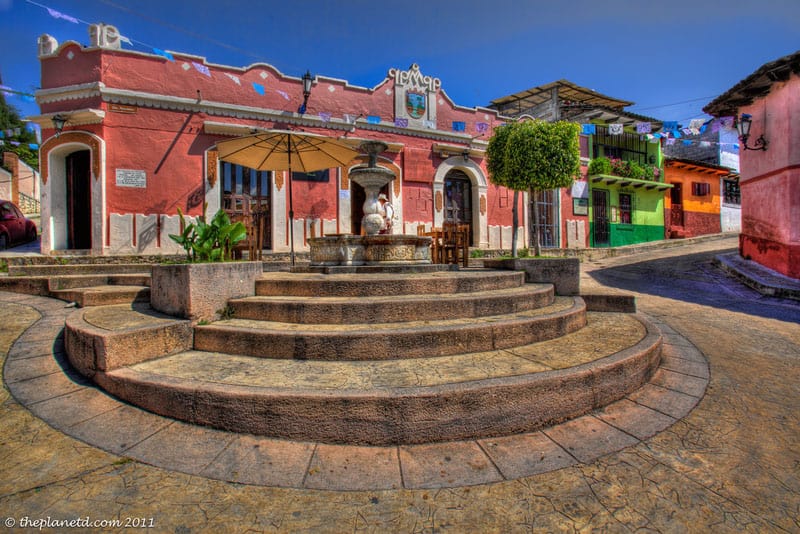 Mexico is a country thriving with unique culture and history. As the country in Latin America with the highest amount of tourism, Mexico offers a variety of opportunities to explore its ancient historical landmarks or indulge in one of its many unique resorts right on the coast of the Gulf of Mexico or the Pacific Ocean.
These Mexico travel tips will help you plan your next vacation.
Fast Facts
Currency: The local currency is the Mexican Peso (MXN) and is around 15 MXN to 1 USD
Outside of major tourist zones, stick to bottled beverages and avoid ordering any uncooked food items like salads, especially outside the major tourist zones. Beware of ice cubes that may have been made with tap water.
Power: Mexican power voltage is 127 V 60 Hz; Power sockets A & B
Entry: To enter, you will need a U.S. passport valid for at least 6 months after your departure date.
Getting Around: The best way to get around is by public transport or renting a car.
Best Sim Cards: We use KnowRoaming $3.99 per day Unlimited data. There are other unlimited plans for up to 1 month so check out KnowRoaming for details. PlanetD readers receive an extra 50% off using promo code DDSave50
When to visit Mexico: The best time to visit is from December through April.
Tipping in Mexico is not only customary but is expected and appreciated in return for good service.
Money should be withdrawn from ATMs or exchange bureaus during daylight hours and inside shops and malls rather than on the street. Travellers should only use ATMs that are affiliated with national banks, such as Banamex, Banorte, Santander and/or Bank of Nova Scotia.
It is recommended not to hail taxis off the street in major cities, especially after dark. However, if you do hail a taxi, make sure you are able to effectively communicate your final location to the driver as many drivers in Mexico do not speak English.
Budgeting
Accommodation
Budget:
Mid Range:
High End:
Check out our favorite booking platforms Booking.com, Tripadvisor and Air B&B for the best deals on accommodation in Ireland.
Food
Transportation
Getting to Mexico: Most of Mexico has direct flights from Canada, the United States, and Europe. If there isn't a direct flight, most will fly through Miami or somewhere on the American mainland.
You can check for the best flights to the Mexican city of your choice on Skyscanner.
Transportation:
Public Transit:
Car Rental: To rent a car, you must be at least 21 years old and have a U.S. driver's license as well as proof of auto insurance.
Packing Tips
The typical weather of Mexico varies as you move north toward the United States, West toward to the Pacific Ocean, East toward the Caribbean and South toward the Equator. It is these factors that affect the climate as well as varying elevations across the country.
Shawl /Scarves – Travellers should carry a shawl or scarf to cover bare arms or a plunging neckline, in cases of visiting churches, to shield themselves from the sun or cover up if it becomes chilly.
Pack loose clothing with breathable fabric – cover up with a fabric you know will breathe. Tunics are a great option as they can be dressed up or down, are lightweight and offer good coverage. Long pants should also be worn if you heading to see some ancient ruins as they will protect against insect bites and scuffed knees from climbing up steep pyramids.
Personal safety products – Before leaving for your trip, make sure to pack some personal safety products, RFID wallets so that you can keep your valuables safe on your trip
Footwear – Pack a pair of lightweight, durable and comfortable shoes. Colonial cobbled streets can be treacherous so wear good walking shoes.
Water bottles – Though the water quality in Mexico has improved in recent years (especially in popular travel destinations) it's safest to avoid drinking tap water. If you're visiting a rural area, be sure to use bottled or boiled water when brushing your teeth.
Things to Do
Adventure
Swim with Whale Sharks – They may be the biggest fish in the sea, but they are gentle giants. Growing to lengths of over 12 metres (40 feet) whale sharks are impressive to see.
Adventures in Cenotes – Cenotes are underground caves filled with water. Some have large openings while others are small and narrow. A Cenote adventure is an amazing way to explore them doing zip lines, rappelling and snorkeling inside these incredible natural wonders.
Scuba Dive in Cozumel – In 1961 Jacques Cousteau declared the area as one of the most beautiful dive sites in the world and with crystal clear water boasting visibility to 40 meters (120 feet), we can see why!
Kayak the Sea of Cortez – join avid kayakers for a 10-day trip, circumnavigating an island on the Sea of Cortez
Culture
Have a Spa Week – Rancho la Puerta is located on 3000 acres of farmland, meadow, and gardens tucked beneath Mount Kuchumaa aka Sacred Mountain. The Spa offers an array of activities and each hour there are no less than 5 different classes to choose from.
Go Local in Playa de Carmen – why check into a hotel when you can rent your own apartment?
What not to Miss
Explore Rio Secreto – 12 km of underground rivers to explore and you don't need a dive certification!
Visit the Maya Ruins of Tonina – Tonina is the highest Mayan Temple in Mexico and Central America because it is built on a hill, it makes for a spectacular view.
Spend some time in La Paz – La Paz is the perfect blend of a sleepy Mexican town with all the amenities of the big resort towns like Cabo San Lucas and Cancun.
A Bit about Mexico
Places to Stay
Check out our favorite booking platforms Booking.com, Tripadvisor and Air B&B for the best deals on accommodation in Mexico.
Booking Resources
Whenever we travel to Mexico we make sure to start with these companies. We have tried a lot of different ones over the years and all of these have consistently proven to be the best when it comes to offering great prices as well as great customer service. We have used every one of these personally and continue to do so.
Booking.com: This is our go site to when comparing prices for accommodation. It is usually the has the cheapest prices, especially in Europe and we love their interface. Not to mention you get free cancellation and you are guaranteed the best price.
Trip Advisor: What we like about Trip Advisor is that we can look at all the reviews and then book our accommodation. TripAdvisor is where we go when we want to compare prices with multiple accommodation providers.
Air BnB: Airbnb is the main search engine we use when we are looking for a home or apartment rental. It can sometimes be cheaper than hotels and it is the best way to stay in areas that offer a more local feel.
Skyscanner: This is the first place we check for flights. It consistently comes back with the cheapest and best options. It allows us to compare a lot of airlines to get the best price.
Hostelworld: With one of the largest databases of hostels in the world, Hostelworld is the go-to site when you are looking for budget accommodation.
Rome 2 Rio: If you want to see how to get somewhere by plane, train, bus, ferry or car Rome2Rio lays it all out for you as well as related costs. I love how they show it all to you on a Google Map and it works offline.
Get Your Guide: For all your day trip and city guide needs, we use Get Your Guide. It has the world's largest collection of things to do with more than 30,000 activities in 7500 destinations.
World Nomads Insurance: When traveling to Mexico you should always have travel insurance. We have found the best bang for your buck is by far World Nomads.
Related