Looking for the best things to do in Cancun? We've chosen our favorite day trips in Cancun and excursions to take on the Mayan Riviera to get you off the resort.
Mexico is one of our favorite winter escapes and we have visited Cancun and the Yucatan Peninsula regularly since 2000!
Cancun or Playa del Carmen are the destinations that keep drawing us back to Mexico again and again.
We've had some amazing adventures in Mexico and here are some ideas for you to get off the resort and explore some of the best day trips from Cancun.
The Best Day Trips in Cancun
There are some affiliate links in the post below where may earn a commission. Of you make a purchase there is no extra cost to you!
Things to do in Cancun – Part 1 Day Trips
We use Get Your Guide for day trips around the world and have used them for many of our Cancun travels.
From Swimming with Whale Sharks to spending a day relaxing at Xel Ha, Get your guide offers transfers, tour guides, and access to many of the top activities in Cancun.
Our top recommendations for booking tours from Cancun Are:
Looking for transportation from Cancun Airport to your hotel, check out eTransfers for the best prices.
They offer shuttles to the Hotel Zone, Playa Del Carmen, Tulum and all along the Mayan Riviera.
1. Cenotes Adventure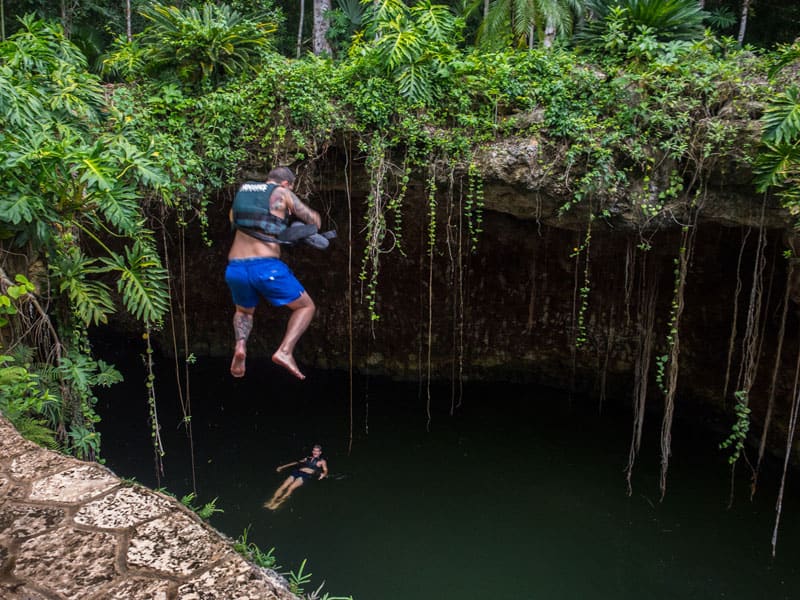 Cenotes are underground caves filled with water. Some have large openings while others are small and narrow.
A Cenote adventure is an amazing way to explore. You can do everything from taking a zip line over them, to rappelling into them. But the most exciting adventure is snorkeling or diving inside these incredible natural wonders.
Several day trips can be booked from Cancun or Playa del Carmen to the cenotes of the Yucatan. You can choose from adventurous cenote tours, diving tours or easier leisurely tours.
Read more here and watch our video here.
We booked our Cenote Adventures with Get Your Guide and we booked directly with Rio Secreto.
2. Swim with Whale Sharks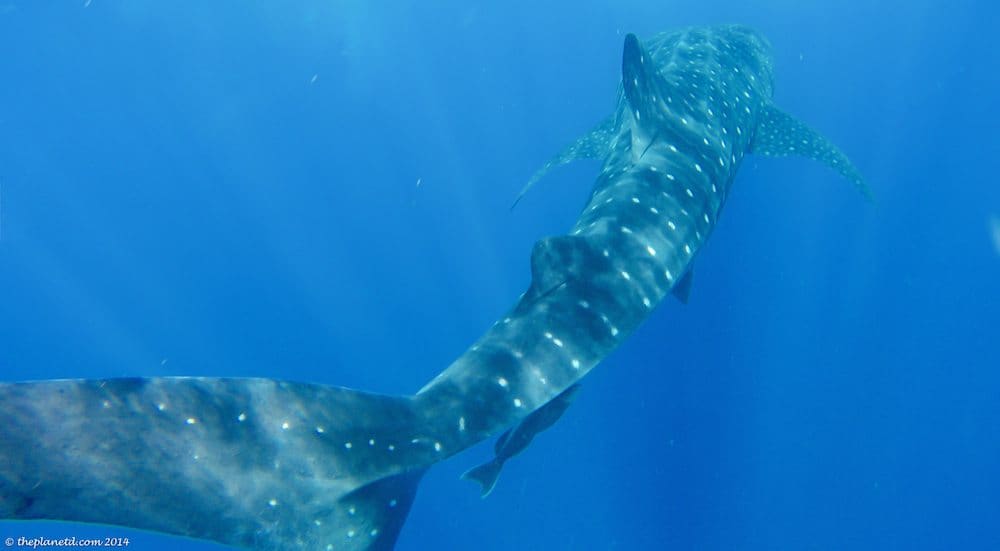 They may be the biggest fish in the sea, but they are gentle giants. Growing to lengths of over 12 metres (40 feet) whale sharks are impressive to see.
Just two hours off the coast of Cancun, you can see them if you go at the right time of year. That time of the year would be from May to September and it is spectacular!
We went with Get Your Guide when taking our Whale Shark Tour. Book your trip here.
Easy Cancellation and last minute bookings.
3. Rio Secreto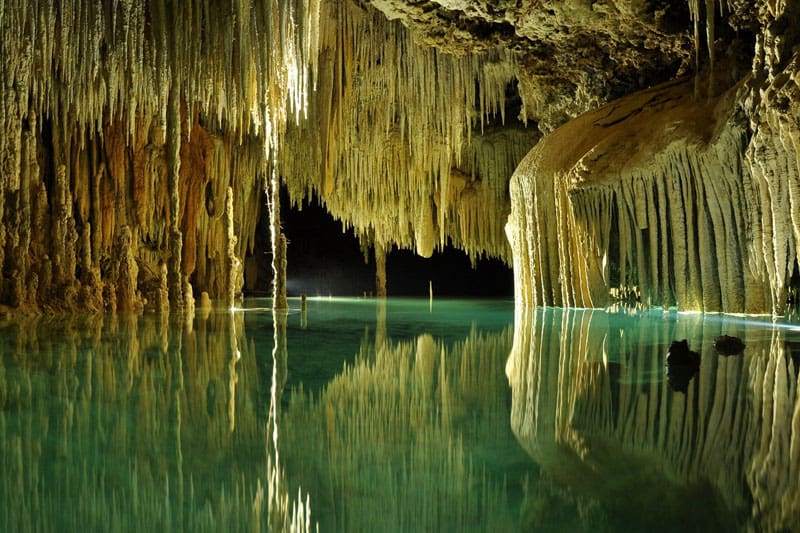 Rio Secreto is another way to explore Cenotes and it is quite different from the day of adventure.
This is the longest semi-sunken cave system in the Yucatan. There are 12 km of underground rivers to explore and you don't need a dive certification.
Visitors are taken in small groups on a three-hour tour and you feel like you have the caves all to yourself.
This Cenote adventure takes you deep into the system swimming under low hanging ceilings, wading through spectacular caverns, and swimming in complete darkness.
It is truly a special experience.
Tours can be booked in advance through Get Your Guide
4. Chichen Itza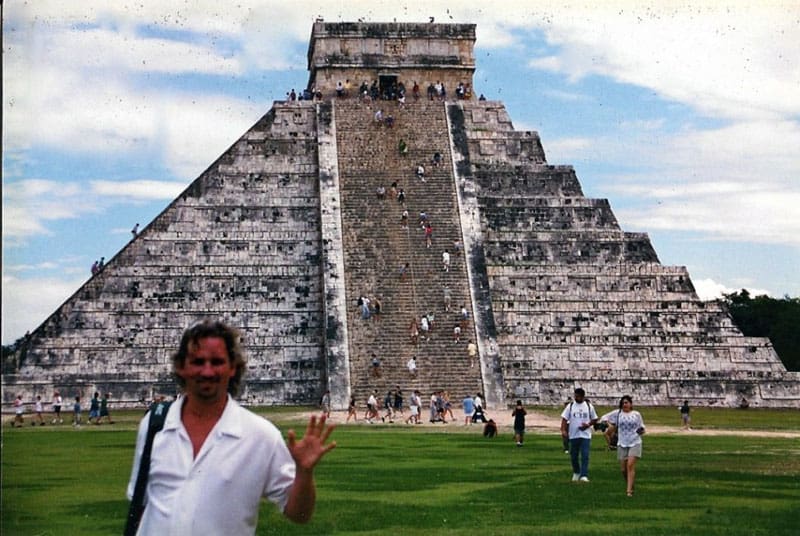 The photo says it all. We visited Chichen Itza a while ago when you could still climb to the top of the main temple.
But to this day we are still amazed by it.
It's the one of the largest of the Mayan Ruins and it is probably the best and most excavated of them all.
Chichen Itza is also the most visited ruins in all of Mexico and it is a must if you are into archeological sites.
5. Xcaret – Evening show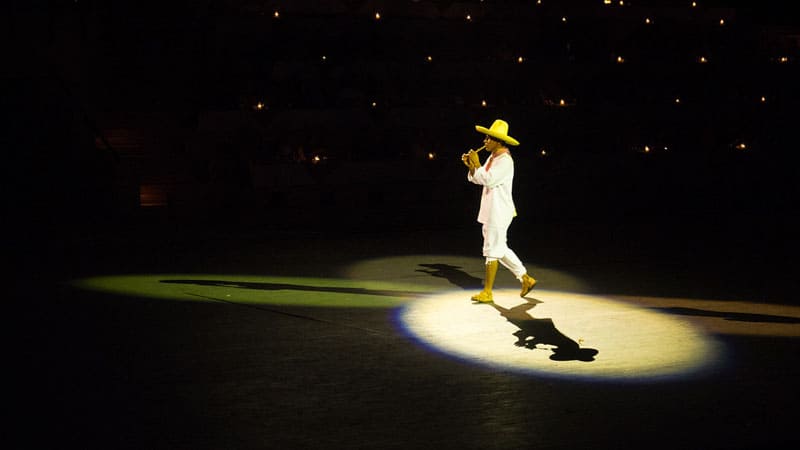 So, I didn't quite know what to expect when we went to see the performance at Xcaret.
It's a giant in the round dinner theatre where you are served traditional Mexican food while watching the history of the country and Mayan cultures unfold before your eyes.
At first, it is a bit daunting as men play a Mayan ball game dating back to 1400 BC.
I didn't' quite understand what was going on until the show progressed through the ages.
My favourite moments happened in part two when the wonderful and talented singers and musicians came on stage to perform many classic tunes that we have all seen and heard.
6. Playa del Carmen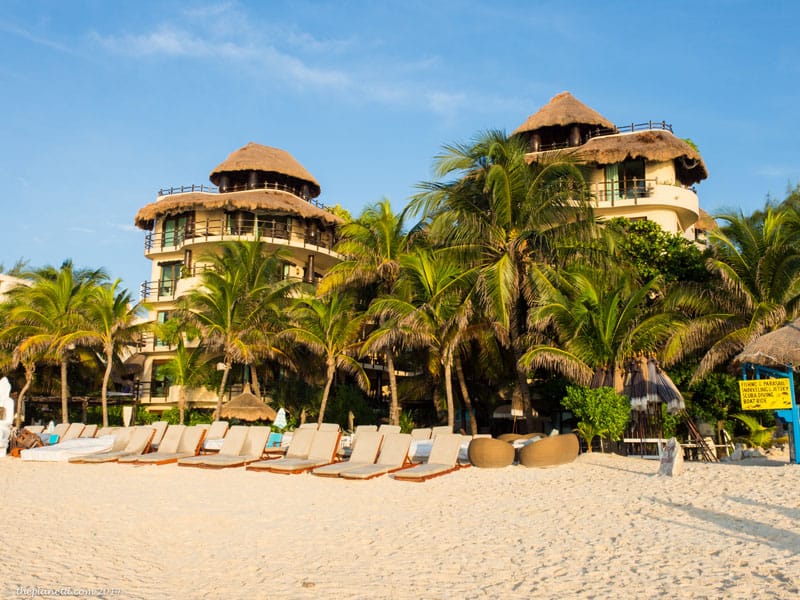 We actually prefer to stay in Playa del Carmen more than Cancun, but if you are staying in Cancun, you really must at least head over to Playa for a day trip to check it out.
The beaches white sands are soft and inviting to go for a stroll at sunrise.
There are plenty of walking streets, nightlife, shopping, and cafés. If you want to experiences Coco Bongo, you can do it here in Playa as well as Cancun.
It is a great place to make a base.
Hot tip: Each day trip and excursion that is offered in Cancun can be booked from Playa del Carmen too!
7. Snorkel at Isla Mujeres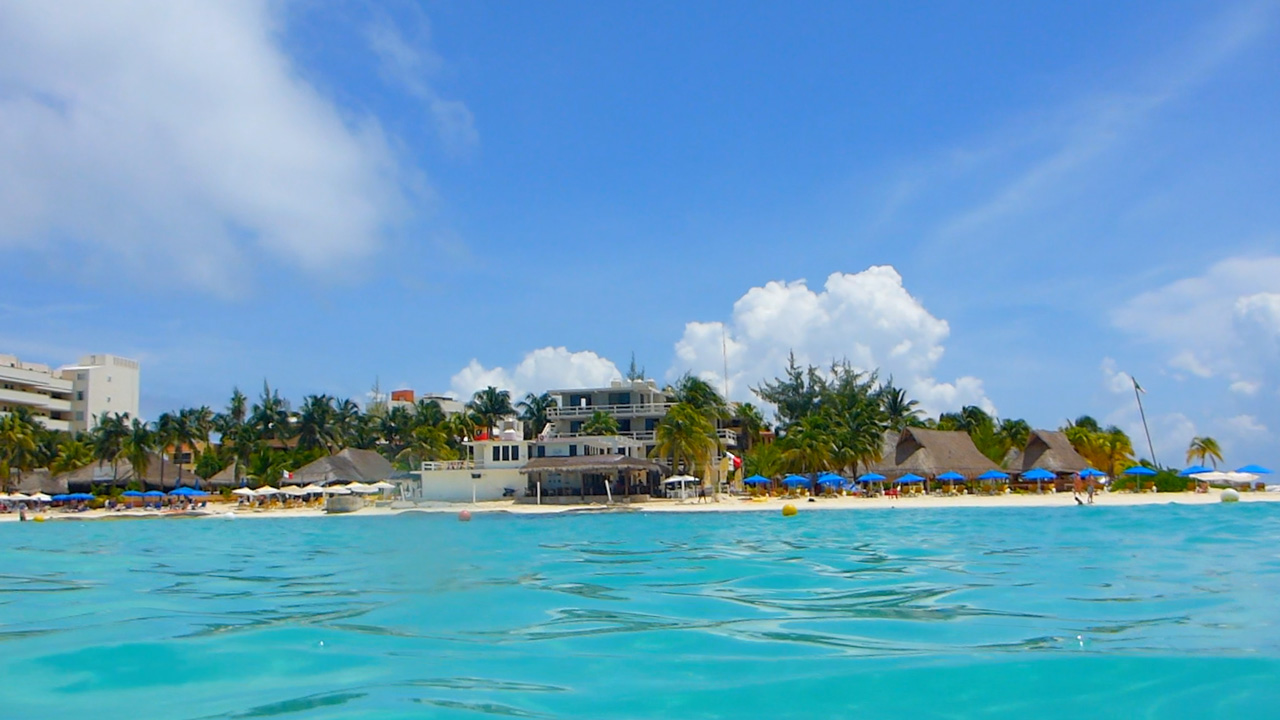 Ah! The Beautiful Island of Women.
Getting out on the warm waters of the Caribbean Sea any time in Cancun or Playa del Carmen is a must and Isla Mujeres is an excellent choice.
It's closer than Cozumel and the turquoise waters are perfect for snorkeling. The water is warm as a bath and so inviting.
You can do day trips to the island just to hang out on the beach and enjoy a relaxing getaway.
8. Zipline Adventure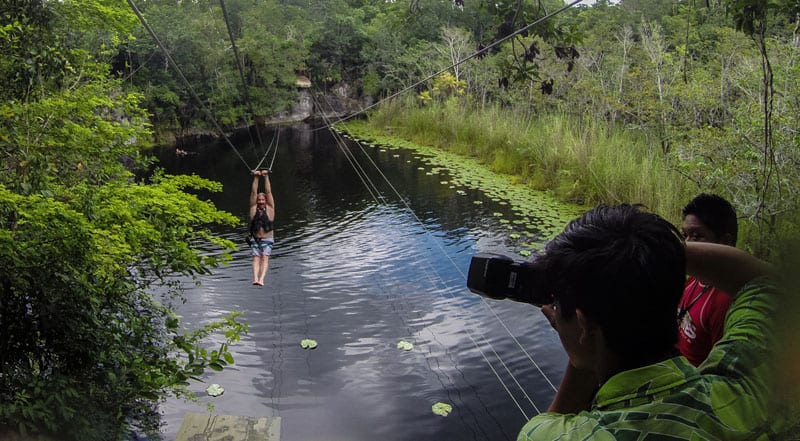 We always love a Zipline and if you are looking to up your adventure travel game, you must give it a go.
What makes ziplining unique near Cancun is that you have forest canopies to sipping over Cenotes to choose from!
If you want a fun day off of the resort, head out to one of the zip lining adventures.
9. Scuba Diving
The waters off the coast of Cancun are some of the best in the world for scuba diving. If you want to go beyond snorkeling and give scuba diving a try, there are plenty of places to Discover Scuba Diving.
These waters attract established and professional scuba divers. We loved drift diving in the crystal clear waters.
Many resorts offer scuba diving instruction and Mexico is an excellent place to become certified in open water!
10. Sailing Trip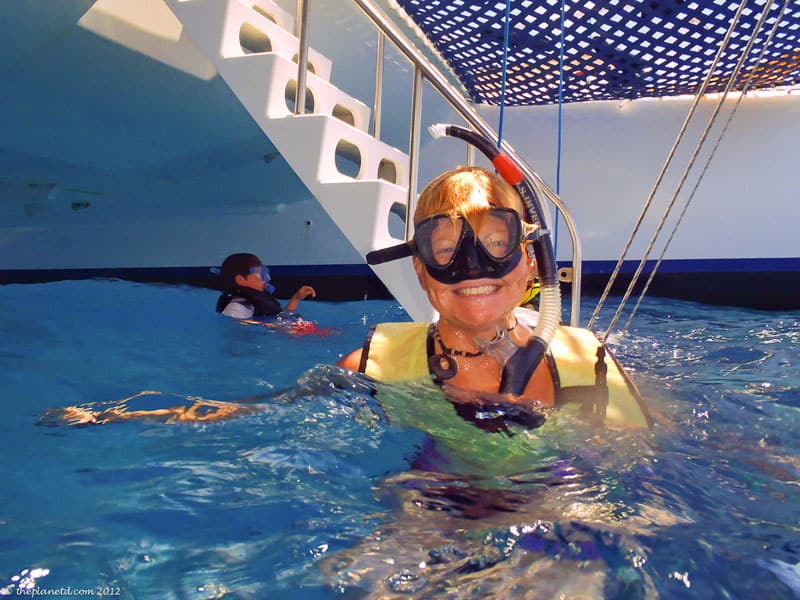 We love taking sailing trips and if you want to explore the coast while taking in the sun, sailing is the way to go.
The Mayan Riviera is a beautiful coast and you must get out on the water. Instead of high speed or party boats, get on a sailboat. Sailing trips often include snorkeling too.
This combines two of our favorite things to do in Cancun: Getting on the water and getting in the water!
More Cancun Day Trips and Tours
Check out More Day Trips from Cancun with Get Your Guide.
Save money by booking in advance instead of at your hotel. Usually, tours have easy cancellations within 24 hours and they pick up from your hotel.
Part 2 – Things to do in Cancun's Hotel Zone
Most things to do in Cancun happen on day trips or excursions that take time away from the hotel zone.
But there are plenty of Cancun things to do that won't take you off the resort for too long. The hotel zone is filled with plenty of activities to enhance your Cancun vacation experience.
11. Stroll the Hotel Zone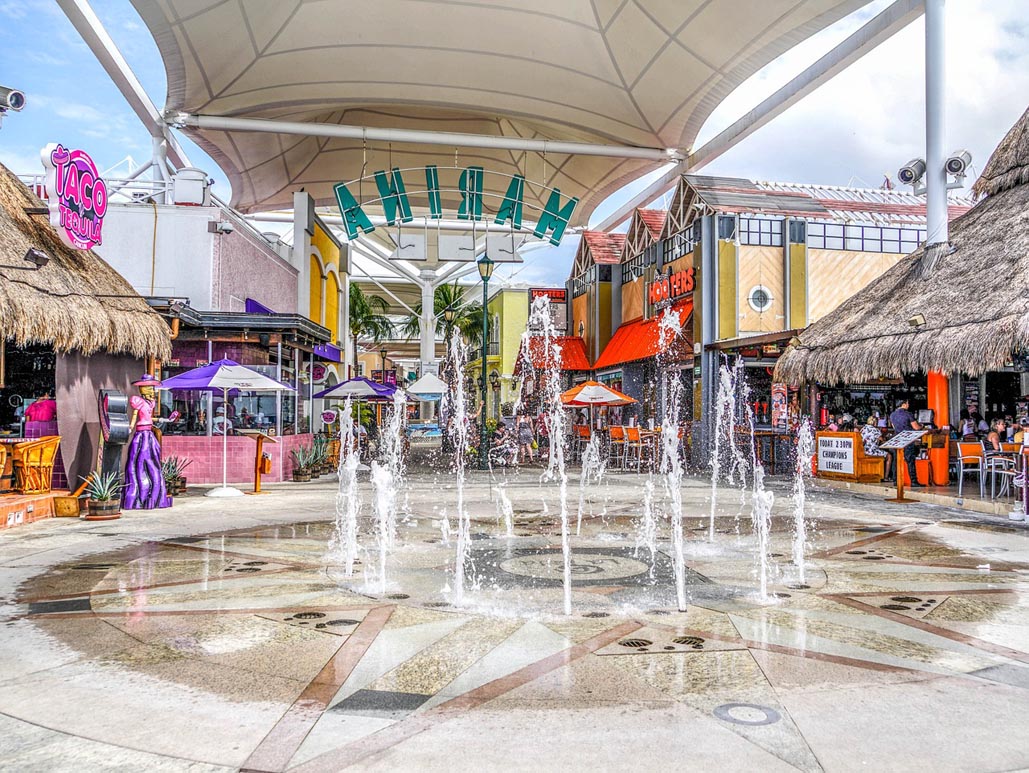 Just walking along the hotel zone of Cancun is an adventure unto itself.
This zone is 22km (14 miles long) and filled with restaurants, bars, shopping malls, and all-inclusive mega-resorts.
You don't have to stay at an all-inclusive to have a fun time in Cancun, we once stayed in a hotel and took our time exploring by foot!
12. Ruins of El Rey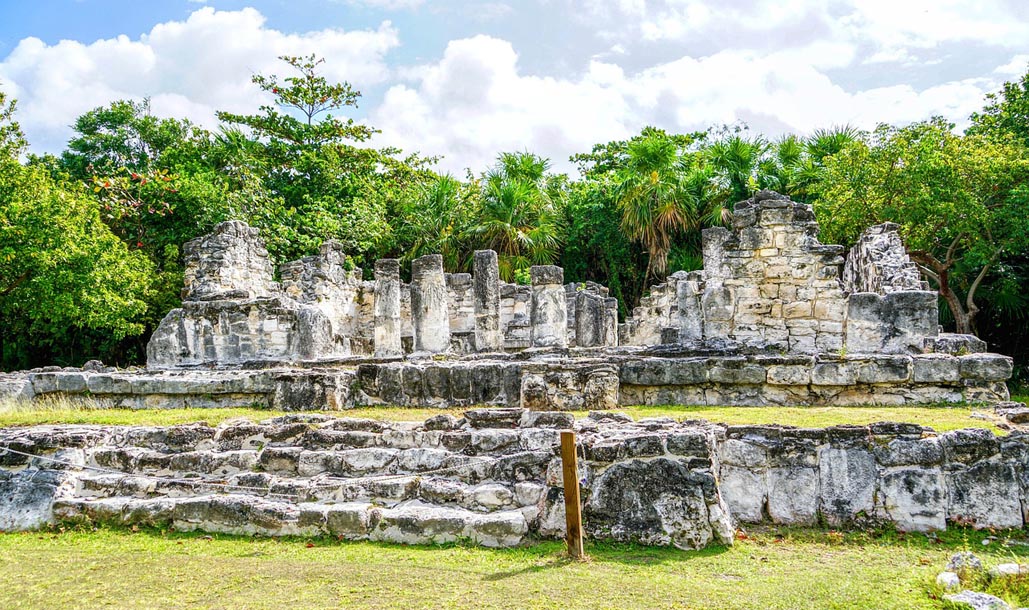 It may not be as massive as Chichen Itza or as Famous as Tulum, but the Ruins of El Rey is a proper Mayan archeological site.
There are 47 ruins to explore with a burial site and ancient murals.
The star attraction of this site is the colony of iguanas that inhabit the ruins. They are used to people so chances of seeing one is very good!
13. Coco Bongo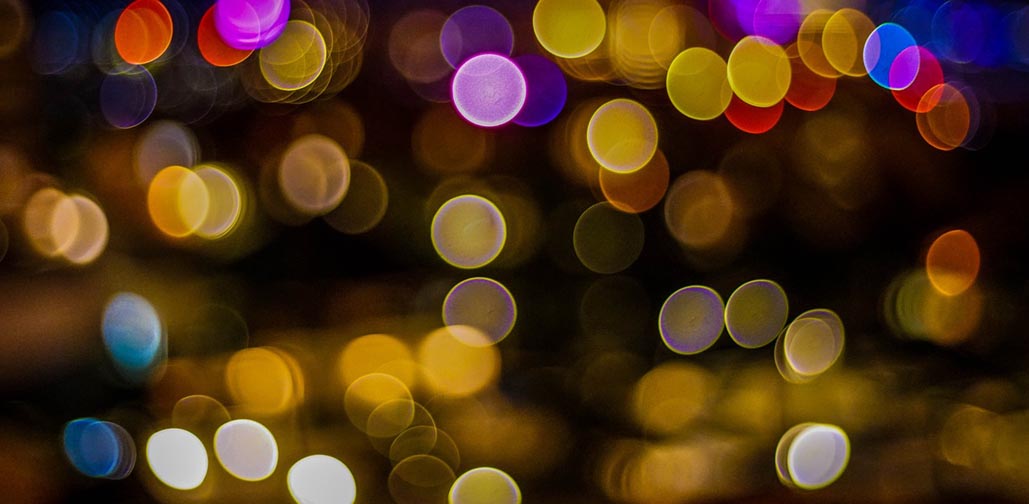 You can go to a club dancing anywhere and there are a lot of clubs in Cancun to party in.
But Coco Bongo is a nightclub offering entertainment including acrobats, a light show and gogo dancers. It's truly an extravaganza.
It's an all-night event so be prepared for a hangover in the morning.
14. Playa Delfines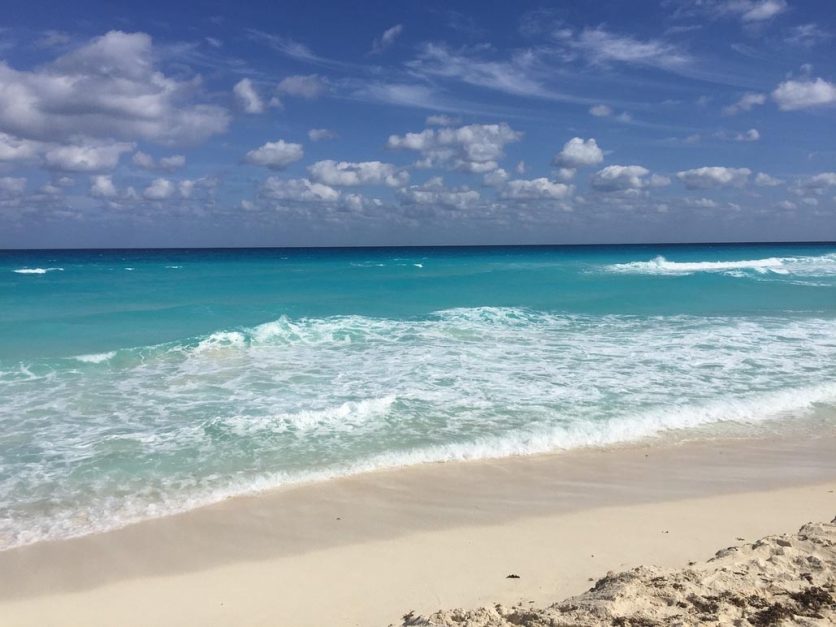 Chances are when you visit Cancun, you'll be staying at an all-inclusive resort with its own beach. But some of you may be at a hotel on the lagoon and others may want to get off the resort.
Playa Delfines is the only public beach in the hotel zone that is completely void of hotels and restaurants.
It gives you that local experience offering a quieter day out in the sun.
There are free beach umbrellas to use and lifeguards on duty.
15. Museo Maya de Cancun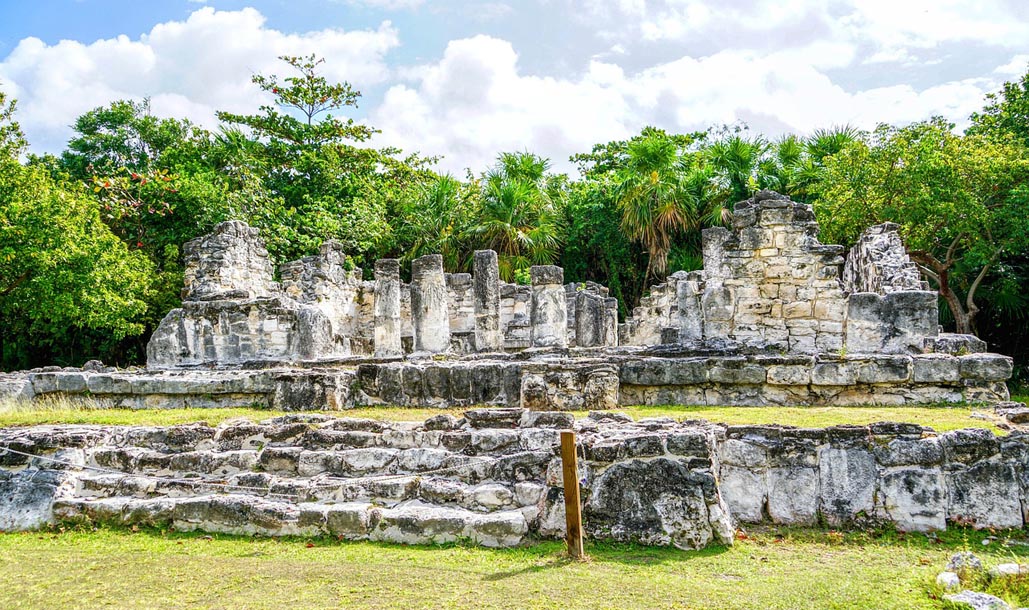 If you want to add a little culture into your trip but don't want to spend time on a bus going to Mayan Ruins, the Museo Maya de Cancun is a great place to learn about Mayan history.
As we get older, we enjoy going to museums. We have learned that they are a great complement to visiting places in real life.
If you are planning on visiting places like Tulum or Chichen Itza, this will help you understand the Mayan history and culture better before you go.
It is a newer attraction opening in 2012 and is located right in the hotel zone.
16. Outdoor Markets Cancun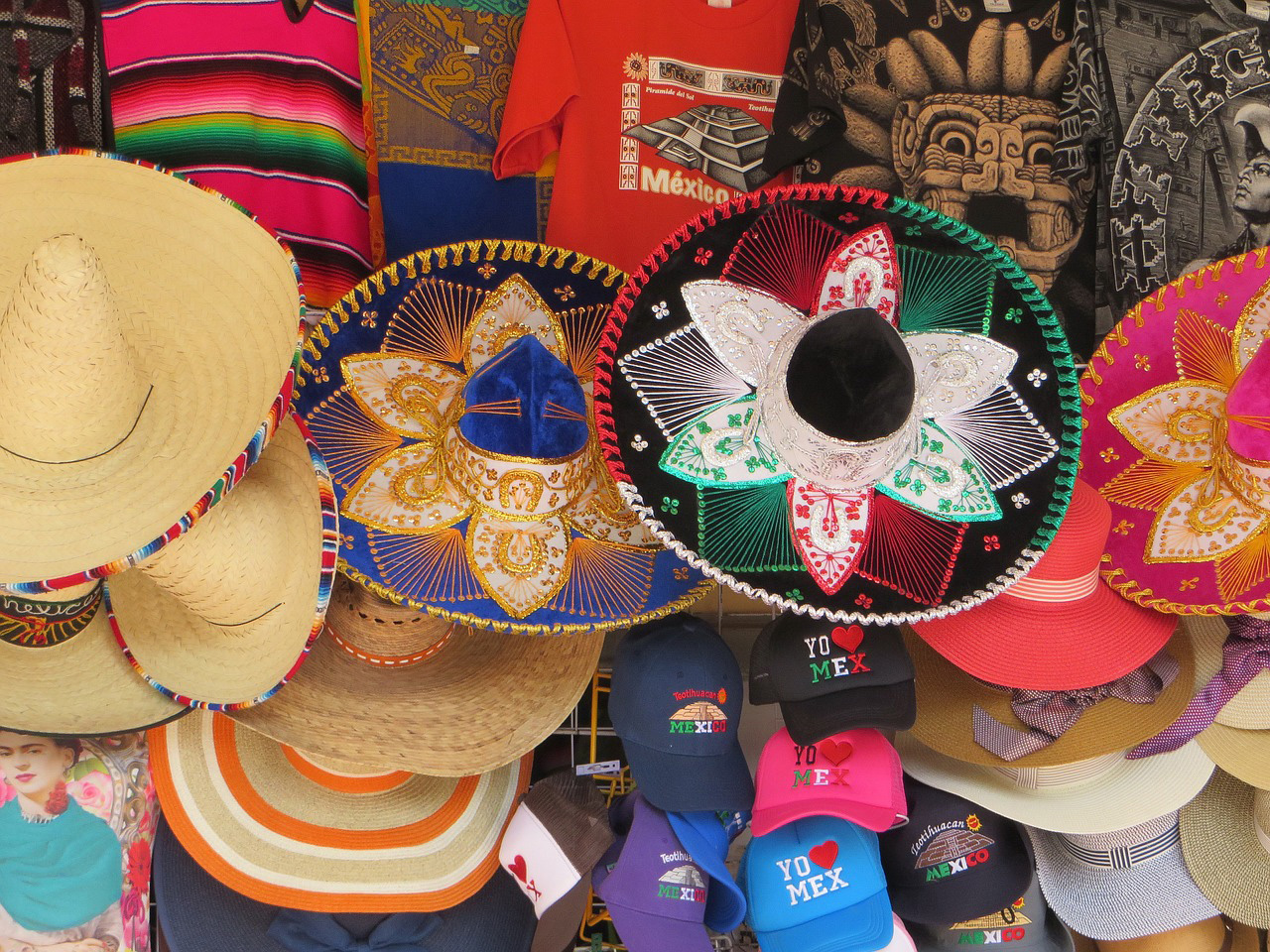 Cancun is a modern city with shopping malls, a Walmart and even a Costco. I don't know about you, but when I travel, I want to visit more traditional markets.
Mercado 28 is an outdoor open-air market that sells souvenirs, crafts, and jewelry.
It is a covered market so you won't be scorched by the sun, but it has that traditional feel of an old flee market.
Sharpen your bargaining skills and get ready to buy some Mexican souvenirs at discount prices.
17. Cancun's Best Beaches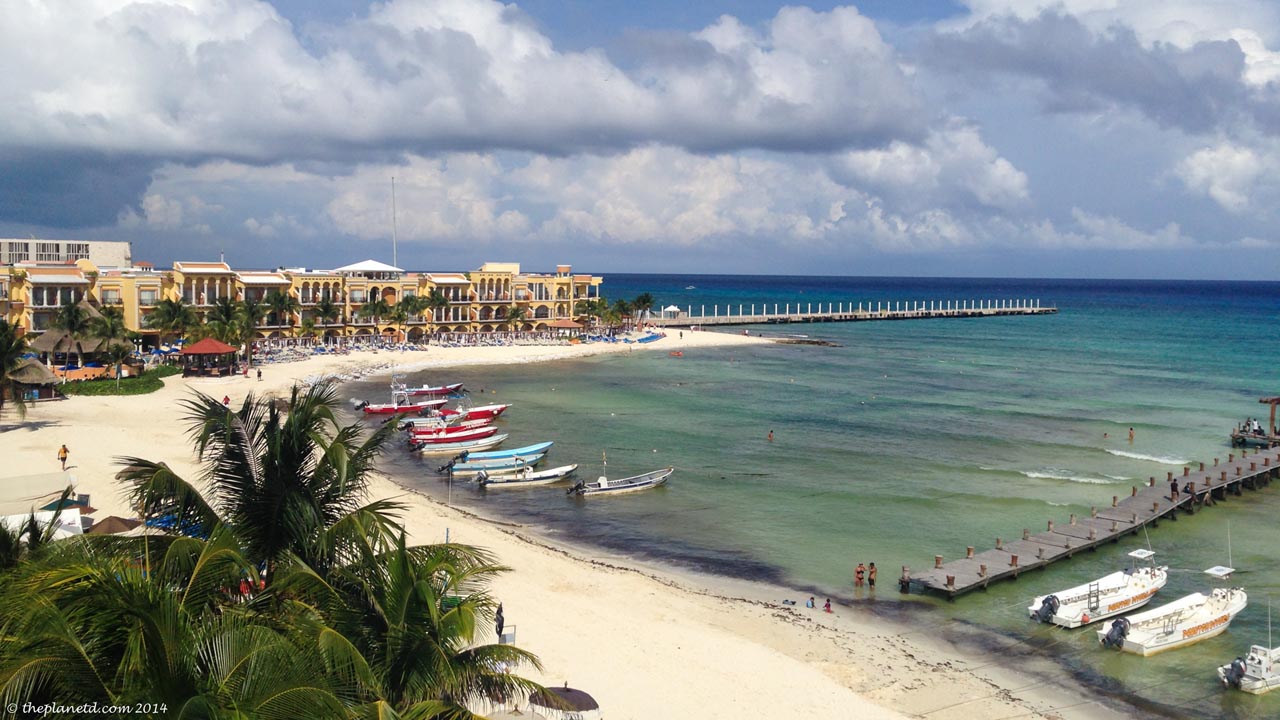 Cancun is famous for its endless beaches.
From the Cancun Riviera, to Playa del Carmen and Playa Mujeres, the beaches of Cancun are endless.
There's nothing we love more than walking on the soft white sands. Hotels have beautiful beaches right off of the property and you can walk from hotel to hotel to enjoy the gorgeous setting.
18. Underwater Museum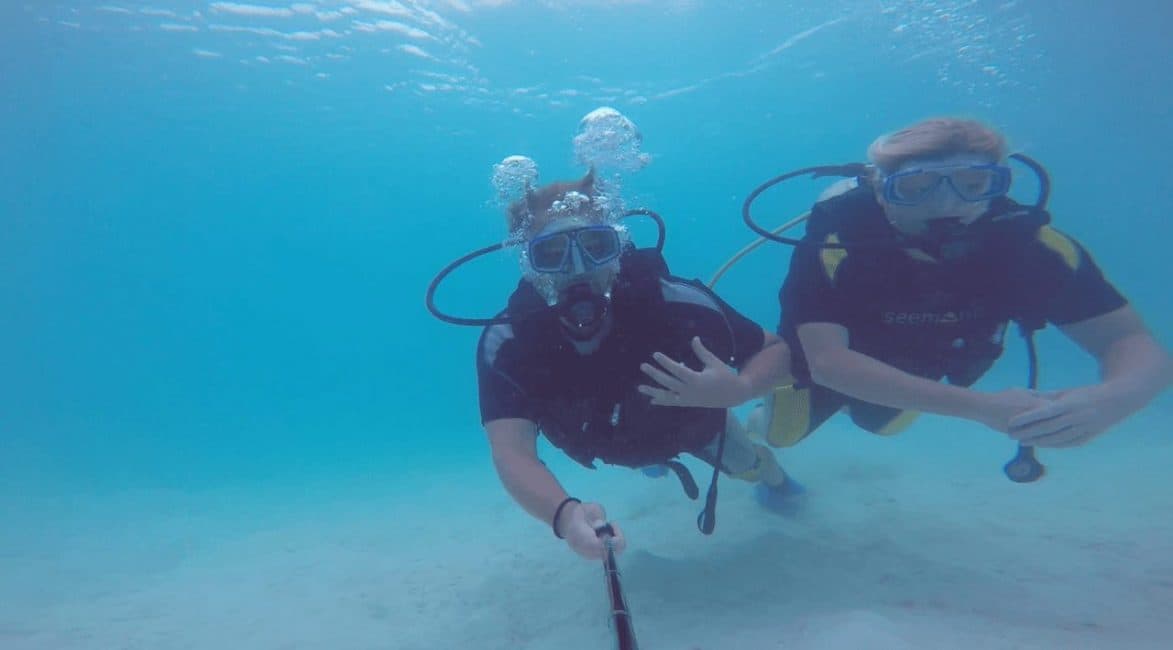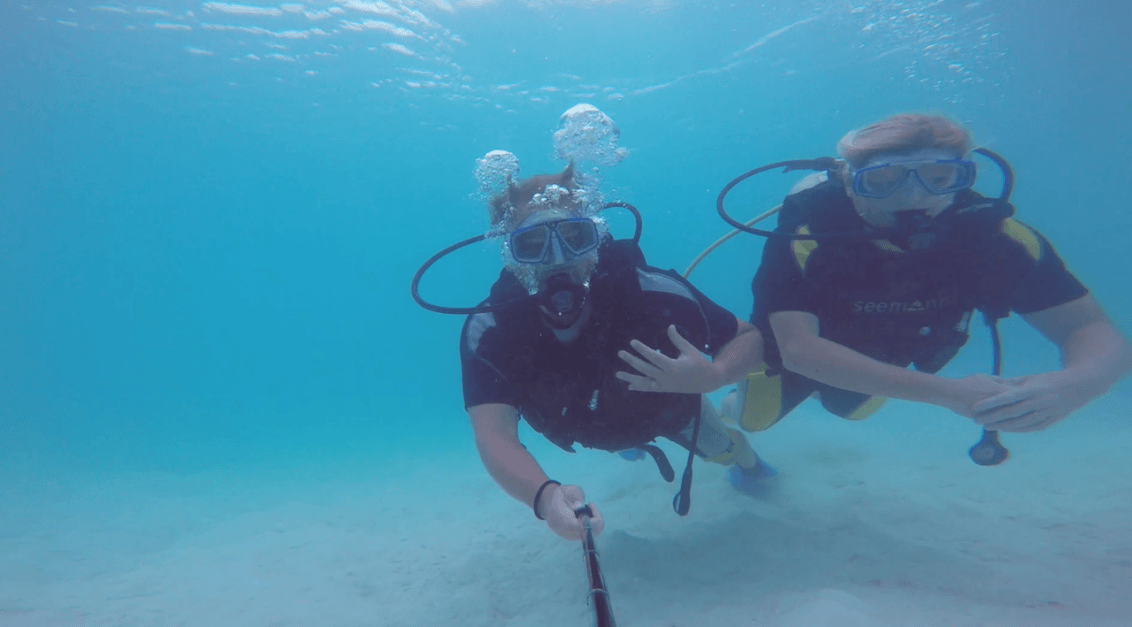 You don't have to go far from the hotel zone to have a unique underwater experience.
This artificial reef consists of 45 statues making it the largest underwater artificial reef system in the world.
Locals posed for these statues that were submerged to create a base for coral to grow on.
Whether you scuba dive, snorkel or just want to go out on a glass bottom boat, you can see this museum in a three hour trip from the Hotel Zone.
19. Flyboard
If you are ready for a thrill of a lifetime, try flyboarding.
There are only a handful of operators in Cancun that will let you fly over the water like a snowboarder.
Head out with an instructor on a wave runner for 30 minutes to help you get the hang of flying through the air!
20. SUP – Stand Up Paddle Boarding
Most hotels in Cancun offer free stand-up paddleboarding with their packages and Cancun is a great place to give it a shot. When the waters are calm, it's a fun way to explore the coast and get a little exercise in.
You can even do some organized tours into the mangroves.
Part 3 – Overnight Trips From Cancun
21. Tulum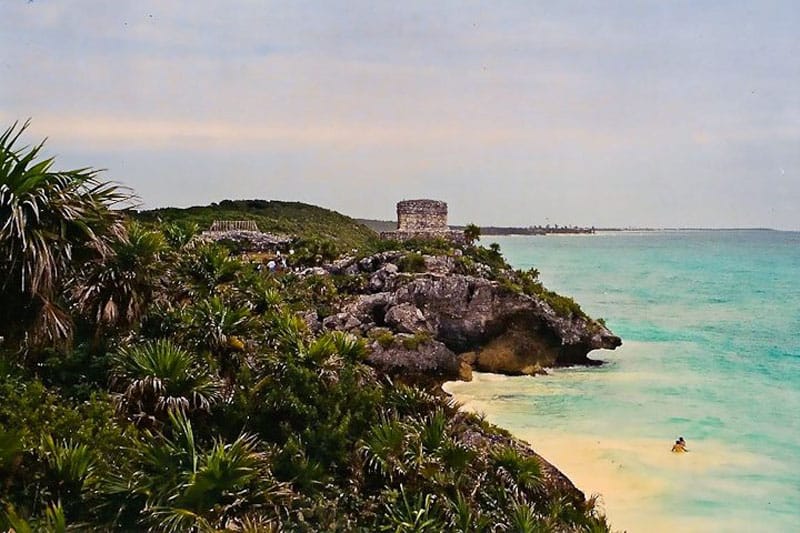 Tulum is not at the top of our favourite ruins of the world, however, it's the spectacular setting that is worth visiting.
There are archaeological sites all over Mexico giving a glimpse into Ancient Mayan culture. Tulum is one of the most easily accessible from Cancun.
Sitting high on a cliff overlooking the miraculous turquoise waters will take your breath away. A popular backpackers haunt, Tulum also has wonderful beaches.

If you want to escape Tulum there is a lot of accommodation there. And it is fast becoming more than a day trip from Cancun, it is now a popular vacation destination in Mexico.
22. Ek Balam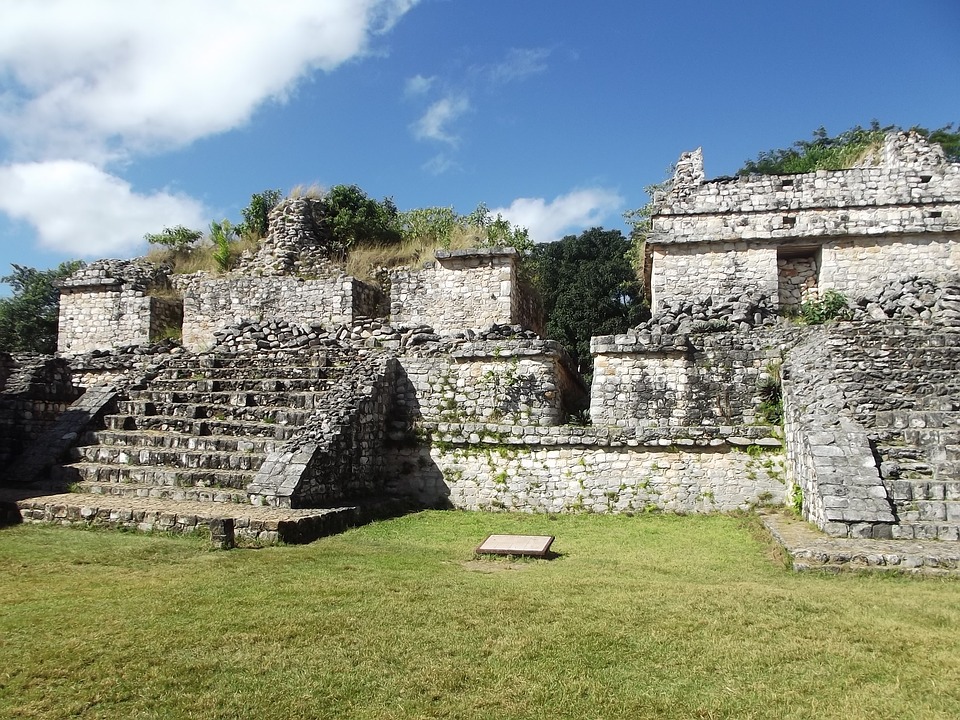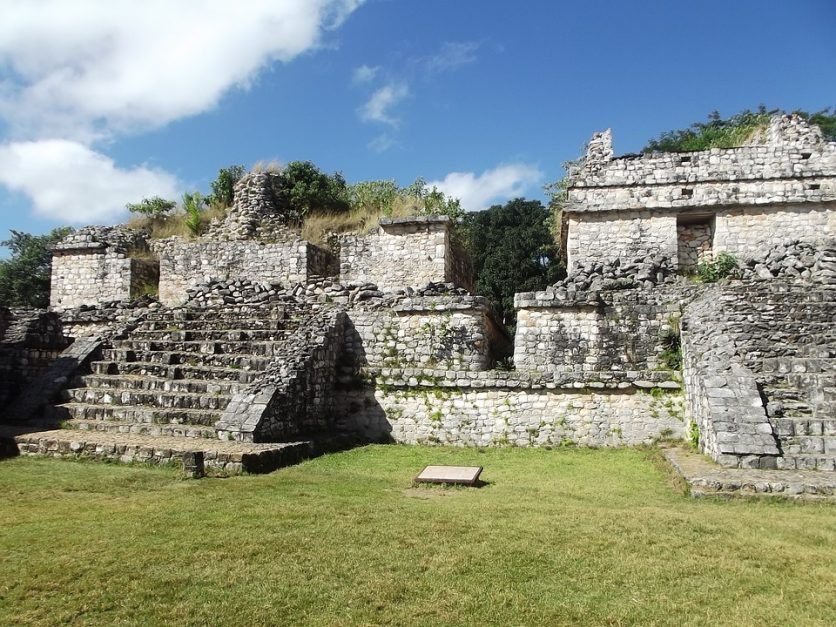 Ek Balam is a lesser-visited Mayan village near Cancun and you can climb up this one!
It's a sprawling complex of 45 structures but you can visit it in a couple of hours.
So you will get your history fix and still have time for other excursions afterward!
There is also a Cenote nearby.
23. Coba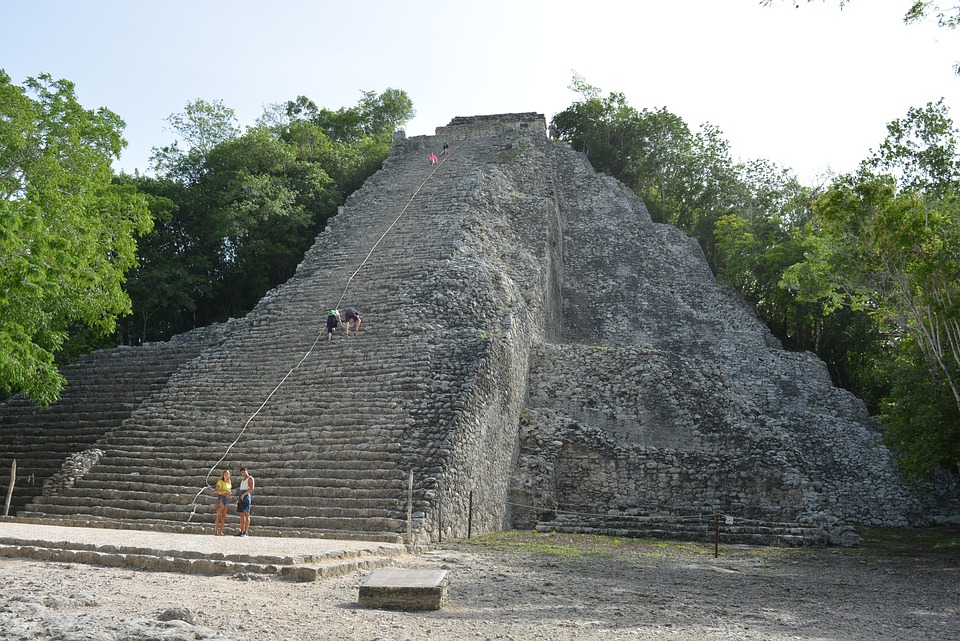 We visited Coba way back in 2003 when we decided to scuba dive our way around Central America.
Something tells me it hasn't changed much as when I look up information on it, it is still quite unexcavated with many temples yet to be unearthed.
You will wander through the jungle feeling like Indiana Jones as you stumble upon untouched ruins.
Here you can still climb the high pyramids reaching 42 meters in the air!
24. Valladolid
If you want something more than the nightlife and hotel strips of Cancun, a day trip to Valladolid is a must.
Step back in time in this 16th-century city showcasing beautiful colonial architecture.
Valladolid is becoming more popular each year as people prefer to immerse in the culture of the Mayan Riviera and enjoy a quieter pace than the hectic Cancun and Mayan Riviera hotels.
25. Cozumel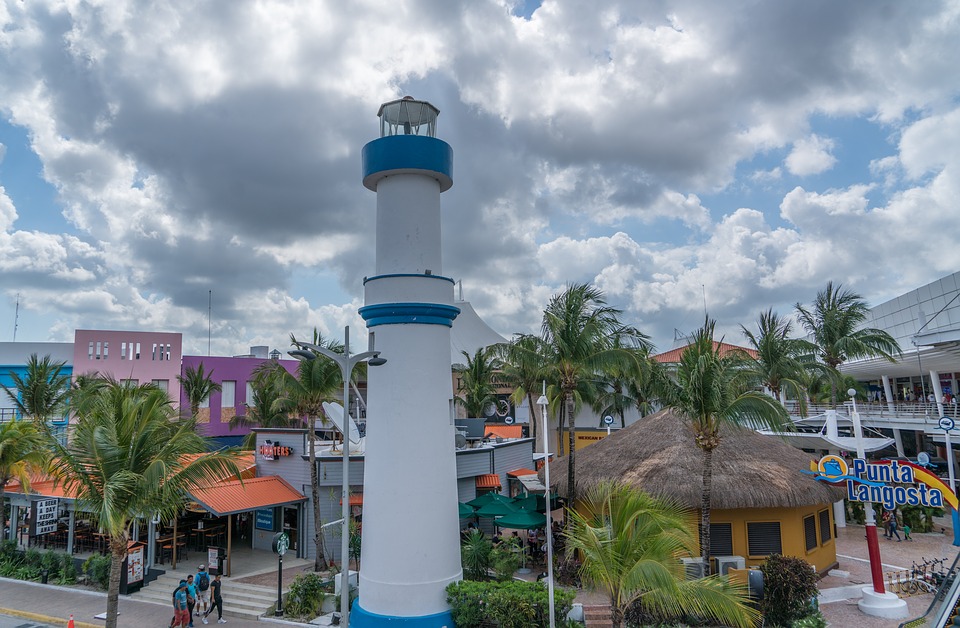 Cozumel is an island off the coast and you can catch a ferry from Cancun.
It's an excellent vacation destination on its own and you can either hop over to check out the markets and scene.
But for us it was really is all about the scuba diving scene here.
The water is crystal clear with visibility to 40 meters (120 feet). In 1961 Jacques Cousteau declared the area as one of the most beautiful dive sites in the world.
The waters of Cozumel were declared a national marine park in 1996 and because of that, you will see plenty of marine life.
If you aren't into diving, there are snorkeling excursions to Cozumel as well.
And if you want dry land, don't worry, there are many day trips from Cancun to Cozumel offering 4X4 adventures, canopy tours, snorkeling and shopping.
Where to Stay in Cancun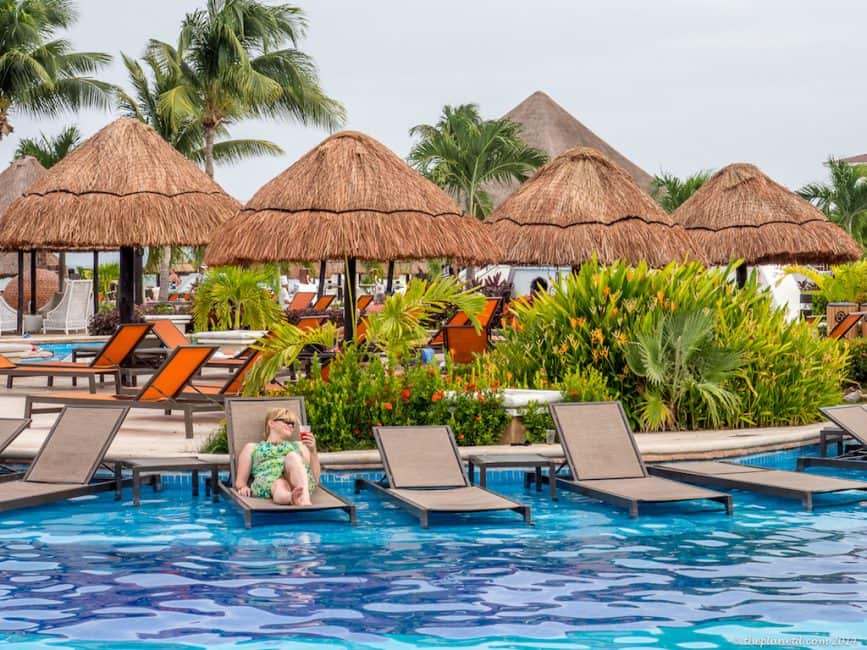 Cancun Hotel Zone is a good place to stay to be in the heart of the action, anywhere along the Mayan Riviera to Playa Del Carmen good.
We have stayed in Cancun, Playa del Carmen, Cancun Riviera, and Playa Mujeres. All of these locations work as tours, and transfers will pick up and drop you off here.
Cancun Hotels
There are literally thousands of hotels in the area, and we can't break them all down ourselves.
You should check out TripAdvisor and Booking.com for rates, reviews, and locations of hotels in Cancun that suit your budget and needs.
But these are hotels we have stayed at and trust.
Moon Palace Grand – We spent a week here and enjoyed the different levels for families, and couples. Check out TripAdvisor and Booking.com for reviews and rates
Hyatt Zilara – We love the Hyatt Zilara resorts and it also different levels of hotels for families, and couples. Check out TripAdvisor and Booking.com
Barcelo Maya – We loved our stay here on the Mayan Riviera. Check out TripAdvisor and Booking.com for reviews and rates
The Fives Azul Beach Resort – All-Inclusive Luxury Resort – 10 Minutes from Playa del Carmen. Check out TripAdvisor and Booking.com
When to visit Cancun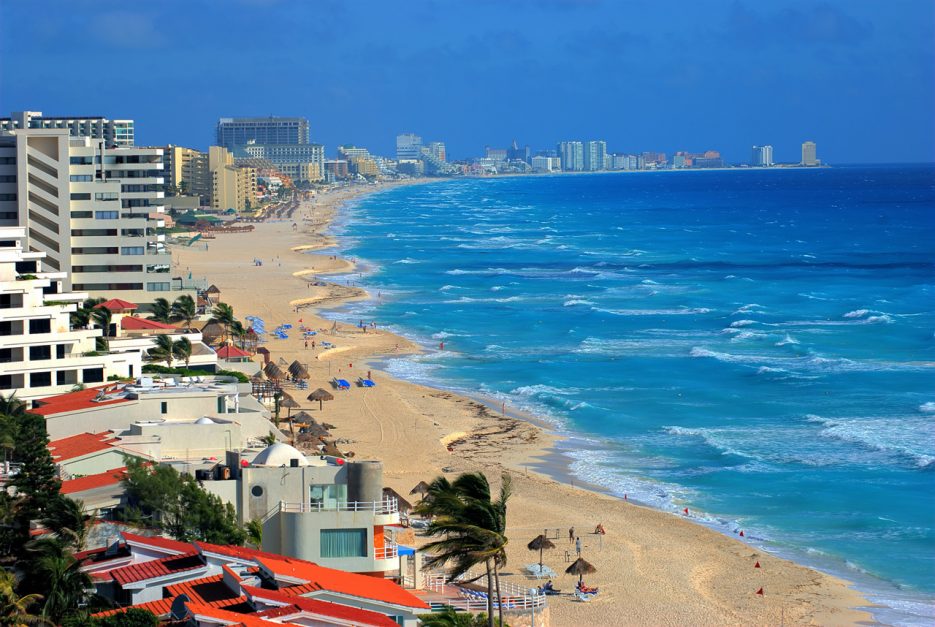 We have been to the area at all different times of the year and for the most part, anytime is a good time to visit Cancun.
High season in Cancun
December to through to the end of April is the best time to visit Cancun. It is when the weather is optimal and most stable. Especially from January – March.
It is the dryest season, but it is also comfortable with humidity at its lightest making for a very comfortable trip.
Summer Season
We have been to Cancun in the dead of summer and it was fantastic. It's a little more humid and you may get a little bit of rain each day but nothing to stop you from enjoying the sun.
The rainy season in Cancun means that there is the occasional afternoon shower.
Rates are cheaper and crowds are fewer in the offseason of Cancun.
It is also a great time to swim with whale sharks. The season is from June to September.
Shoulder Season
During September and October, Cancun is just starting to gear up for the winter season, so this is where you'll find the best deals.
But some day trips are not operating, you may come across construction at your hotel and you may be in the middle of hurricane season.
Cancun does see fewer hurricanes than the Caribbean though.
When to Visit Cancun for Diving and Snorkelling
We have done a diving trip to Cancun in the Spring, we swam with whale sharks in the summer and gone diving and snorkeling in the dead of winter.
Anytime is a good time to enjoy the water in Cancun. But as we said above, whale shark season is from June to September. (September is getting late, but we were once on the last trip of the year and saw plenty)
For Canadian's at least the water is warm year-round. We brought a wet suit with us once in January and never wore it at all to swim!
Sea Turtles are nesting in May and October, so you have a good chance of seeing them on the beach. (Don't disturb them though, they are laying eggs and are very endangered.
Pin to Save to Pinterest for future Cancun travel planning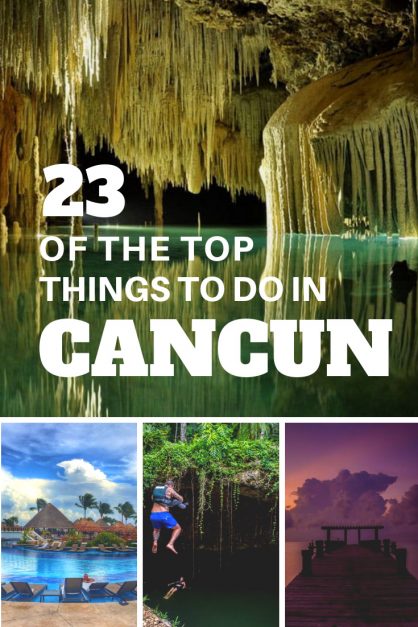 Do you have a favourite recommendation? We go back to the Yucatan regularly and we're always looking for things to do.
Let us know what we should do next?