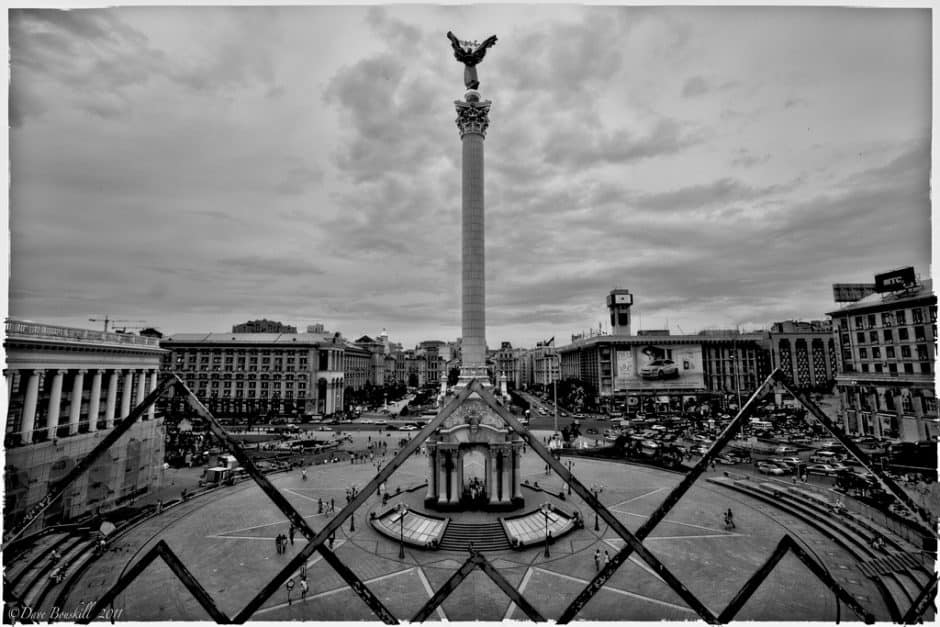 Ukraine is definitely one of Europe's last genuine travel frontiers.
One of Europe's biggest country (not counting Russia), it is a country full of diversity where travelers can't shake the feeling of being elsewhere while actually still being in Europe.
It is a country that is known for its hospitable locals, interesting (and yes a little bizarre) Soviet legacy, diverse landscape and gorgeous landmarks that seem frozen in time.
This Ukraine travel guide will help you plan your next vacation.
Fast Facts
Ukranian power voltage is 220 V 50Hz; Plug C & F
The Ukrainian currency is the Ukrainian Hryvnia and is around 22 UAH to 1 USD.
Beware of scam artists. If a "transport inspector" asks to see your ID, ask for your own proof of identification otherwise he may try to fine you for not having the right ticket. Also make sure to watch your wallet, too!
WARNING: There are risks in traveling to eastern Ukraine because of the war between the Russian irregular forces and the Ukrainian forces in the eastern areas of Luhansk and Donetsk.
It is illegal to take any items of historical importance out of the country. This includes badges, medals, icons, historical paintings, etc. This law is strictly enforced at all exit points.
Drink vodka! The Ukrainian specialty is horilka (the local name for vodka) with pepper. Other kinds of vodka that are popular are linden (tilia), honey, birch, wheat.
Packing Tips
Ukraine has a temperate continental climate with cold snowy winters and warm summers.
The only exception is the southern coast of Crimea, where the climate is subtropical of the Mediterranean type.
The southern coast of Crimea is the warmest place in Ukraine with temperatures reaching 39 – 40 degrees Celsius in the summertime and often not dipping below 20 degrees throughout the year.
Classic Basic items – You do not need to be a fashionista to blend in. The key is in embracing neutral toned items that can be mixed and matched easily. Avoid logos, baseball caps, shorts, hoodies, flip-flops, and running shoes as these items scream tourist!
Layers – You could possibly be sweating all afternoon and then be freezing by nightfall! Make sure to stock up on the layers. If you plan on heading to Ukraine during the winter make sure to pack the winter essentials: Warm, high, waterproof, fleece-lined boots big enough to wear with heavy wool socks, hat, waterproof gloves and thermal long underwear.
Rain boots – It rains a lot during fall and spring and since there aren't always a lot of sidewalks, make sure to bring a good pair of boots to splash around in.
Shoes – a good pair of sturdy shoes are a must. Ukraine isn't known for being a flat country and Kyiv especially has a lot of inclines.
Personal Safety products – Certain areas in Kyiv are known as pickpocket hotspots. Before leaving for your trip, make sure to pack some personal safety products, like money belts and locks, so that you can keep your valuables safe on your trip.
Check out our Packing List for more ideas on what to bring with you.
Booking Resources
Whenever we travel to we make sure to start with these companies.
We have tried a lot of different ones over the years and all of these have consistently proven to be the best when it comes to offering great prices.
We have used every one of these personally and continue to do so.
Booking.com: This is our go site to when comparing prices for accommodation. It is usually the has the cheapest prices, not to mention you get free cancellation and you are guaranteed the best price.
Trip Advisor: What we like about Trip Advisor is that we can look at all the reviews and then book our accommodation.
Air BnB: Airbnb is the main search engine we use when we are looking for a home or apartment rental. It is the best way to stay in areas that offer a more local feel.
Skyscanner: This is the first place we check for flights. It consistently comes back with the cheapest and best options. It allows us to compare a lot of airlines to get the best price.
Hostelworld: With one of the largest databases of hostels in the world, Hostelworld is the go-to site when you are looking for budget accommodation.
Rome 2 Rio: If you want to see how to get somewhere by plane, train, bus, ferry or car Rome2Rio lays it all out for you as well as related costs. I love how they show it all to you on a Google Map and it works offline.
Get Your Guide: For all your day trip and city guide needs, we use Get Your Guide. It has the world's largest collection of things to do with more than 30,000 activities in 7500 destinations.
World Nomads Insurance: When traveling to Europe you should always have travel insurance. We have found the best bang for your buck is by far World Nomads.
Related