I know that we have talked to you all about how finding accommodation in Eastern Europe can be a chore, but we do have other options.
A lot of the Mongol Rally involves pulling off on the side of the road and finding a place to pitch our tent. As a matter a fact, one night we couldn't find a place to stay and ended up driving until 2:00 am until we finally had to pull over and sleep in our car.
We were caravanning with the Fighting Trousers and really wanted to get to the Russian border as quickly as possible as we had a room booked in Volgograd with roomorama.
Looking for a Hotel in the Ukraine, Lands us in a Brothel
Roomorama has been great sponsors through our Romanian, Ukraine and Russian leg putting up with our constantly changing itinerary and we didn't want to let them down. They told us that they could get us a place in Volgograd if we could guarantee that we'd be there the next night. They are an excellent choice especially for Eastern Europe and Russia for Short Term Apartment Rentals and accommodation.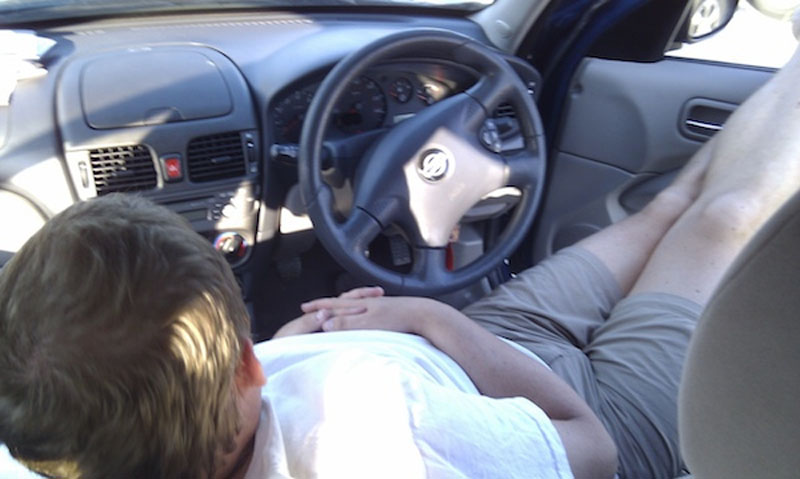 The day got away from us though and we were still 200 km away from the border town when the sun went down. If Dave and I had it our way, we'd drive non-stop to Mongolia pausing only to eat and sleep for a few hours.
We're like that.
We would push and push to get whatever adventure we are doing done. I am sure that if it were just the two of us, we'd be one of the 5 teams who are finished already. We would drive like mad to get to the next town and then spend a day or two to see the sights there before moving on.
Traveling with others makes for a different dynamic. Some people don't want to drive at night and I can respect that, as long as the roads aren't atrocious, we'd be driving late and getting out early.
Searching for a Hotel at Night
The Fighting Trousers didn't want to go on anymore either, so we decided that we'd look for a place to sleep with them.
When we came upon the next town, we looked in earnest for a hotel.
The first one that we came to didn't have any rooms. It's too bad because it looked perfect. We moved on and drove around the town looking for more, but none were to be found.
We then returned to the original hotel that we stopped at and asked them if we could camp on their lawn, but they didn't understand.
Unlike Kazakhstan and Mongolia, we were told not to camp by ourselves in the Ukraine or Russia and even if we weren't told that, we wouldn't have anyway. We didn't feel comfortable pulling off the side of the road there and pitching a tent.
Moving On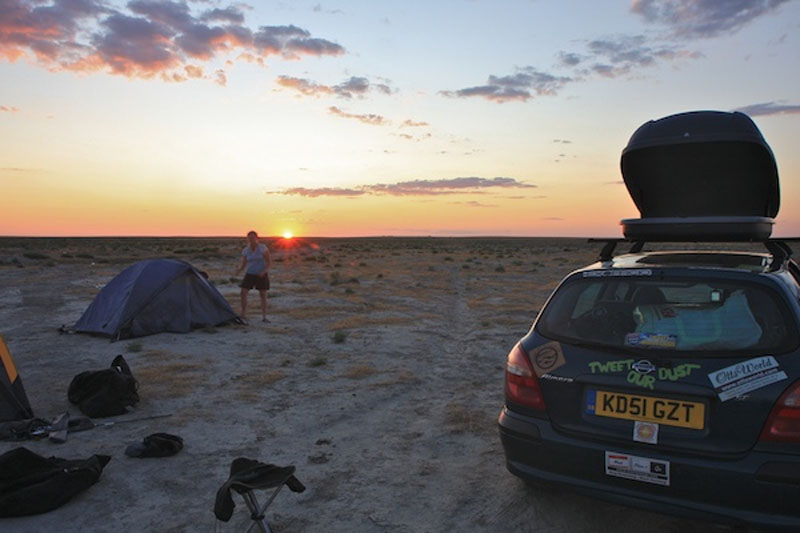 It was now getting late, it was cold and everyone was tired and grumpy. All we could do was move on and keep our eyes peeled for more hotels. Just outside of town we came across a building that looked like a castle (a cheesy castle that is) with the flashing hotel sign. Well, it says hotel, what else could it be?
We pulled in to give it a try.
I sat in the car to keep an eye on the stuff instead of having to pack and lock up, while team Fighting Trousers and Social Media Syndicate went in to see what was going on. They were inside for quite a while so I went in to check on things.
The young Fighting Trousers looked mortified by the place and told me that we were not staying there as Sherry worked on negotiating with the guy.
I assumed that it was the high price of accommodation that made everyone look so uncomfortable until I took a look around at the place. A tall, beautiful woman in some sort of maids uniform (or it could have been a flight attendants uniform from the 70's) looked out from a room and smiled. I then saw the owner with a gun holstered in his belt and the cheesy mirrors on the walls.
We were in a brothel
Sherry didn't believe we were in a brothel (or she was just too tired to care) and instead tried to negotiate a price and even went to have a look at the room with Rick in tow.
The rest of the guys were stating that they were leaving and I was all for it because I just wanted to drive the rest of the night to get to a border. We had now wasted 2 hours looking for a place and we could have been half way to the Russian border by now.
I wasn't co-operating because I didn't want to stay anyway so I took the boys side and said let's go.
The Fighting Trousers wanted to pull over and find a place to sleep on the side of the road but I was having none of that. If we were going to sleep in the car, we were going to make time.
Moving on to the Border
I said we are pushing on to the border to get an early start and told them that if we saw a hotel, we'd text them. We drove on keeping our eyes peeled but saw nothing. It was about 20 minutes later that we heard from the guys who told us that they found a hotel and were crashing for the night.
We didn't see a thing and were way ahead of them, so we kept on driving. We made good time and by 2:00 am I couldn't keep my eyes open anymore. We looked for anything resembling a hotel and came up with nothing so our only option was to pull over and catch a few hours of sleep in the car.
I was instantly asleep and awake at 5:30 telling everyone that I was driving on.
Yes, I'm stubborn that way.
We got to the border town quicker than expected and were shocked to find that there were no restaurants or markets to grab some food.
Once we entered the border queue, it may be hours before we get through so food was a priority. However after searching in vain all we came across was a small town where we bought some water and they gave us some hard candies.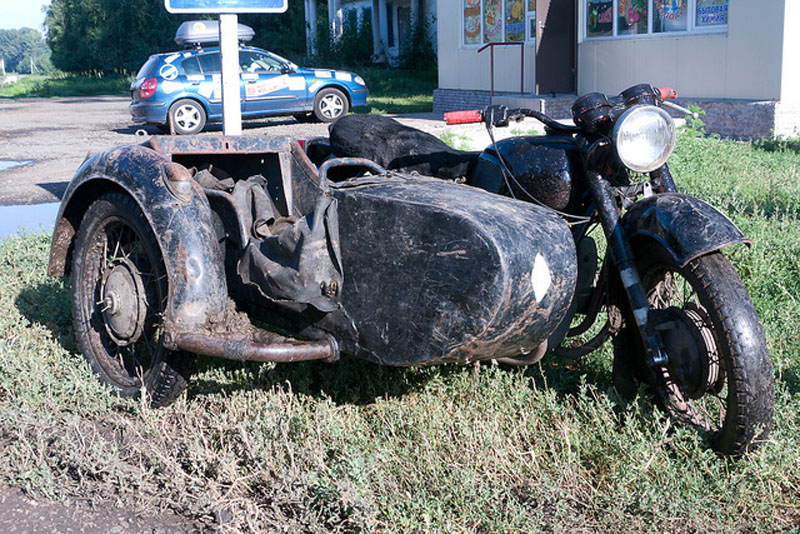 It was 7:30 in the morning when a couple of guys came driving up on their old Russian sidecar motorcycle. They were excited to see us and laughed heartily when we spoke.
Making Friends With Locals
They bought a litre bottle of beer each and drank it while watching us take photos of their motorbike. They were very proud, if not very drunk. Yet extremely happy!
We couldn't decide if they had been up all night drinking or if the giant bottle of beer was their breakfast. Their children came over and he introduced them to us and we had a common bond in the fact that one of his sons was named David.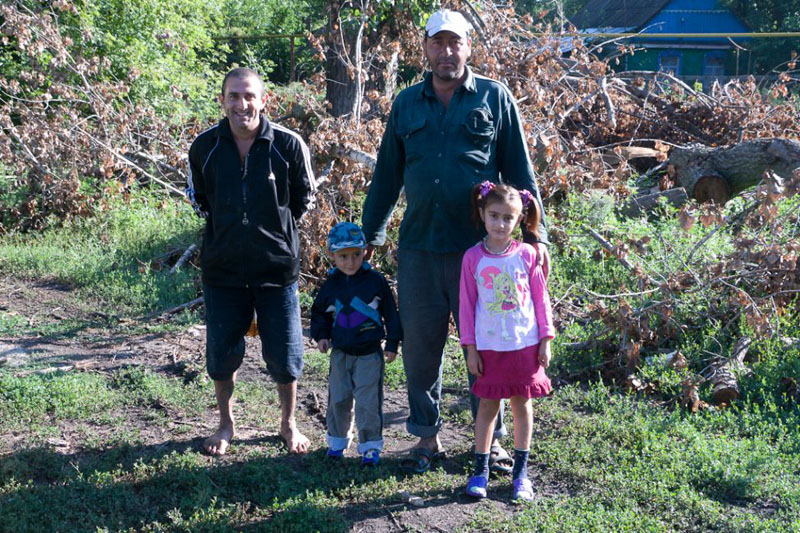 There was no putting it off any longer though, we had to get ourselves to the border and we were there right when it opened with only 2 cars in front of us.
I had a good feeling about this crossing even if we were starving and tired, we made it early and would get to Volgograd in time to pick up the keys for our apartment sponsored by roomorama that Manda had worked so hard to secure from her office in Singapore! With them in charge, we just may be able to avoid the next brothel.
Read Next