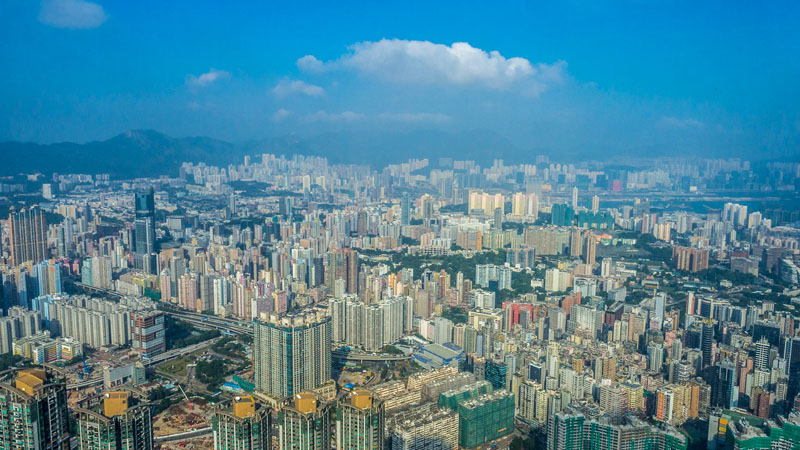 When we think of Hong Kong, the images that come to mind are skyscrapers, people, and air pollution.
So you can imagine our surprise when we explored outside the downtown core to discover that there is a lot of green on the island.
This Hong Kong travel guide will help you plan your next vacation.
If Hong Kong is your first stop make sure to check out our detailed article on Where to Stay in Hong Kong!
Fast Facts
Hong Kong power voltage is 220 V 50 Hz; Power sockets G.
The Hong Kong currency is the Hong Kong Dollar (HKD) and is around 8 HKD for 1 USD. Get the XP currency Converter App for currency calculations.
Skip the taxi ride from the airport. You can book The airport express for $8USD in advance on Get Your guide or the station is right at the airport and the train stops halfway to the city center and then in the Kowloon and Central areas. The trip is around 25 minutes.
Invest in an Octopus card – an extremely versatile stored-value electronic card that can be used for most public transport, as well as purchases in convenience stores, fast food shops, supermarkets, cake shops, vending machines and more.
Use your Octopus card to take a ferry to Macau, the Las Vegas of Asia, to explore, wager a little bit of money and take in a show, like The House of Dancing Water or Taboo.
Get OUT of the city – visit the Tian Tan Buddha, take the cable car to Ngong Ping or visit the Tai O Village, there is so much more to Hong Kong than the downtown core.
Hong Kong is divided into 4 areas; Hong Kong Island, Kowloon, New Territories, and the Outlying Islands.
The best way that you can save money and see all of the sites is to get yourself a Hong Pass Pass. You can get it for 2, 3 or 4 days and it includes entrance to all top Hong Kong attractions plus Fast Track access.
Budgeting
Accommodation
Budget: You can get a budget hotel in Hong Kong starting at $30 USD. This often includes a private room, continental breakfast, and free Wi-Fi.
Mid Range: A mid-range Hong Kong hotel starts around $100 USD. They may have a restaurant, lounge, family suites, and airport transportation.
High End: You can book a luxury hotel in Hong Kong starting at $150 USD. This often includes a pool, fitness center, and a view of the city.
Food
Transportation
Getting to Hong Kong: There are multiple airports in Hong Kong, with the Hong Kong International Airport being the most popular one to fly in. You can fly direct from North America and Europe.
Transportation:
Buses: The fare for a bus ride in Hong Kong starts at HK$4. You will need to purchase an Octopus Card or have exact change for a ride.
Taxis: There are various colored taxis in Hong Kong available, such as red ones for urban taxis. They start at HK$24 for the base fare.
Car Rental: Car rentals start at HK$370 for a compact car and increase the larger the vehicle you request.

Compare prices on flights below
Packing Tips
Hong Kong has a sub-tropical climate with distinct seasons, which includes a typhoon season that begins in May and ends in November. Spring (March to May) has warm temperatures with rising humidity.
Summer (June to August) is hot, humid and sunny with occasional rains. Autumn (September to November) is known for its comfortable temperatures with pleasant breezes and warm weather.
Finally, Winter (December to February) is known for being cold, dry and cloudy with occasional cold fronts. Temperatures throughout the year vary from around 10°C to 31°C.
The protection basics – Travellers should stock up on the essentials: sunblock, mosquito/insect repellant containing DEET or a pyrethroid insecticide, sunglasses and a hat.
Pack for Humidity – for humid weather it is best to pack fabrics that breathe as much as possible and natural fabrics, like cotton, linen or rayon (avoiding silk, wool and polyester). Clothing should be loose and comfortable to encourage the flow of air and allow moisture to evaporate.
Closed-toe shoes – The streets and alleys of Hong Kong are often wet, and many times dirty. Since you'll be doing a lot of walking, pack comfortable closed-toe shoes.
Sarongs – From protecting yourself from the hot sun or keeping warm on a cool night, sarongs are a must-have.
When to Go:
Like many Asian destinations, the high season for Hong Kong is from October through May. However, tourism ramps up for tourism and crowds are larger and prices are higher.
Shoulder season is always a good time to visit to avoid the crowds and save money. Shoulder season is considered June and September.
The summer months of July and August are very hot and because Hong Kong is an international city, deals are not as big as you would hope.
When traveling to Hong Kong try to avoid national holidays like May 1, July 1, and October 1.
Things to do
Sights
Visit Tai O Village – a traditional fishing village located on the South China Sea.
Search for Pink Dolphins – catch a boat ride at any time of the day to take you out to the bay to search for these rare beauties. You don't have to make an appointment, once the boat is full, it takes off.
See the Incense Coils of Man Mo Temple – Built in 1847, the Man Mo Temple is the oldest temple in the region. The incense is burned to attract the attention of the Gods.
Places to Stay
MANDARIN ORIENTAL HOTEL: With a stunning view of the Victoria Harbour, conveniently connected to the Landmark Mall and the Central MTR station via a series of indoor walkways.
POTTINGER HOTEL: Stay by the historic Pottinger Street that's a street west of the Mid Level Escalator. Close to restaurants, transportation, and ferries.
SLEEEP CAPSULE HOTEL: Located between Central and Sheung Wan, Sleeep is a great budget capsule hotel choice. Free Wifi but it is very basic hotel.
Check out our favorite booking platforms Booking.com, Tripadvisor and Air B&B for the best deals on accommodation in Italy.
Booking Resources
Whenever we travel to Asia we make sure to start with these companies.
We have tried a lot of different ones over the years and all of these have consistently proven to be the best when it comes to offering great prices as well as great customer service.
We have used every one of these personally and continue to do so.
Booking.com: This is our go site to when comparing prices for accommodation. It is usually the has the cheapest prices and we love their interface. Not to mention you get free cancellation and you are guaranteed the best price.
Trip Advisor: What we like about Trip Advisor is that we can look at all the reviews and then book our accommodation. TripAdvisor is where we go when we want to compare prices with multiple accommodation providers.
Air BnB: Airbnb is the main search engine we use when we are looking for a home or apartment rental. It can sometimes be cheaper than hotels and it is the best way to stay in areas that offer a more local feel.
Skyscanner: This is the first place we check for flights. It consistently comes back with the cheapest and best options. It allows us to compare a lot of airlines to get the best price.
Hostelworld: With one of the largest databases of hostels in the world, Hostelworld is the go-to site when you are looking for budget accommodation.
Rome 2 Rio: If you want to see how to get somewhere by plane, train, bus, ferry or car Rome2Rio lays it all out for you as well as related costs. I love how they show it all to you on a Google Map and it works offline.
Get Your Guide: For all your day trip and city guide needs, we use Get Your Guide. It has the world's largest collection of things to do with more than 30,000 activities in 7500 destinations.
World Nomads Insurance: When traveling to Hong Kong you should always have travel insurance. We have found the best bang for your buck is by far World Nomads.
Related