As many will know, the largest city in the New Zealand South Island was hit by a massive earthquake in 2011. The Christchurch earthquake devastated a thriving city and five years on its still looks like a wasteland in many parts.
Christchurch Earthquake 5 Years Later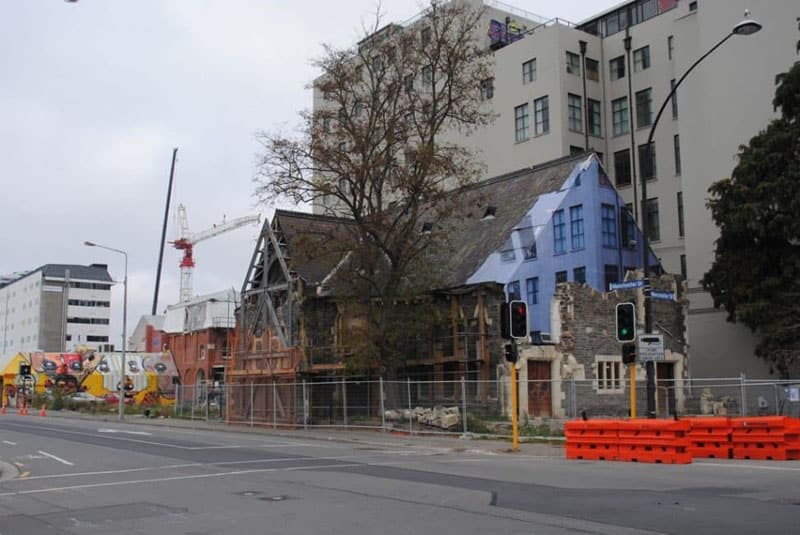 Dave and Deb visited Christchurch just days after the earthquake, and you can read about that their experience with Aftershocks in Christchurch here. but this article is about how the city is faring 5 years in. Well, 4 years, as it has now been a year since I visited. You can more about my New Zealand South Island Trip here.
The earthquake levelled over 1000 buildings, which is great for making way for many parking lots, but not so good for general productivity, generating income and taxes for the local government.
After reading Dave and Deb's first hand recount of what Christchurch looked like days after, it is clear that a lot of work has already taken place, but there is still plenty that needs to be done to get the city back to where it was.
Roads were cracked, the place was covered in rubble and they were not even allowed into the city centre because of ongoing emergency work. I did not see much evidence of cracked roads, and you would hope that after 4 years the rubble had all been hauled away (which it had).
Traveling to New Zealand? Pick up Your Lonely Planet Travel Guide
But there were still plenty of fences warding you away from buildings and plenty of construction activity working slowly towards restoration. And some historic buildings actually looked like the earthquake could have happened yesterday. The damage done was in the multi-millions.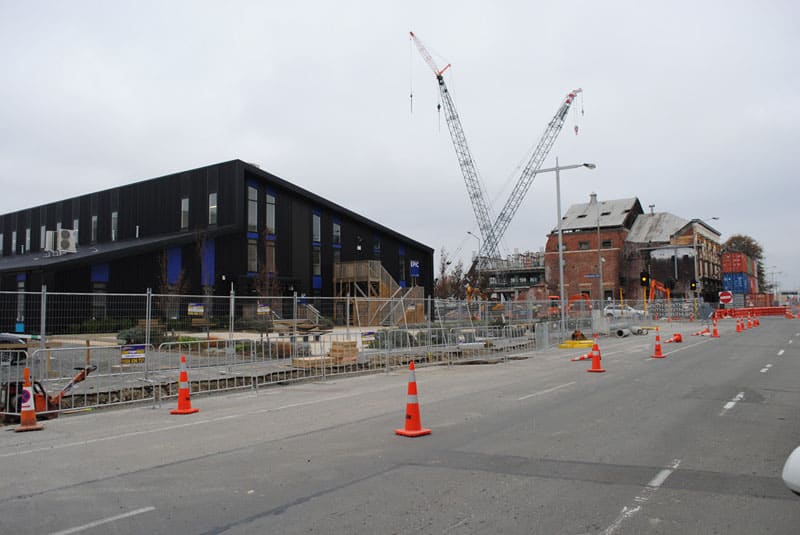 Beyond the physical damage to the city though, the first thing I noticed about Christchurch is how resilient they are as a collective. Not only resilient but how resourceful they are, borne out of a desire to see business as usual continue as quickly and seamlessly as possible. (Ok seamless, may not be right term, but their drive to get back on their feet was obvious).
For example, it could have taken years and millions of dollars (of insurance money no less) to wait for the shopping mall to be replaced. But hungry to get businesses earning and citizens spending, the colourful re:START mall constructed.
This is significant because the outdoor mall was built primarily using shipping containers. You will find many familiar brands, cafes and bars operating out of these modified containers. It really is ingenious.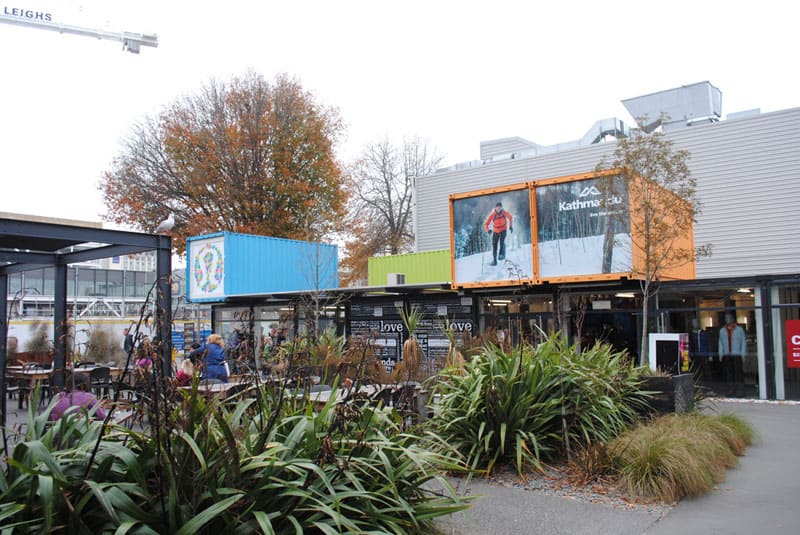 New Zealand is the Adventure Capital of the World, check out our favourite New Zealand Adventures!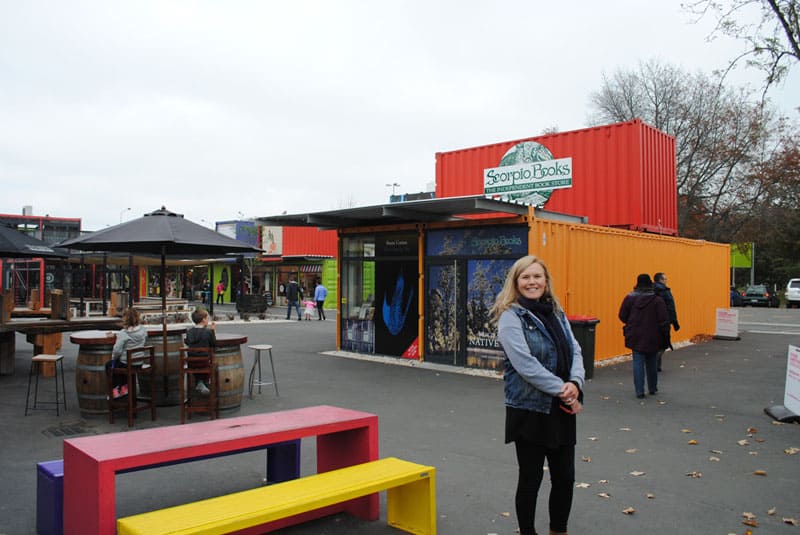 This resilience was also shown in the building of the Transitional Cathedral, colloquially known as the Cardboard Cathedral. This nickname draws from the 86 cardboard tubes (weighing 500 kilograms/1100lbs each), which form the frame of the triangular roof.
This did actually take 2 years to build at a cost of NZD$6 million, rebuilding the city, and in particular rebuilding a cathedral is certainly a long term project.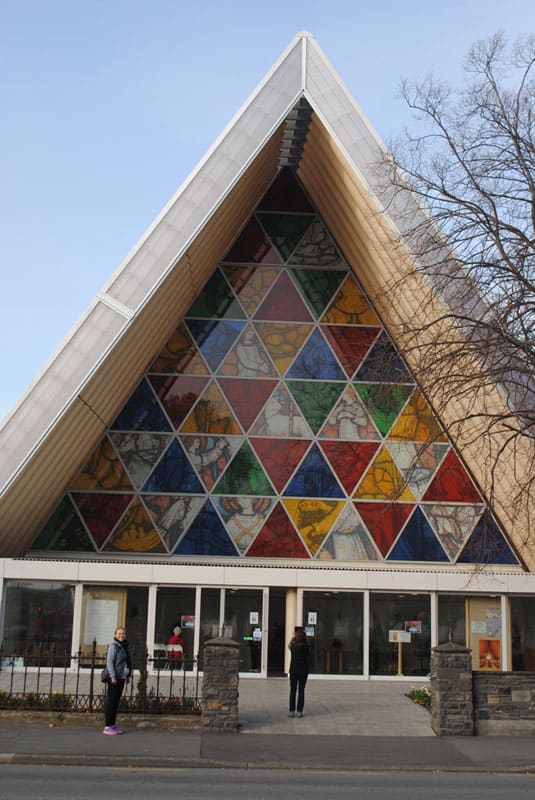 This is what the church looks like inside. The chairs all follow the same wooden/cardboard theme, the cross is made from cardboard tubes, and the choir stand columns (which might be hard to see) are made from cardboard tubes too. Google Maps actually have a very cool virtual tour of the cathedral using their Street View.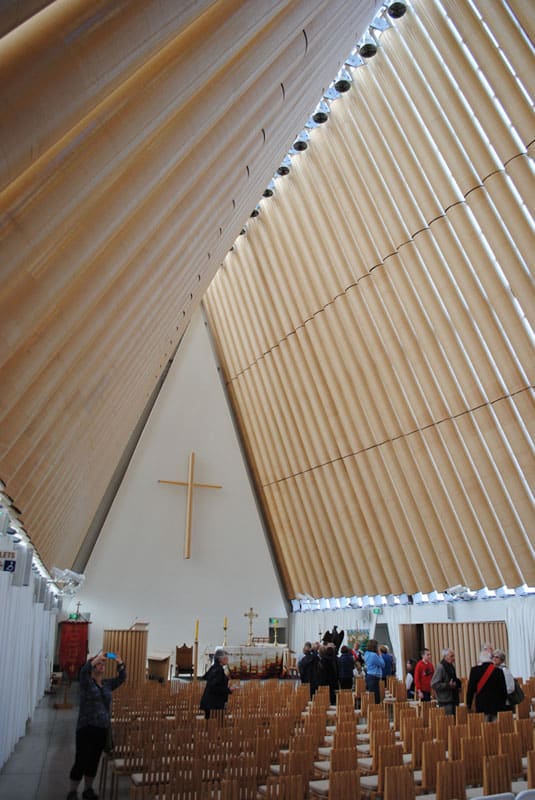 As you might have guessed, the Cardboard Cathedral is to replace Christchurch Cathedral, which much have been near the epicentre, as it suffered significant damage. Itís almost unrecognizable. Once the cultural heart of the city now lays empty, desolate, open and dilapidated, awaiting costly refurbishment.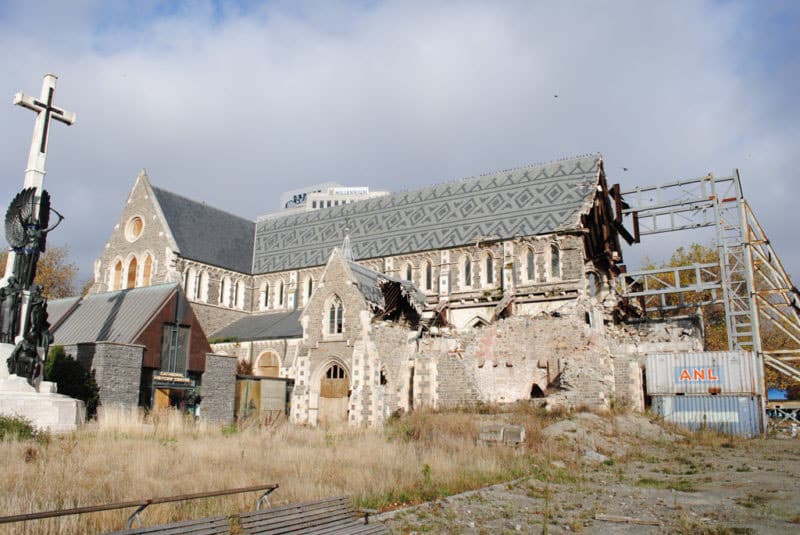 For those wishing to pay their respects, the city setup a memorial titled 185 Empty White chairs in remembrance of those that lost their lives in the earthquake.†The memorial is situated just up the road from the Cardboard Cathedral.
Unlike most memorials, this one encourages you to sit in any chair that ìspeaks to youî as an act of remembrance, rather than disrespect. As you'll note, the chairs are all different types, shapes and sizes, representing the uniqueness of all those lost in the earthquake.
And on a laminated piece of paper hung on a board beside the memorial is this artistsí statement:
185 square metres of grass depicting new growth, regeneration. 185 white chairs, all painted twice by hand as an act of remembrance. This installation is temporary, as is life.~ Pete Majendie.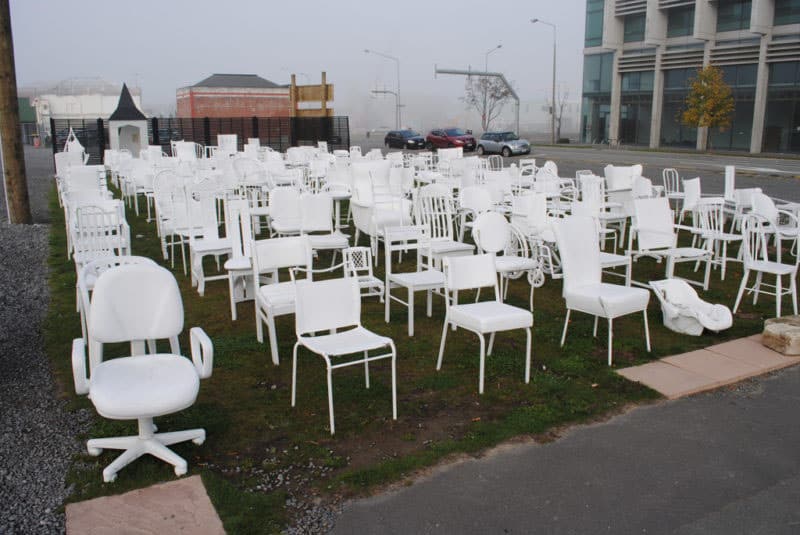 Even 4 years on it is absurdly easy to take yourself on a self-guided walking tour of the rubble as it is still so prevalent everywhere. Some entire foot malls and street blocks were destroyed. In this photo below, sadly all but this staircase was levelled.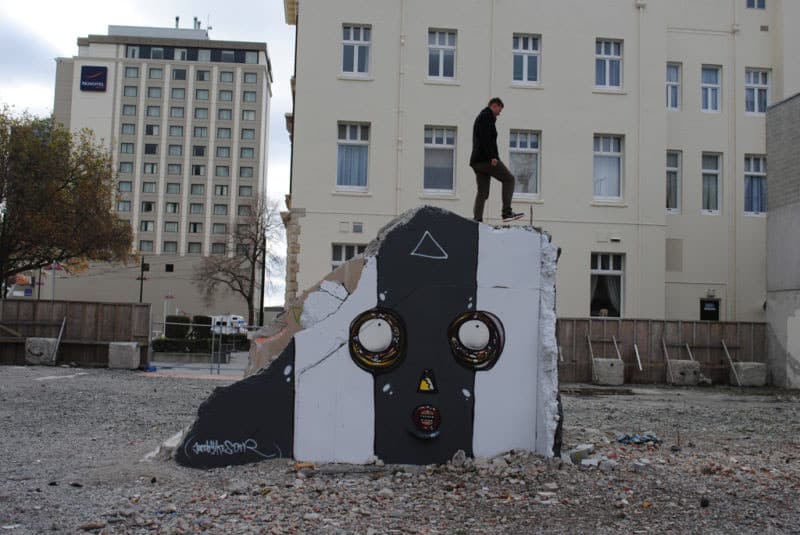 This one below is of the Arts Centre, just up the road from the Canterbury Museum. The Arts Centre was hit particularly hard during the earthquake and has been closed since. As at May 2016, they are just starting to reopen the facility for use and art exhibitions.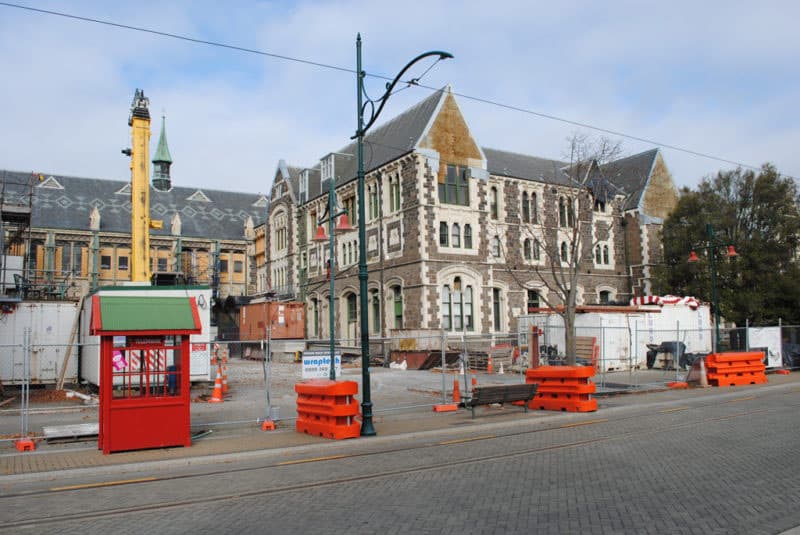 So, with all the damage that Christchurch endured and knowing that it is still rebuilding, is it still worth visiting? My answer is absolutely. In fact my answer is to go sooner rather than later. This is a unique time in the history of this city as it continues to rebuild itself. A time that I hope it never has to endure again.
Author Bio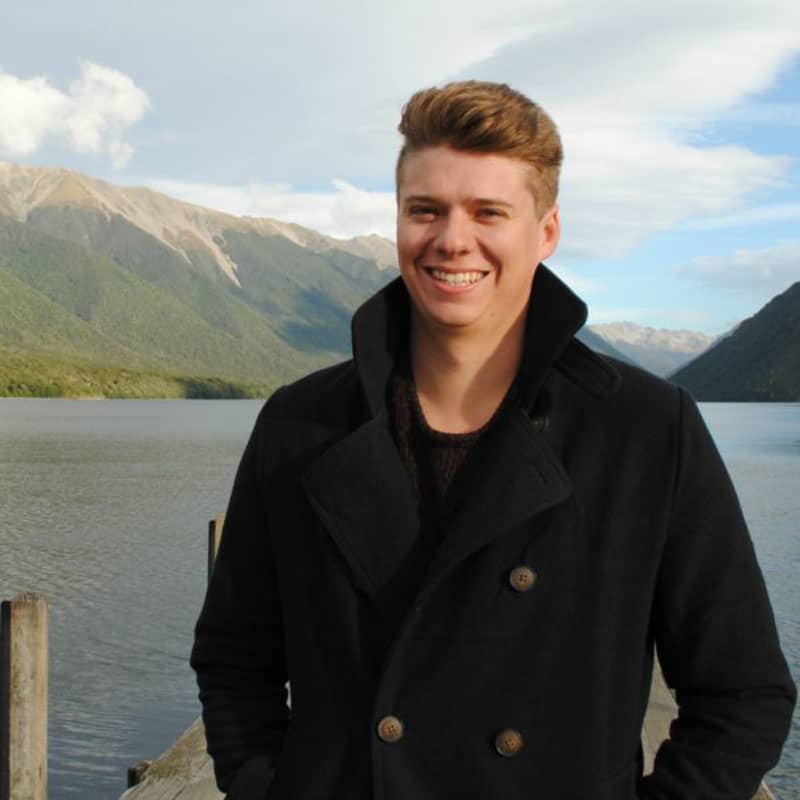 Luke works a regular 9-5 job, and his salary he calls his travel fund. He and his wife spend most of their time in negative annual leave due to this expensive yet incredibly rewarding hobby.
Luke inherited a love of traveling from his parents but the bug truly bit him after a 6 month romp around Europe in 2010. He travels for 3 reasons: becoming immersed in a different culture, finding the less obvious attractions, and for hectic bragging rights back home.
Follow Luke at Backstreet Nomad Travel Blog Instagram: @backstreetnomad Pinterest: @backstreetnomad Facebook: The Backstreet Nomad Travel Blog Twitter: @backstreetnomad
---
Read More:
The Absolute Best 15 Unique Things to do in New Zealand
Explore New Zealand by Campervan
How New Zealand Changed our Perspective on Life
New Zealand's Flying Kiwi Experience
Affordable options with Air New Zealand to Australia
SaveSave