There is something special about cabin-life, and with VRBO, you can experience it firsthand on your next vacation to Arizona. You'll arrive at a beautiful property with a warm, homely appeal – a far cry from often personality-lacking hotels.
There are many cabins in Arizona to choose from, whether you want a downtown suburban experience or to be utterly off-the-grid in a national forest. Cabins sleep from one to over ten guests depending on the property, so don't rule out rental cabins for group holidays either. Arizona cabin rentals are a versatile accommodation style to enjoy and explore the state.
Whether you are planning a road trip stop off, a hiking base, or a two-week holiday home, cabins make great accommodation choices. These are seventeen beautiful cabin rentals in Arizona, perfect for your upcoming vacation.
17 Beautiful Cabins in Arizona
These Arizona cabins have been carefully chosen because of their key features and unique attributes. Many have amenities like a hot tub, traditional fireplace, fire pit, and nearby hiking trails.
All of these rental cabins have incredible locations in Arizona – ideally based on both maximizing your ability to relax or exploring the best attractions. So, let's take a look.
1. Cabin in Apache-Sitgreaves National Forest, AZ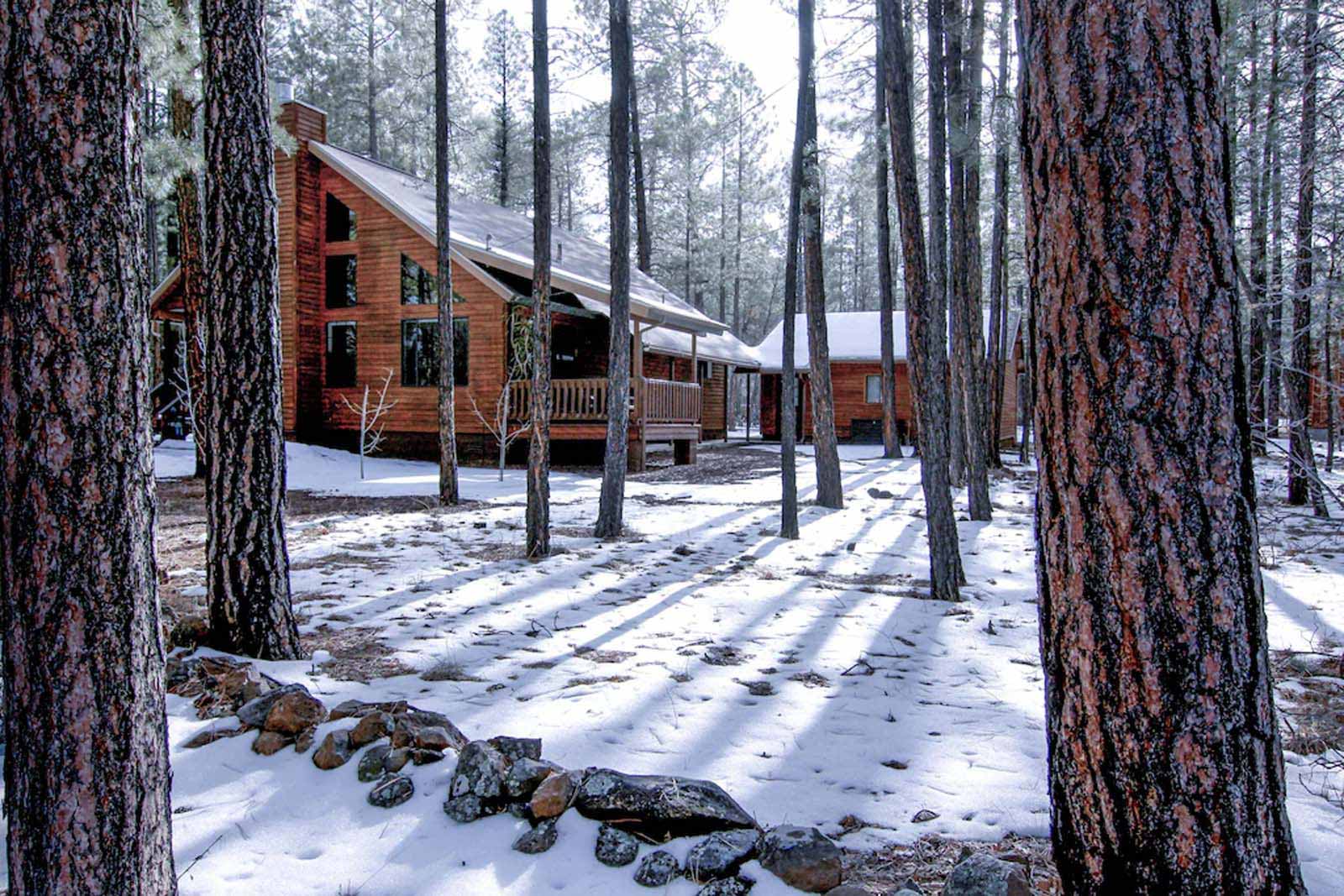 Got a taste for the finer things in life? This luxury cabin has everything you may need within a private wooded lot of Ponderosa pine trees.
Luxury cabin rentals are a popular choice when choosing cabins in Arizona, and we can see why. This property is full of five-star details, from hardwood floors to his and her sinks. Plus, you are a short walk from Pinetop Lakes Country Club – just in case you fancy a game of golf on the 18-hole championship course.
At night, you can relax by the outdoor fire pit. By day, you'll have hikes, ski slopes, ziplines, and wildlife to spot. This Arizona holiday home is a perfect place to stay year-round, with plenty of seasonal activities to keep you occupied. See more about this accommodation here.
2. Downtown Sedona Cabin, AZ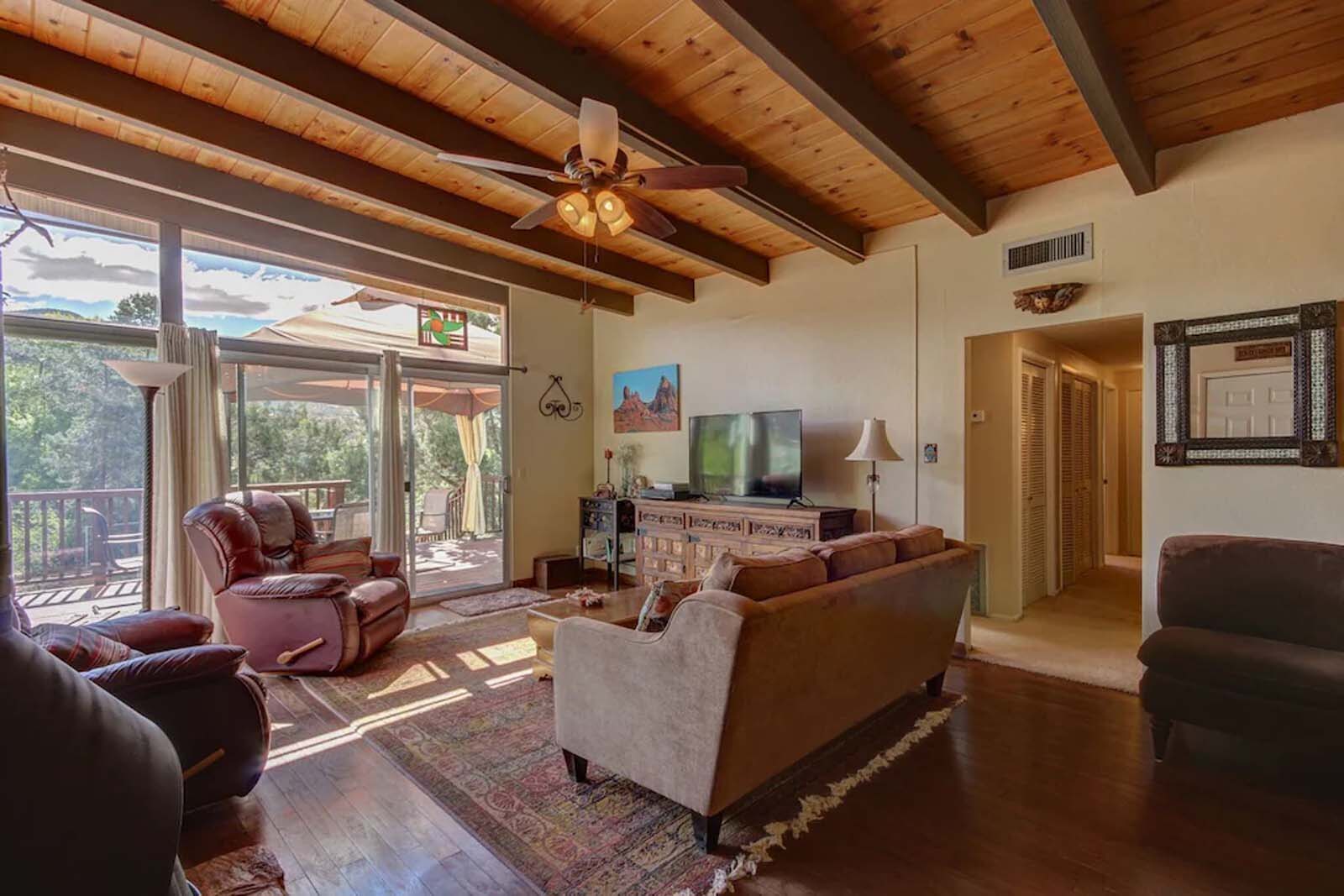 Sedona has some of the best rental cabins in Arizona for suburban ease and dramatic desert landscapes. This property sits in Sedona town center – ideally located and boasting great views of the surrounding red rock buttes. The cabin sleeps up to six guests, so don't look any further for your next group trip to Sedona, Arizona.
The holiday home has all basic amenities, with a fully stocked kitchen, wi-fi, and satellite TV. The back deck is the highlight of the property, thanks to the red rock views.
This Arizona property is less than a ten-minute drive from Oak Creek Canyon and is a six-minute drive from Grasshopper Point. At Grasshopper Point, you can use the picnic tables, swim in Oak Creek, or access the trail to Schnebly Hill Vista Overlook. Even though this cabin is in Sedona center, you aren't far from rural experiences. See more details on this cabin in Arizona on VRBO
3. Little Red Cabin in Prescott National Forest, AZ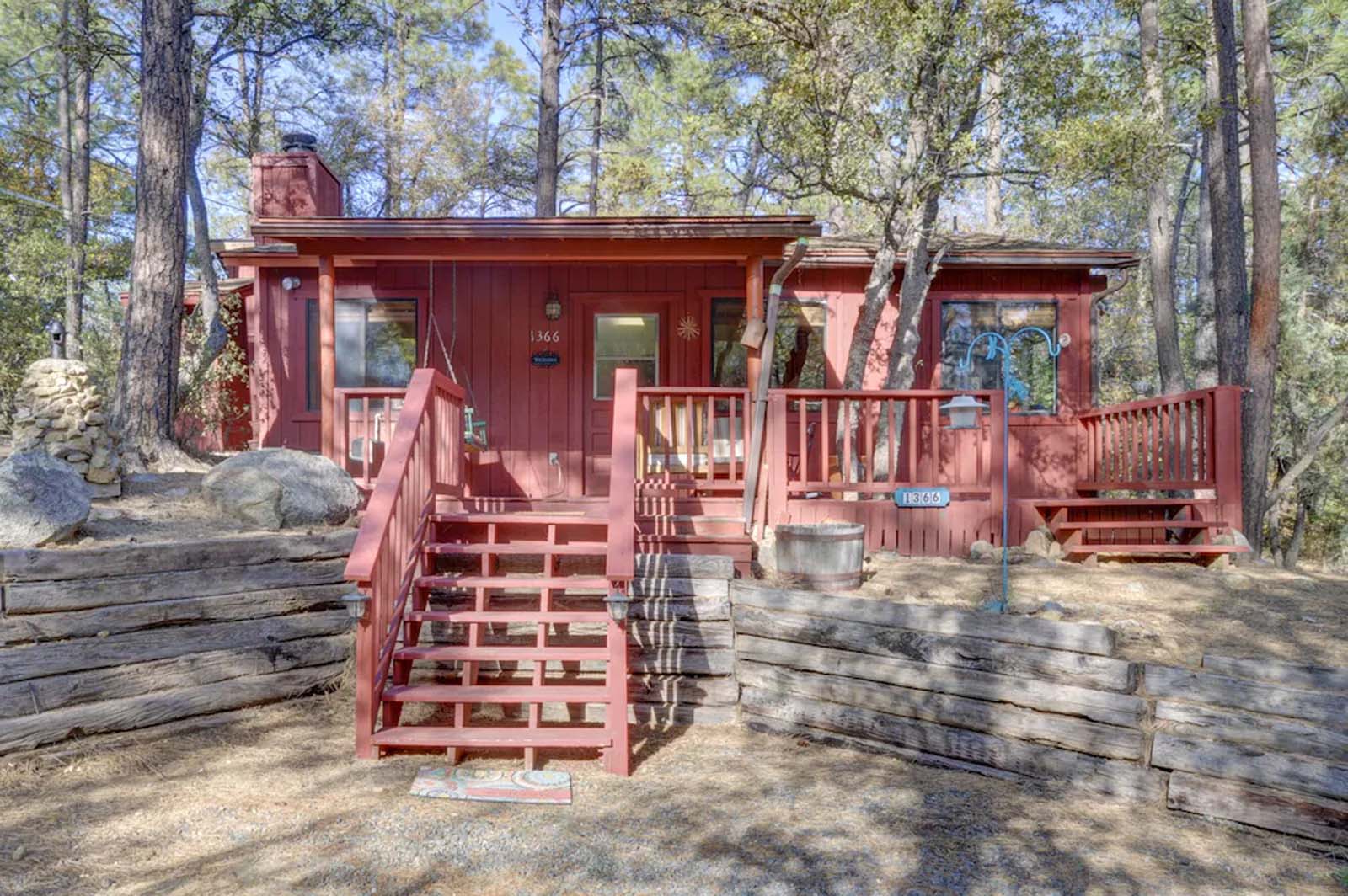 For a remote, forest getaway Little Red Cabin is one of the best cabins in Arizona. It seems like it has sprung straight out of a movie, with all traditional features and characteristic red paint. You'll have a covered porch with a swing, fireplace, and a back deck with a grill to use.
While remote, the property isn't completely isolated from civilization. Situated in the quiet neighborhood of Ponderosa Park, you'll have human contact if and when you need it. This property is a great option for those wanting to dip their toes in the water and try gentle off-the-grid living.
Hike Prescott National Forest, swim and fish in Indian Creek, and visit historical Prescott in your spare time. Little Red Cabin is an excellent choice for settling into forest life out of our Arizona cabin rentals. See more details about this little gem on VRBO
4. Luxury Cabin near Flagstaff, AZ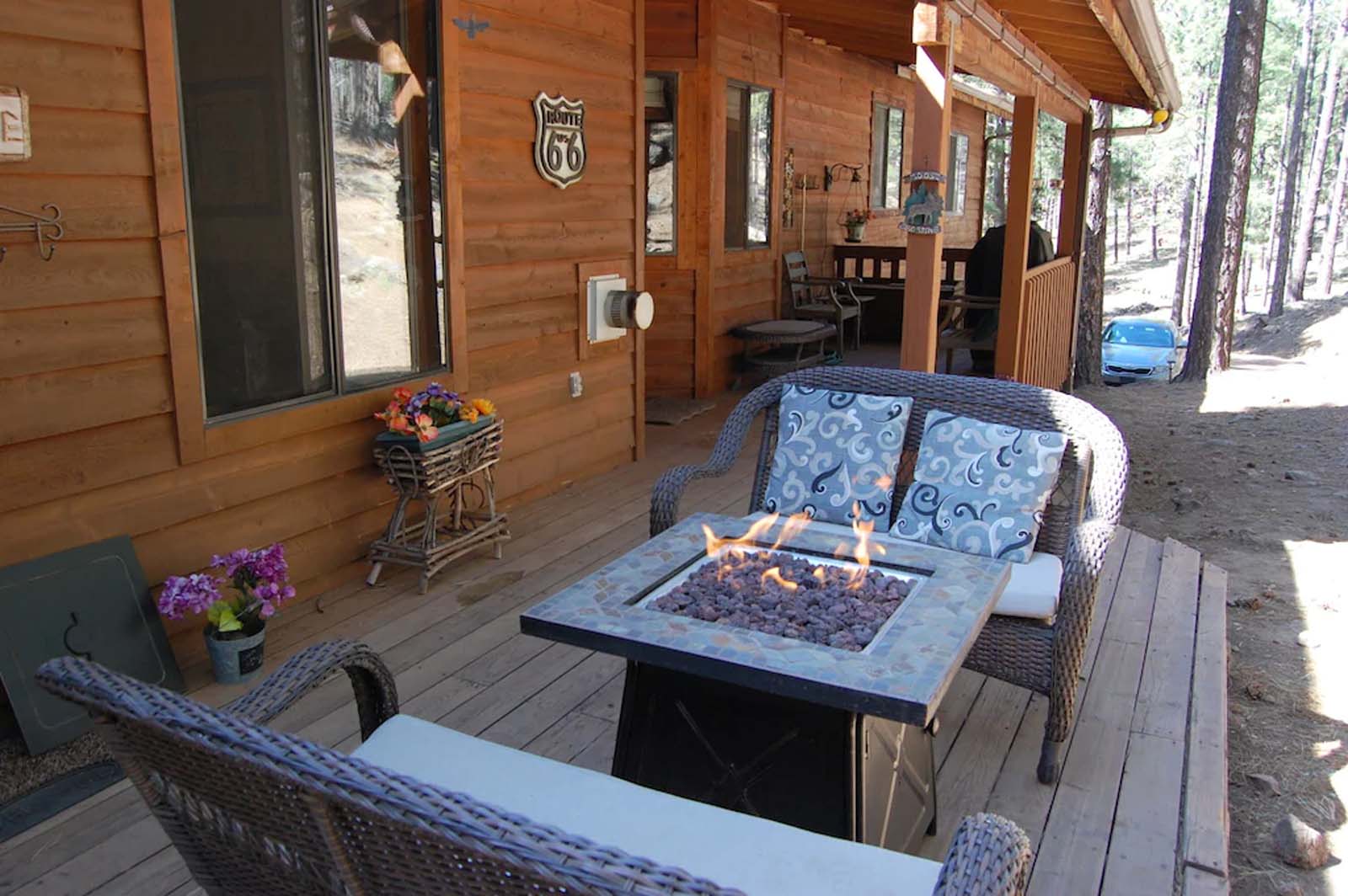 This cabin is where luxury meets natural scenery. The property sleeps up to nine guests, with bunk beds especially for children.
The Arizona holiday home is surrounded by three acres of pines and is 20-minutes outside of Flagstaff and 60-minutes from the Grand Canyon. You are also within walking distance from a cross country ski trail and many hiking trails – perfect if you love outdoor adventuring and skiing.
Inside, you'll find thoughtful luxuries like free wi-fi, curling irons, and a gas fireplace. The property also has a game room with a pool table, sleds stored in the outdoor shed, and video games.
This property is fantastic for families, as there is plenty to entertain guests, rain or shine. Parents will appreciate the range of entertainment options – from sledding to board games and pool. See more images and information about booking this cabin here.
5. Mogollon Rim Cabin, AZ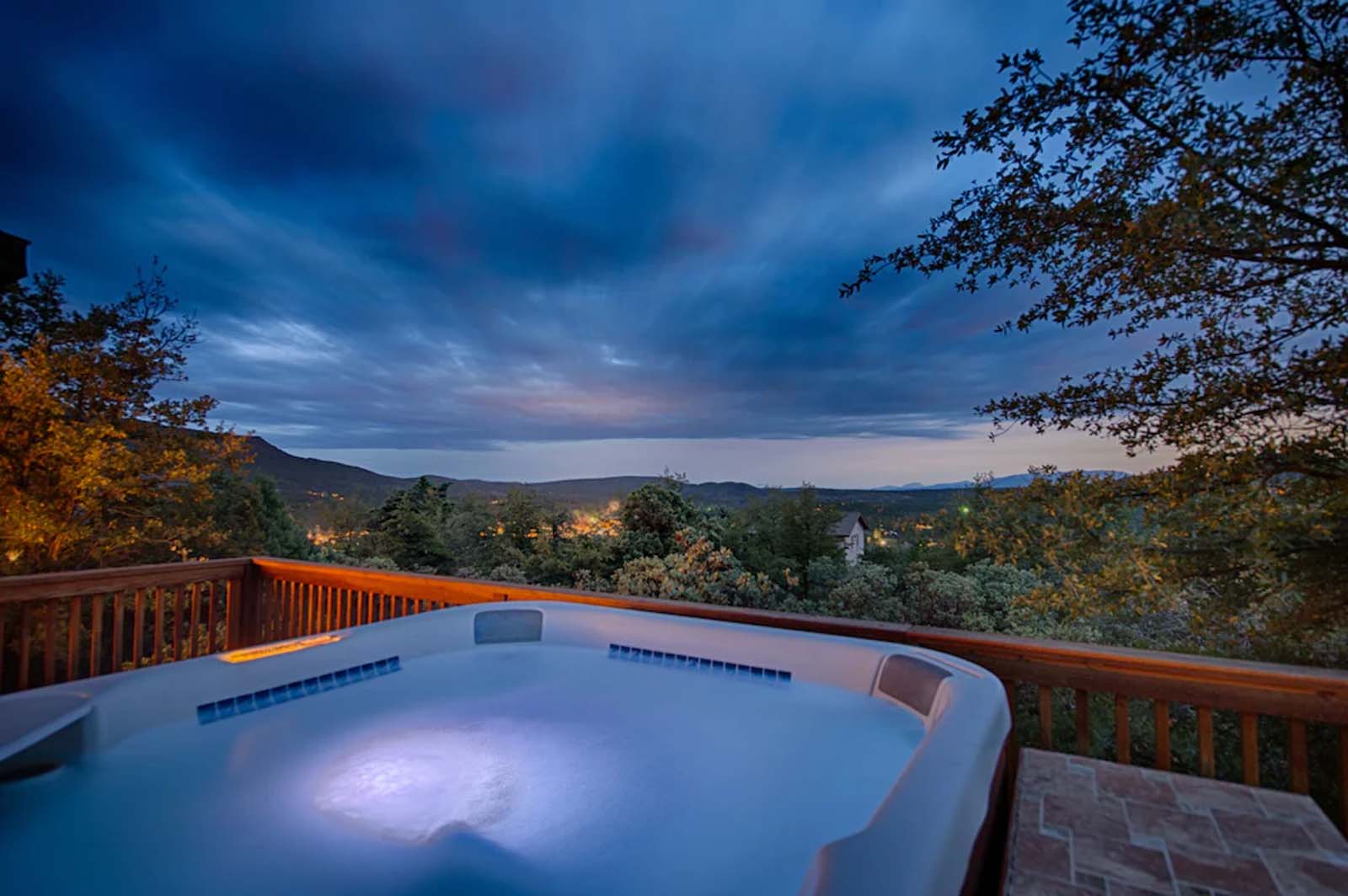 This A-frame log cabin is a luxury spot in the Mogollon Rim. You can stargaze at night or admire the view by day from your private wrap-around deck. The deck has a propane barbecue and a six-person hot tub for relaxing, too, so be prepared to spend lots of time in the property's outdoor space.
The neighborhood is quiet, and this vacation property is best suited to a group looking for serene cabins in Arizona. Stay quiet sitting on the deck, and you'll soon spot wandering elk, deer, and even eagles overhead.
Inside, you'll stay warm in winter with a wood-burning fireplace and cozy furnishings. This is one of our most beautifully decorated Arizona cabins, and you can expect a tasteful, warm interior style.
Looking for luxury cabin rentals? This property is one to bookmark for your next trip to Arizona. See more details here.
6. Lake Havasu Cabin, AZ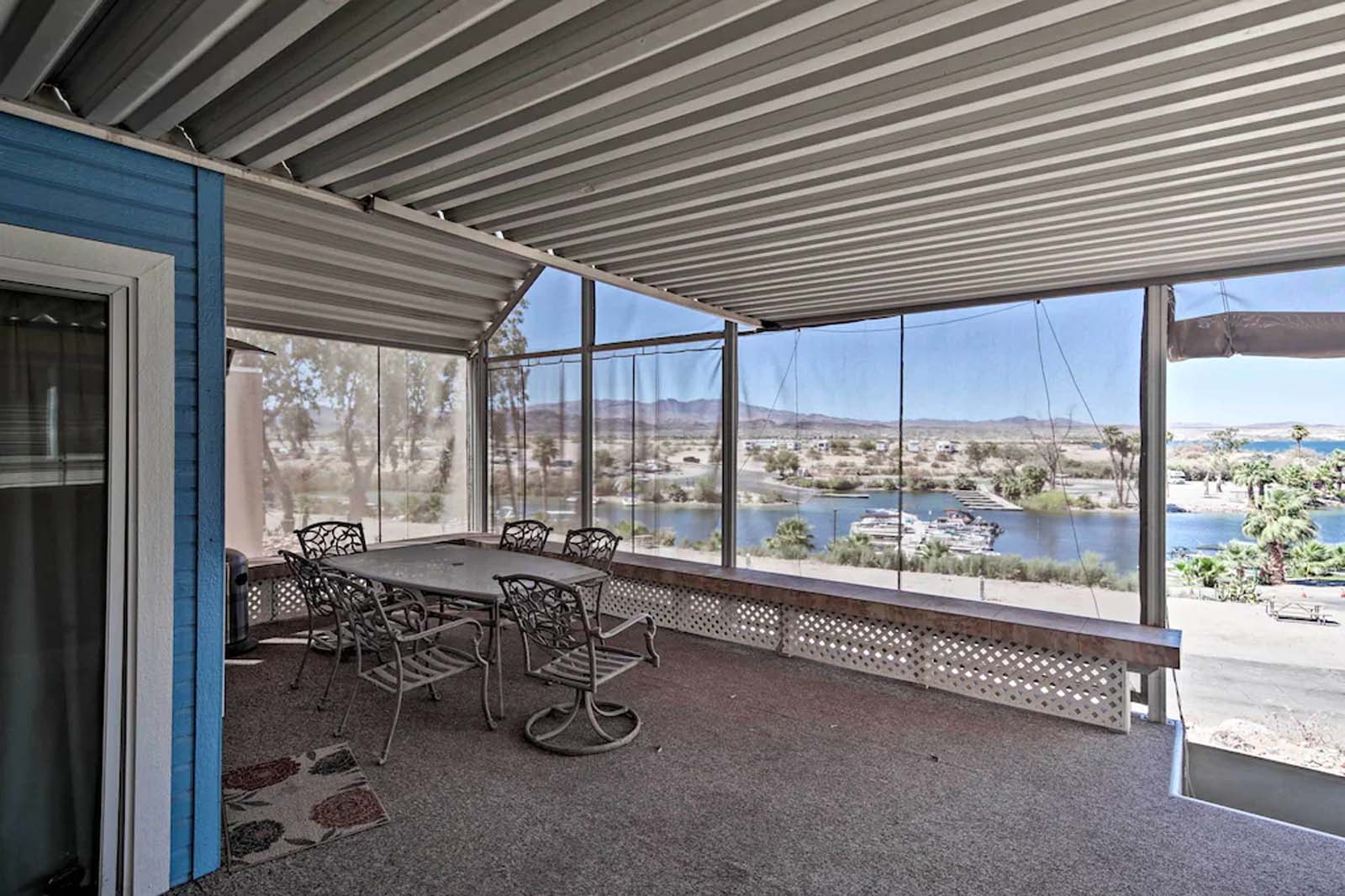 Arizona has lots of incredible lake cabin rentals. However, this Lake Havasu property is a particularly good choice. The cabin sits seconds walk away from the lake and is one of the best cabins in Arizona for fishing and boating access.
Fishing is year-round, while if you are driving to your Arizona staycation, you can park towing a boat for a small fee. Lake Havasu is known for its scenic boating opportunities and is considered somewhat of a desert oasis in Arizona.
Guests also receive access to several shared facilities, including a swimming pool, boat ramp, and hot tub. The property is a great place to unwind and spend time on the lake. If you want a lakeside cabin escape, this property is one of the best lake cabin rentals in Arizona. Check out more details on this cabin here.
7. Artsy Downtown Flagstaff Cabin, AZ
Is trendy, downtown cabin-life your idea of staycation heaven? This Arizona property is an artsy, well-located choice to make your vision a reality.
The walls are adorned with a local photographer's work, and there are nearby galleries and bookshops on your doorstep. The Cherry Hill neighborhood is known for its creative spark, and you'll have plenty of cultural entertainment within walking distance.
You can snuggle up by the fireplace on the family room couch at night. And, by day, you'll be able to admire the San Francisco Peaks from the back deck. For an inner-city spot, this vacation rental has a lot of countryside qualities.
The property is ideally located for guests to take day trips to the Grand Canyon, Oak Creek Canyon, and Sedona. If you want an arty, downtown experience with easy access to the great outdoors, this is one of the best cabins in Arizona.
8. Cute Cabin in Munds Park, AZ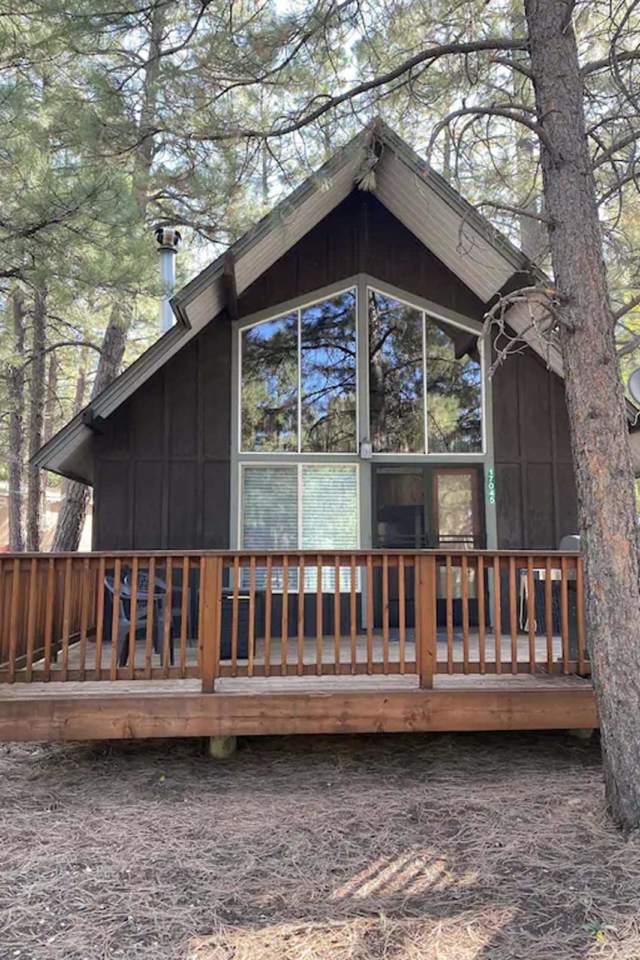 If you like rustic, simplistic cabins, we'd recommend heading to this cabin in Munds Park. A humble but charming addition to our Arizona cabin rentals, the property has one bedroom, one bathroom, a loft, and a cozy living area with an adjoining kitchen. Life at this cabin will be sweet and simple – as all the best cabin rentals in Arizona are.
The property features an enclosed backyard and a covered patio. It is pet-friendly and well set up to bring your pooch along for a holiday. With free wi-fi, the property isn't too much off-the-grid for those who like to stay connected.
Top day trips from Munds Park are the Grand Canyon and Flagstaff. However, there are also lots of nearby hiking trails for you to get out and about in the fresh air. See more here.
9. Riverside Cabin in Tonto National Forest, AZ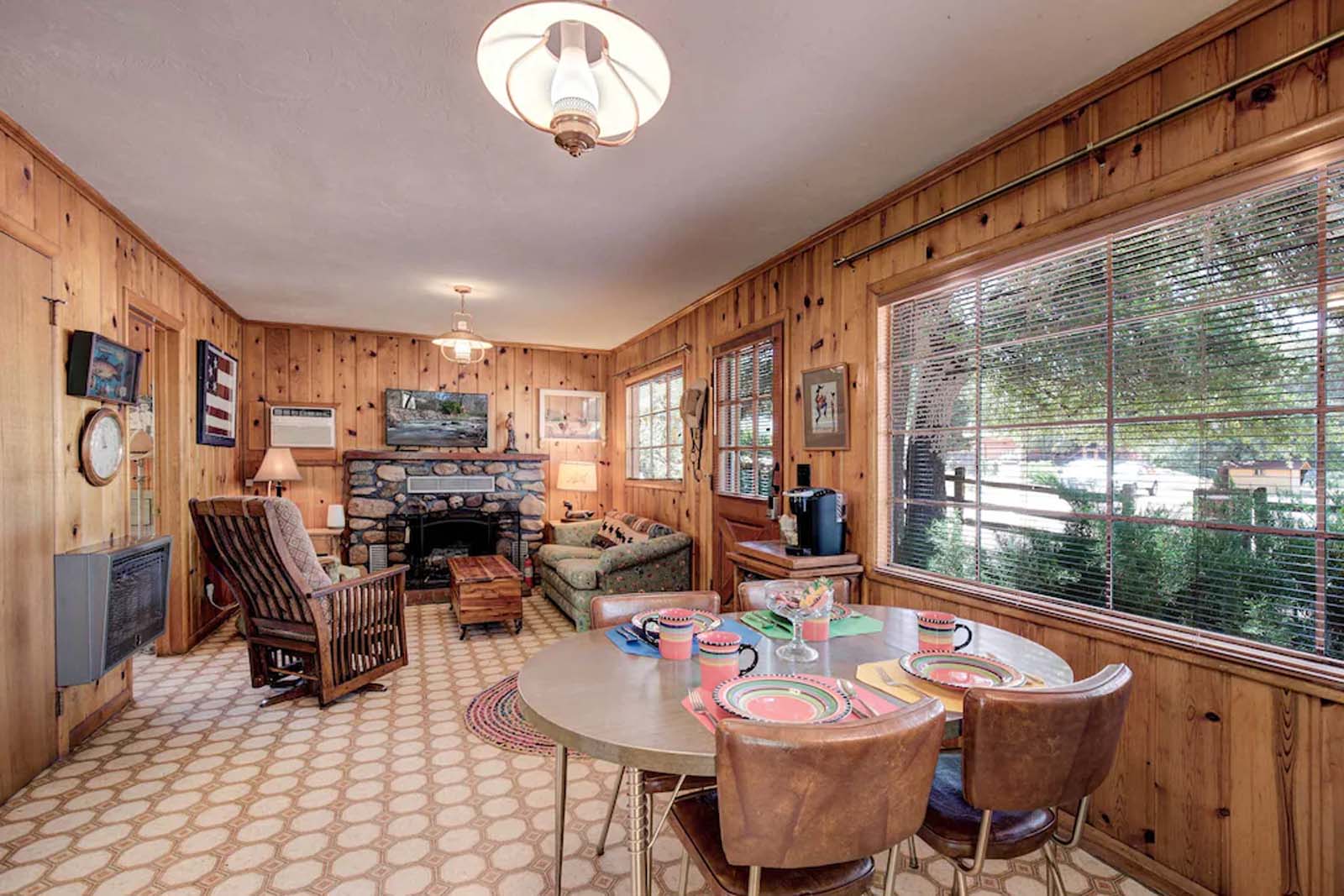 Forget lake cabin rentals and book a cabin on the riverside. This vacation property sits on the East Verde River in the center of Tonto National Forest, Arizona.
If you want a vacation where you can kick your feet up and fish or head out on alpine hikes, this is one of the best cabins in Arizona. East Verde River is known for its trout fishing and geode hunting and is just a few steps away from your doorstep. Tonto National Forest is also full of trails to explore on foot.
The interior is classic, with wooden paneling, furniture, and a wood-burning stone fireplace. Outside, the cabin features a wooden cabana and a patio area with seating and picnic tables.
As the property sleeps four guests, it is a great option for a small group of close friends or a family. The outdoor spaces are ideal for spending quality time away from the hustle and bustle of everyday life. Book it here.
10. Chic Downtown Phoenix Cabin, AZ
This property is one of our most chic Arizona cabin rentals. The interior is luxe, with a grey color scheme and plush furnishings, and the outside is tasteful with trendy pool and yard lighting.
This pool is shared with only one other residency, with whom guests also share a fire pit, barbecue grill, and jacuzzi. If you love luxury cabin rentals but want something more affordable, this is easily one of the best cabins in Arizona. The cabin has luxurious features, including a walk-in shower and king-sized beds.
The property is in Phoenix's Downtown area, meaning it is just a short walk to the general store and all the suburban amenities you might need. The Coronado neighborhood is hailed as the historic district of Phoenix, and you are within walking distance of many local attractions. See more details and book here.
11. Romantic Forest Chalet, AZ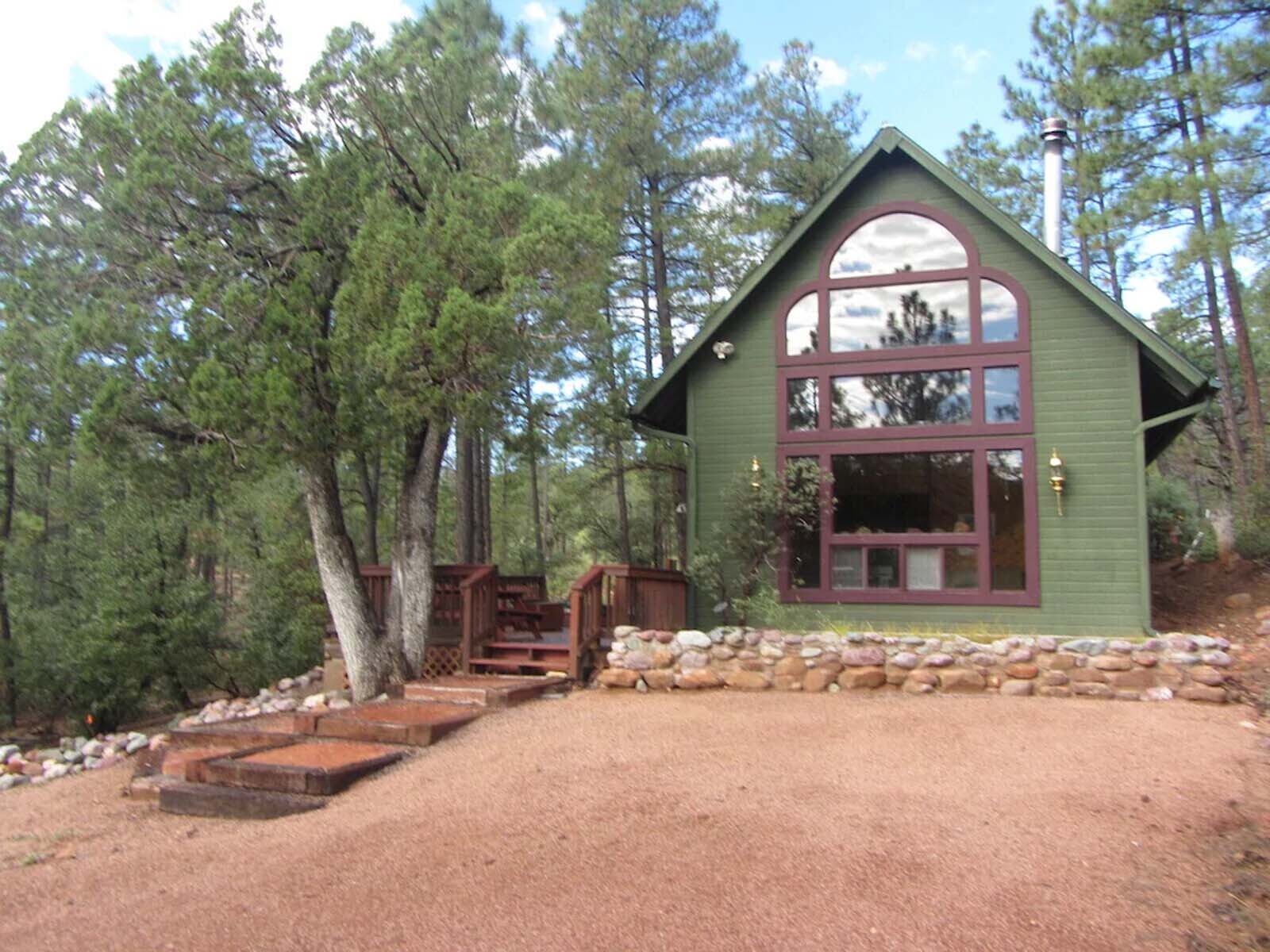 Northern Arizona has lots of secluded cabin rentals to escape the daily grind. However, this olive green chalet is one of the most romantic Arizona cabins.
Laid in the loft's queen-sized bed, guests can wake up to views of the Mogollon Rim. While, from the privacy of the cabin's back deck, you can wake up slowly with a morning coffee on the edge of Tonto National Forest.
We think this property is one of the best cabin rentals in Arizona for couples. The chalet is small but cozy and has incredible views to keep you inspired on your vacation. You'll also have brilliant national forest access to explore nearby creeks, hikes, and natural attractions. Get more details here.
12. Creekside Cabin, AZ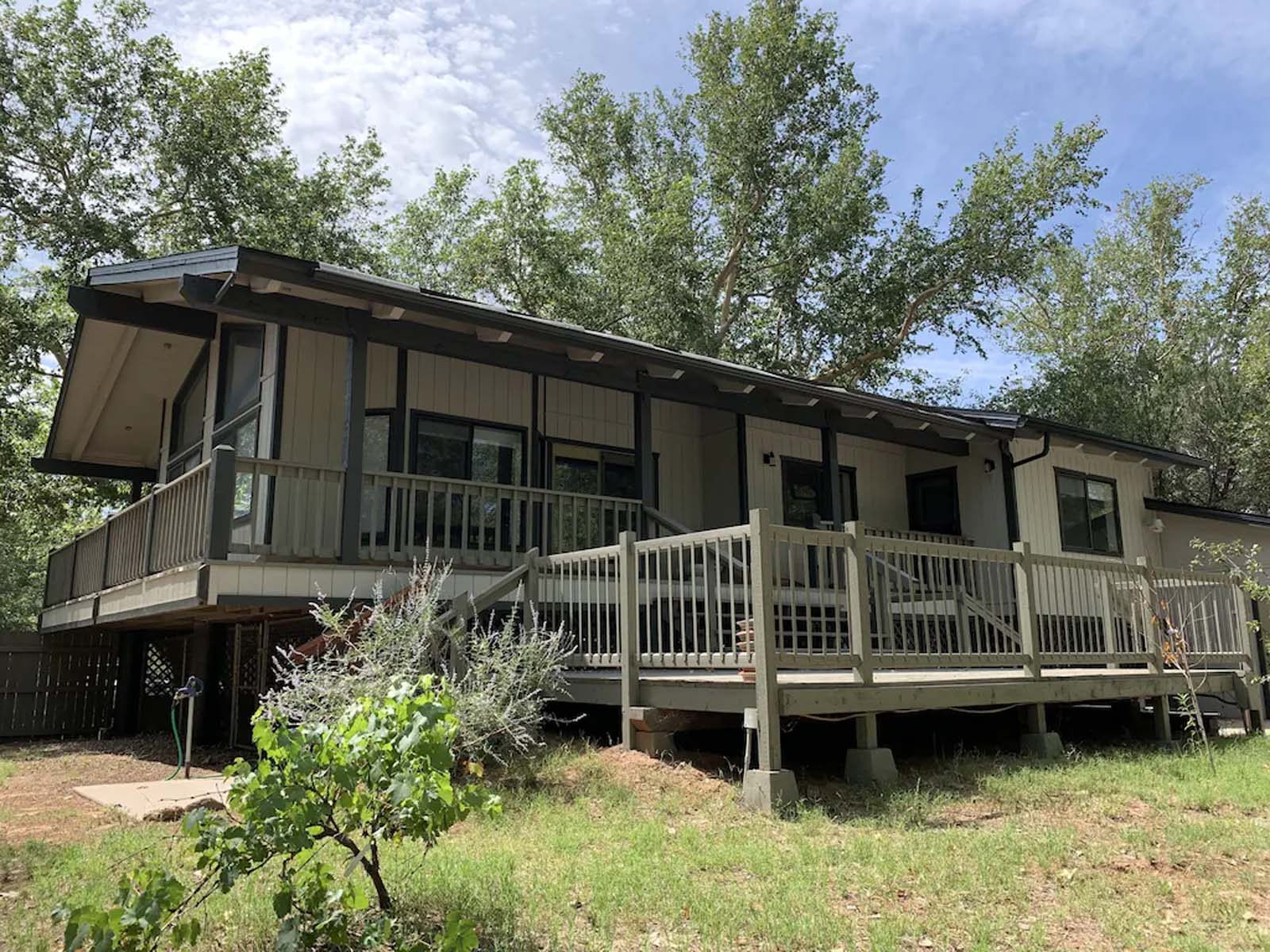 Not too far from Flagstaff, this property is one of the best cabin rentals in Central Arizona. On the banks of Wet Beaver Creek, the two-bedroom, two-bathroom holiday home is a serene place to stay when visiting Arizona.
You'll have minimal noise pollution, with the creek's trickling and the sycamores' rustling to lull you into a state of cabin life relaxation.
The cabin interior is fresh and modern. There is an open-plan living area and kitchen, a wrap-around deck, and a patio outside. You can head out for a day in Coconino National Forest, paddle in the creek outside, or just curl up and have a day of movies in the comfort of the cabin.
Guests are within walking distance of Montezuma Castle and the Montezuma Well National Monument. M Diamond Ranch is also a short drive away if you fancy channeling your inner cowboy or cowgirl and going trail riding.
13. Colorado River Cabin, AZ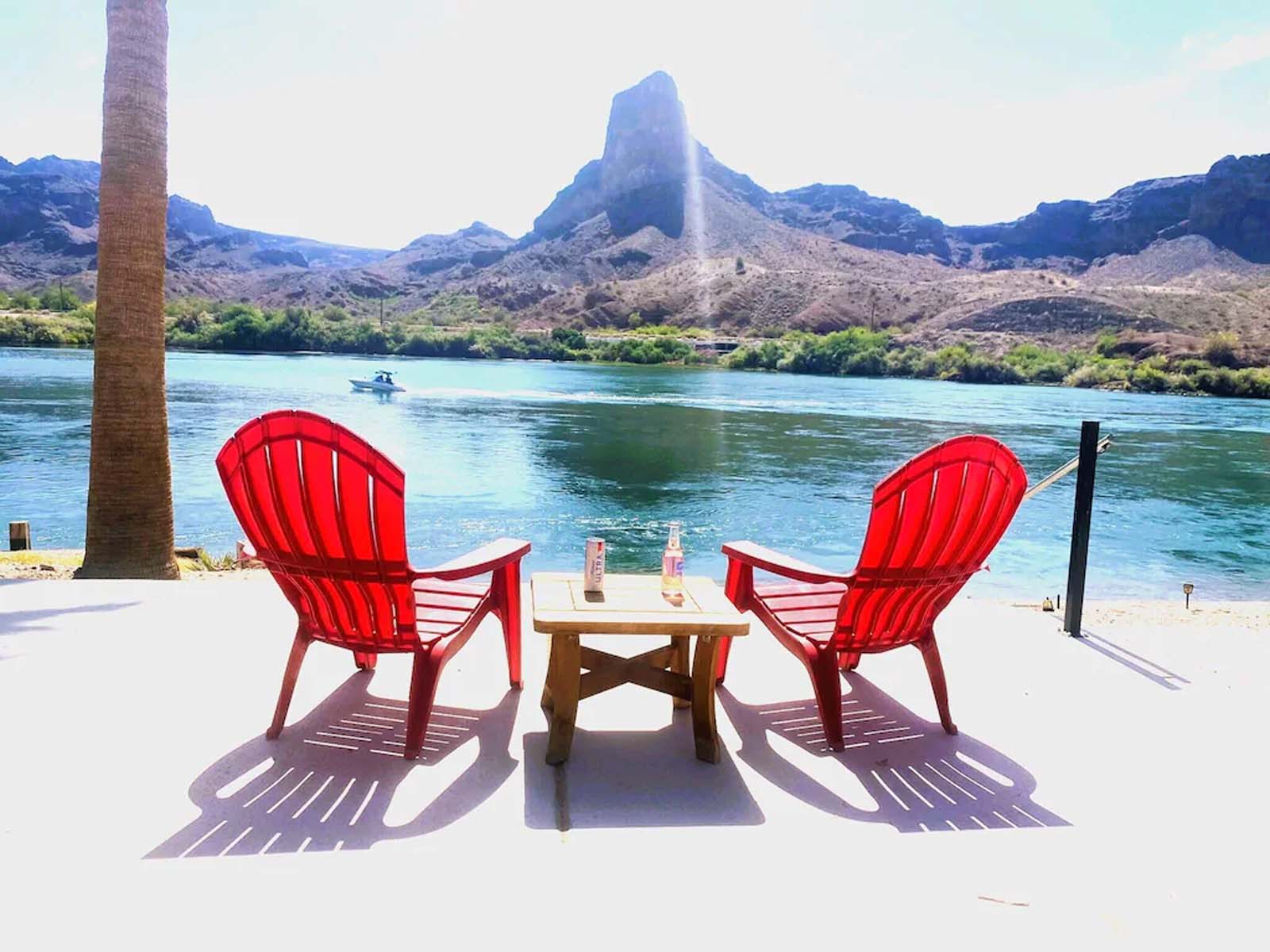 Fancy staying along the Colorado River? This cabin is as riverfront as cabin rentals in Arizona get. Located in the River Lodge Resort, the property's patio is a few steps above a private riverbank beach.
Guests can bring their own boat, as there is a launch just a few hundred meters away, or enjoy swimming, fishing, and paddling in the river. You can sunbathe on the beach in the summer or stay cool under the shaded patio. The riverside facilities set this property head and shoulders above most other cabin rentals in Arizona.
The cabin's interior isn't to be overlooked either. There is a spacious master bedroom and a large loft with two extra beds. And, with two TVs and three separate AC units, there are plenty of facilities to keep you cool and relaxed. Read more: Best Places to Visit in Colorado
14. Tiny Cabin With Sauna, AZ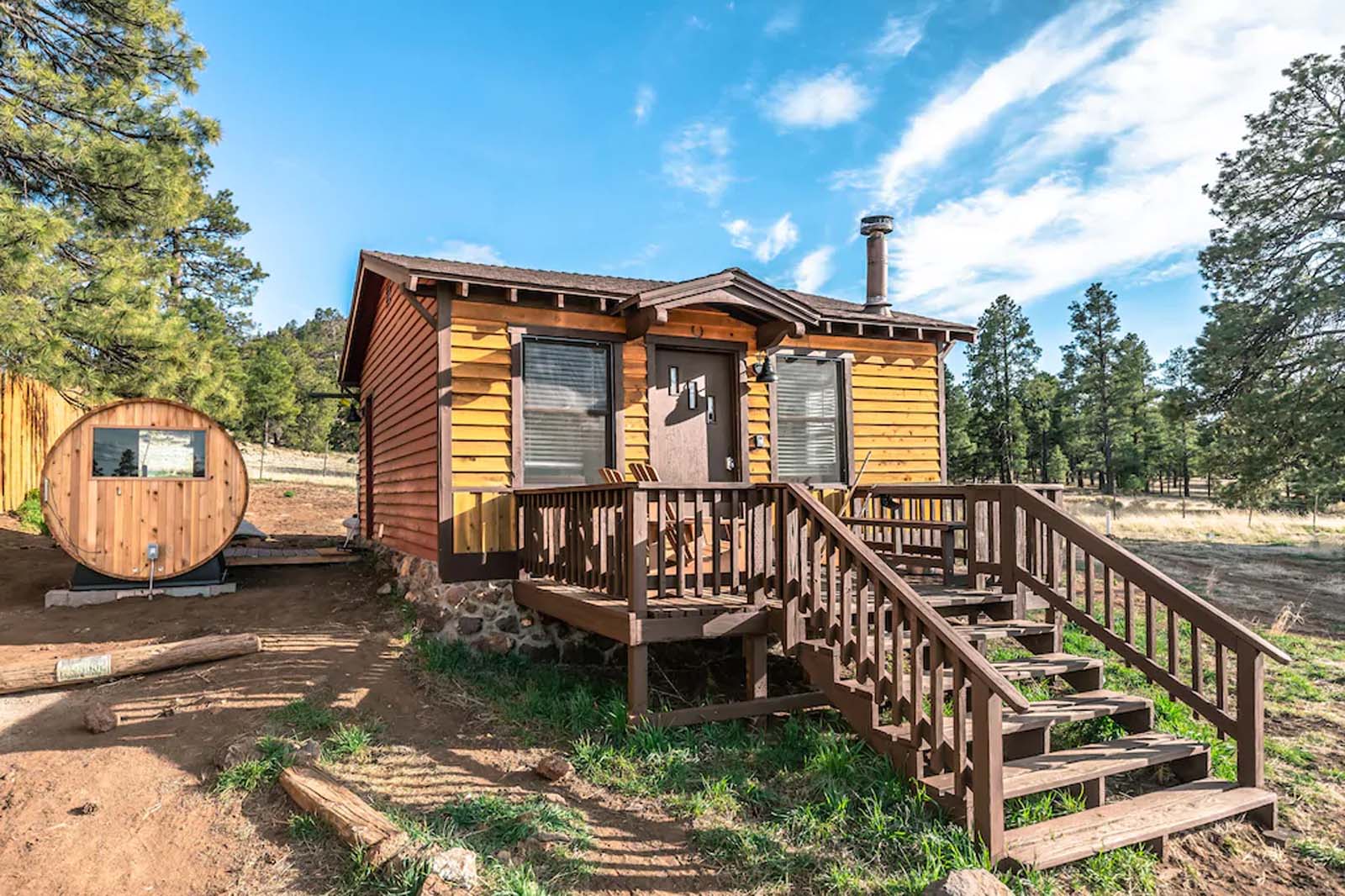 Out of all our Arizona cabins, this property is one of the most interesting cabin rentals. And, if you haven't experienced micro-living before, we recommend giving this tiny cabin a visit when vacationing in Arizona.
With no wi-fi and limited signal, you'll be cut off from the outside world almost entirely. But, just a short walk away from Walnut Canyon and Sunset Crater, you won't mind missing out on a few technological luxuries.
You also have unobstructed stargazing views at night, which you can enjoy from your private Finnish barrel sauna. Arizona has a reputation for glorious starry skies, so why not choose cabins that make the most of them?
The property is near the San Francisco Peaks and ideally situated for exploring Northern Arizona and its natural attractions. For a 1940s-style cabin experience, look no further.
15. Vermilion Cliffs Cabin, AZ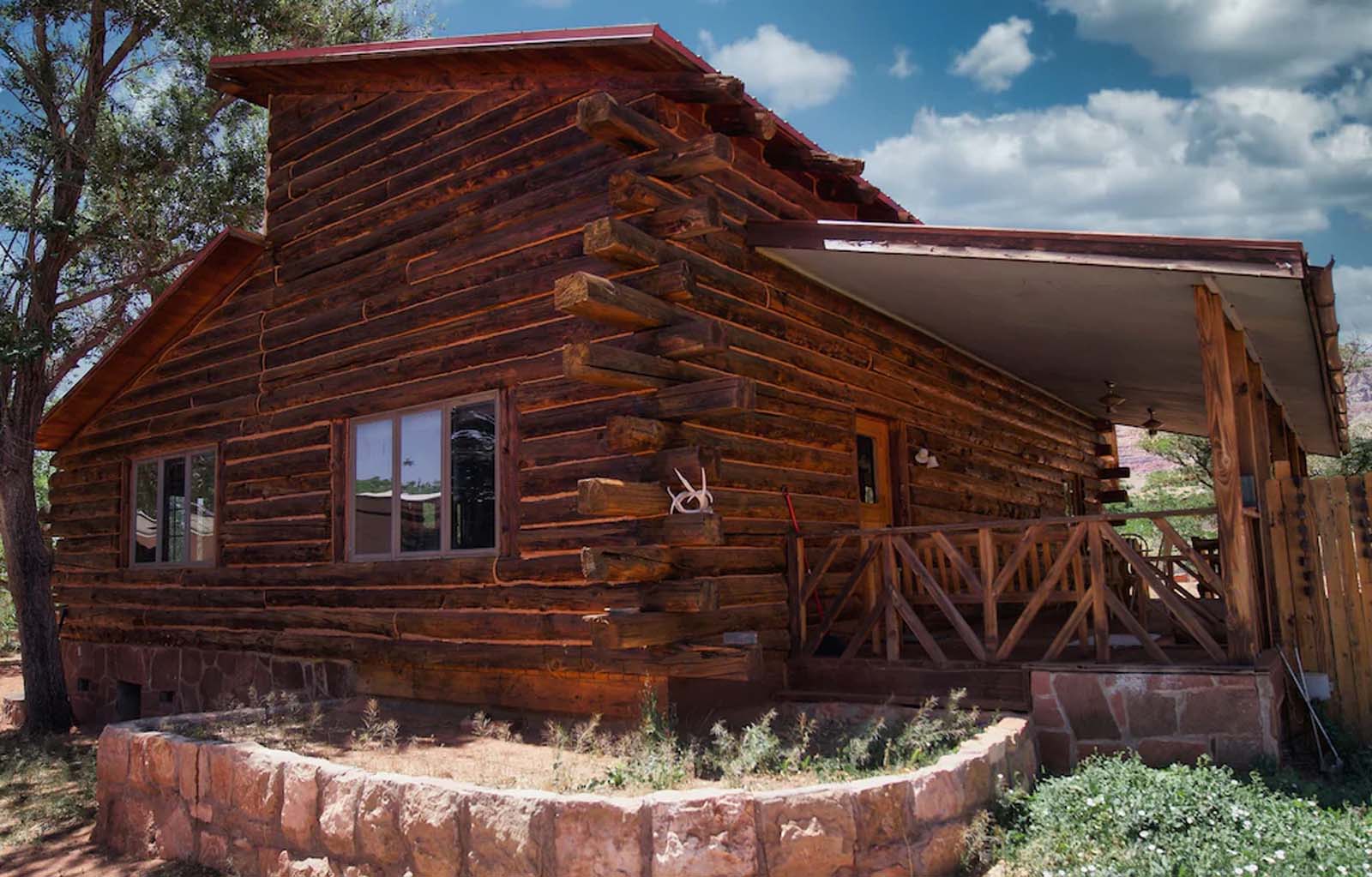 If you want to head off-the-grid, this restored cabin in Arizona is an excellent place to do so. The property has no wi-fi or TV – aiming to reduce technological infringements on your peaceful cabin experience.
This is the only property out of these cabin rentals that is located in Vermilion Cliffs National Wilderness Area. Guests can walk out of the loft bedroom onto a balcony overlooking Vermilion Cliffs, perhaps starting their day with a cup of coffee and sunrise views. Relaxing should be easy, surrounded by fresh air and nature.
The log cabin is traditional, with chunky wooden furnishings and rough-cut stonework. It is one of the best cabins from our list of Arizona cabin rentals for a traditional, country aesthetic.
The property would make a romantic getaway in Arizona for a couple. But equally, seen as it sleeps seven people, it would also be a beautiful group holiday home.
16. Cozy Cabin, East Fork AZ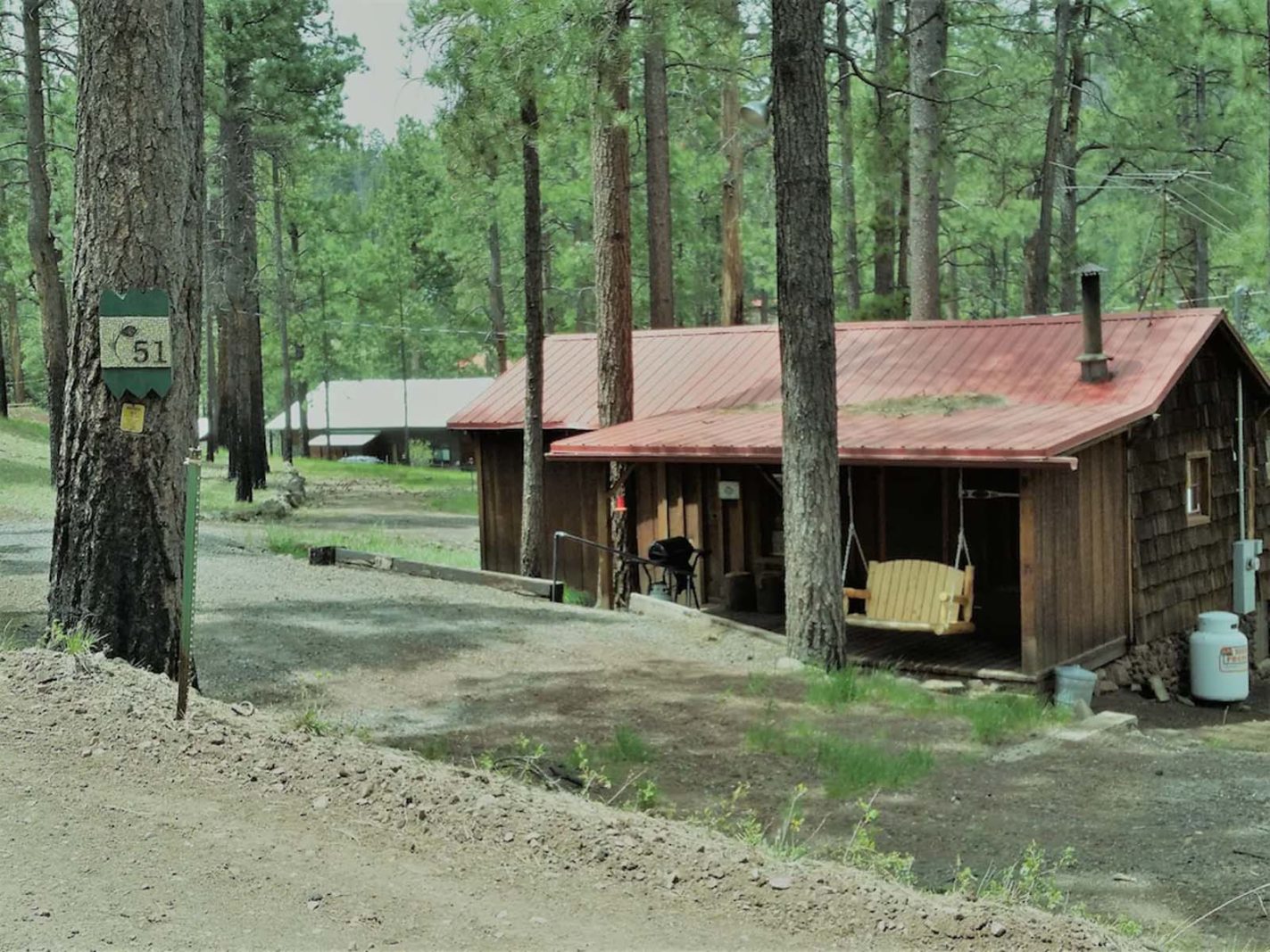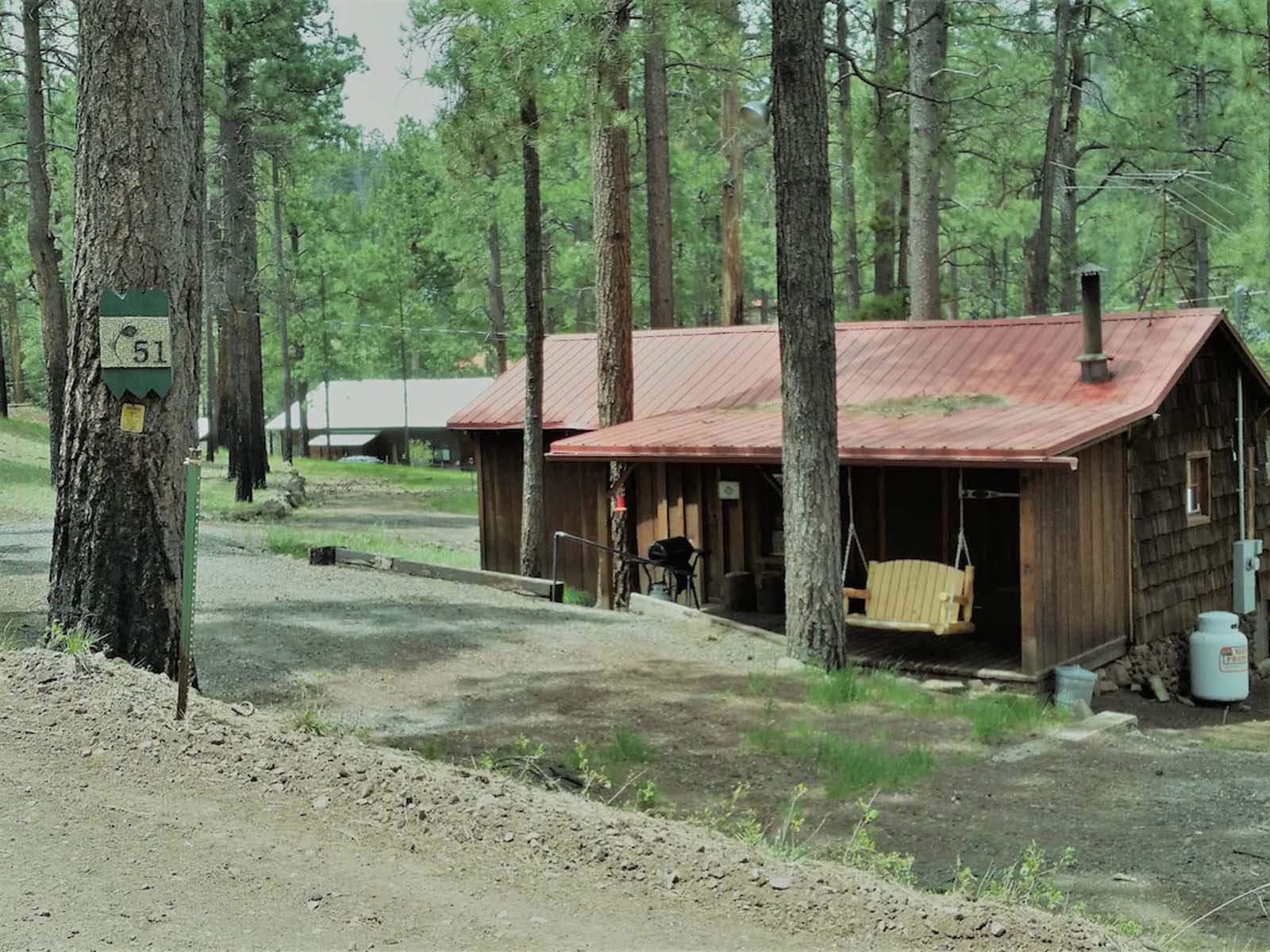 Described on VRBO as 'quaint and cozy, this property is a simple but beautiful place to stay in Arizona. Think of it as one of the best cabins if you want unfussy, laidback, and comfortable lodgings for your stay.
The Arizona vacation property is sat along Little Colorado River, just a short walk from the house. On the river, guests can swim, fish, and picnic. While later in the afternoon, you can settle back at the house on the porch swing to relax with a book.
Traditional Arizona cabins tend to be relatively small, and this historic rental is cozily petite. The property has one bedroom with a king-sized bed, although there is a pull-out spare bed if needed in the living room. It would suit a small group of friends or a couple looking for rustic cabins in Arizona.
17. Beautiful Cabin With Lake, AZ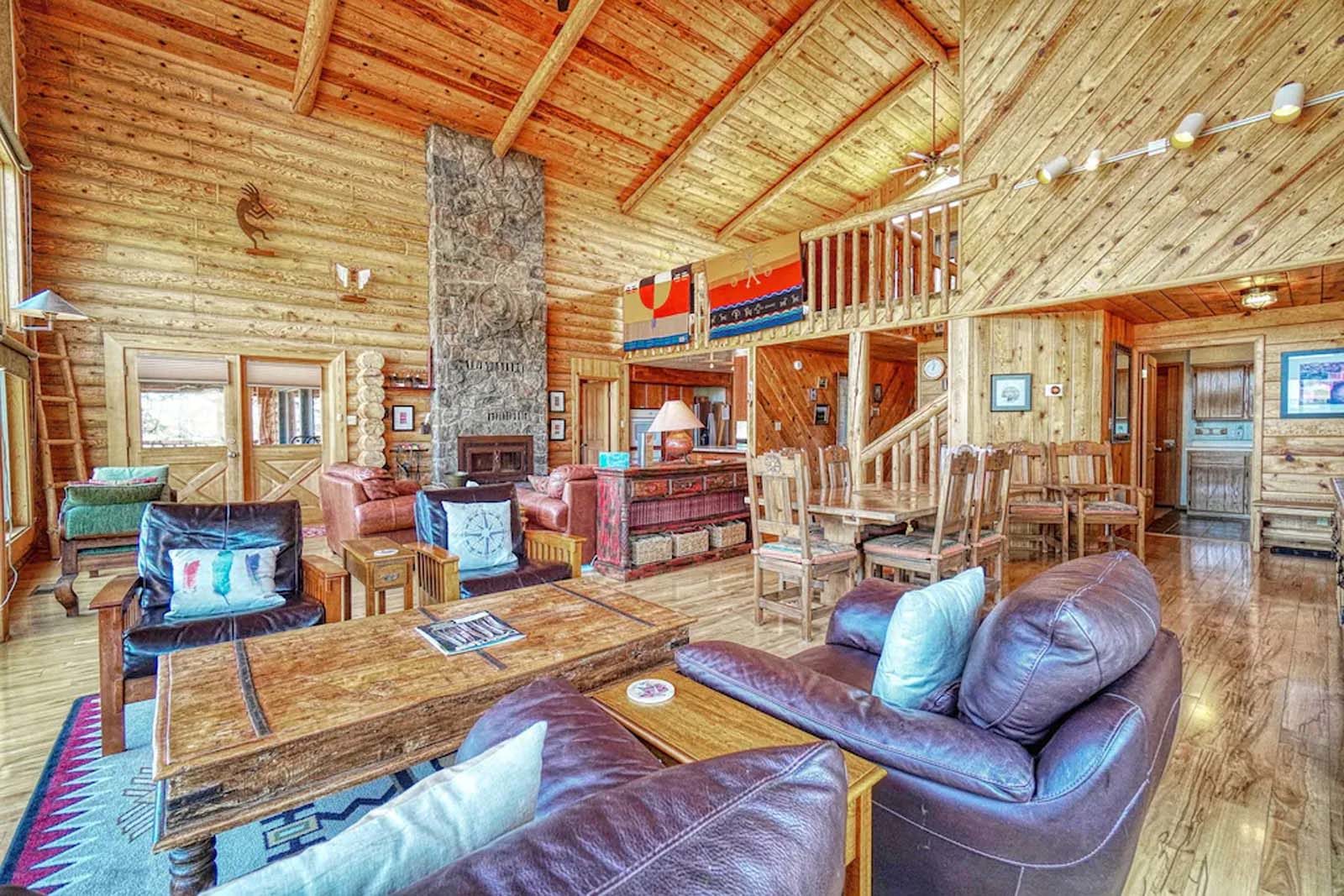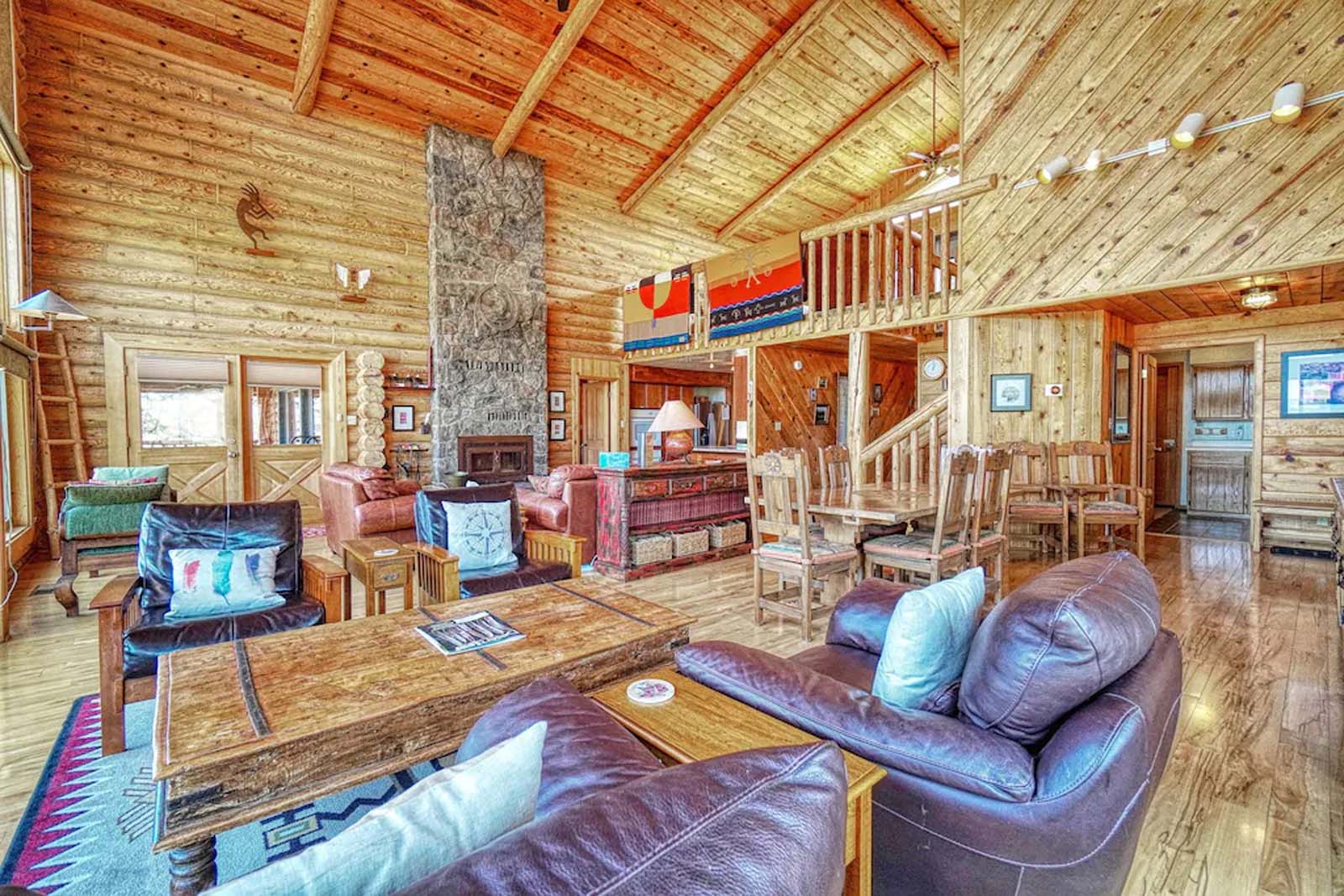 This cabin has the most stunning private setting of all our Arizona cabin rentals. Lake cabin rentals are always good for the soul, but this property is extra special. It seems more like a private safari resort than just a holiday home.
Guests have private access to four acres of fenced land and an eight-acre pond. Keep your eyes peeled for bald eagles, herons, and elk that come to enjoy the green space as well. The elevated front porch is the best place for wildlife spotting, and it is also covered, so it is a great place to keep cool in summer.
Inside is extremely spacious, and it sleeps eleven people across four bedrooms. There are king, queen, double, and single beds to choose between – plus bunk beds for the kids. The entire property is designed with chunky wooden furnishings and makes a perfectly aesthetic retreat in Arizona.
Final Thoughts
Arizona is full of amazing cabins. You'll find vacation rentals from Flagstaff to Sahuarita Lake, and cabins are an extremely popular form of a holiday home in the state.
Still, start researching cabins for your Arizona staycation as soon as possible – good things get picked fast.
Plan Your Next Trip to Arizona With These Resources