There is no city more beautiful in the middle of Winter than Quebec City.
Quebec City Winter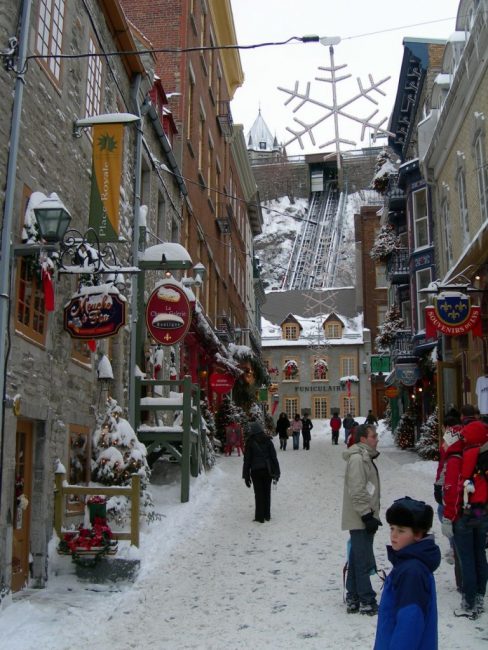 Dave filmed there a several years ago for the Christmas movie Blizzard
with Whoopie Goldberg and Christopher Plumber.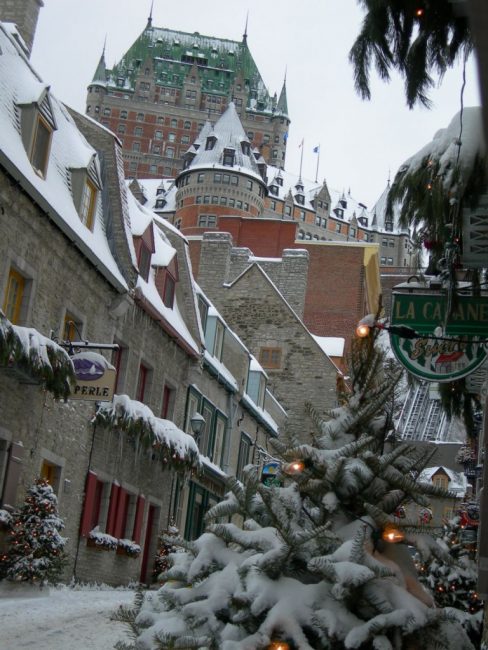 If it is a magical enough setting for a Hollywood holiday film, it is certainly magical enough for us to spend a few days there in the heart of the cold season.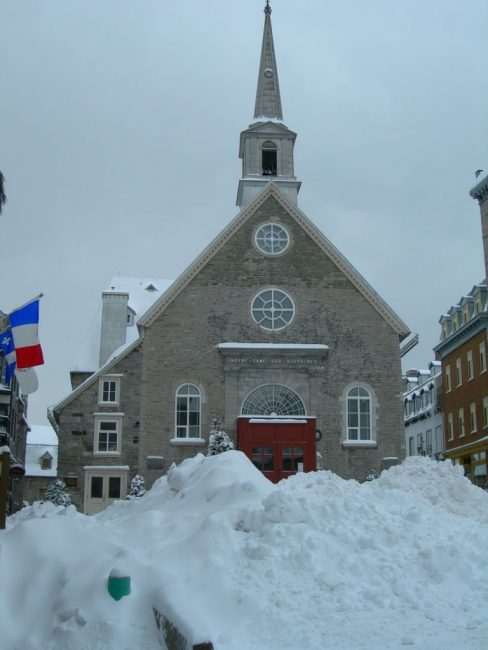 Quebec People
The people of Quebec are a hearty bunch and they know how to survive the winters.
Put on your puffy coat and snow pants, warm winter boots and cozy hats and mittens and get out of the house. People are out if full force in Quebec City.
There is an outdoor ice rink right in the old part of town and boutiques line the narrow streets as passersby stop in for a peak.
People even take horse-drawn carriage rides right in the middle of winter.
Covered with a blanket or two, it is a timeless way to explore the back alleyways of one of the oldest cities in North America.
About Quebec City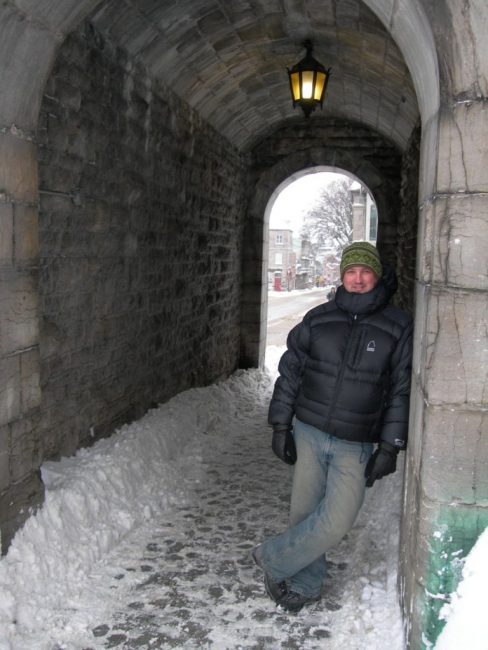 Founded in 1608, it has a rich history that is has held on to proudly.
Quebec city is also the last fortified city in North America. Its walls lend an old world charm to the already historical city.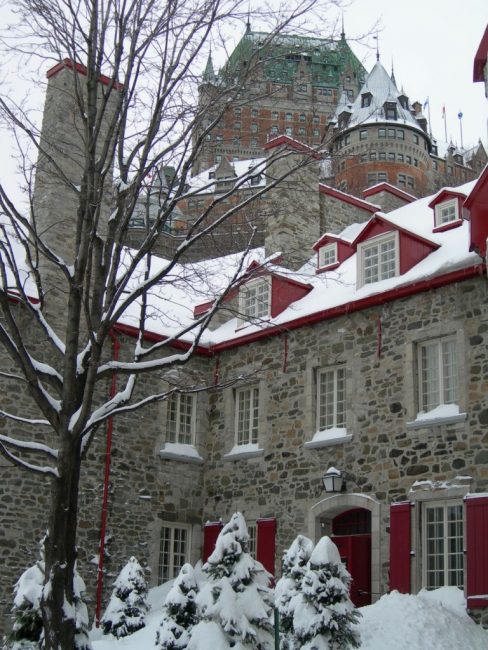 Standing tall over old Quebec City is the gorgeous Chateau Frontenac. Located right on the St. Lawrence River, it is the epitome of luxury.
We stopped in for a visit and you must be sure to be there for tea time, but our budget allowed us to stay at more modest accommodations. Albeit quite beautiful and luxurious in its own right.
Our Hotel in Quebec City
We stayed at Lowes Le Concorde, located within walking distance of Old Quebec City right at the Plains of Abraham.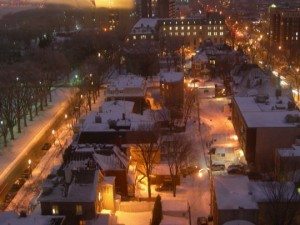 When we looked out our window, we could see cross-country skiers gliding along the plains beside the St. Lawrence. It was absolutely stunning.
We enjoyed a lovely dinner at the revolving restaurant at Le Concorde. It is the highest spot in Quebec City and we had a birds eye view of Old Quebec, The St. Lawrence River and the rest of the town.
When you come to Quebec, it is all about the food and wine.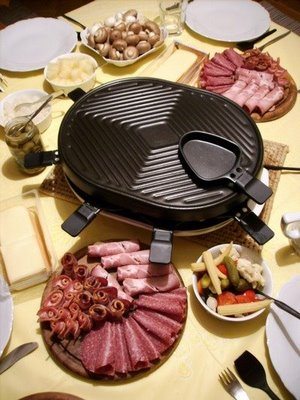 We had cheese, chocolate and meat fondue's and crépes, duck, red wine, white wine, café au lait and lattés. Ah, the list goes on and on. We had to roll ourselves to bed each evening.
Meeting up with Old Friends
We met our good friends Gilles and Mark that we had met in Vietnam a few years earlier and they treated us to a raclette with more wine and spirits.
We enjoyed the Raclette so much that we bought one before we left the province.
Wondering what a raclette is?
Well, it is only the best eating experience you will ever have. A hot skillet is placed in the centre of the table where each guest cooks their own assortments of meats as the strong raclette cheese melts in a pan underneath. Put on some onions and peppers and let it all sizzle.
Once you have cooked round one, pour it over potatoes or bread and mmm, you have the most delicious meal ever.
What I love is how social it is. This can go on for hours as you cook a little meat at a time, sip your wine and enjoy the conversation.
Skiing Quebec City
Being adventure seekers, we couldn't come to Quebec for shopping and food alone. We took off for a day of snowboarding at Le Massif.
It is a smaller hill than Mont St. Anne, but the views here are spectacular and it is much closer to the city.
We found ourselves once again overlooking the St. Lawrence as we cut our edges into the snow. A cargo ship was passing through and it made for just the perfect photo opportunity.
The weather was very cold for snowboarding.
Our cheeks froze and we were grateful to warm up in the chalet with hot chocolate. It was difficult to pull ourselves out of the warmth for the second half of our day on the slopes, but being Dave and Deb… we had to get our money's worth and snowboard all day whether we liked it or not.
We came here to snowboard, and we were going to snowboard all day long, even if it caused some mild frostbite on our ears.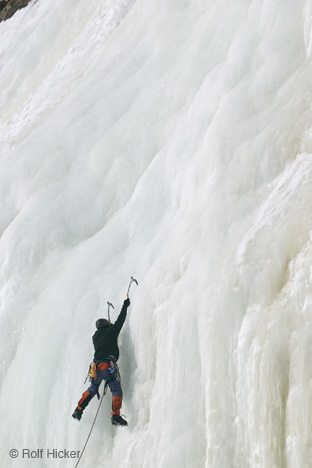 On our way out to Le Massif, we caught a view of Montmorency Falls.
These falls are actually higher than Niagara Falls. I am sure that they would be quite impressive in the summertime.
In the winter they must look smaller with all of the water being frozen. However we will be sure to visit Quebec City again in the winter to ice climb the falls. Now that would be a thrill and adventure to climb Canada's second highest waterfall.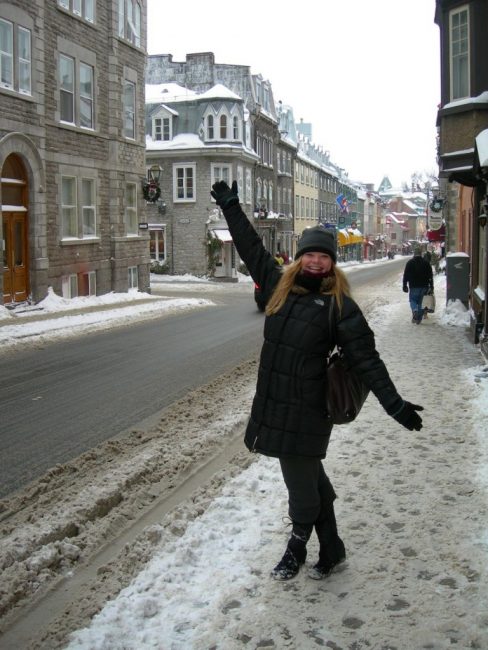 Quebec City is definitely a hot spot for cold times.
It is such a popular winter destination that they host the annual Carnival.
For two weeks at the end of January to mid-February and outdoor celebration is in full force. Ice and snow carvings, massive snow slides, outdoor cinema, ice skating and parades are happening daily.
Wow, the French really do know how to live life to the fullest.
Read More
53 Best Things to do in Toronto – A Complete Guide to Top Attractions
8 Tips for Safe and Comfortable Winter Trekking