Goa India is crowded but Patnem Beach will take you away from it all.
We aren't big fans of over developed resort areas and were afraid that Goa would be too touristy for our liking. Luckily we met a couple in Alleppey that told us about Patnem beach in the south of Goa.
Patnem Beach is not overly popular…yet.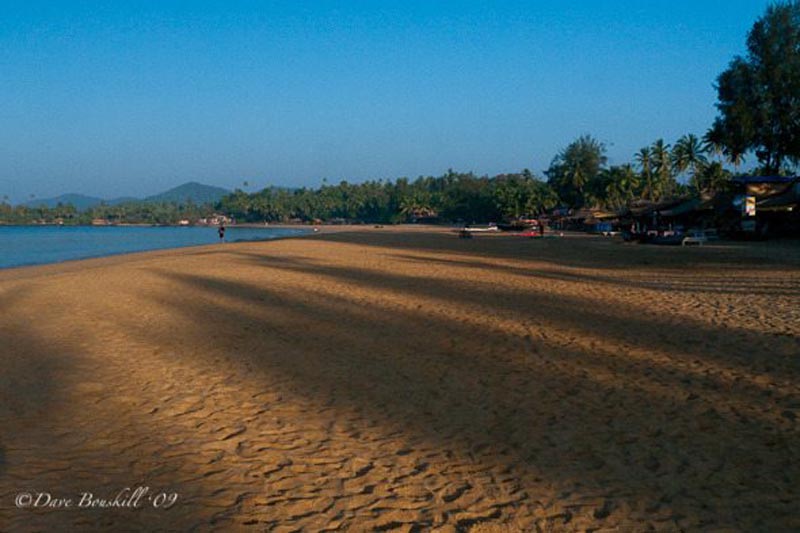 The Lonely Planet only dedicated a couple of paragraphs to Patnem Beach so it sounded like our cup of tea.
About Patnem Beach
It is an easy place to spend time in.  Calm waters flow into fine white sand. The beach is nearly deserted and the breeze is balmy.
Patnem Beach is a little slice of paradise. Vendors won't bother you here at Patnem Beach. You can lay on a beach chair all day without being approached to by a single item.  The water is warm, the surf is mellow and the sunsets are to die for.
By 10:00 pm the music stops and the few bar and restaurant patrons turn in.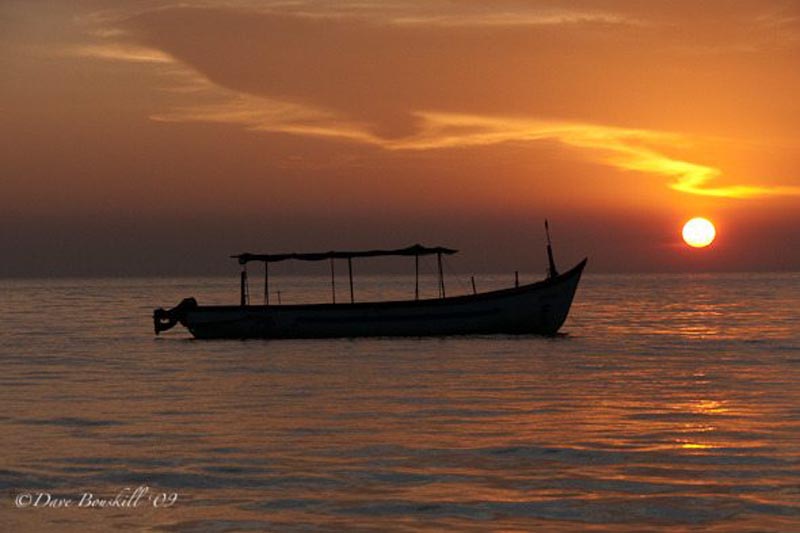 Goa's Wildlife?
All that is left are the howling dogs and the lazy cows that roam the beach all night long. The dogs are healthy, friendly and welcome.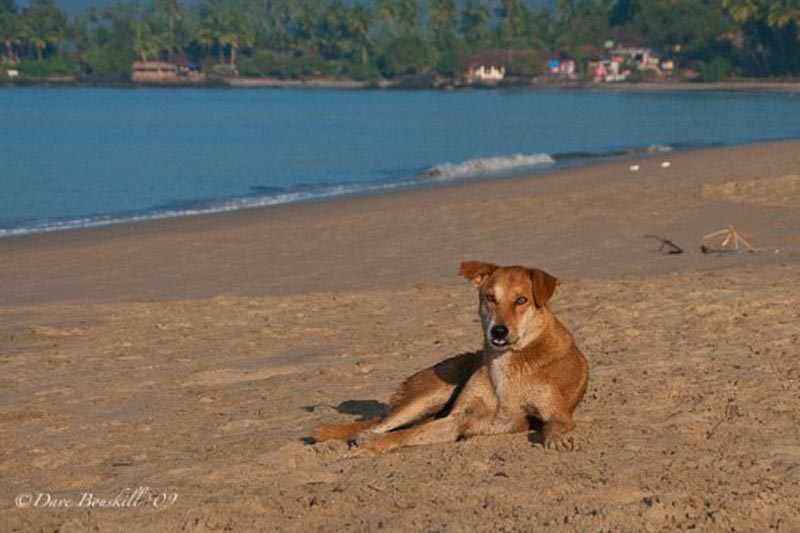 The cows, though healthy, not so welcome.
There is actually a cow patrol on the beach.
The patrols one and only job is to shoo the cows away from the tourists and keep them off the beach. I have to admit, I don't mind having this patrol.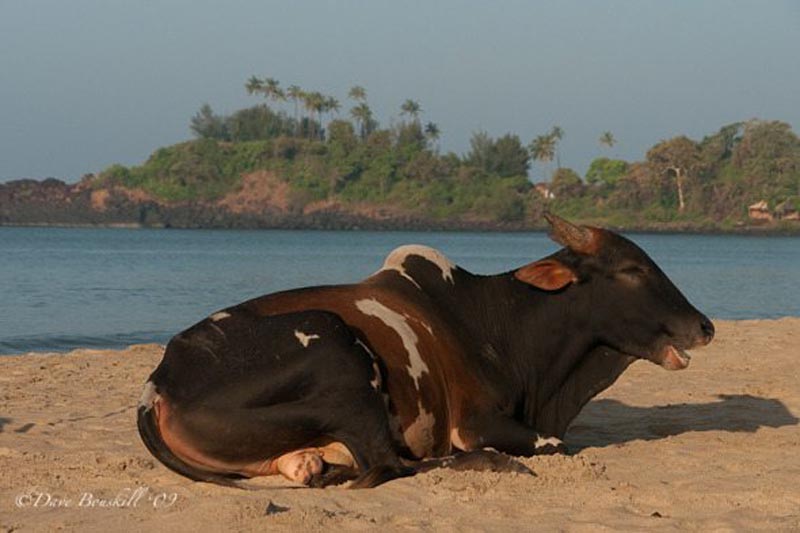 It is cool to see cows gazing out over the Arabian Sea like the rest of us, but their dung is everywhere and it can be a chore to watch out for it with every step.
Since the patrol started after a few days of our arrival, we can walk free and clear of cow dung.
Speaking of walks in Goa…
Our daily walks are fantastic on Patnem Beach.
At low tide, beaches are connected and we can walk to another beach the spans the massive and decadent Intercontintental Hotel Resort. Dave and I snuck into use their pool.  We just pretend that we belong there, say hello to all the staff and order a seriously overpriced beer.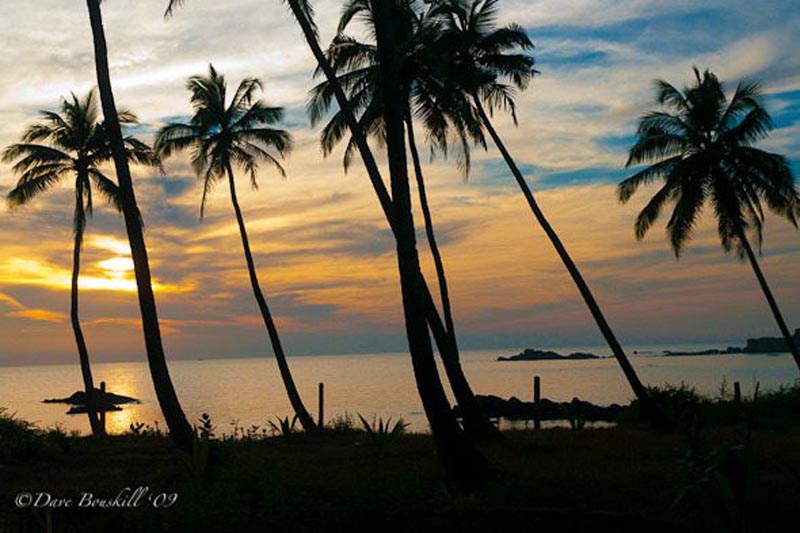 Just in case we look too much like poor backpackers, we whip out our iPhone to try to look important. Nobody gives us a second glance.
Each day is the same.
We awake for yoga with Swami Shiva Nand Jee (I can't wait to tell you about him) who would have thought that we would find the real deal in Goa.  If you believe in the way of the Yogi, I think that we were meant to come here and meet him.
After class and discussion, we enjoy our fresh fruit with yogurt and muesli and then it is time for our walk. It takes almost an hour to walk from one end of our beach to the Intercontinental and back.  We stop for swimming and photographs, fun and sun.
This takes us to the afternoon where we go to Pavarti Huts to work on the Internet.
The have been so gracious and kind to us.  We chat and enjoy tea as we use their free Wifi. At night we choose from one of the many restaurants that line the beach.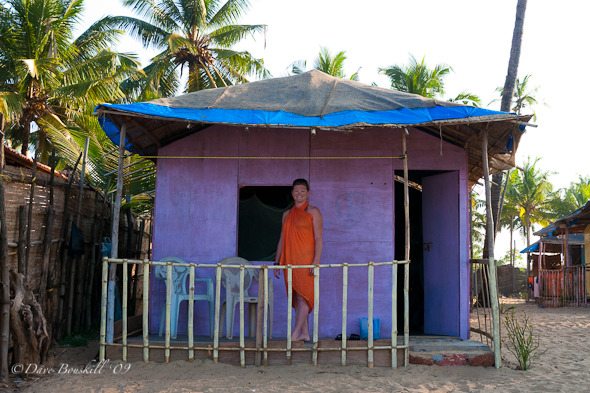 Tables are set up in the sand and seafood in on display as an ecclectic mix of music booms from each establishment. With the smell of inscense in the cool night breeze, it is a welcome change from the stifling hot days.
It is off to bed where we are lulled (if you would like to call it that) to sleep by barking dogs and crashing waves.
Patnem Beach Facts and Information
Information.
Patnem Beach is in the South of Goa
Train Stop is Canacoa along the Konkan Line connecting Mumbrai to Trivandrum
50 rupees to nearby town Chaudi with ATM, Vodaphone and Internet cafés
50 Rupees to Palolem Beach, the larger and more built up beach for a good party.
50 Rupees equal 1 USD
If you are a light sleeper, get a room back from the beach, the dogs sometimes bark all night long.
There is wifi on Patnem at Pavarti Hut, Papayas and Laguna Beach one beach north of Patnem
See our packing list for India
You Might Also Enjoy