Ansel Adams, in Dave's Words
It was dream come true to have the opportunity to visit Yosemite National Park to be able to recreate the works of Ansel Adams, an artist whose images are burnt into my brain. This is a classic Ansel Adams view and even the daily photo tours that happen in the park stop here to take their own perspective of the valley. The imposing Half Dome peers over the landscape on the left of the photograph and I wondered to myself, how many hours did Adams spend looking at this extraordinary scene.
Since it is such an iconic location, I decided to make my photograph in black and white as well to pay tribute to his work. While nobody can ever imitate the master, it is a special feeling to be able to walk in his footsteps and witness the scenes that he has so perfectly captured.
Ansel Adams Photograph that we bought and have kept all these years.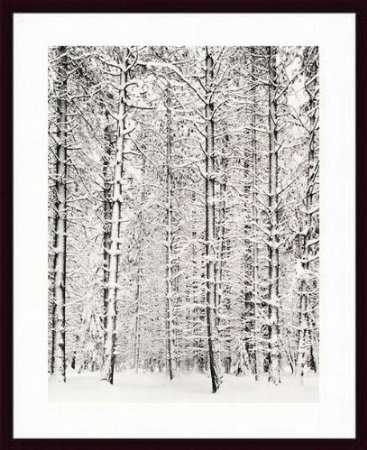 Pine Forest in the Snow by Ansel Adams

Dave has been a fan of Ansel Adams for as long as I can remember. Long before he himself went into photography Dave studied and admired Adam's iconic photographs taken of Yosemite National Park. Early in our relationship, one of the first prints that we bought together was an Ansel Adams print. We don't have a home now and almost everything we own is in storage, but one of the few pieces we kept was our Ansel Adams photograph. It's now hanging in the downstairs bedroom of my parents house so that we can enjoy it whenever we are home. After seeing Dave's spectacular photographs from our time in Yosemite, I think we are going to have to add one of his prints to put up beside our favourite photograph of the Snow on Pines.
Our travels through the US were sponsored by Intrepid Travel. Book your own Road Trip and discover America with Intrepid Travel