When we first started our travel blog, we didn't have the slightest clue how people made money on the Internet. All we knew was that we had a dream to become full time adventurers and to get paid to travel. At that time, we had already spent most of our winters traveling the world for extended amounts of time. We did adventures on our own dime and travelled independently to remote and exotic countries. We had a passion for travel and we had a lot of experience in travel. Friends and family were already asking for advice and information about the destinations we'd been to, so a natural progression was to start sharing that information online. We knew in our hearts that one day we wanted to be a voice in travel, we just didn't know how to turn that dream into a sustainable business.
How do we Start?
In 2008 we signed up for the world's longest cycling race from Cairo to Cape Town. We started ThePlanetD so that the organizers could link to our race profile, and to keep followers of that race up to date on our progress through the continent.  After returning from Africa, we went back to our jobs in the film business and worked for a year to save money and to make plans. During that year we focused on raising our profile. Every spare moment we had, we sat at our computers talking with fellow travel bloggers, commenting on other people's blogs, interacting with others on twitter, and writing stories from our travels. One year later we were back on the road with a dream and a plan. By the time we booked a flight to India 12 months later, we had made a small name for ourselves in the travel community. We put away some cash to sustain us on the road for several months and we even sold our first ad on ThePlanetD before leaving. We were feeling confident.
Want advice now? Read How to Start a Travel Blog in 10 Easy Steps
But Where Next?
As we travelled through India, Nepal and Sri Lanka our readership grew, but we didn't know what steps to take next. The problem was we were running out of money to sustain our travels, and we were still struggling with how to turn our travel blog in to a business. I remember sitting at a cheap guesthouse in Hikkaduwa, Sri Lanka having a bit of a breakdown. We only had about 2 months left in our travel budget before we'd have to start dipping in to our savings. That was not an option.
A few days later, we sold another ad. A company had offered to buy four sponsored links in existing posts for an entire year. They weren't paying much, it was something like $40 a month, but multiply that by 4 at 12 months, and we suddenly had nearly $2000. This was enough to help us achieve our dream to climbing to Everest Base Camp while giving us another month of travel. We were feeling good.
Being Judged
At that time, the bickering was starting in the travel community. People were arguing with each other and looking down on those who sold text links. People were outraged with anyone that sold an ad and accusing them of selling out. In their eyes, blogs were supposed to be sacred places where nobody was allowed to make money. We didn't pay attention to the politics. All we knew was that we were running out of money, we wanted to be able to keep on traveling, and we didn't want to have to go back to our jobs in the film business yet again. We already left once to travel and then had to return to work for a year. It would break us emotionally if we had to go back again and start all over. So, we made some money with our blog and were able to continue our travels the only way we knew how…To sell ad space.
A New Strategy
We knew this wasn't a sustainable way of making money. A couple hundred bucks a month in advertising wasn't the way we wanted to build our business. So when the TBEX travel blogging conference came to New York in 2010, we made a point of going to learn how to make money with our travel blog. Well the session was a bust. Either the people on the panel weren't making any money yet, or they weren't sharing how they were doing it. We went away dejected and upset with the whole situation. We vowed to share information if we were to ever speak at a TBEX or other travel blogging conferences one day.
Ambassadors and Spokespeople
We realized that we were going to have to figure things out for ourselves. We had a film and entertainment background, and had always seen movie stars and athletes act as spokespeople, so we decided to focus on becoming celebrity travel bloggers.
It was always our plan to raise our brand enough so that companies would take notice and hire us as travel experts. We had visions of being just like Ian Wright: A travel personality from Lonely Planet travel show. (a program we used to watch religiously – later known as Pilot Guides). At the time,  he was advertising Canon Cameras and writing columns for magazines. We wanted that. But we didn't want to have to put all our time and energy in to pitching stories and being rejected. We'd had enough rejection in our lives. So we decided to focus on writing great content for our own site to raise our profile enough that people would approach us. We focused on marketing the personality behind ThePlanetD. We wanted our readers to not only connect with our tips and advice, but to connect with our personalities and life story. We found that people were very interested in our story and wanted to hear more.
How We Now Make Money Travel Blogging
Our business has grown more than we could ever imagine. By thinking outside the box, we eventually figured out how to make money with our travel blog. Once we stopped concentrating on how to make money, and instead focused on building our brand through storytelling the opportunities started coming in. I remember going to conferences and reading articles where people kept preaching, "write good content." Whenever people asked, "how can I make money travel blogging," the answer would always be "Write Great Content." This answer frustrated me because, of course I was going to work at creating great content. What they didn't explain was the reason you needed to. Everyone always focuses on how to make money, but you need to focus on creating content that is of value to your readers before you even begin to think of monetizing. If you don't have a loyal and engaged readership you aren't going to have a brand that anyone is going to want to work with. For us, our readers come first.
"The key to a successful travel blog is putting your audience first."
As our readership grew, people started to take notice. More people started to share our content and a snowball effect happened. People began to know us. When people start to know about you, brands and companies will know about you too. By creating great content and building your audience, you will eventually have opportunities come to you. Doors will open and people will be wanting to work with you.
Our first travel blog opportunities
American Express: Our first real contract came with American Express Canada. They approached us to work with them on a year-long contract basis to test drive their American Express Gold Rewards Card. They had done their research and found our brand to be the perfect fit for their campaign. We would travel the world using our American Express Gold Rewards and discover all the travel benefits of the card, utilize the travel insurance, and find out if it actually is accepted everywhere. (which, by the way it is) We are now in to our fourth year working with American Express and have become American Express Brand Ambassadors. It is a partnership made in heaven and we are continuing to work with them again in 2015.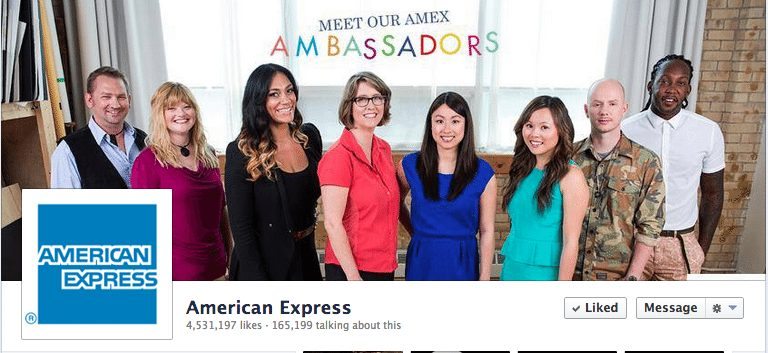 Our next Partnership came with Intrepid Travel. We knew the folks at Intrepid Toronto really well, and just loved Katy and Katie in the office. We pitched them an idea to be their Global Bloggers, and for the next year we experienced their tours and shared our experience with our readers. We had been working with them in a non-monetary capacity for a year earlier, so the partnership made sense when it was time to take it to the next level. Unfortunately we didn't have a plan for a second year and the partnership dissolved, but we still have an amazing relationship with Intrepid and who knows, maybe another opportunity will come up in the future. Once we had a couple of Ambassadorships under our belt, things really started to roll. Expedia.com: They invited us to their head office to discuss working with bloggers. Dave and I seized the moment after that first meeting and sent them a pitch for the following year. They liked the idea, and for the next 12 months we went around the world as their adventure travel experts taking on challenges from Running with the Bulls, going on a back-country snowboard adventure, covering the Adventure Travel World Summit and flying over the Masai Mara. Readers enjoyed it and it helped humanize the Expedia brand by putting a face to their company. Unlike Intrepid Travel, there was a plan for year two and that relationship evolved into us to being a part of their Expedia Viewfinders Program. We now write for the Expedia Viewfinder Blog as one of their travel experts and we love that relationship. It's helped our writing skills and opened doors to many opportunities.
Destination Ambassadors: Last year was one of our most lucrative and fulfilling years of travel, and a large part of that was working with Ontario Tourism as their Travel Ambassadors. This was a very in depth partnership where we spent a year showcasing our travels and adventures in Ontario. We did media appearances, social media chats and take overs, travel videos, we wrote for their blog, spoke at events and supplied photos for them to use. This was the ultimate Ambassadorship that we always dreamed of and it has opened the door to other Ambassadorship programs. We're in talks with a couple of destinations as we speak and already coming up with new and amazing ideas. And we are speaking on Behalf of Ontario Tourism at the Outdoor Adventure Show in Toronto next month. Travel Style: Our Ambassadorships have reached beyond just travel companies. We've recently worked with Royal Robbins as a part of their GoEverywhere Explorers. Showing their travel clothing in action around the world and also writing for their Royal Robbins blog about our experiences. It has been a fun and fulfilling experience. We've even contributed photography to their catalogue and conference promotional materials.
Video Production
Dave and I are constantly working to add more dimensions to our travel blogging. When Housetrip offered us a place in their diplomats program as videographers, we jumped at the opportunity. By taking on the challenge of being their video bloggers, we had the chance to show off our video talents and reach a new audience. We started out in video when we first travelled and this brought us back to making more travel videos – our first love. We created videos for their blog ,and since getting back on the video blogging train, we've incorporated video into all our campaign strategies and travels.

More Projects: We now make videos for companies based on our trip experience. We've found that having the voice of a blogger tell the story in the video makes it a more real experience for the brand that hires us. They could easily sink tens of thousands of dollars in to a slick video, but that isn't as relatable as showing Dave and I having a blast showing off their destination, using their product or experiencing their trip.
Social Media
We put just as much time into our social media strategy as we do into our blogging, photography and video. We are now hired to run and take part in social media chats on Twitter, lead Google Hangouts, travel with Instagram campaigns, and run contests on Pinterest and Facebook. We work hard to keep a well-rounded brand. While others concentrate on one social media account, we spread our love around. It works for us, we're not saying it works for everyone. We take our Facebook page very serious and work hard at interacting with our fans. We work hard to build our Instagram following, and we believe the video is the future so we are paying closer attention to YouTube. We may not be number one in any one social media stream, but we are strong in all and use that to our advantage. We can offer companies and brands a package of channels to showcase their product, and it works.
Individual Projects
Not all our work is on a year-long contract basis. We now work on a project-by-project basis with companies like Carnival Cruise Lines, Mashable, International Expeditions, Quark Expeditions, Tourism Boards like Oregon Tourism, Ireland and Banf,f Alberta. We've been judges in photography competitions, hosts of contests and done short one off campaigns promoting a trip or product. Like all freelancers in different businesses, the possibilities are endless. If it fits with our demographic and adds value for readers, we can work and thrive with a company.
Affiliates
We didn't put much stock in to affiliate sales early on in our blog. We didn't have the traffic or the interest, but once we started seeing Amazon cheques come in on a monthly basis from old posts that we wrote a couple of years ago, we started to re-think Affiliate links. We're still building that portion of our business, but we do receive a monthly cheque.
Public Speaking
We finally did get that speaking gig at TBEX and have shared as much of the knowledge as we could. While certain conferences don't pay us to speak, they do raise our profile and status in the travel blogging world. However, we have started to branch out from the Travel Blogging conferences and speak in other realms. We now charge a fee to tell our story and make appearances. We really enjoy public speaking and it is already becoming a major part of our business strategy.
TV Appearances
We've been lucky enough to have an interesting story that people want to hear about. We have made TV appearances to not only talk about travel, but to inspire others, talk about relationships and motivate people to change their lives. We're going to be starting a media tour next month to talk about travel health and safety, and we have another project with where we'll be discussing the benefits travel insurance. After our mishap in Peru, it's a natural topic and we're excited to gain much more TV Exposure.
Writing for Other People
We are now writing for companies outside ThePlanetD blog and we are doing it in the exact way that we wanted to in the first place. Instead of having to pitch people, they are approaching us to contribute. It's not that we ever thought we were above pitching articles, we just decided that we needed to focus our energy on writing for our own blog and building our own brand. Pitching takes a lot of time and effort and we didn't want to have to be bound to writing for others. Besides in the early days we wanted to keep the best content for ourselves. Now we have a lot of experience and content to draw from and we love writing for other publications. It keeps our writing chops sharp and helps us to hone our skills and we can play around and write a bit differently for them. We find it to be an excellent challenge and keeps things fresh.
Photography
Dave's photography has really taken off and tourism boards and companies are starting to buy his photos from previous trips. He has won competition money and sells his photographs for advertising and magazines. He even receives regular cheques from SmugMug sales. While photography isn't a large part of our income it is a large part of our blog. Dave's photography is what keeps people coming back and it is a huge part of our brand. When companies hire us, you can guarantee photography is part of the package.
Sponsored Posts
We rarely accept sponsored posts these days. We would rather give exposure to our fellow travel bloggers in our Inspirational travel Series, but when the content fits and it is to a relevant website, we will accept them. But we write them ourselves and they are always based on our experience. We charge a high fee because our policy is to not clutter our website with dozens of sponsored posts.
Settling in
We are now making more money than we made in the film business just a few short years ago. We cannot believe that we achieved our 5-year goal and are already thinking of new ways to keep our careers going. When it all comes down to it, we still love to travel. It's not about the money. If we lived our lives only chasing money, we would have stayed in the movie industry. Our goal has always been to be able to do what we love for the rest of our lives. We also knew that if we found careers that we loved, the money would come anyway, and it has. We love being able to explore the world, share it with our readers and push our boundaries. But most of all, we love doing it together. This is the driving force for us to continue to search for new and creative ways to make money travel blogging. The industry is constantly evolving and we know that we have to stay one step ahead of the game to have the privilege of having a career traveling the world. We never take one day for granted.
For more on the business of travel blogging, visit our Travel Blogging Advice Page

PS. Thanks GirlGoneTravel for the above photo with attitude. This was taken by our friend Carol while in Mexico.