After years of traveling, I've learned that it is better to look good and feel better than walking around like a backpacking bum. Been there, done that. It was fine way back in the early 2000s when everyone was walking around Khao San Road looking like hippies straight out of the sixties, but times they are a changing. Now travelers want to look chic while feeling comfortable and keeping things affordable. Through many trials of different products and packing tips over the years, I've found a few things that have helped me look good even after a long day on the road. So for the gentlemen out there who are still struggling to find Valentines Day gifts for her: that special travel lover in your life, here are a few items to get the one you love.
Valentines Day Gifts for Her
I love wearing a silk wrap when flying. I wrap it around myself in my seat and fall into a relaxing slumber. When I get off the plane, I look stylish with it loosely bunched around my neck and when going out during my travels, it dressed up any outfit making for a classy addition to my wardrobe. I always carry two wraps with me, a gold and a blue wrap for different occasions. they're lightweight, take up very little space but can be mixed and matched with anything.
I don't know about the lady in your life, but most avid travellers I know, including myself love to wear bohemian type jewelry. One of my favourite things is buying handmade jewelry off a vendor in a local market. The more my wrists are covered with colourful bangles and bracelets the happier I feel. This Santa Fe wrap watch blends in beautifully with my local designs and has a feel of something I would buy on a beach in Belize or in the mountains of Peru. It's the perfect watch for a former backpacker that has now taken things up a notch to look classy, while still keeping things relaxed.
Hats are imperative for travel. Hats that can collapse and roll into your suitcase is even more important. When on safari I love my ExOfficio Bugs Away Adventure Hat. I feel like one of those old time explorers in search of an unknown species in a remote jungle. It keeps the sun off my face and neck and it's breathable and light so it's not too hot in the African or South American heat.
Check out: 7 of the Best Mix and Match Travel Clothing for Women
A safari hat is one thing, but a fashionable sunhat for the pool or beach is a must as well. There are many wide brim hats out there, but a shapeable sunhat is important to me. It can roll up in my luggage and goes back in shape when it is ready to wear.
We may travel a lot, but a girl still likes to look her best. Give this pretty heart cosmetic bag to store make up and accessories. It's cute, it's fun, it's practical.
Need inspiration for other bags? Read 8 Great Travel Organizers for Better Packing
Winter isn't over yet and elegant gloves are always welcome. If you plan on taking your honey on a winter European River Cruise or an early spring trip to Europe these will come in handy. They're even great for apres ski time in the village.
For the business traveller in your life, consider the eTools organizer by Eagle Creek. I am constantly in search of ways to organize my plugs and adapters. This customizable carrying case lets you put everyone in one place!
Travel Care Package – Thinking of Her
Show her you love her by putting together a comfort travel care package. Or book a trip to Europe, now that will truly show her you love her. Here's our packing tips for Europe guide to get you started.
Let's face it, flying is not the fun filled adventure it used to be. With slow security, shrinking seats on cramped aircrafts, and crowded airports, a little comfort goes a long way in making the flights more relaxing. I've put together a list of items that will make her feel better on a flight and love you more for thinking of her well being.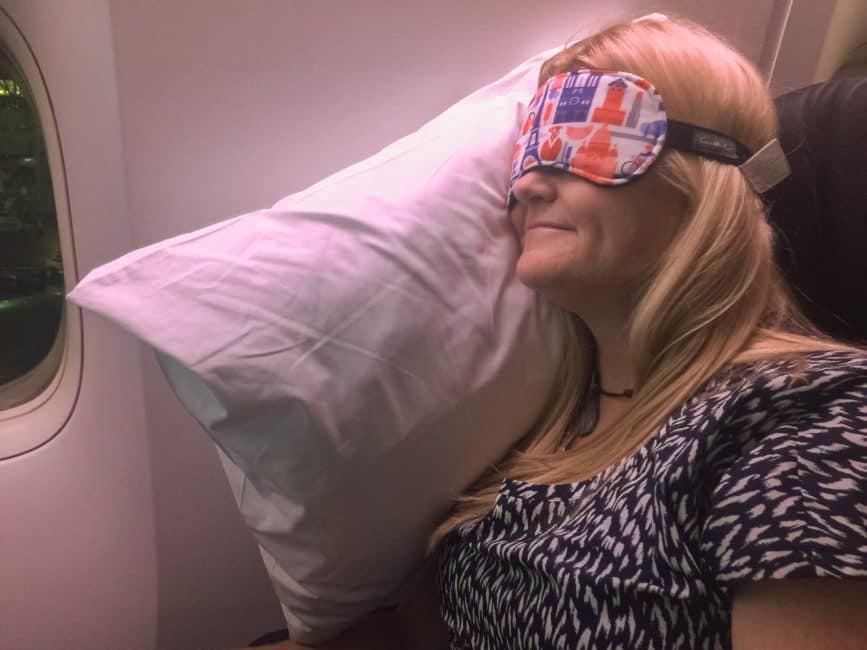 This is the first eye mask that even my husband Dave loves. It's padded and comfortable and it blocks out the light. The wide strap doesn't tangle in your hair and it looks great so you feel stylish as you sleep.
For more care package ideas check out: 10 Must Have Items to Make Air Travel Easy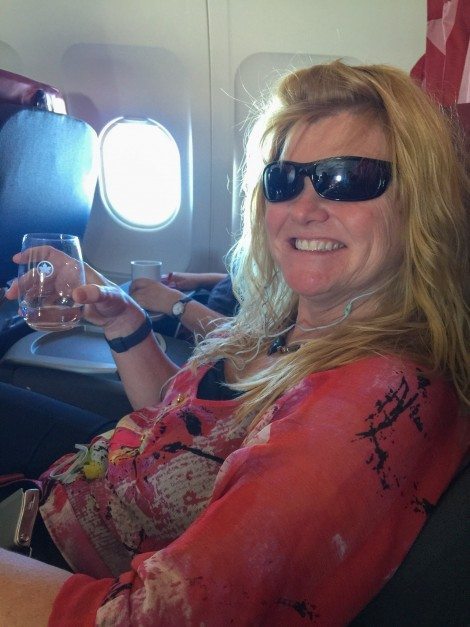 Earplugs just don't do the trick when a wailing baby has suddenly discovered its voice. Turn on some soothing music and block out the noise with these babies.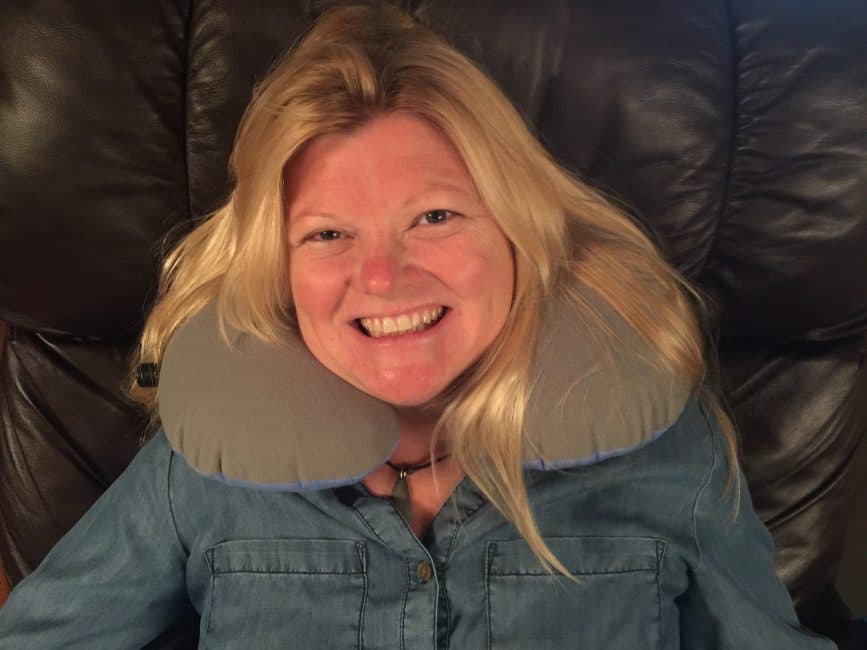 Blow up pillows are hard and uncomfortable, but the bean bag type travel pillows take up too much space. Split the difference with the air core neck pillow. It's a pillow on the outside and it blows up on the inside making it compact yet comfortable.
For entertainment on a flight, check out 11 of the Best Travel Movies to Inspire Wanderlust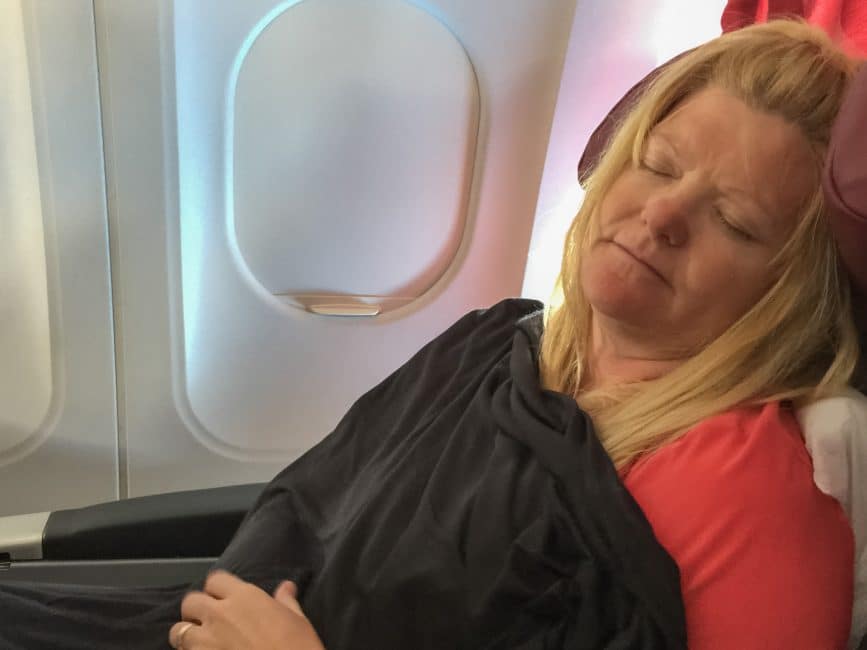 Even if I'm flying to the tropics, it always seems to be chilly on the plane. Airlines don't always supply blankets and even when they do, you can't be too sure how clean they are. Give your lady her own blanket so while she slumbers on the flight, she'll be thinking of you.
Everyone looks great in Aviators and they've made a come back in fashion. Once you've put the practical items into her gift box, slide in a pair of stylish Ray ban sunglasses to show her you care.