Have you ever had your numbers read?
That was just one of the very cool things that we took part in last month in Toronto during the Samba Days Holiday Heroes event. We've been traveling a long time and it is exciting to discover a fun activities in our own back yard.
Samba Days is company offering people the chance to buy their loved ones an experience right across Canada. We will be taking part in Ontario experiences, but when you visit their website you can book unique activies in each province. If you can't travel, there's no reason not to get away, you can do adventures in your own back yard! It's the perfect gift idea for those hard to by for people in your life. You can buy gifts ranging in prices from $50 to $5000.
There is something for everyone!
We are the latest addition to the Samba Days Ambassador program and we are thrilled to be able to showcase adventures right in our own back yard of Toronto Canada as one of their Sambassadors. We've already gone on a flight over Toronto just this past weekend to experience our first Samba Days Adventure and it was an amazing time. Dave took over the controls and actually flew the plane. But, that is for another story coming next week with the video.
Today we are talking about our time being spoiled for an afternoon at the Pantages Hotel downtown Toronto.
We entered the luxury boutique hotel's lobby to smiling faces and high energy. We were quickly whisked away to a suite on the upper floor to enjoy a taste of one of Toronto's finest restaurants. Located in the Distillery District, Tappo is a restaurant that isn't afraid to experiment with its Italian, Mediterranean menu. We're not experts in food and can't give the splendid appetizer of truffle and portobello mushrooms wrapped together with goat cheese into a lightly fried ball of delicious foodie pleasure to description that it deserves. But we can say that we enjoyed every mouthful of the chef's creation. Even if we didn't take notes and can't remember exactly what we ate.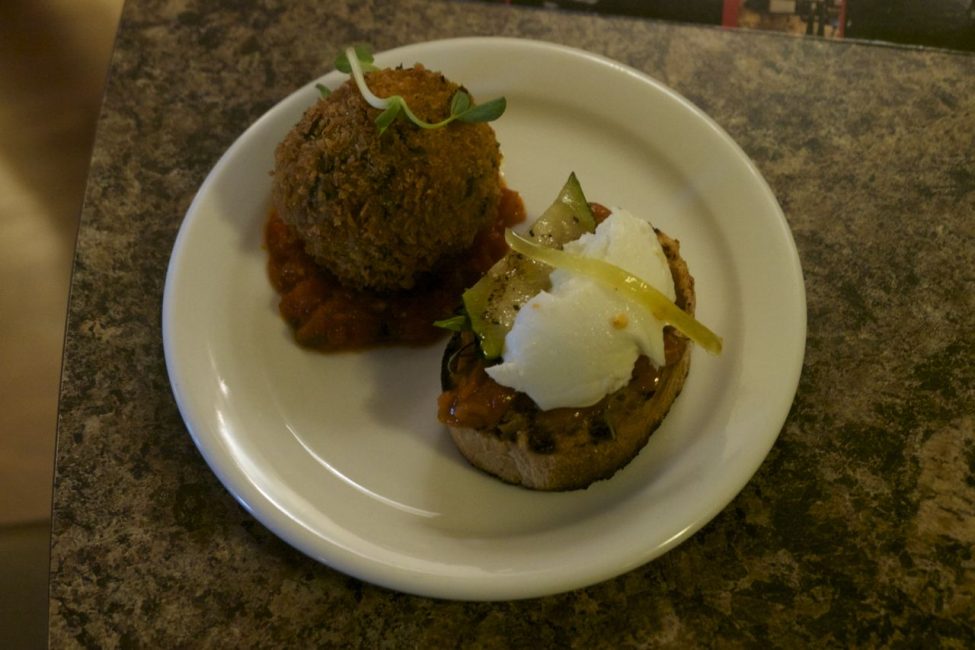 But we can tell you that Samba Days offers a gift experience for you to enjoy your own night out at Tappo. As a matter a fact, everything that we sampled this day is a gift experience from Samba Days!
After thoroughly satisfying our appetites, we hopped over to the dance floor where we learned some salsa and mambo dancing with dance art. It was so much fun that we decided that the quickest way for us to whip ourselves back in shape is to go out dancing more often.
As you may have known, Dave and I love topping off an adventure with massage. Nothing beats finishing up a workout with a little spa experience and we had the chance to try out the Shizen Spa of the Pantages. The spa has a great atmosphere and we were surprised when looking at the price list that massages start at $110 and manicures are as low at $35. We never get massages in Canada because they are always way overpriced, but this is surprisingly affordable for a regular working person.
Our time at the spa was short lived though because we had to move on an sample the rest of what Samba Days had to offer.
Our minds were blown with the magic of Brandon David and then they were numbed with the tasting of wine from the estates of Chateau des Charmes.
We did our due diligence pretending to sniff the nose and talk the talk. Ah yes, I do smell the currents in the nose. Is that a hint of cherry? What year was this Gewurztraminer bottled. Mmm, 2007 was a very good year indeed.
Which brings us too….our numbers. 
Meeting renowned yoga instructor Salimah Kassim-Lakha of Yoga Vision was a calming, enlightening and exhilarating experience. Numerology comes from Kundalini Yoga and it can help you answer the 5 questions of life. As you may have known, Dave and I truly believe in the power of Yoga and have written about it during our time in India studying with Swami G.
A quote that I love from Salimah's website is "There is a genius inside each one of us, the soul."
She didn't know us or our story. Salimah didn't realize that we were basically inseparable and that we do everything together, however when we sat down she quickly stated "let's do something different and read your numbers together." "Are you married?" "Yes" we replied. "Let's start with your wedding date."
Salimah reiterated many of the things that Dave and I have been discussing this year. She talked about how we would turn our focus to being teachers. To being educators and we would show the world what can be done with love.
We have wanted to expand from simply blogging about ourselves and experiences to sharing our knowledge and inspiring others. Seriously, if we can live a life to the fullest, anyone can. We never thought we'd be this fulfilled in life and we never thought that we would live out our dreams and yet here we are doing it.
We had already decided that we were going to share our knowledge more with our readers and that we were going to inspire people through ours and others experiences. To have Salimah reiterate that we were on the right path and that this is our calling, was the validation that we needed to feel that yes, we are on the right track with our goals.
It didn't hurt that by the end of this year, we would also have abundance finally. I think that she is right too. In the past few weeks we have met people that have showed us that Travel Bloggers can make money and good money too. Soon we hope to be able to help people with more than our words and go back to being able to fund projects and donate monetary values to help the people that we meet.
For now however, we will continue to focus on our goals, work hard and hey, enjoy our Samba Day adventures in the Toronto area.
Check out more Samba Days Adventures  for experiences in your area.