This week we take you to Kenya where we go on an African Safari to the Masai Mara and track the Big 5.
There is nothing more heartwarming than watching African wildlife live their lives in harmony on the Masai Mara National Preserve.
Masai Mara, Kenya
Named for the Maasai people who inhabit the great plains, the Masai Mara covers a 1,821 km2 (703 sq mi). What is magnificent is that it shares its border with the Serengeti of Tanzania creating a 25,000 km2 (9,700 sq mi) nature preserve. With all the controversy over Cecil the Lion being killed by American Dentist, Walter Palmer last month, we wanted to celebrate the right way to shoot Africa wildlife. With a long lens and a lot of patience. Animals should not be killed for sport. It upsets us when people trophy hunt for black bears, bighorn sheep, and moose in Canada as much as it upsets us that people hunt for trophies in Africa.
African Safari, Tracking the Big 5
Cecil the Lion
People are already starting to forget the tragedy of Cecil the lion and hunters will soon continue to hunt again  for sport. What causes a human being to want to simply shoot something down for no reason? We'll never understand. But if we continue to talk about it and continue to remind people of the brutality of trophy hunting, maybe one day all countries will  put a stop to this disgusting sport that people take pleasure in.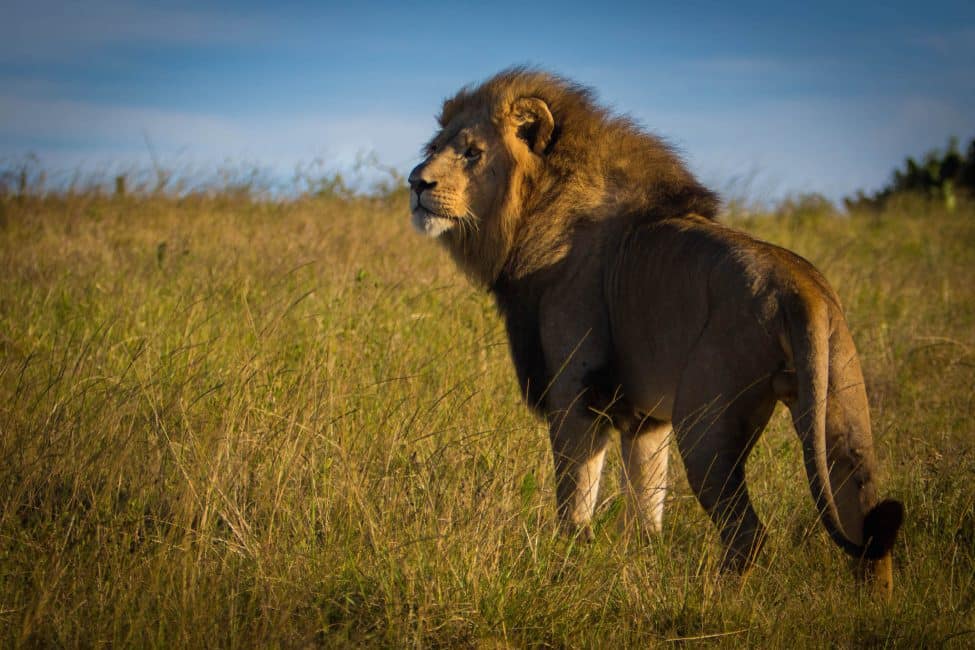 Air Canada Bans, Africa Big Game Trophies
Many airlines have banned the cargo of big game trophies from Africa including British Airways, United, Delta, Singapore and our personal favourite, Air Canada. After sending a tweet congratulating them for joining the fight, we received an email from them with this statement.
"Effective immediately, Air Canada will refuse to carry any shipment of lion, leopard, elephant, rhinoceros and water buffalo trophies worldwide as freight.  It should be noted that historically the shipment of such trophies has been extremely rare as  Air Canada does not operate flights to Africa.  This ban goes over and above AirCanada's long-standing policy to comply strictly with the regulations of the jurisdictions in which it operates that are in place to protect endangered wildlife in accordance with the Convention on International Trade in Endangered Species of Wild Fauna and Flora (CITES )." 
Bravo Air Canada, even though you don't have direct flights to Africa and big game trophies on your flights would already be nearly zero, you made a statement to join forces with the other airlines who do operate flights to Africa and have historically allowed countless trophies on board. As for the naysayers who will say trophy hunting helps with conservation and that his $50,000 went to help the community. I say just donate $50,000. Why do you have to have a thrill of the kill in the name of conservation?
Canada and Big Game Hunting
Regarding Canada's own big Game Hunting we agree with Lesley Fox, executive director of The Association for the Protection of Fur-Bearing Animals. "It's irrelevant whether or not it's a legal trade or an illegal trade, Animals suffer and die the same way for needless products and trophies, and it's something that we can do something about. We can end it."  (Quote taken from the National Post: Read the article here: Alberta big game hunter says Cecil Controversy will Pass)
So we put this challenge to airlines and governments out there. If everyone cares about Cecil, isn't it time we stop the cargo of all needless trophies? Does anyone really want to see a bear skin or a lion head on a wall anyway? We would rather have a photograph on our wall or watch this other uplifting video from our South African Safari. Humans may be at the top of the food chain, but its time we start treating all living things with respect. From the chickens we eat to the trophies we slaughter and the countries we invade.
Note: Dave and I have recently made the decision to go back to being vegetarians. We have been disgusted with ourselves and the world we live in for our treatment of all living things on this earth. If we can do our small part in any way possible, we will try. My parents have been vegetarian for decades and we have always kept our meat consumption to a minimum, but we feel that it is time to stop living a life of hypocracy. We love animals, we give to animal charities, so why do we continue to eat them? As one person's comment left on our facebook page, we cause more harm and pain to chickens every day than Walter Palmer did to Cecil the Lion. 
Thanks to Wandertooth for the great video edit bringing back memories of our time in Africa.