Ho Chi Minh City is a crazy place, with a population of over 8 million people and heaps of things to do, it's well worth visiting on a trip to Vietnam.

In this massive city, you will find unusual (but delicious) food, hectic markets and memorials to its dark past.
We've rounded up a list of our top things to do in Ho Chi Minh City.
From the must-see, popular tourist attractions, to off-the-beaten-track ideas that absolutely shouldn't be missed!
Not to Miss Things to do in Ho Chi Minh City
1. Feast on Vietnamese Cuisine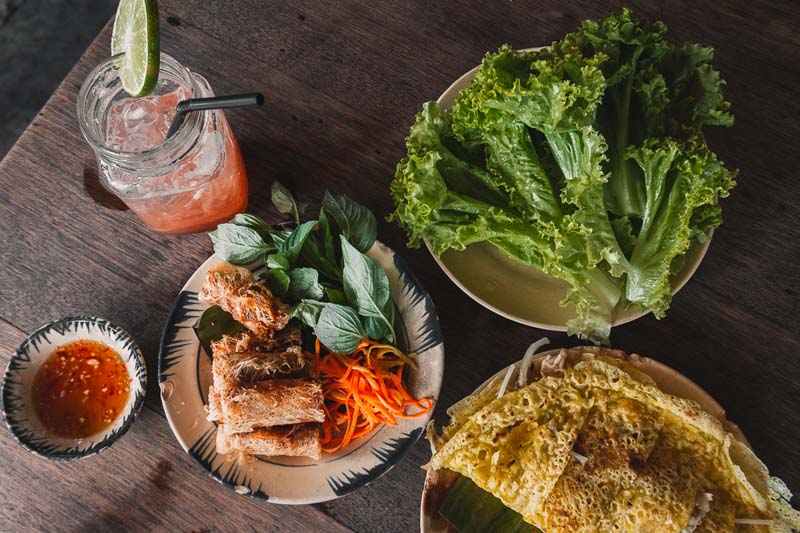 One of the best things about visiting Vietnam is its delicious cuisine.
A fusion of both European and Asian cuisine blends together influences from the French colonisation and immigration from neighbouring countries.
This makes Ho Chi Minh City a fantastic destination for foodies.
You will find some of the best variations of Vietnamese classics.
Vietnamese food to try:
Pho (noodle soup)
Banh mi (baguette sandwich)
Banh Xeo (filled pancake crepe)
Summer Rolls (Goi Cuon)
Thit Nuong (Grilled Pork)
Chicken Sticky Rice (Xoi Ga)
For all of our favourite places to eat, take a look at our Ho Chi Minh City restaurant guide.
A banh mi will cost you just 15 – 25,000 VND from some of the best spots in the city.
This is a sandwich made from a freshly baked, French baguette, filled with pate, meat and vegetables.
Banh Mi Huynh Hoa is a great sandwich spot in District 1, otherwise, you can find them all over the place.
Consider venturing out from these popular dishes.
Go with an open mind and be willing to try anything that looks or sounds nice.
Fortunately, the dishes are typically so affordable that you can afford to try something else if you don't like what you get (this has never happened to us by the way).
Bun Cha 145 in Bui Vien Street is another delicious option that is a bit less known than some of the other dishes mentioned above.
2. Walk down Bui Vien Street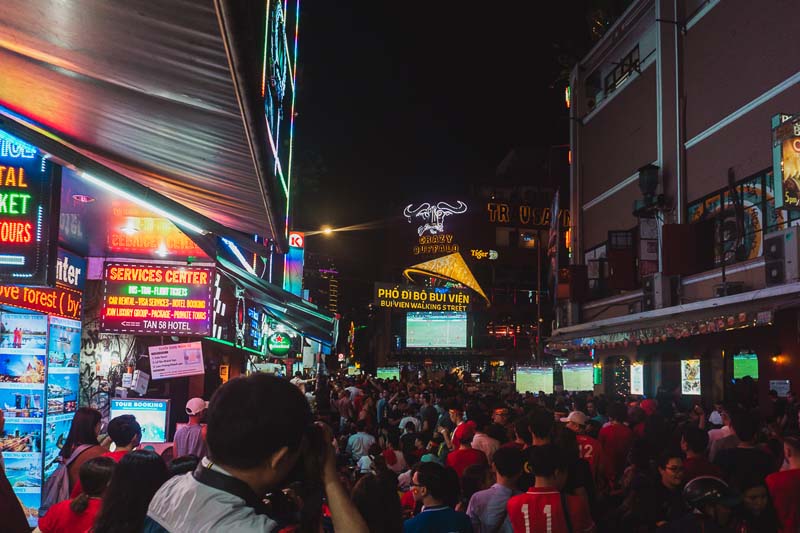 Going for a walk down the iconic walking street at the heart of District 1 is an important part of visiting Ho Chi Minh City as a tourist.
During the day, this street is bustling with tourists looking for a place to eat, shop or recover from their hangovers.
By night, Bui Vien Street comes alive with drunk backpackers letting themselves go at the numerous bars along the street.
If nightlife is your scene, then set aside at least one evening to explore the bars on Bui Vien Street.
As iconic and exciting as Bui Vien Street is, it is far from an accurate representation of Ho Chi Minh City.
It is designed for tourists, so to find the best restaurants and to fully experience the city, consider venturing further afield.
3. Explore the Notre Dame Cathedral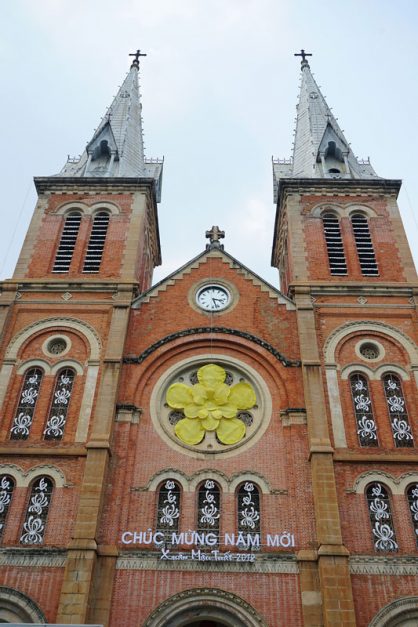 Image by chi?n nguy?n bá from Pixabay
You will find the Notre Dame Basilica and Saigon Central Post Office located right next to each other (there's also a McDonalds nextdoor..).
Built between 1863 and 1880, Notre Dame Cathedral Basilica of Saigon was constructed for French colonialists to attend service. It is still used today.
It is designed with an impeccable French architectural style and its two bell towers reach 60 metres (196 feet) into the air.
Surrounded by utilitarian, Vietnamese apartment buildings and with thousands of mopeds buzzing past, this buildings strongly contrast everything going on all around them.
4. Saigon Central Post Office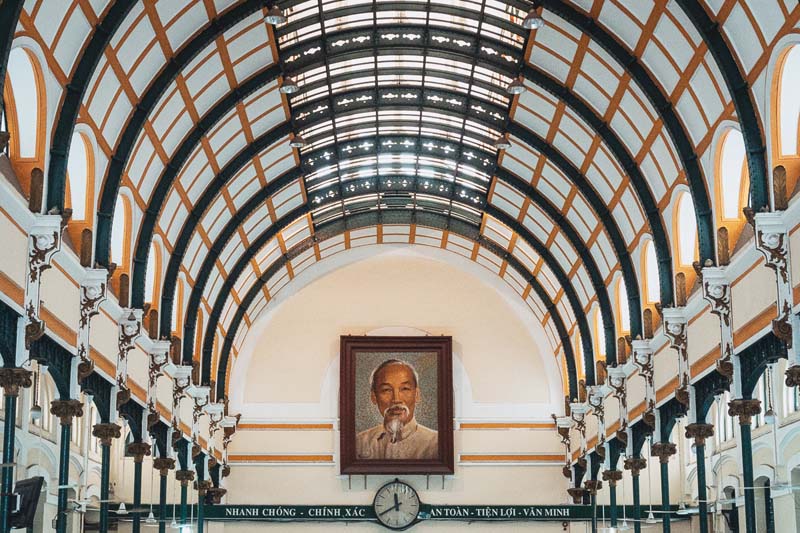 Located beside the Notre Dame Basilica, the Saigon Central Post Office is a beautiful display of colonial architecture.
The post office is fully functioning (maybe send a postcard back home) and the original phone booths are still there.
Built-in 1886, just a few years after Notre Dame was completed, this building is another fine example of French colonial design
These buildings are a reminder that there is more history in Vietnam than the Vietnam war and are well worth visiting.
5. Visit the War Remnants Museum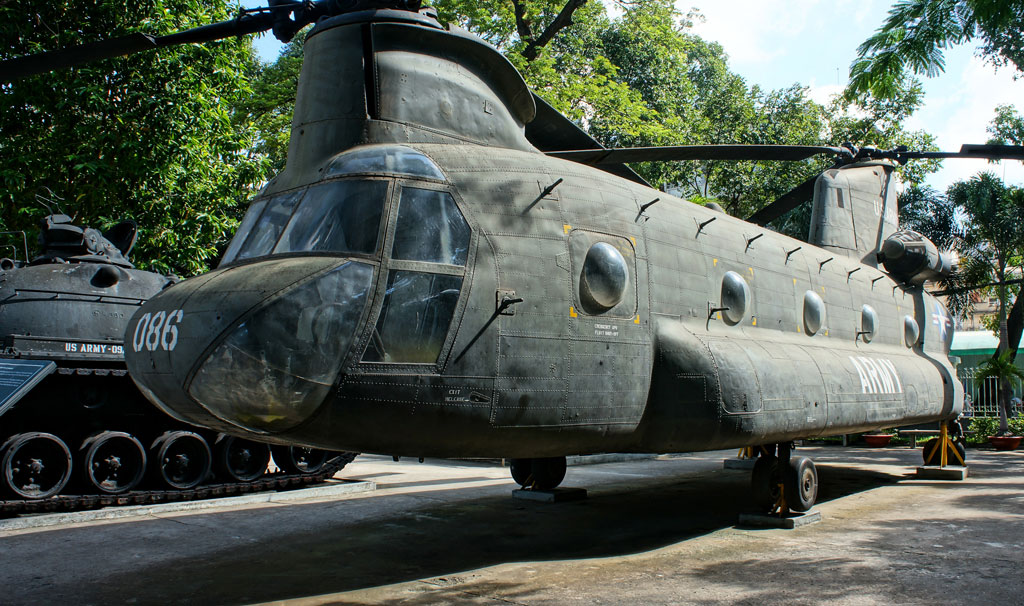 Vietnam's dark past is still considered recent history.
The Vietnam War ended less than 50 years ago, and to this day, impacts the lives of many Vietnamese people.
As part of visiting Vietnam, it is important to take some time to learn about the war and to think about the effects it has had on the people of Vietnam.
The War Remnants Museum itself isn't the most pleasant activity, but it is a stunning exhibition of the causes, origins and effects of the war.
You will find powerful photos, explanations and propaganda on display at the museum.
Victims of Agent Orange often volunteer their time to raise funds and educate tourists at the museum.
This may not be considered an 'enjoyable' part of your trip to Ho Chi Minh City, but it should be the most memorable.
6. Go for an adventure in the Mekong Delta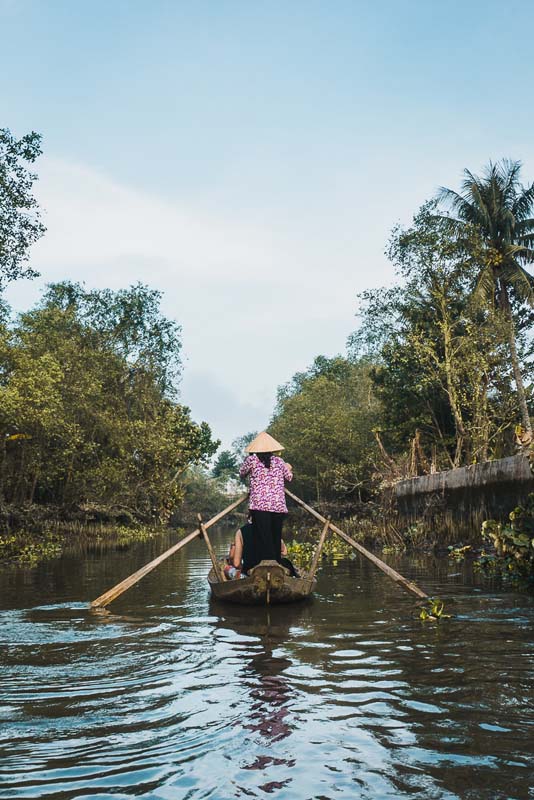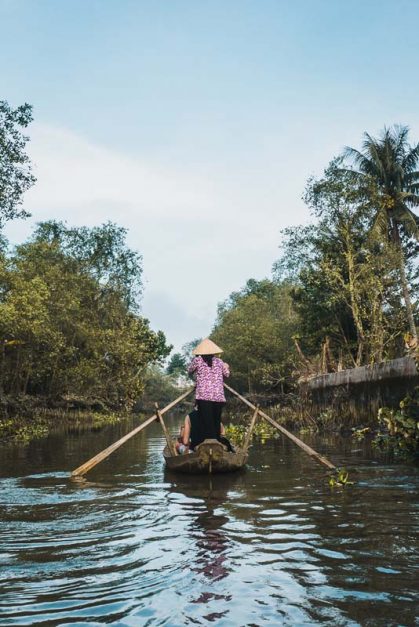 Technically, the Mekong Delta is located just outside of Ho Chi Minh City, but most people visit for a couple of days during a stay in the big city.
In terms of getting to the Mekong Delta, the drive takes a few hours on a bus.
The drive is a great way to see how big Ho Chi Minh City is.
We found you could drive for two hours from District 1 and still feel like you're in a busy city.
Eventually, you will make it outside of the city where things quieten down and become significantly less hectic.
Book a full day Mekong Delta Tour including a trip to the Cu Chi Tunnels with Get Your Guide.
Free cancelation for a full refund within 24 hours of activity.
The Mekong Delta itself is great for experiencing the authentic, local life of the Vietnamese people.
Whether you go with a tour or by yourself, you will get the opportunity to take a boat down the interconnecting canals of the Mekong river.
Along the way, you will find floating markets selling everything from fruit and vegetables to conical hats and fake clothing – not unlike the markets in Ho Chi Minh City.
Spending a night here is a good idea to make the most of the long drive.
You won't find any luxury hotels here, so consider it as an opportunity to stay with the locals in a homestay.
7. EXPLORE THE CU CHI TUNNELS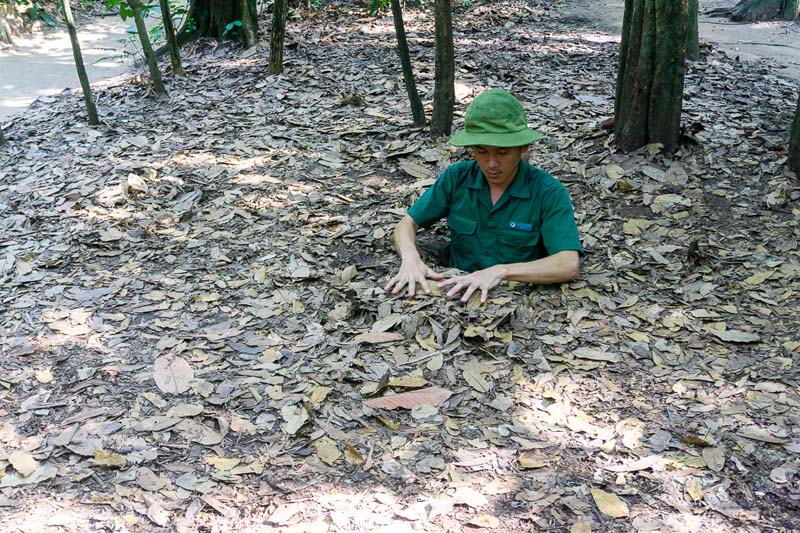 The North Vietnamese communists used an extensive tunnel network covering most of the country to hide and protect themselves from the French, American and South Vietnamese soldiers during the 20th century.
A specific section of the Cu Chi Tunnels has been preserved and converted in the Cu Chi district of Ho Chi Minh City.
This allows visitors to experience a bit of what it was like to live and crawl inside these tunnels during the Vietnam War.
When you arrive at the Cu Chi tunnels, you will get the opportunity to walk around and picture what it was like to be a Vietnamese (or even American) soldier during the Vietnam War.
There is a particularly interesting display of the traps invented by the Vietnamese. These were designed to kill or mortally wound American soldiers.
You can also attempt to crawl through some real-life tunnels to experience just how claustrophobic the tunnels are.
In fact, these tunnels have been enlarged so us larger tourists can fit – they were originally even smaller.
8. JADE EMPEROR PAGODA
The Jade Emperor Pagoda was built in 1909 by the Chinese Community in Ho Chi Minh City.
It makes for a quiet sanctuary in the city and is one of the most important temples in Ho Chi Minh dedicated to the supreme Taoist god.
There are many halls filled with elaborate carvings, woodwork and burning incense.
Don't miss seeing the Hall of 10 Hells, depicting the ten layers of hell.
9. VISIT THE REUNIFICATION PALACE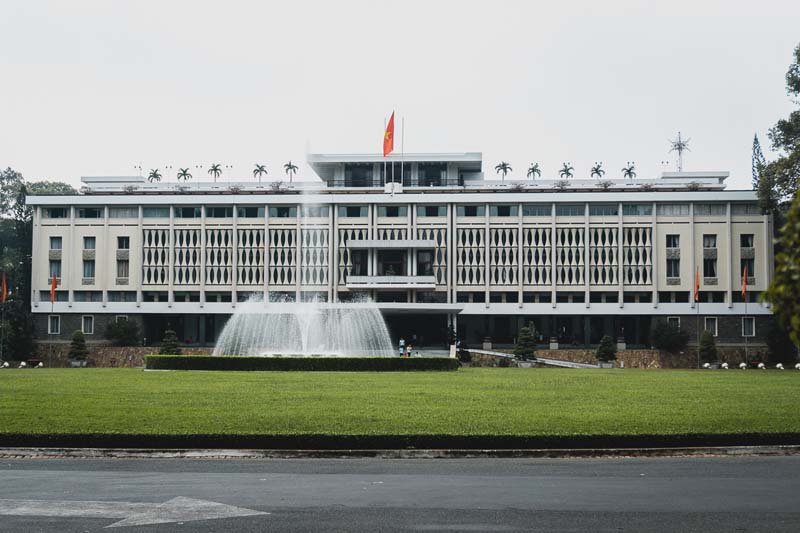 Ho Chi Minh City's Reunification Palace symbolises the reunification of North and South Vietnam.
It was here, in 1975, when a North Vietnamese tank crashed through the gate of the palace marking the end of the Vietnam War.
Aside from its historical significance, the architecture is magnificent and exemplifies its martial purpose during the war.
If you have the time, then purchasing tickets and exploring the grounds is an option.
There isn't a whole lot to see here, but it is still a place you must see when in Ho Chi Minh City.
If you are limited by time you could make it a quick stop before moving on to the Notre Dame Basilica and Saigon Central Post Office.
10. EXPLORE THE CAFE APARTMENT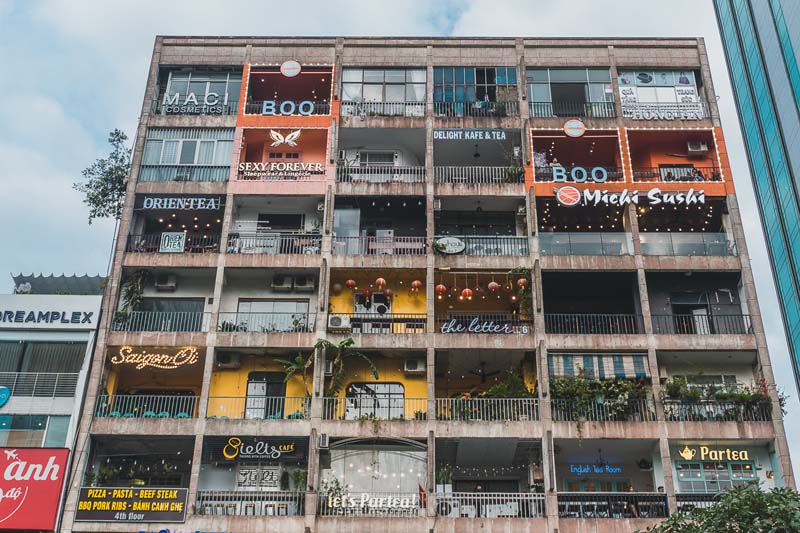 A daunting apartment complex towers over a courtyard in Ho Chi Minh City's District 1.
Built during the war as a headquarters for American military officers, today it houses a collection of eclectic shops, cafes and eateries.
Aptly named the Cafe Apartment, each floor houses a row of shops including a lot of cafes.
It has real abandoned building vibes, but despite this, it is packed with interesting places to visit.
You can enter the building via a small alleyway (the best places in Ho Chi Minh City always seem to be down alleyways for some reason).
You will find some staircases, a lift and a person guarding the elevator.
For 3,000 VND, you can use the elevator, which is certainly reasonable, but if your fitness levels are fine we'd recommend the stairs. This way you can explore every level efficiently.
The building wasn't designed as a shopping mall.
It is essentially an apartment complex, but behind each door is a different shop. It's easy to spend a few hours exploring each of the stores.
The view from the top is amazing, so consider picking one of the cafes at the top for a cold drink on the balcony.
11. TRY VIETNAMESE COFFEE (AND EGG COFFEE)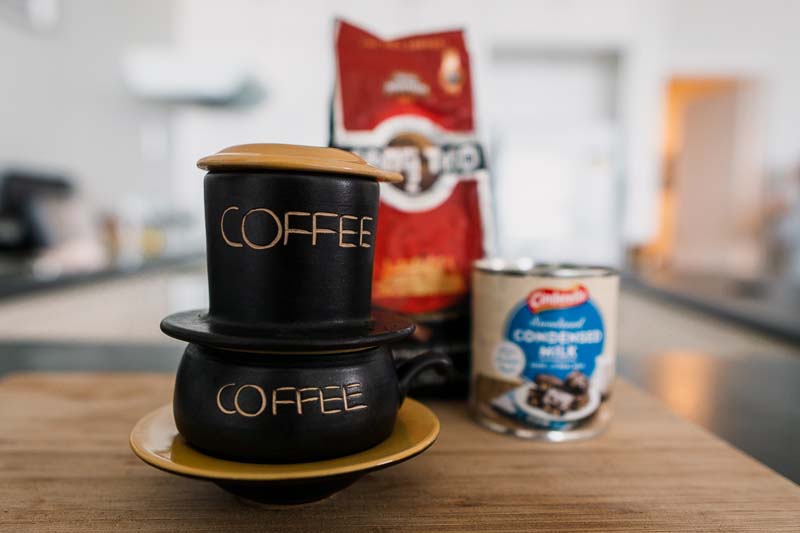 Vietnam is the second-largest producer of coffee beans in the entire world – second only to Brazil, and comfortably beating out Colombia, Indonesia and Ethiopia.
Despite this, people don't really think of Vietnam for its coffee.
This is because Vietnam produces what is considered a 'lower-quality' bean, called Robusta.
These beans are significantly cheaper and quicker to grow than the more favoured Arabica beans.
Robusta beans are inherently bitter and have an earthy taste, compared to the sweet, sour and fruity notes found in Arabica beans.
The Vietnamese quickly learned to make the most of what they had.
HOW VIETNAMESE COFFEE IS PREPARED
Vietnamese coffee is prepared with Robusta beans which are drip-brewed through a filter on top of a layer of condensed milk.
The condensed milk counteracts the bitterness, creating a delicious coffee that can be consumed both hot (ca phe sua) and cold (ca phe sua da).
When in Ho Chi Minh City, make sure to look out for a Vietnamese coffee. Drink it with ice for a refreshing drink during the middle of the day.
Another alternative, and a must-try, is egg coffee. In this case, the coffee is prepared with an egg yolk.
This produces an unbelievably creamy and sweet coffee – don't worry, it doesn't really taste like egg.
12. SHOP AT THE LOCAL MARKETS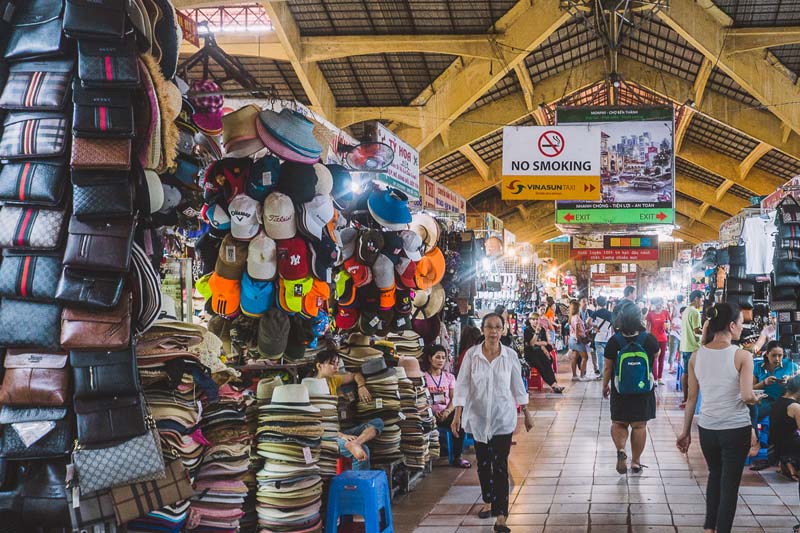 For a lot of tourists, the local markets in Ho Chi Minh City can be daunting. They are often crowded with enthusiastic vendors hassling you around every corner – they will even physically pull you into their stalls.
Regardless, visiting the local markets in Ho Chi Minh City is a crucial part of experiencing the culture of the city.
Not only are markets a great way to pick up souvenirs and gifts to take back home, but they are also where the locals go to find products and food to take back home. '
You can certainly find cheap, fake clothes here, but it is so much more than this. Take the time to interact with the locals and learn how to barter with the vendors.
Consider buying locally-made products rather than mass-produced, fake Gucci handbags.
A great tip is to find a popular and clean looking food vendor and ask them to make you their favourite dish.
You'll experience the food of Vietnam better than you could at any food tour or touristy restaurant (including the ones Bill Clinton purportedly visited 20 years ago).
BEN THANH MARKET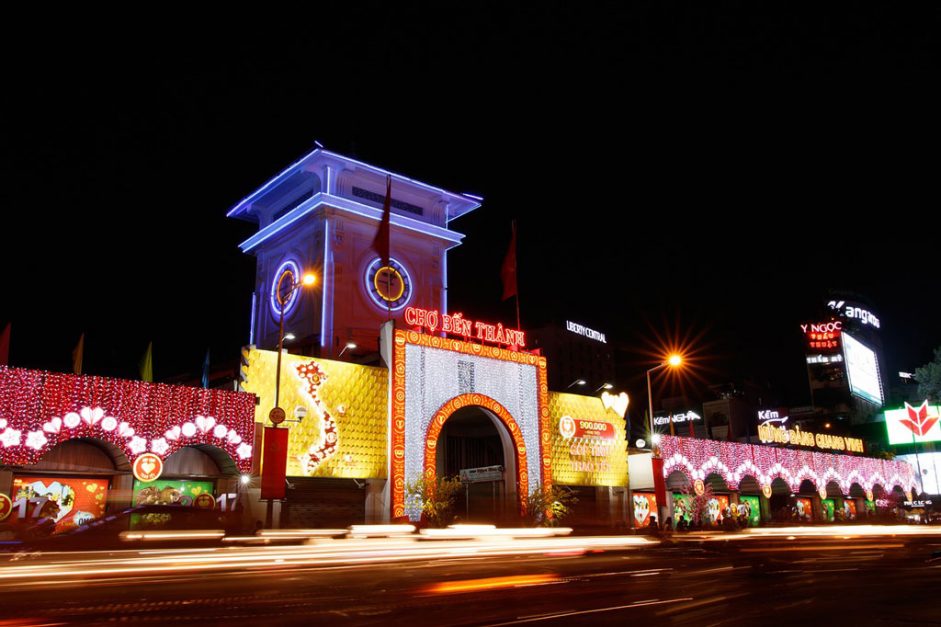 Image by Ngo Minh Tuan from Pixabay
You will probably be staying in District 1, in which case, Ben Thanh Market is a must-visit.
It's tailored for the tourist crowd so the prices and products reflect this. It's great for a first taste of the markets in Ho Chi Minh City, or if you have limited time.
TAN DINH MARKET
We would recommend checking out Tan Dinh market a bit further away for a more authentic experience.
The vendors here have far more 'broken' English, assuming they speak any at all – unlike Ben Thanh market where they all speak English surprisingly well.
It's far more challenging with the language barrier, but you will find the experience significantly more rewarding.
13. MUSEUM OF HO CHI MINH CITY
The Ho Chi Minh City Museum is another display of lovely architecture in Saigon. It leads people through the history of Ho Chi Minh including the two wars between France and America.
OTHER HO CHI MINH MUSEUMS TO VISIT
Vietnam History Museum – Showcasing a Vietnam before its war history.
Southern Women's Museum – Celebrating the history of women in the defense and development of Vietnam.
Ao Dai Museum – Displaying the evolution of clothing in Vietnam
WHERE TO STAY IN HO CHI MINH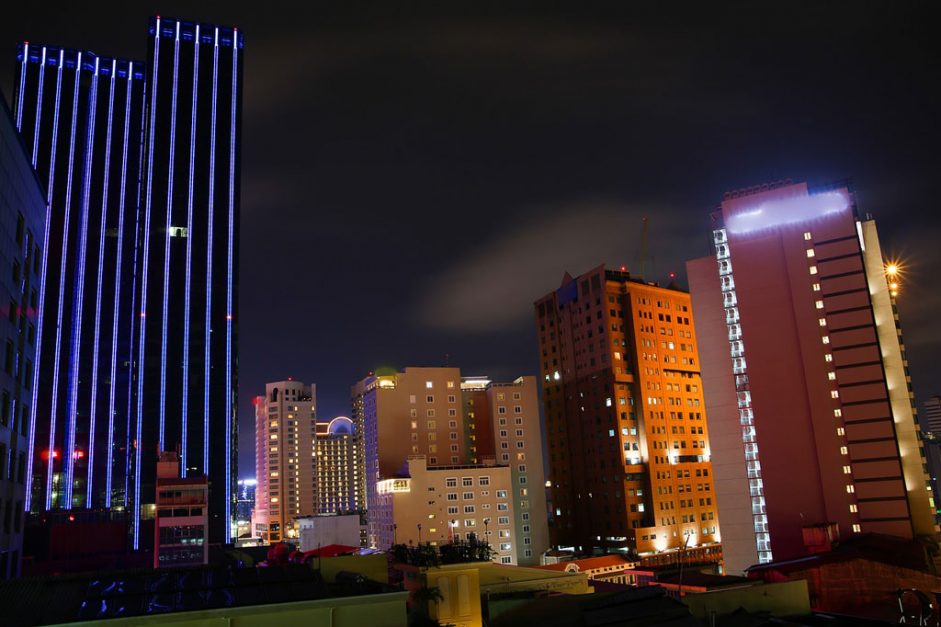 DISTRICT 1
As mentioned above, you will most likely be staying near or in District 1 as it is in the heart of the action.
District 1 is a good area to stay in Ho Chi Minh City for first-time visitors.
Search For Hotels in District 1 on Booking.com
PHAM NGU LAO
Pham Ngu Lao is a popular area for backpackers to stay. There are guesthouses and mini-hotels that you can find at affordable prices.
Attractions in this district include: Notre Dame and the Central Post Office. You can also easily visit the Reunification Palace, Bitexco Tower, and the Jade Emperor Pagoda.
DONG KHOI STREET
Upscale options can be found in Dong Khoi.
The commercial hub of Ho Chi Minh centres around this area of District 1.
Colonial buildings are mixed with highrises and historic landmarks including Hotel de Ville, the Opera House, Central Post Office and the Saigon River.
Check for hotels in District 1 on TripAdvisor
GETTING AROUND HO CHI MINH CITY
Most attractions in Ho Chi Minh City are located within walking distance of one another. But be prepared.
Walking in Ho Chi Minh is an adventure. We looked at it as a game of Frogger. Just keep on walking and motorcycles will go around you.
If you have skills and experience, renting a scooter is the way to go.
If you don't have riding experience, you can hire a motorcycle taxi at reasonable prices.
Going to ho Chi Minh City? Pin to save it to Pinterest for future travel planning.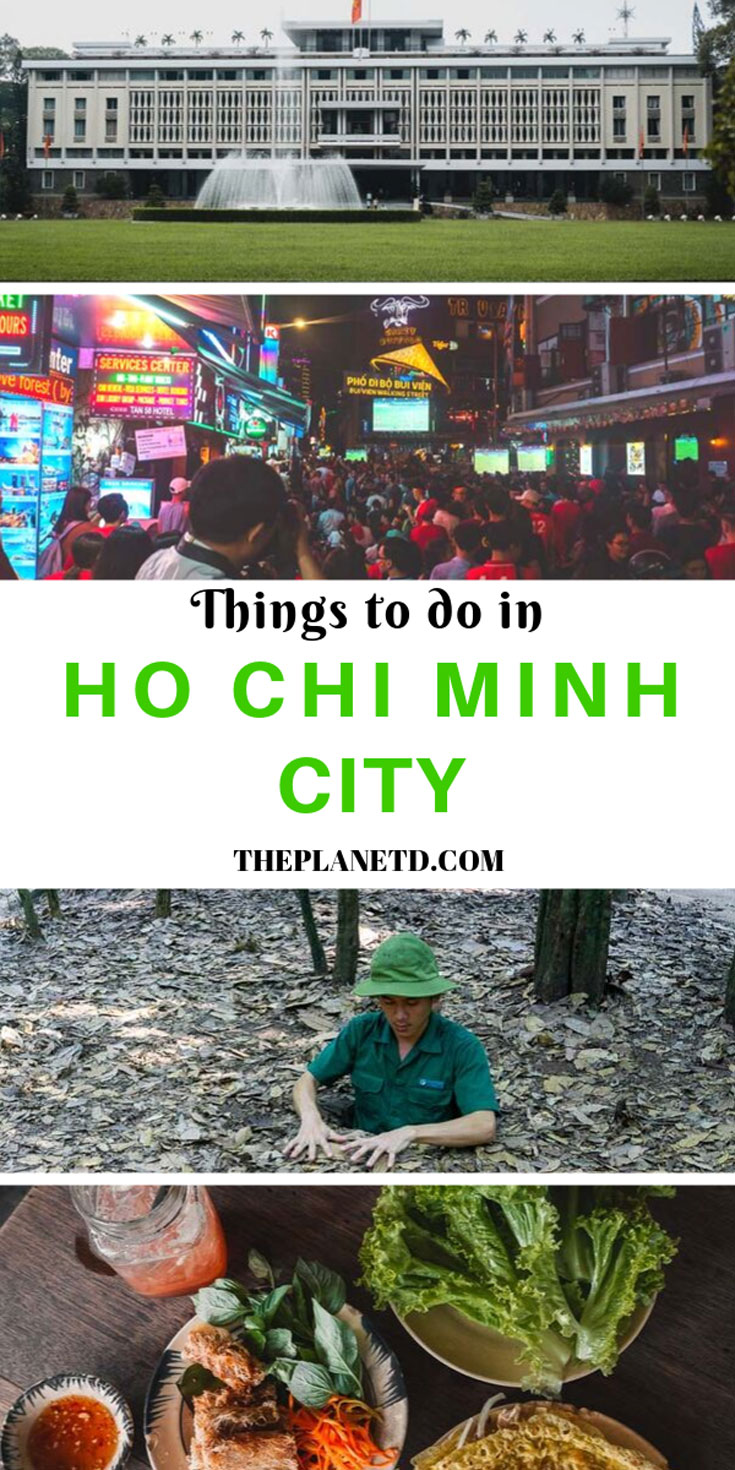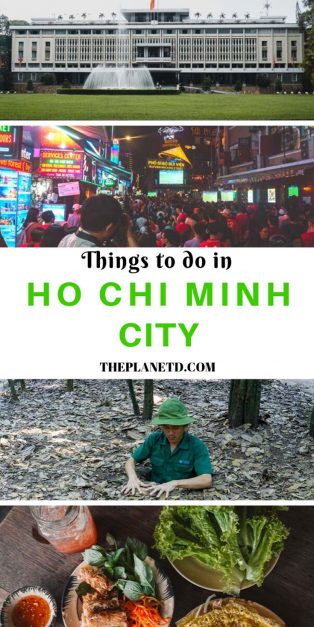 Author Bio:
Author's BioDelilah is a traveller, writer and photographer from New Zealand.
She's working her way through an ever-growing bucket list of destinations, but her favourite place is still Queenstown in her home country.
You can follow her journey at Our Travel Mix or on Instagram.