We didn't know what type of motorcycle gear to expect when we visited Parts Canada in London, Ontario to suit up for our summer riding adventure.
Motorcycle Gear, looking good while staying safe
We've seen everything on the highways from people wearing shorts and tank tops with their vertical smiles staring back at us from their seat, to wearing leather jackets and jeans. We had an idea of how we wanted to look.
Motorcycle Gear
All we knew was that we wanted to look stylish on our bikes. We didn't know how involved safety is when designing motorcycle clothes as well.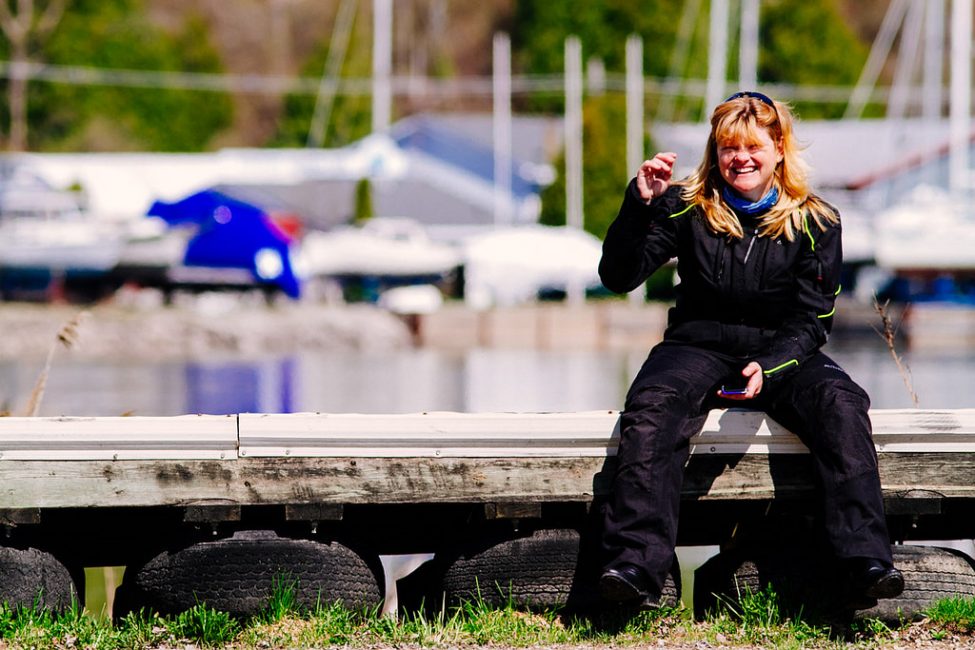 Parts Canada
Parts Canada is a national distributor of aftermarket parts and accessories for the Canadian power sports industry.
And they are one of our main suppliers for PlanetD Rides Ontario. We stopped by their head office to try on some sweet gear, and to learn all about the safety components added in each piece of clothing.
They put us in stylish motorcycle gear from head to toe, and after having a chance to test it all out on a few rides, we now know that we're in good hands. We now understand what good motorcycle gear means for comfort and safety.
It's important to look good, but it's more important to stay safe, so we want to tell you about our state of the art Alpinestars jackets, pants and boots, plus our HJC helmets.
Let's start with the motorcycle helmet.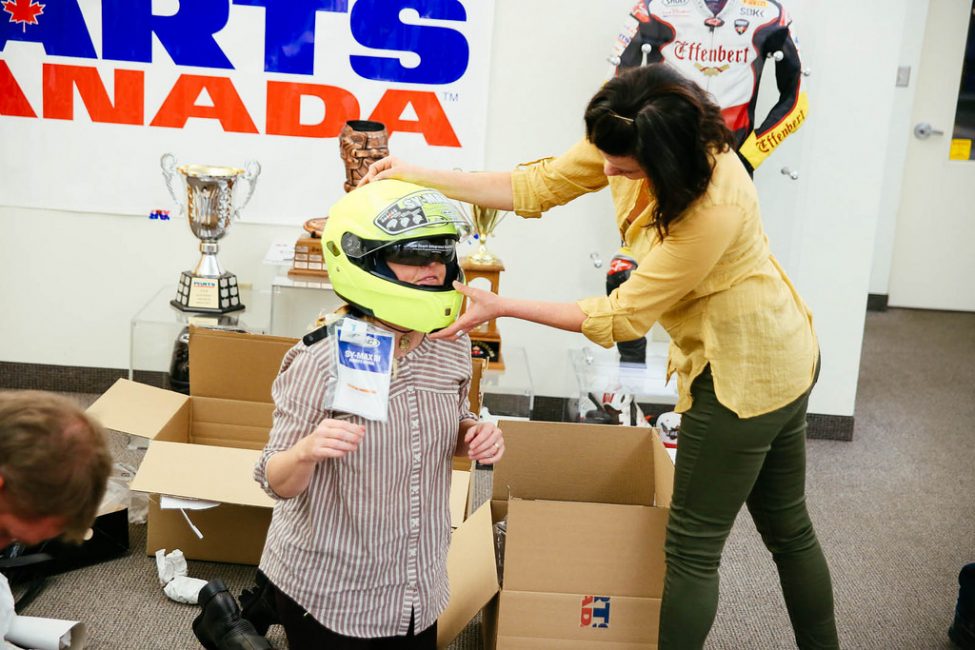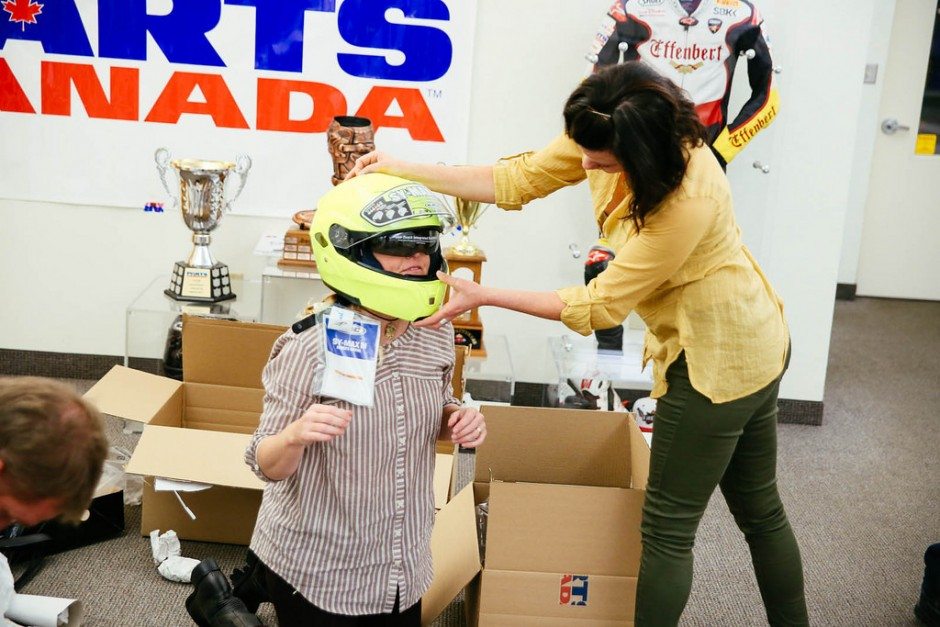 During our motorcycle course with Motorsoul Riding School in Toronto, they discussed all the different types of helmets out there.
The little beanie half helmets that we've all seen the Harley Davidson riders wear may look cool, but they are not the best option in our opinion.
You want as much coverage as you can get when it comes to protecting your head and face. Not only to protect you if you happen to crash, but to also block wind, sun, and bugs!
Helmets – HJC Sy-Max III
We're riding with HJC Sy-Max III helmets and even though we don't have a lot of experience to compare with other brands, these are the ideal helmets for us.
There are so many components that make these helmets fantastic.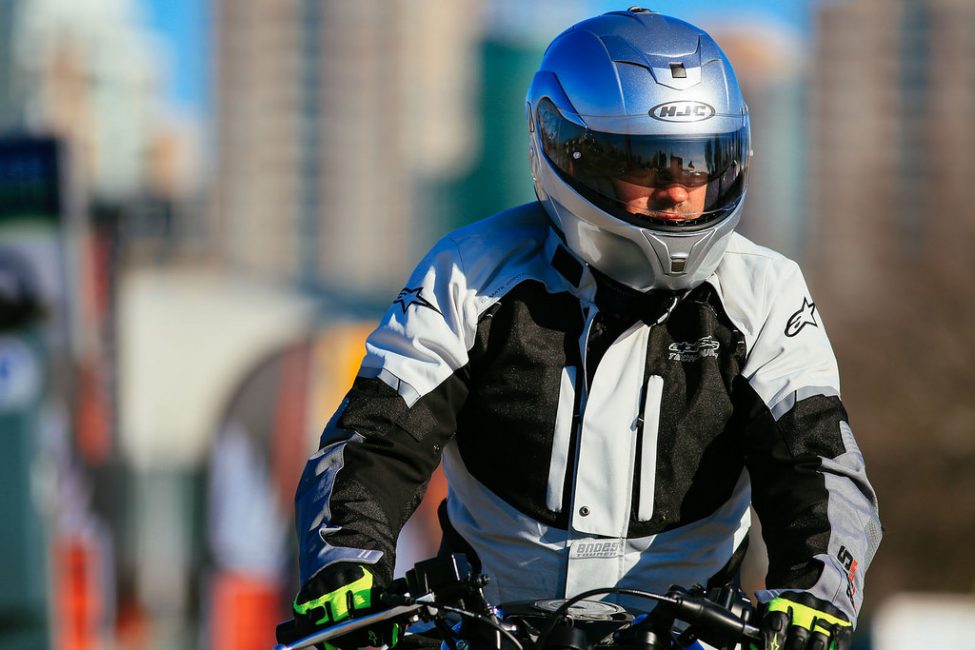 1. Sunshade – This is my favourite part of the helmet. Instead of having to fiddle with sunglasses, the HJC Sy-Max III has a one touch sunshield that I can put up or down as needed. Just this past weekend, we went through every type of weather imaginable and the sunsheild came in handy. When the sun came out, I pressed the button on the top of my helmet and brought down the visor. When the rain came, I put it up. It's a great thing to have so you don't have to stop to take your sunglasses on and off.
2. Besides the sunshade, we also have a full face shield. This is a clear anti-fog face shield that protects from wind, rain and bugs. I don't understand those who don't wear a face shield. Riding a motorcycle is windy and having the option to block out the wind and other elements is a must for us.
3. Adjustable Chin Bar – This is our second favourite component. Taking your helmet on and off for short stops can be annoying. With the adjustable chin bar, you can slide it up to the top of your head to give you freedom to drink water or have a quick snack before moving on.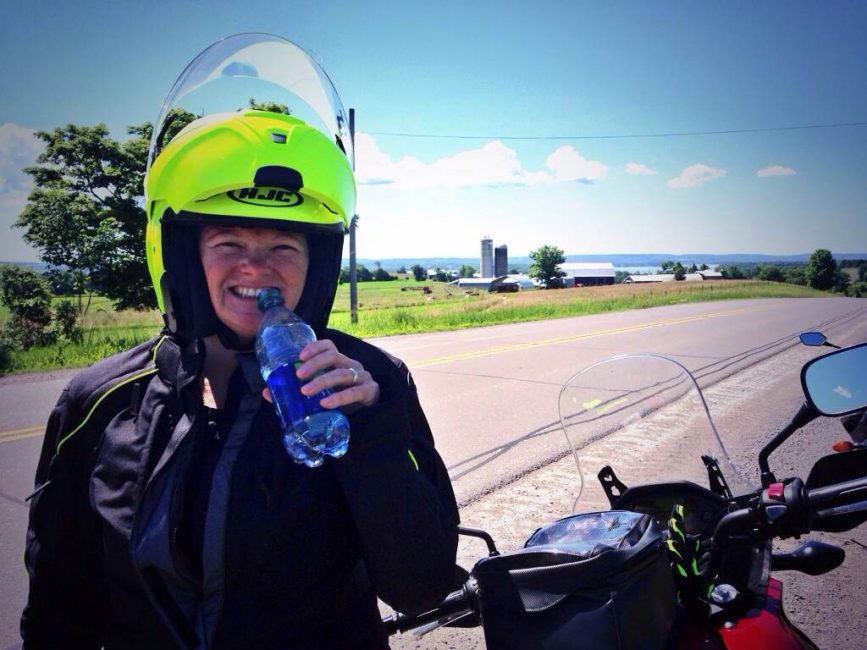 4. Bluetooth capability – Dave and I love to talk. We didn't realize just how much we chat during a road trip until we were on motorbikes and didn't have the option. Boy, we missed having a conversation. Well, these helmets are ready and able for bluetooth technology, so you can be sure we'll be installing a communication system before we hit Lake Superior.
Motorcycle Jackets and Pants
We didn't realize how much thought went into protection and safety for gear. It makes sense to us now, but we always thought it was more of a fashion statement then function.
We are both using Alpinestars Motorcycle Jackets. Dave has the Andes Tourer and I have the Stella New Land Gortex.
Both are waterproof and all season. They are tear resistant and reinforced with body armour – Our knees, backs, shoulders, and elbows are protected with extra armour. When riding in these babies, we feel safe and protected should we dump our bikes.
We have detachable liners for a good 2 season feel. These jackets are good for Spring and balmy summer days and they will take you well into late Autumn. They are not quite not warm enough for winter (although who really wants to ride a motorcycle in the freezing cold anyway?)
For extreme heat, we're going to need a lighter suit.
These jackets could be worn all summer, (you just have to take them off the minute you stop your bike) but for our 10 day Lake Superior Ride, we're going to get some lighter gear as 10 days in the intense July heat will be a bit much for us, especially with the number of stops we will be making to see the sights along the way.
I can't wait to see what we get from Parts Canada next!
Boots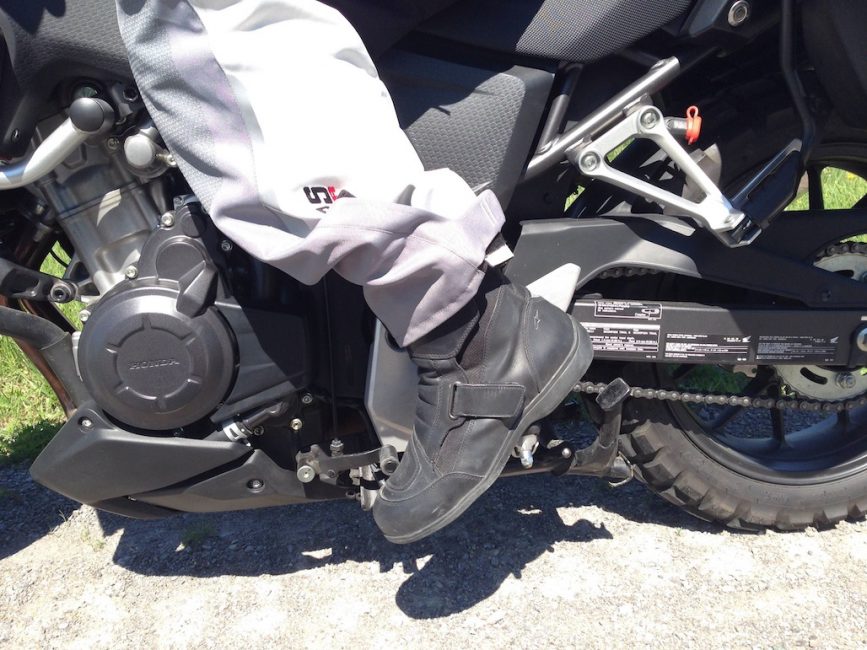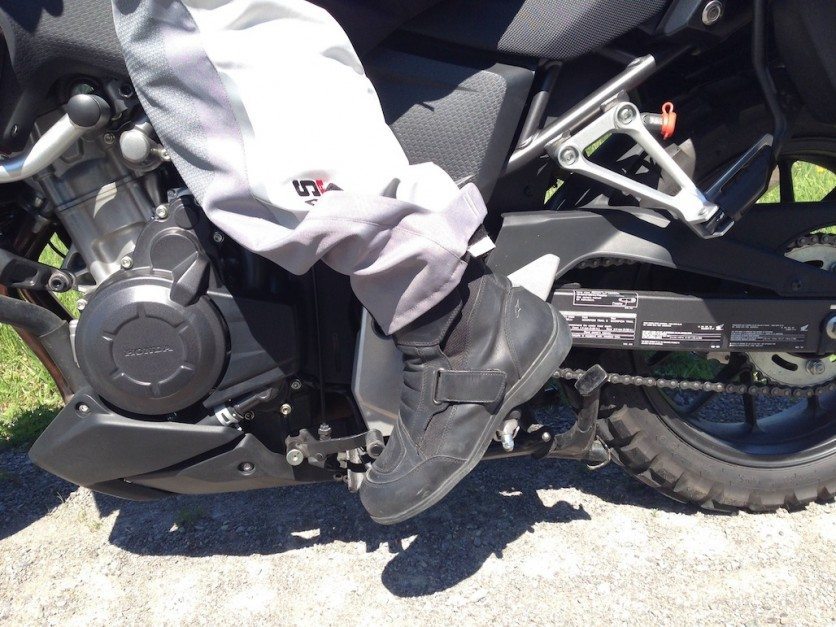 Riding boots are another piece of gear that people don't think about. You want to protect your ankles, but also your entire foot. I fell over once parking my bike (a common mistake for new riders) and my bike fell right on my foot.
Because I was wearing reinforced Alpine Stars boots, my foot wasn't crushed. My boot has reinforced toes, heels, and even shin guards, so I got up and was back riding within seconds.
Motorcycle Gloves
Don't forget your hands. We have Alpinestars Arctic Drystar Gloves but even leather work gloves will do to prevent road rash. Real motorcycle gloves are great for added protection though including hard knuckle armour, reinforced palm protection and they are waterproof.
We're finding that we can't take our riding gloves on and off easily though. Once the sweat forms inside, they're nearly impossible to handle.
For people who stop to take a lot of photographs, we're going to have to revisit our gloves for hot weather.
When it comes to safety and gear, Dave and I believe in taking all the proper precautions.
As a fellow rider said to us, They believe in ATGATT – That means, All the Gear All the Time.
You may find it uncomfortable on a hot day, but it saves lives and lessons injury in case of an accident.
You're pretty exposed when riding a motorcycle, so anything you can do to add extra protection is a must. Besides, you look really cool doing it!

To Find a Parts Canada dealer near you visit the Parts Canada Locator or you can browse their current catalogues
Photos courtesy Virgil Knapp
Motorcycles courtesy of Honda Canada
MotorSoul Driving School runs motorcycle training courses for all skill levels all summer long.
All motorcycle gear provided by Parts Canada – the national distributor of aftermarket parts and accessories for the Canadian power sports industry. They are exclusive to many brands including our HJC helmets and Alpinestars boots, pants, jackets and gloves.
Find out more about planning your Lake Superior Ride at RideLakeSuperior.com
Read More
A Motorcycle Adventure, the Journey Begins
Motorcycle Training Toronto – MotorSoul Riding School
Meet the Motorcycle Gang, Our First Group Ride