We know of a great place to eat in Barcelona but we can't tell you about it.
It's a top secret location and even when the Catalunya Tourism board made our reservations, we had to find our own way there in a very covert manner. All we had was an address in a foreign city one hint, the word "Laundry."
Secret Restaurant Barcelona
How Exciting!
We had just finished a tour of checking out the Gaudi masterpieces of the city and were left on the corner on a beautiful sunny afternoon. Our group split up and some of us decided to start walking to our dinner venue while others decided to go back to the hotel to freshen up.
Using our favourite new toy, our iPhone, we cheated a bit and logged into Google Maps to find our way. It was a relief to find out that we were only about 10 minutes from the restaurant. So we walked.
Imagine our surprise when we got to the address to find nothing but a laundromat. Could this be right? Is there another street with the same name somewhere on the other side of the city? It certainly looked like a laundromat. It had the usual drab of a laundromat with clothes hanging up in the window and a plain front desk to drop off your suit for a wash and a press. If only I brought my laundry with me!
We decided to ring the bell.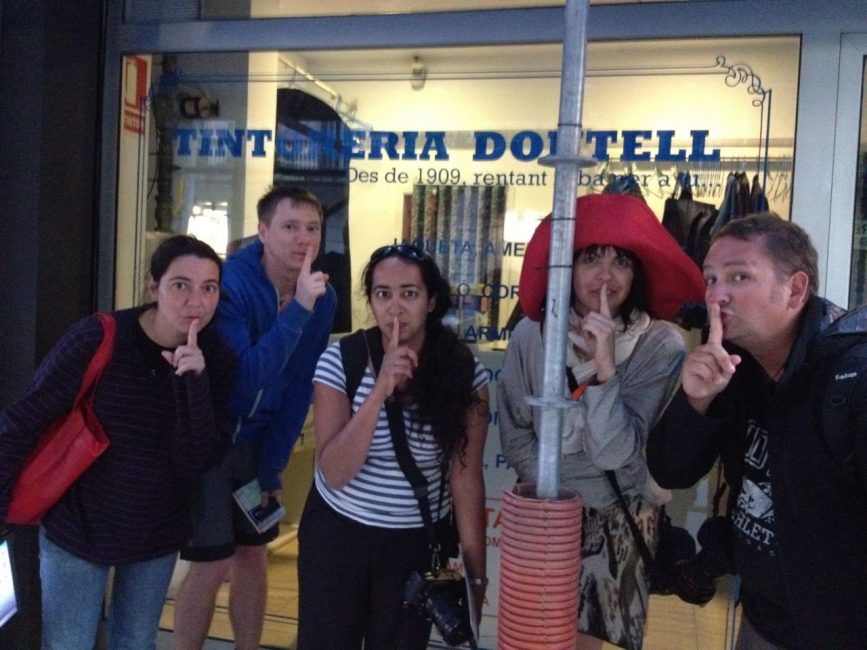 A tall and chic woman greeted us with a smile and we knew that this couldn't be your regular old place to wash your clothes. I sheepishly asked, "is this the place we're supposed to be?" She nodded yes, but then I thought "Really, how does she know who we are? She could be saying yes to anything. Maybe she doesn't speak English. I asked her in English!"
It all turned out ok though and when we stepped through the door, a vault opened welcoming us to a sneaky little restaurant fresh out of a James Bond Movie.
We were in a Speak Easy.
I had always wondered how nightclubs and bars managed to operate during prohibition and in one quick swing of a door, it was all explained.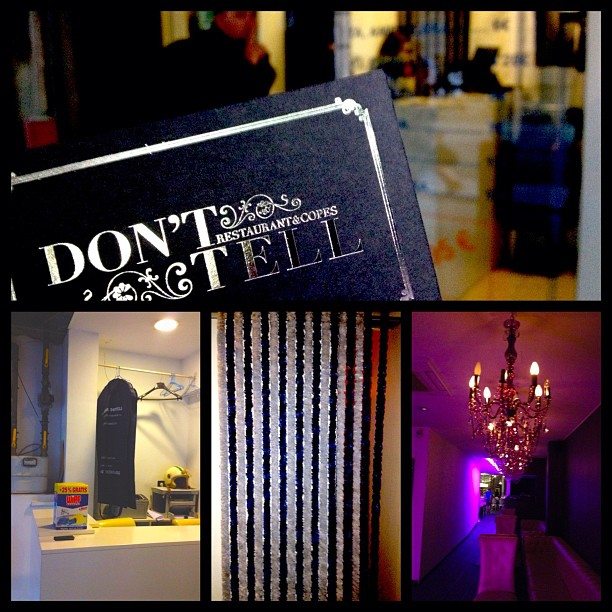 The decor was hip and sleek with dark walls and purple hues. We felt like cool cats in this trendy eatery. If only we had dressed for the occasion. Since we didn't go back to the hotel, we were looking a little worse for wear around the classy clientele.
All that was forgotten though once the food came and the wine started flowing.
In Spain, eating is an event and like so many of our meals in the Catalonia region, we ate until we were stuffed. We never managed to be able to finish as every meal consisted of at least 5 course.
It's a tough job but someone's gotta do it!
So if you are looking for a cool and hip dining experience in Barcelona, check out Don't Tell. I can't tell you how to find it and when you do figure it out, you have to leave a voicemail and wait for them to call you back. It's very exclusive and mysterious, it's up to you find the place. I'd love to help, but I can't!
Just remember "Don't Tell" and the laundromat.
You Might Also Enjoy