We are honored to have Keith Jenkins of VelvetEscape as our first contributor to our series Giving Back, Travel the World and Make a Difference. We have found that travelers tend to be a very generous breed indeed. His article today is an inspiring contribution as to what people can do to help communities in developing countries thrive and succeed.
Giving Back, Support Local Art and Help Communities Thrive
A few years ago, I was walking around Cape Town's V&A Waterfront when I stumbled upon a little shop selling beautiful glass figurines. I started talking to the lady in the shop and I felt really inspired by her story of the origins of the figurines.
Ngwenya Glass is indeed an incredible story. In 1979, a Swedish non-profit organisation 'Swedish Aid' started a project in Swaziland to educate and provide jobs to poor Swazis whilst instilling in them a greater awareness of the environment.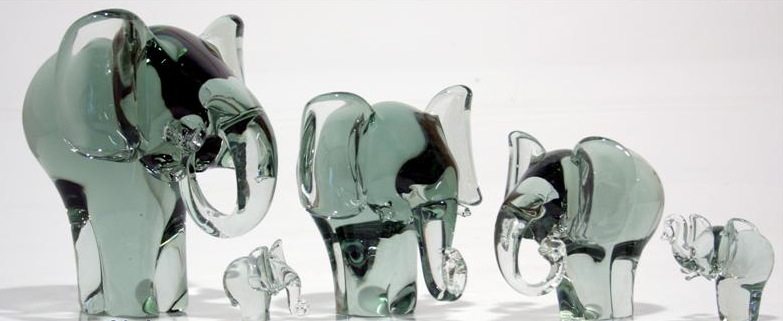 Glass-Blowing Project
The Swedes decided to start a glass-blowing project, at the time a skill that was totally unheard of in this part of Africa. They brought the machinery with them, built a factory and trained the locals in the art of glass-blowing. The factory's biggest talents were sent to Sweden for further training.
The organisation also provided classes to the local communities, teaching them the importance of the environment. School children were encouraged to scour the countryside for used glass bottles.
These bottles were then recycled and used to create gorgeous glassware. Within a year, the factory was producing 100% recycled, beautiful glass figurines and tableware that became very popular, especially in South Africa.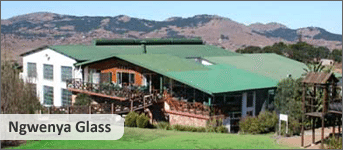 Ngwenya Glass
In 1981, the Swedes handed over the factory to a Swazi developmental corporation. Unfortunately, the factory stopped production several years later, until a South African family bought over the operations in 1987. The Prettejohn family, who were avid collectors of Ngwenya Glass, picked up where the Swedes left off and restored the factory to its former glory.
The original glassblowers were brought back, environmental awareness campaigns were restarted and children were encouraged to search for glass bottles again. Other eco-friendly projects were initiated such as collecting rainwater from the factory's massive roof, recycling engine oil to fuel the factory's furnaces, and recycling newspapers for packaging the glassware.
Helping the Community
In addition, the factory contributes to its community by helping with small building projects and sponsoring the local football team. The factory also founded a wildlife conservation fund, the Ngwenya Rhino & Elephant Fund, which helps endangered species in the Mkhaya Reserve in Swaziland. The fund has since become the most successful wildlife conservation fund in Swaziland.
With help from master glass-blowers from Sweden and the Netherlands, Ngwenya Glass also organises annual glass-blowing workshops to introduce new techniques and skills to the local glass-blowers. The results are amazing: the new products feature European glass-blowing techniques with an unmistakable African flair.

Ngwenya Glass is a great example of how one can help people in poor countries learn a new skill and contribute to poverty alleviation whilst embedding in them a greater awareness of the environment. I've visited many eco community projects around the world but the Ngwenya Glass story is one that I found particularly inspiring, probably because I'm a big fan of projects that stimulate and promote local arts and crafts.
I have yet to make the trip to the factory in Swaziland though it remains at the top of my list of things to do on my next trip to South Africa. I can't wait!
Additional information provided by Ngwenya Glass:
Our Mission Statement is 'to advance the welfare of the local community by employing them to produce the best quality handmade recycled glassware in the world in an environmentally sensitive manner employing as many people as is economically viable in a safe and healthy green country environment, and to encourage all people to be aware of their HIV status'.
In line with the above all our glass used is recycled bottles and we are melting in the region of 15 tonnes per month.  Our large factory roof is used to catch rain water which is then used in our production area and toilets.
We have created a recycled engine oil project that is used as fuel to heat our furnace and melt the glass, which, prior to us collecting the oil was discarded into rivers and landfills (by the companies concerned).  We also use old newspapers for our packaging of the glass, approximately 18 tonnes per annum.
In addition to the above we are a member of WFTO and COFTA.

Keith Jenkins runs the inspiring and informative travel blog velvetescape.com He has traveled the world visiting over 60 countries on 6 continents. Read about his journeys from the jungles of Malaysia to the deserts of Jordan, from the Alps to the Andes and from New York to Hong Kong. We have become great fans of Keith and his "velvet escapes" visiting his site regularly to see what new destination he will explore each day and what tips and insider information he will give to his readers.  You can follow Keith on Twitter at twitter.com/velvetescape
Read More
How Travel Can Change Your Life
21 Amazing Adventures Around the World
Why I Travel for Food And So Should You
You Might Also Enjoy