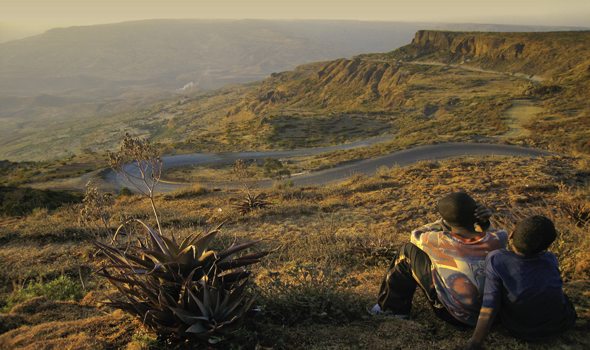 Located in the Horn of Africa, Ethiopia is the second most populated country in Africa.
Other than the fact that this African country was never colonized by a European power (along with Liberia), Ethiopia is known for its rich culture, delicious coffee, unforgettable landscapes, and friendly people.
It is also the only African country that has its own alphabet (an alpha-syllabary) which consists of 209 symbols and 25 letter variants.
This Ethiopia travel guide will help you plan your next vacation.
Fast Facts
Ethiopia power voltage is 220V 50Hz; Plug C, E, F & L
Ethiopian currency is the Ethiopian birr and is around 20.8 ETB to 1 USD
Proof of an onward or return ticket is frequently asked for upon arrival in Ethiopia.
If you are planning to enter Ethiopia by land, you will need tourist visa in advance from your local Ethiopian Embassy.
A yellow fever vaccination is not obligatory in order to enter Ethiopia, but if you have recently traveled to a country where it is present then you will need proof of immunization.
Avoid travel to the border with Kenya, Somalia, Sudan, South Sudan and Eritrea due to lack of security and a threat of violence and kidnapping
Several vaccinations are highly recommended including Yellow Fever, Typhoid, Hepatitis A, Hepatitis B and Meningitis.
The water is not potable; drink only bottled water.
SIM Cards: If you are planning on staying in Ethiopia for longer than a week, bring a cellphone to confirm flights, book tickets, call taxis etc.
Only select stores sell SIM cards but you can buy refill cards almost anywhere!
SIM Cards: You can get a local sim card from Vodafone or Orange in Cairo. We suggest getting a SIM card at the airport when you arrive.
If you are traveling for a short time, we use KnowRoaming International SIM for all our travels.
Readers Receive a 30% Discount with our promo code DDSave30. You can order here and have it delivered or find out more at our post.
Budgeting
Accommodation
Food
Transportation
Getting to Fiji:
Flights: You can check for the best flights to New Zealand on Skyscanner.
Transportation:
Buses:
Taxis:
Car Rental:
Uber:
Packing Tips
Ethiopia is in the tropical zone lying between the Equator and the Tropic of Cancer.
It has three different climate zones according to elevation: tropical, subtropical and cool zone.
The dry season is from September through to March, which is the best time to travel to Ethiopia.
There are two rainy seasons, the belg (short rains) in April and May and the long rains from July through to the end of September.
Waterproof bag – the bag has two functions, protecting your stuff from the rain and also from the dust, especially if you're travelling to drier regions.
Personal Safety products – Addis Ababa is a safe city with little violent crime but lots of petty theft. As Jill from Jack and Jill Travel explains, "I'd never experience so many attempts at pickpocketing in such a short amount of time before." Some tips include being extremely careful when leaving/arriving by bus in Meskal Square while also avoiding the use a backpack with anything valuable in it in Merkato. Before leaving for your trip, make sure to pack some personal safety products, like money belts and locks, so that you can keep your valuables safe on your trip.
Protection from the elements – pack sunscreen, sunglasses, a hat and bug-spray to prevent getting bitten by a mosquito (that might have malaria!).
Avoid packing dark colored clothes – tsetse flies are drawn to dark colors, like blue and black clothing, and their bite can give you African Sleeping Sickness. Stick to light, neutral colors but avoid packing white clothes as they will get dirty and dusty pretty quickly.
Footwear – Pack a pair of lightweight, durable and comfortable shoes that you don't mind getting dirty!
Layers – pack the basic tropical clothes and make sure to include long pants, long-sleeve tops and some warm clothes for those chilly nights.
See our packing tips: packing list for smart travel.
When to Go
Things to Do
Adventure
Arta Ale –
Blue Nile Gorge –
See where the Blue and White Nile Meet –
Culture
What not to Miss
Places to Stay
Check out our favorite booking platforms Booking.com, Tripadvisor and Air B&B for the best deals on accommodation in Ireland.
Booking Resources
Whenever we travel to we make sure to start with these companies.
We have tried a lot of different ones over the years and all of these have consistently proven to be the best when it comes to offering great prices.
We have used every one of these personally and continue to do so.
Booking.com: This is our go site to when comparing prices for accommodation. It is usually the has the cheapest prices, not to mention you get free cancellation and you are guaranteed the best price.
Trip Advisor: What we like about Trip Advisor is that we can look at all the reviews and then book our accommodation.
Air BnB: Airbnb is the main search engine we use when we are looking for a home or apartment rental. It is the best way to stay in areas that offer a more local feel.
Skyscanner: This is the first place we check for flights. It consistently comes back with the cheapest and best options. It allows us to compare a lot of airlines to get the best price.
Hostelworld: With one of the largest databases of hostels in the world, Hostelworld is the go-to site when you are looking for budget accommodation.
Rome 2 Rio: If you want to see how to get somewhere by plane, train, bus, ferry or car Rome2Rio lays it all out for you as well as related costs. I love how they show it all to you on a Google Map and it works offline.
Get Your Guide: For all your day trip and city guide needs, we use Get Your Guide. It has the world's largest collection of things to do with more than 30,000 activities in 7500 destinations.
World Nomads Insurance: When traveling to Thailand you should always have travel insurance. We have found the best bang for your buck is by far World Nomads.
Related