It is a badge of honor for anyone living in Ontario, Canada to canoe Algonquin Park.  High Schools students can't wait for their year end trip, cub scouts troops venture out to explore its tributaries and dad's around the province take their sons and daughters out for a week of bonding on one of the many routes within the 2000 km of optional waterways.
Canoe Algonquin Park, Canada's Wilderness
Algonquin Park is a dream for the beginner or an avid canoe tripper.
Dave and I took our first canoe adventure together with our friends Ken and Marcia. Ken was planning a trip on the Yukon River and asked us to come along.  It was a training trip and trial run for the mighty Yukon and what a great way to prepare.
We paddled for ten glorious days in the Canadian Wilderness starting at Lake Opeongo.  Ken planned the routes, booked out campsites and set up our canoe rentals with Opeongo Outfitters. Our canoes were dropped off at a dock on the lake and we were off to explore our provinces wild north.
It was our first time attempting a multi-day paddle and there was a lot of research involved.  Packing was the main issue, especially food. Our friend Rich was an avid paddler and contributor to Canoe Routes Magazine.  We took advantage of his vast knowledge and took notes when he told us what we would need.
Our first purchase was a bear barrel.
Algonquin park is filled with wildlife and we needed to protect our food not only from the dangers of being visited by a black bear, but to keep it safe from pesky raccoons that just love to open boxes and take off with tasty treats. Each night we would secure our food inside and hang it from a high tree branch.
Fuel for cooking was also a necessity.
We could make fires in the park, but a good camping stove is essential and we bought am MSR multifuel stove. It was excellent. It boils water quickly and cooks food to perfection. We were able to control the level of the flame and could actually simmer our food. It wasn't needed on this trip, but we decided to go for a stove that burns all types of fuel. You never know when you will be camping somewhere and all they have is kerosene available.
After a long day of paddling and portaging, food is the highlight of any trip, and we ate like kings.  After ample research of the best food to bring, we made sure to have an endless supply of delicious treats.  Every night was a feast eating rice, beans, lentils and pasta.
We went to an Indian market and bought several packets of excellent curries, bhindi, korma, and masalas.  Their packaging is perfect for cooking.  All you have to do is boil the packets and pour them over your rice for instant healthy, hearty and tasty meals.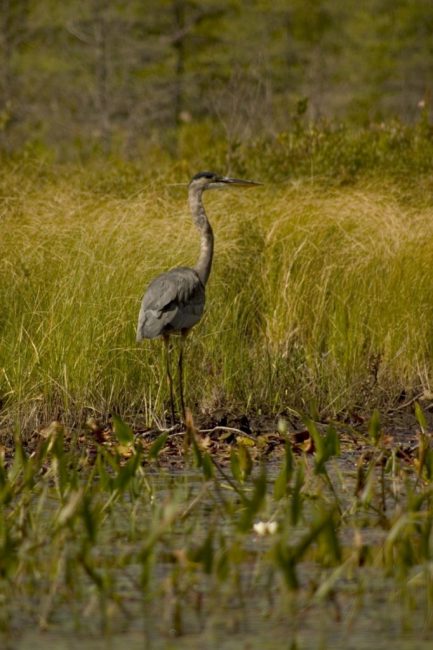 –
There was a wide variety of food and drink. We had coffee and tea in the mornings and hot chocolate at night.  Cheese strings and chocolates, sandwiches and trail mix were on hand during the day.  Even breakfast varied ranging from eggs to pancakes to powdered milk with granola.
It seems that for every adventure that we go on, we focus more on our stomachs than anything else.
The canoeing is very relaxed in Algonquin Park.  The water is calm and if you pick the right route, you won't see other people for days.  We spotted otters, moose and herons, and one evening we even had a visit from a bear.  A mistake I made by throwing our rotting pepperettes into the fire before going to bed.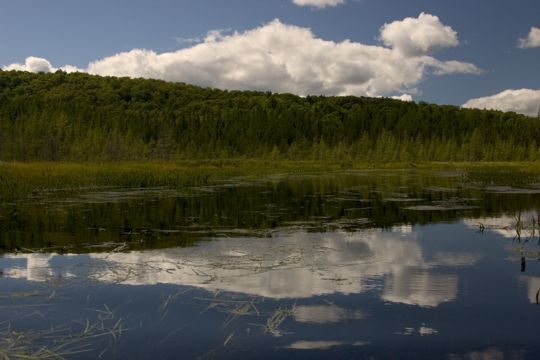 After we had all turned in for the night, I had to go to the loo and as I was walking to the outhouse I thought I heard someone by the fire.  When I shouted out who was there, no one answered but a grunt. I ran back to the tent to get Dave and Ken and we all spent a good half hour banging our paddles and yelling and screaming to scare it off.  Eventually we heard a splash and assumed that it had swam away.
I then proceeded to lay awake all night long infuriated with Dave for sleeping so soundly after such a scare from that hungry bear.
Ken chose a tough route and we tackled the longest portage in the entire park. The final portage of our 10 days of paddling was the portage overland from Opeongo Lake to Dickson Lake.
We carried our canoes, tents, packs and the rest of our food for 5.3 Km from lake to lake.  We all ended up walking 7,5 km that day using the Portage and a half technique.
All four of us set out together carrying a load to the half way mark.  Two people continue on as the others drop their packs and turn around to go back for the remaining gear.
Once the two of us that have continued on reach the other lake, we go back for the gear left in the middle of the trail and pick up the remaining packs meeting up with the others that have now gone back for the gear and are continuing on.  It is complicated but works very well at cutting km's off of the walk.
It was late in the summer and the nights were cold.
We even awoke one morning to a slight blanket of snow.  Our trusty  North Face Roadrunner 2 tent kept us warm though.  It's low profile and tough exterior kept the heat in and we slept in our tuques,(Canadian for winter hat) wool socks and long johns with our sleeping bags pulled up over our noses.
I highly recommend a trip to Algonquin Park if you are looking for a leisurely canoe trip.  There is very little white water, the views are incredible.
You can hike through the pine forest, swim in the pristine lakes, sunbathe on a beach or climb to the high look out and view a panoramic display of a park that is larger in area than Banff National Park in area and greener than anywhere you will see on earth.
So buy a map and plan your route. Book your camp sites, rent your canoe and go out and explore Canada's  Wild North.
Read More
Algonquin Park Canoe Trip and Camping in Luxury
Going on a Moose Safari – It Doesn't Get More Canadian Than This!