Prague is one of the most popular cities to visit in Europe, and a few days is just enough to see it all. Here is a comprehensive Prague itinerary for what to in Prague for three days!
Prague is the capital and largest city of the Czech Republic. It's home to 1.26 million people and has a temperate climate with warm summers and chilly winters making it a great year round destination.
Prague 2 Day Itinerary

This itinerary is actually not quite three days in Prague but more like two full days and an evening.
Day One- Arrival in Prague
We arrived late in the afternoon and were whisked away to our hotel a half-block from Wenceslas Square. After settling in, we had an late afternoon stroll to get our bearings and to see a bit of the main sites of the city.
1. Wenceslas Square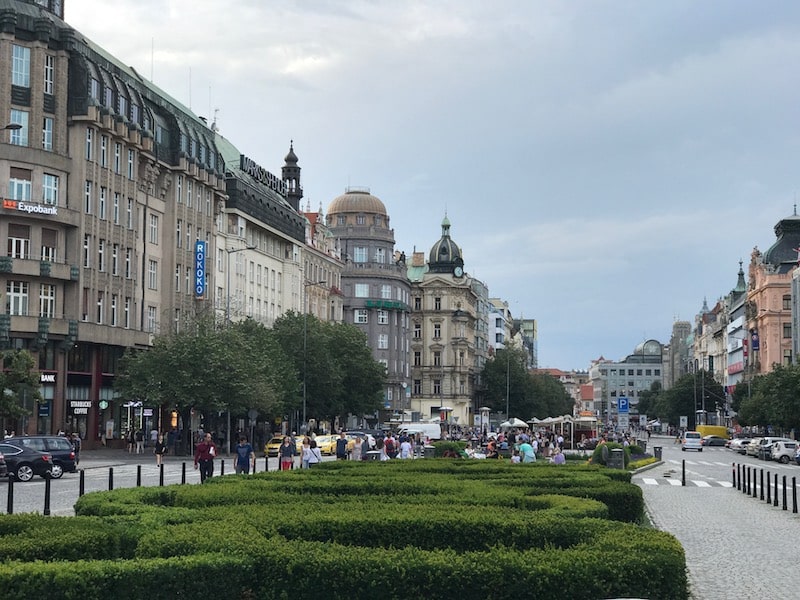 Wenceslas Square is technically a 60 by 750-metre boulevard lined by hotels, shops, restaurants, coffee shops, and bars.
It was originally Prague's horse market and has been used by the residents for hundreds of years for everything from celebrations to anti-communist uprisings.
At the top of the square sits the National Museum and at the bottom end of the square, you enter the Old Town.
Communism in Prague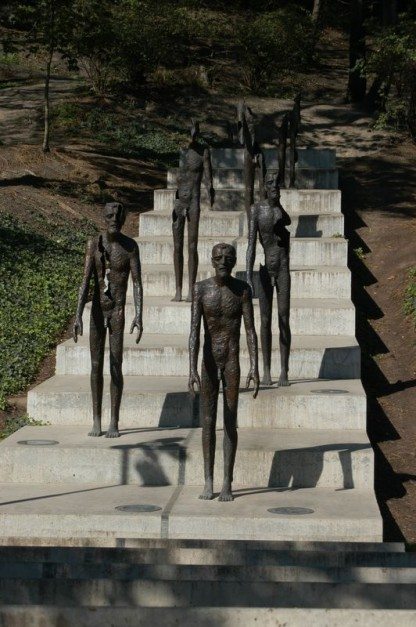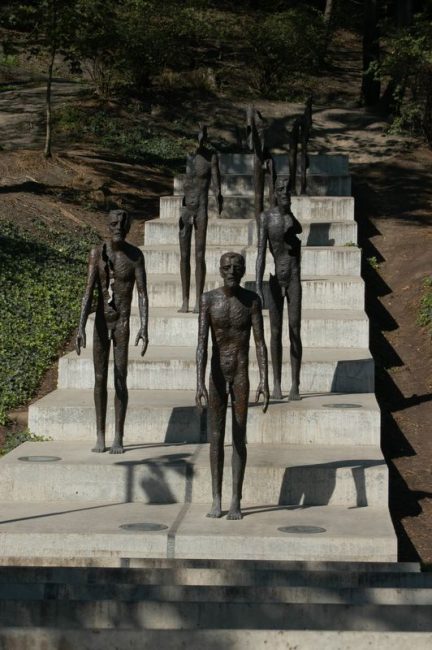 Our guide, Martina, had no qualms about telling us about life under the communist regime. And spoke of many stories about how the Soviets ruined beautiful buildings and avenues to make way for tanks and ugly "brutal Soviet architecture".
She told us about having to smuggle money into East Germany to buy shoes and having to throw away her old shoes and scuff up the new ones so as not to be caught having brought more money than allowed across the border. And she explained how her family saved coupons to buy her a coveted pair of jeans.
Martina taught us about the Velvet Revolution in 1989 and how much the Czechs admired Vaclav Havel, the architect of much of the turnover from communism to democracy and the new Czech Republic's first president.
It was fascinating to hear this from someone who's been there, firsthand.
Dinner Day 1: U Provaznice
Afterward, we chose to have dinner at U Provaznice (which translates to "At the Rope") between the Old Town and Wenceslas Square.
The food was hearty, tasty, and very filling.
The afternoon
Day Two – Sightseeing in Prague
After an early bedtime, we were up in the morning for a tour to Prague Castle and its environs. After a quick security check, we were through to the castle proper.
Prague Castle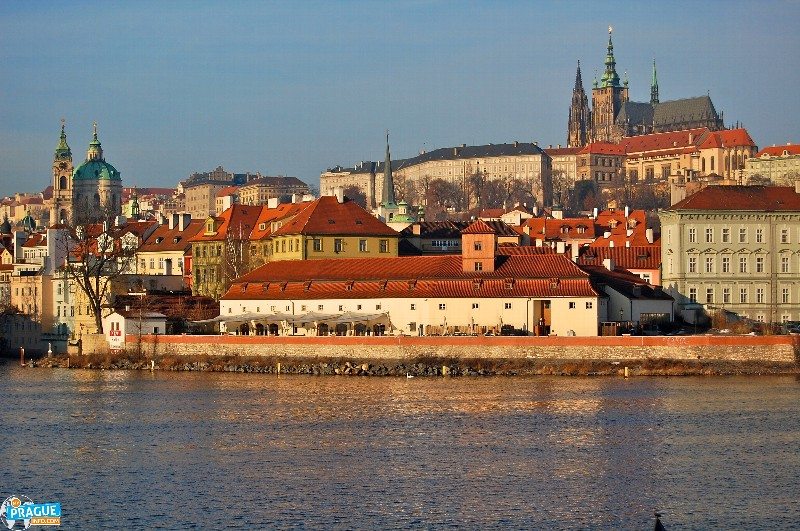 Prague Castle is not a castle in the sense of it being a single building with turrets and towers.
It is a huge (7 hectares or 18 acres) conglomeration of palaces, St. Vitus Cathedral, churches, the President's state offices and apartments, a monastery, museums, and art galleries gathered around three main courtyards.
St. Vitus Cathedral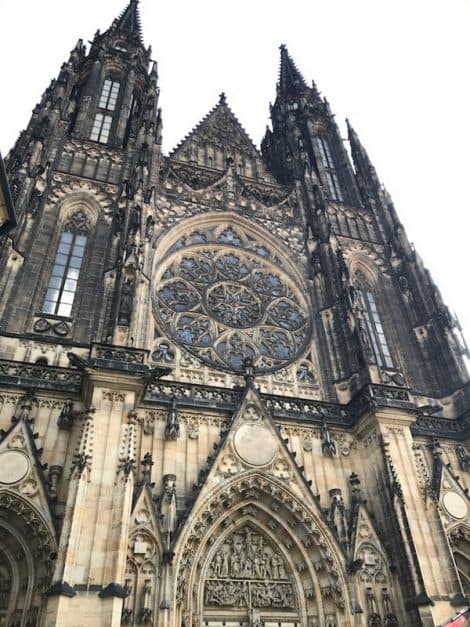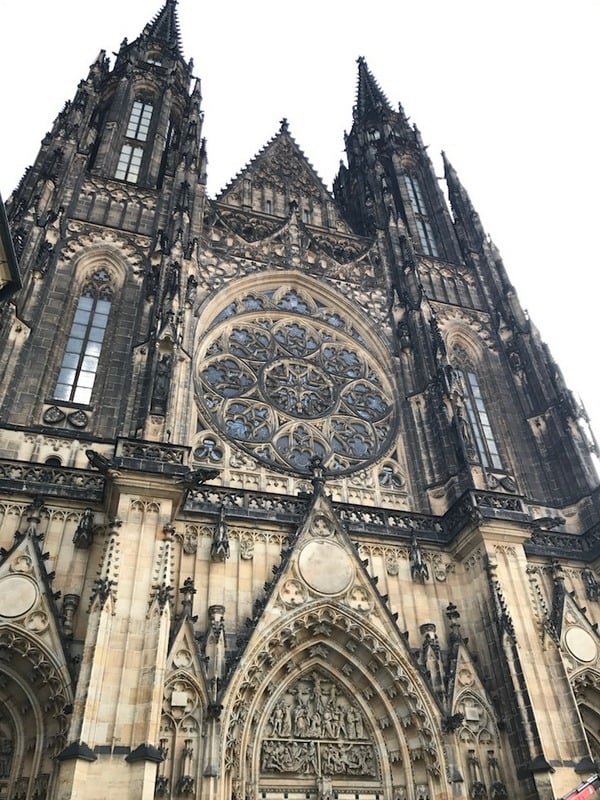 We entered St. Vitus Cathedral and were impressed with the Gothic architecture. Construction began in 1344 and it took close to 600 years to complete. We enjoyed the gorgeous stained glass windows, the soaring arches, and the imposing entrance with its rose window, high towers, and gargoyles.
Lunch Day 2
We then went for strudel and coffee at the Lobkowicz Palace Cafe which has a superb view of the city from the balcony.
Then we proceeded to exit the castle from the east gate and then wended our way down through the castle vineyards and gardens to the Malá Strana (Little Town) and then across the Charles Bridge.
Charles Bridge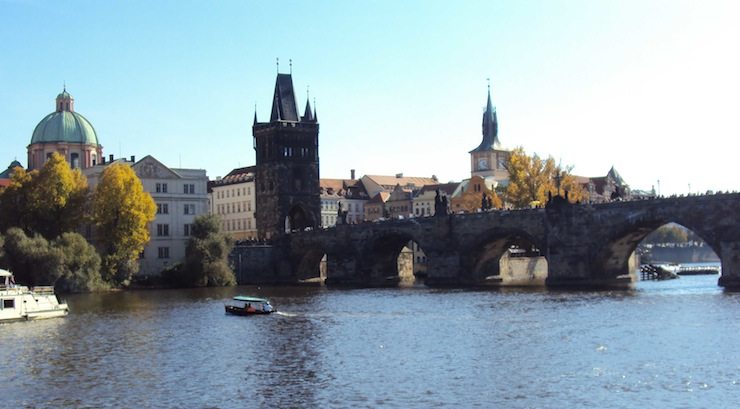 The Charles Bridge is a pedestrian-only bridge that crosses the Vltava River. King Charles IV had it built in 1357 and it was the only means of crossing the river until 1841. Today it is full of vendors, artists, and 30 baroque statues.
Saint John of Nepomuk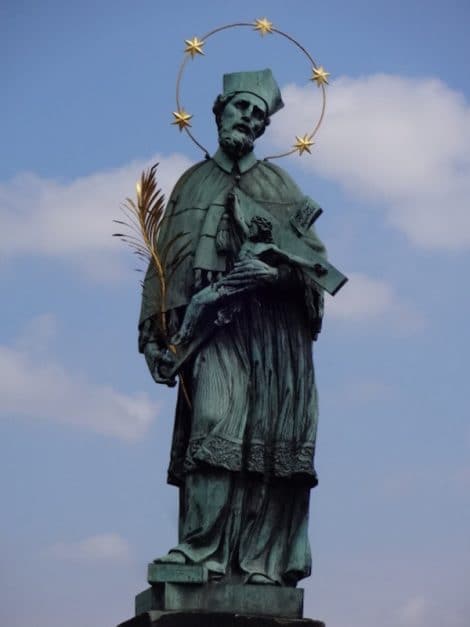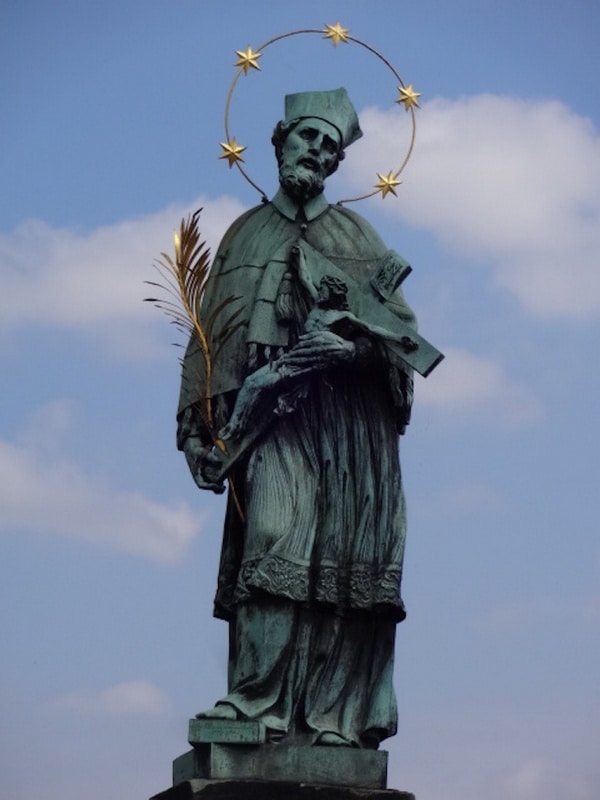 Foremost of these statues is Saint John of Nepomuk, who was thrown from the bridge in 1393 because he reportedly refused to divulge the secrets of the Queen's confessions to her husband, King Wenceslas IV.
He was subsequently canonized as a martyr.
A trdelník is a Czech treat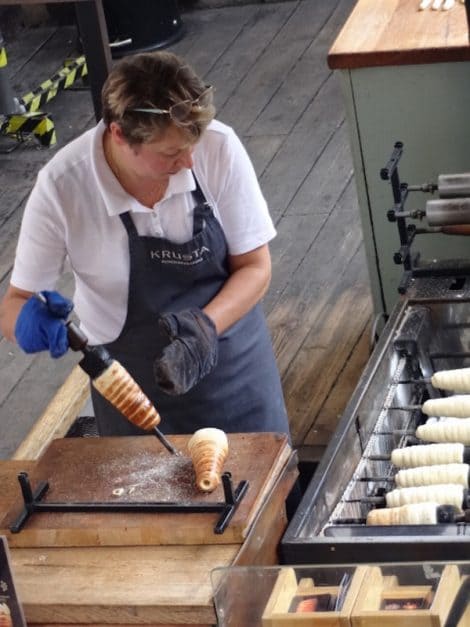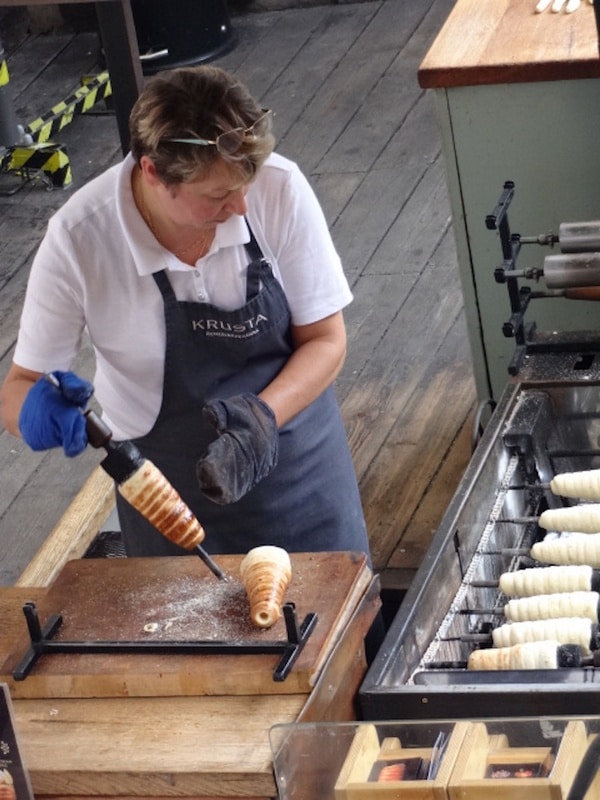 Beside the bridge, I was able to watch one of the many trdelník vendors doing what they do best.
A trdelník is a Czech treat made from dough, wrapped around a stick, grilled over coals, and then rolled in sugar or some other tasty topping. Delicious.
Astronomical Clock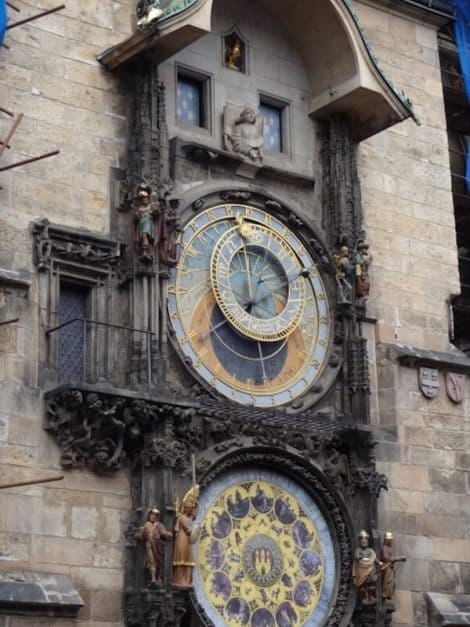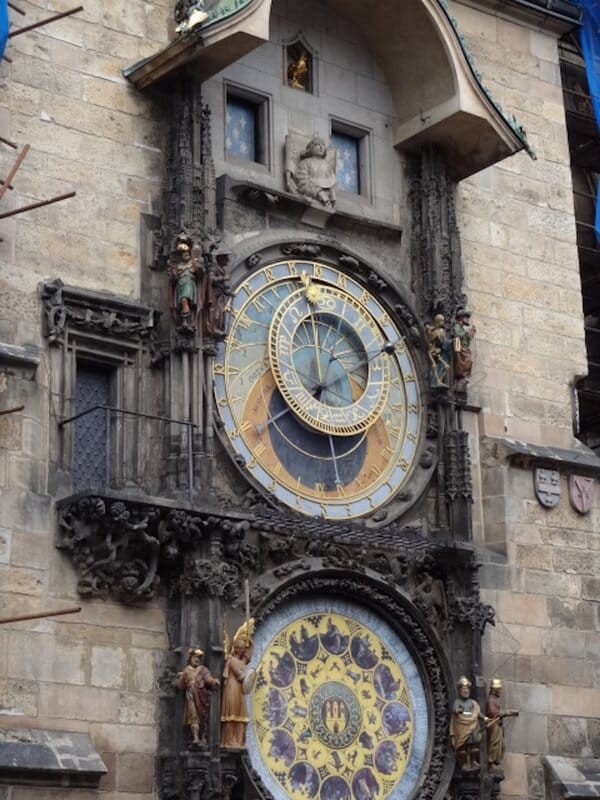 We made our way through the Old Town to the Old Town Square which features the world's oldest working Astronomical Clock.
It was installed in 1410 and has three main components: the astronomical dial, displaying the sun, moon, and other astronomical details; the "Walk of the Apostles", hourly moving sculptures; and a calendar dial.
Evening Day 2 – Czech food and bar hopping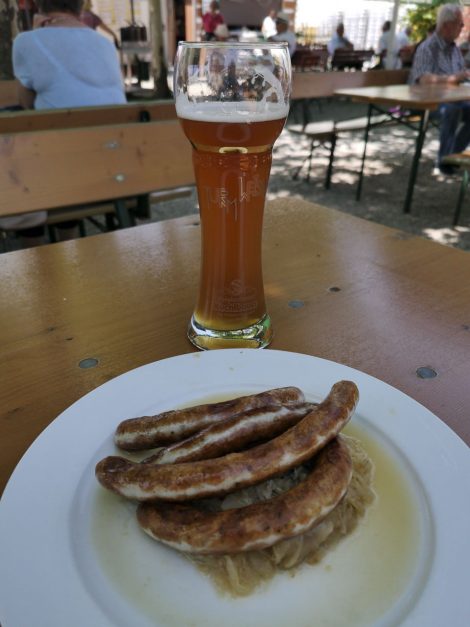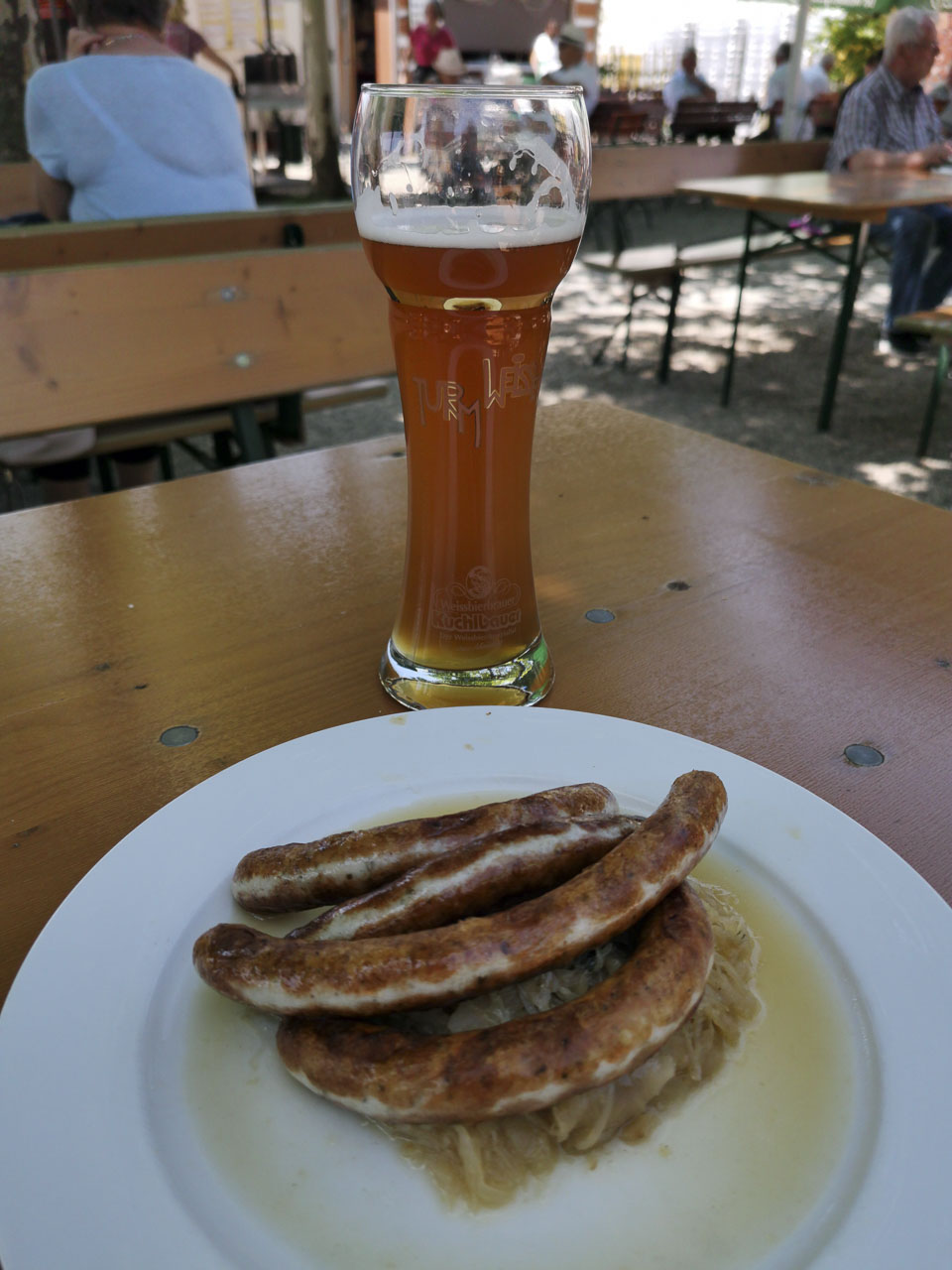 As we were on our own for the afternoon, we grabbed food at a local brewpub, U Supa.
We then decided to do a self-guided bar crawl.
We started at Black Angels Bar in Old Town Square, a little underground place with leather chairs, stone walls and ceilings, and talented bartenders.
Next was Bed, a silly conceit with beds instead of chairs.
Anonymous Bar was next; hard to find, but worth it. My drink was served in an IV bag that dripped into my glass!
Then we had to take a cab to Beekgeek, a great little place with many beers on tap and in bottles.
We cabbed back to the town centre and came across Billiard Centrum MSK, where I proceeded to lose several games of pool.
It was definitely time to call it a night after that.
Day Three in Prague
After our delicious buffet breakfast at the Hotel Grandium, we took a tram to Petrín Park to spend our third and final day in Prague.
Transporation in Prague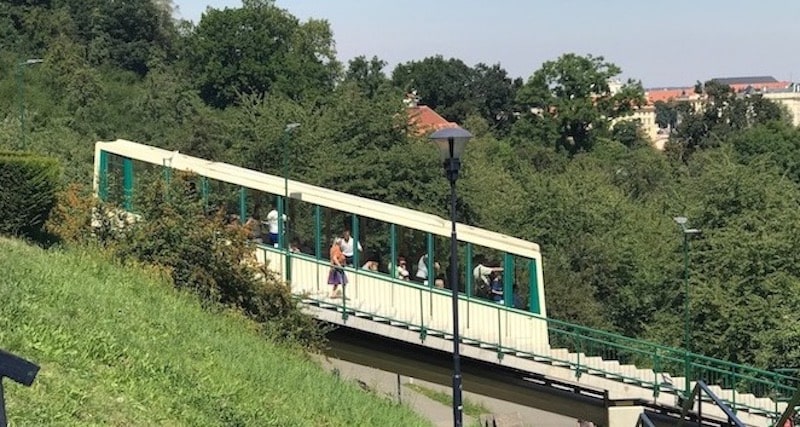 It turns out that getting around by transit in Prague is quite easy.
We took the funicular up the Petrín Hill (318 metres) to the Petrín Lookout Tower. If you buy a day pass transit ticket, the funicular fare is included.
The Petrín Lookout Tower
The Petrín Lookout Tower was built in 1891 as a mini version of the Eiffel Tower.
It stands 60 metres tall and you can climb the 299 steps or take the lift. We took the lift.
The views from the top are incredible; you can see much of the city from this vantage point.
We walked halfway back down the hill and stopped at another gorgeous viewing spot at the Restaurant Nebozízek and felt obligated to sample a local beer.
Beer Tour Prague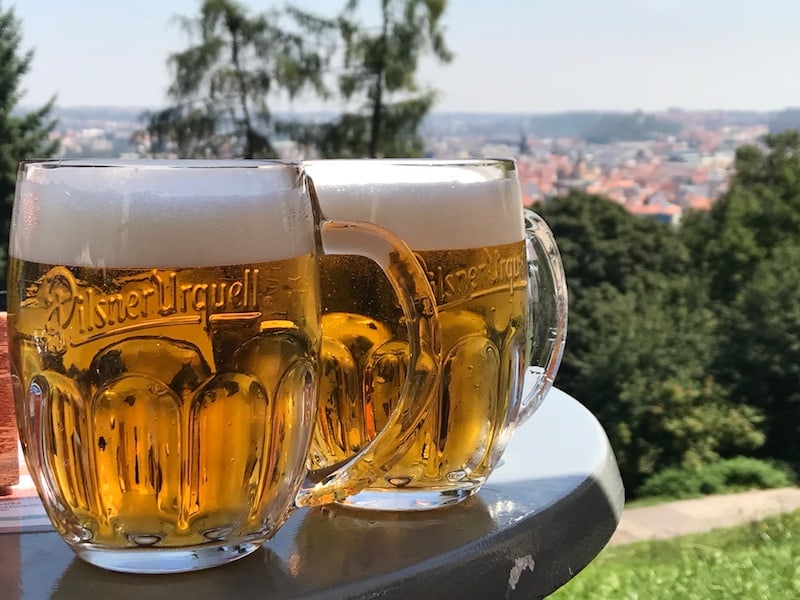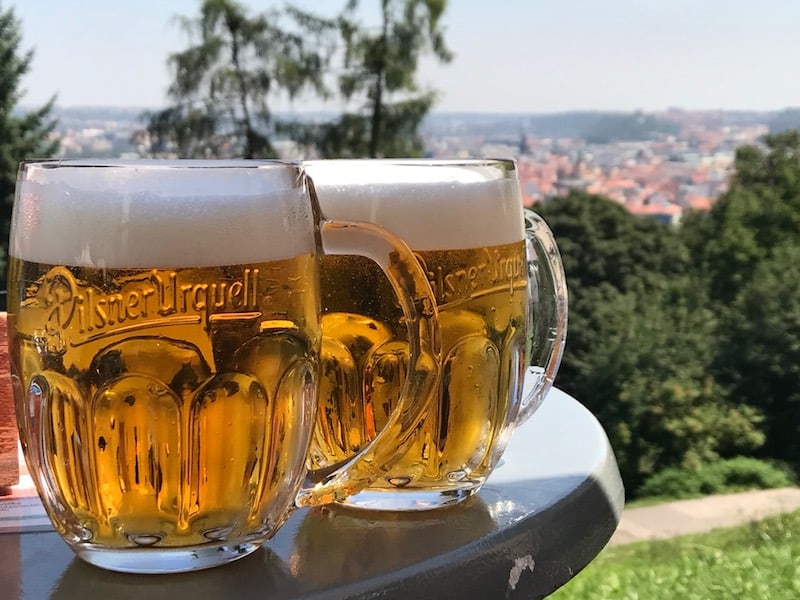 Since we were on the subject of beer we decided to hop back on the tram to go to the Prague Beer Museum for the beer experience tour.
It's a small place, but very informative if you are interested in the process and history of Czech beer.
After the self-guided tour, you are invited to sit in the 13th-century cellar and sample some local brews (included in the ticket price).
Salm Palace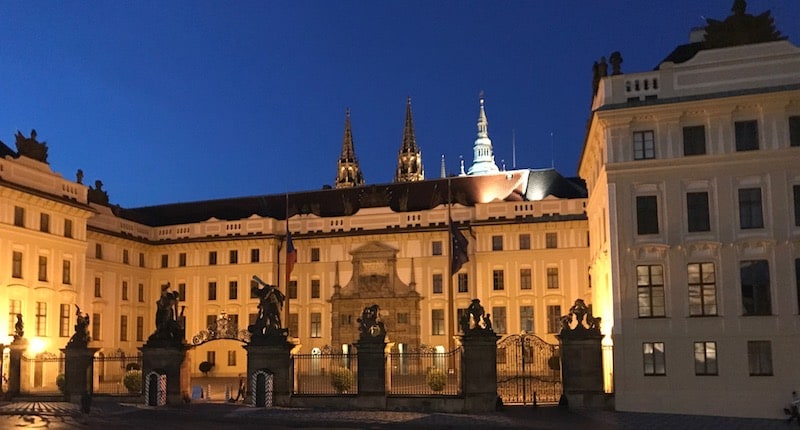 That evening the whole group went to Salm Palace by Prague Castle for a Czech dinner. Local food, wine, and a musical duo made the night fun.
Salm Palace is located across from the Presidential Palace entrance.
We had to leave Prague the next morning and I feel that although we touched on many of the highlights of the city and a few places less travelled, there is so much more that we didn't have time to experience.
I suppose that gives us an excuse to return.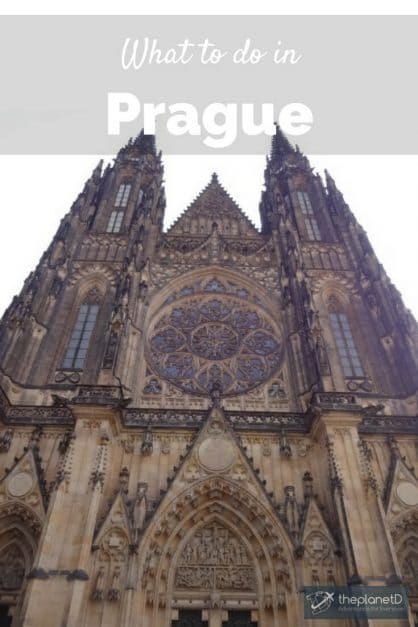 What are your favorite things to do in Prague?
Read More:
Prague Tourist Traps to Avoid
Your Czech Republic Travel Guide
13 Things to Do in Slovakia