I must say that we went through the Mongol Rally with very little problems. Our Nissan Almera bought by AllWaysRentals in New Zealand stood up to the harsh conditions and passed with flying colours.
Mongol Rally – Punctures are Part of the Game
These roads beat a car down and all in all, we managed to get away with very little damage.
Tire Punctures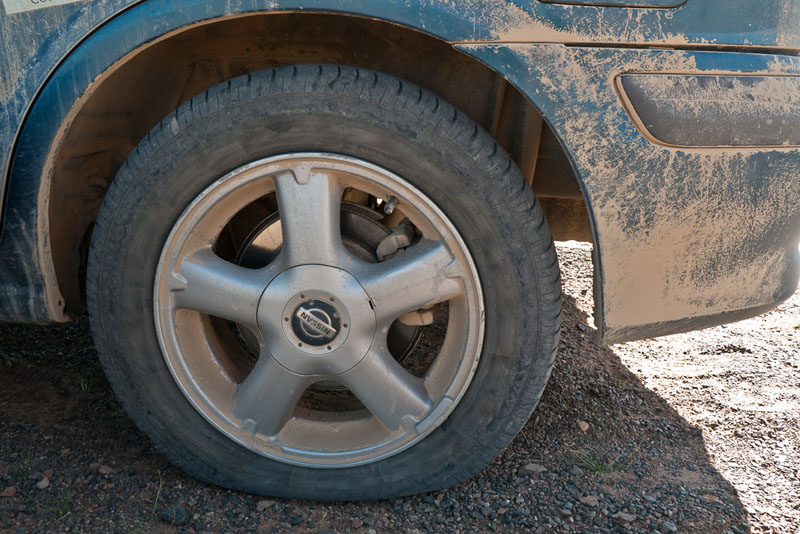 The biggest threat to our car was the rocky terrain. Some of the rocks were as sharp as tacks and when hitting them at the wrong angle, we were bound to get a puncture.
Always put on two new tires for us on the front of the car, but our rear wheels were left in their previous state. It wasn't long before we had our first puncture.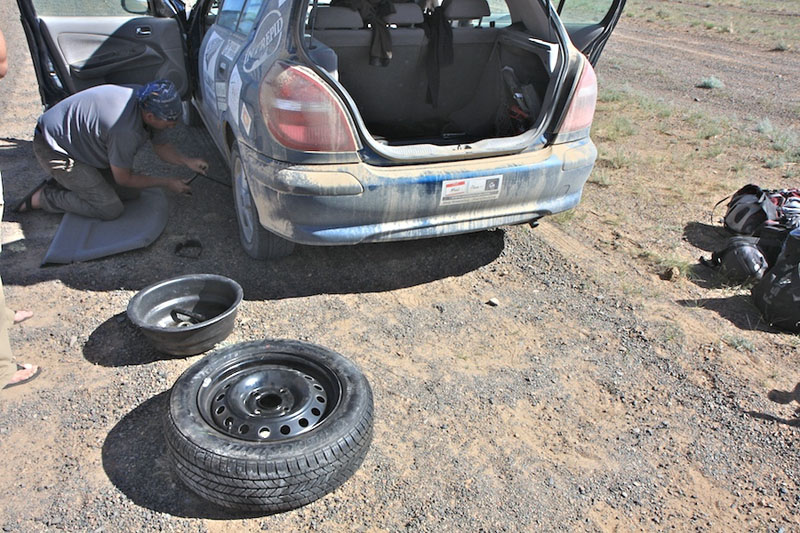 Changing Tires
After 8000 miles of driving on our old tires were wearing down to the point of very little tread. We only carried one spare with us and luckily noticed that it had gone flat in our trunk before we needed it.
We pulled into a gas station in Dariv where a local trucker stopped to fill up our tire with air. He gave it a good once over and assured us that we were fine. It turns out that we only had a very slow leak so it stayed full for quite some time.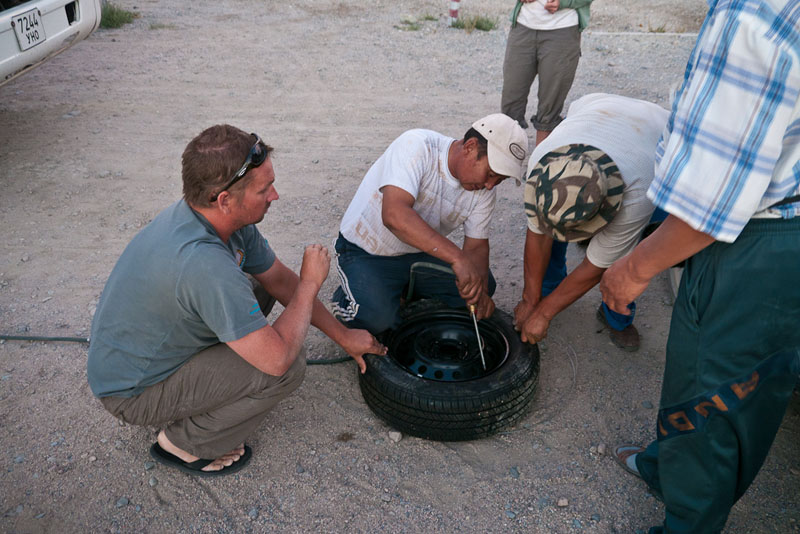 Getting the Tires Repaired
Lucky for us we filled it when we did. It was the next day that we got our first puncture and needed to change the tire! We put on our spare and held our breath in hopes that it would hold up.
It turned out that the trucker was right. We only had a slow leak and it lasted for a couple of days until we hit the next town to have it repaired.
We pulled into Bayankhongor to get our first tires repaired. The Mongol Rally has different drop off points and mechanics set up in a few cities along the route and our original plan was to head to their mechanic, but as we pulled into town, we saw a big sign for tire repairs.
We pulled in and emptied out our car to get our flat tire out of the trunk. When we asked him the price to fix it, we couldn't believe our eyes when he punched 2000 Togrog into the calculator. That is the equivalent of less than $2! We eagerly accepted.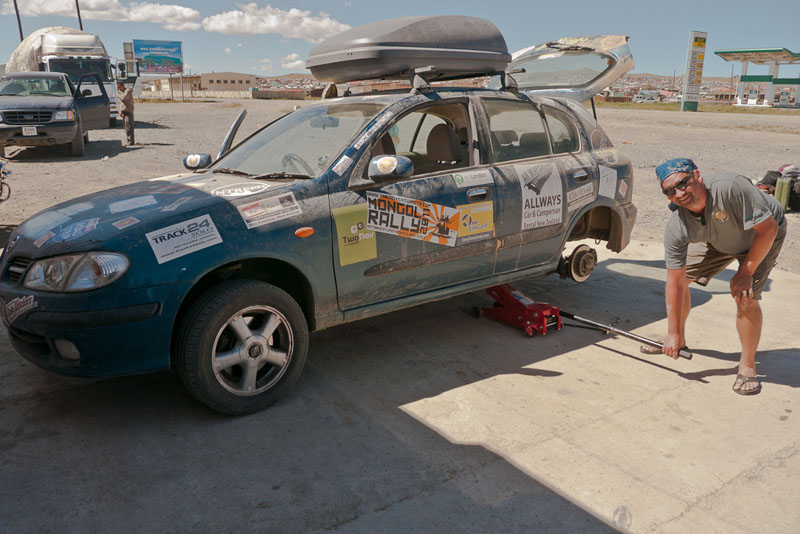 He inflated our tire and then took it out back to dip in a pool of water to find the leak. Within a couple of minutes he was back to show us where the hole is and began to get to work on the repair.
He was skilled and used his tools effortlessly as he fixed our tire like he does so many times each day.
He did such a great job, that we took off our spare tire with the very slow leak to have him try to find that puncture as well. Sure enough within minutes we found a tiny hole and was instantly at his machines getting down to business.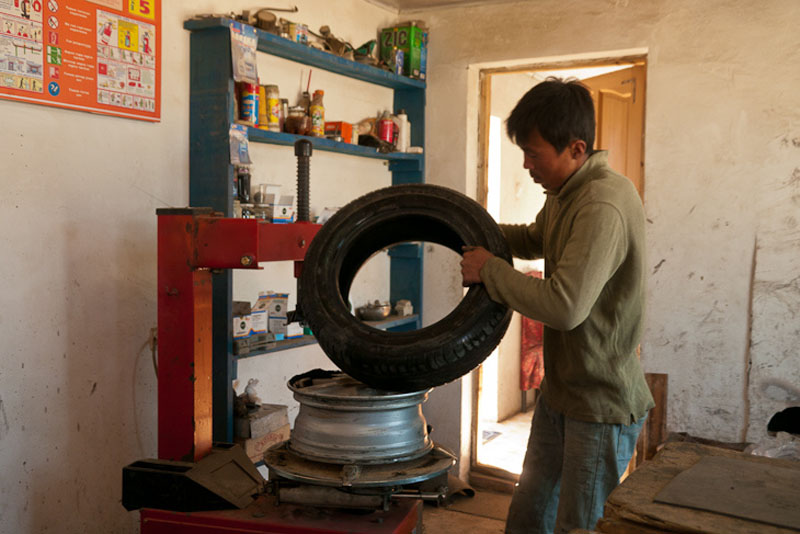 Tire Shop
He fixed two tires while we waited in the parking lot and ate some lunch in the parking lot.
It cost us 4000 Mongolian Togrog, but we gave him a 1000 Togrog tip for a grand total of $3.95
I can see that he makes his money of volume instead of high prices, while we were there, two mini buses whizzed in to drop off the mangled tires to be fixed, a transport truck popped in for a fix and two other cars were waiting in line to have their tire repairs done.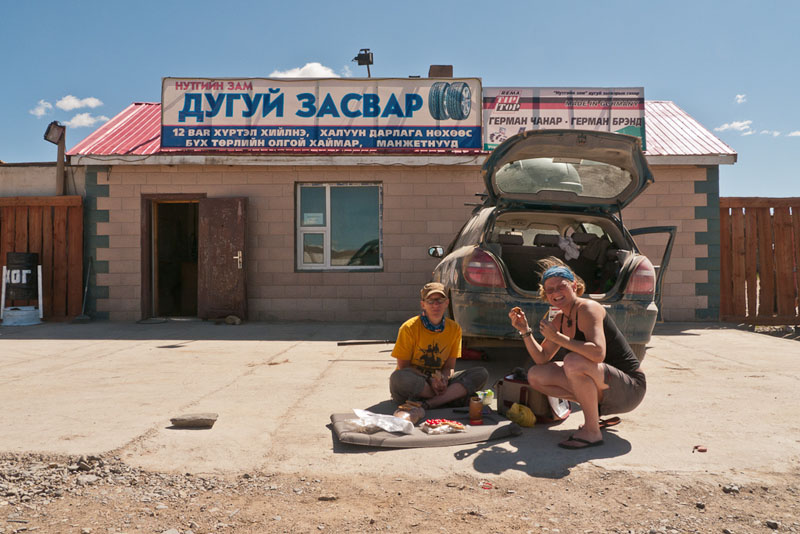 In total, we had 3 flat tires and only had to get our tire repaired one more time in a small village along the route. It doesn't matter how small a place seems to be, you will always be able to find a professional tire repair place in Mongolia.
In this country, tires take a beating while the garages make a killing!
Read More
The Festival of Slow, Our First Day on the Mongol Rally
Mongol Rally, First Stop Brussels