The day has finally arrived. The Festival of Slow is the annual kick off event for the Mongol Rally and 320 teams gathered at Goodwood Stadium, two hours outside of London to take a lap around the legendary Formula 1 racetrack; albeit at a much slower pace than the celebrated Festival of Speed. This other annual event attracts Formula 1 racers, famous motorcross racers and other "celebrities of speed" who want to meet their fans and partake in a lightening fast tour around the course.
We don't really have any fans and there weren't any celebrities around signing autographs and we didn't race around the track. But it was a thrill never the less.
Festival of Slow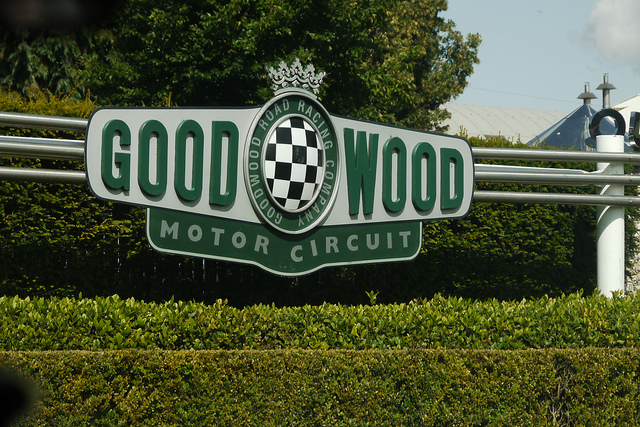 Why was it a thrill, because we had the chance to drive on a genuine Formula 1 race course! We not have gone over the 10 km mark, but we did get to live the fantasy of warming up our tires and taking sharp turns and following our very own pace car around the track for a solid 10 minutes!
We arrived to Goodwood Stadium at 10:00 am to an event filled with spectators, loved ones and well wishers saying good bye one last time to friends and family before leaving for Mongolia.
There are 320 entries this year ranging from motor bikes and tiny 1.2 litre cars to school buses, firetrucks and army jeeps and everyone is encouraged to have fun and join in the spirit of the Mongol Rally.
The novelty cars are parked near the front of the gates and are the first to venture out to the great unknown.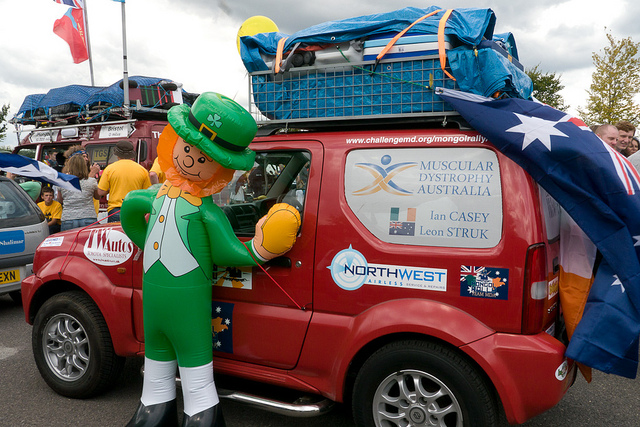 There were some fantastic entries this year and our team was feeling a little bit of car envy. We maybe should have pimped ourselves out even more? Cars had racing stripes painted onto them, gators attached to their roofs, a map of Mongolia painted on the front of the car and many people were wearing costumes to go with the theme of their rides.
The standout was the Discovery Channel guys. Their team is called is the "Fast and the Furry" and they are living up to their name!
Their truck is decked out in purple fur and to go along with it all, they had a couple of purple wigs and mustaches to go with it.  They were the envy of everyone in our group and we kicked ourselves for not thinking of a costume and some more fun decorations for our car. Dressing up didn't even cross our minds. It would have been awesome to have a costume filled with Social Media Symbols and electronics to go with our name. Oh well, at least our car definitely had the most stickers of anyone!
The Adventurists really put on a great show.
We were greeted by actors dressed as Russian Border Guards, demanding bribes, checking our water bottles for Vodka and telling us to put our cameras away. This was our preparation for what we would face in Kazakhstan or Ukraine for our border crossings. I think we handled ourselves pretty well. We even let one of the guards climb in the car with us and go for a ride to his next stop. Oh yeah, we know how to handle the border patrols.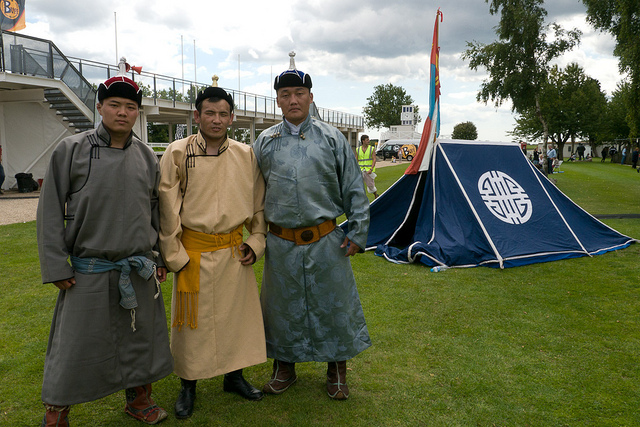 Mongolian Wrestlers put on a show and challenged participants to step into the ring. The young Mongol Rally participants tried their hardest, but could not beat the mighty warriors. You could see the wrestlers toying and playing with them just long enough to give us a good show and quick enough to show them who's boss.
Spies
Undercover spies came up to our car to give us the details for our spy mission "if we choose to accept it" and Russian Mail Order Brides tried to marry themselves off to Dave and Rick. However, when they found out they were married, they decided that Sherry would do.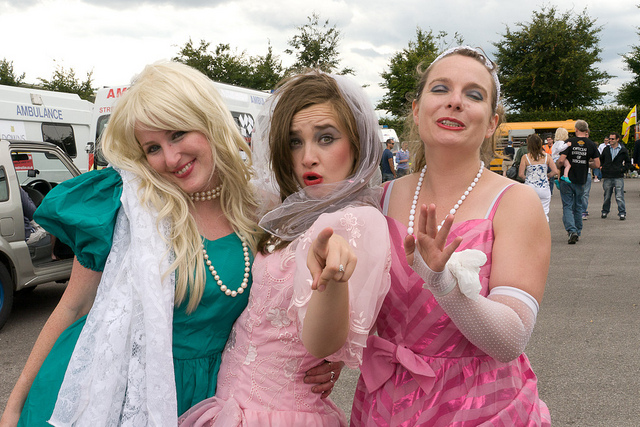 We were surprised to see trucks and vans taking part in the Mongol Rally since we thought that the emergency vehicle rule was very strict in the fact that they had to be actual emergency vehicles to be allowed into Mongolia. We saw an 8-passenger van and a little sidekick type jeep. How are they emergency vehicles and why couldn't we use one of these?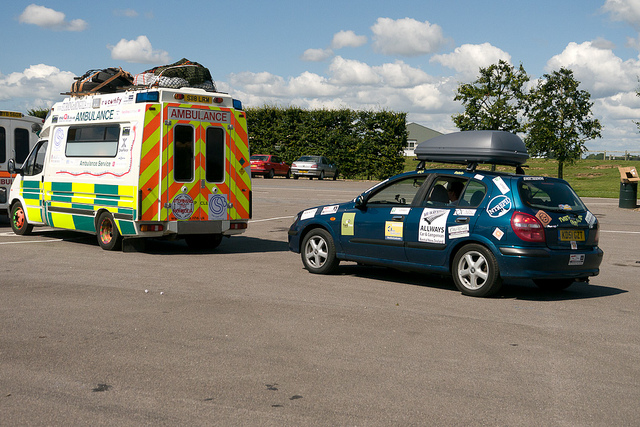 However, there was a huge contingent of actual ambulances, firetrucks, army jeeps and even a school bus brought over by a team from New York trying to make their way to Mongolia. I hope everyone makes it, because the country of Mongolia is going to have agreat..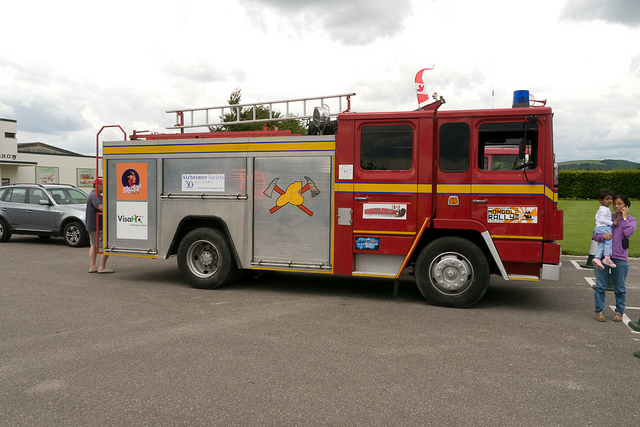 After applying our Adventurists stickers and the Christina Noble Foundation stickers and the rest of the stickers to fill in the remaining sponsors of the Mongol Rally to our car, we were finally ready to take off and join the second wave of vehicles in the festival of slow.
Note: We let the marshals know that we had a Eurorail pass booked for 5:00 pm, so we had to get out early in the first wave of cars after the novelty and specialty cars.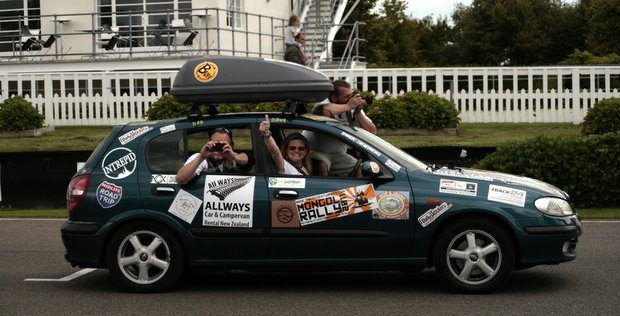 Photo by Fevered Mutterings: Check out his post on Mongol Rally: Myths Busted
Lucky for me I was in the car with a bunch of photographers and videographers, so I got to be the one to drive on the track. I followed the pace car while Dave hung out the window and Sherry and Rick took their photos from the safety of the back seat.
It took a good 15 minutes to complete the round and as we slipped by the grandstand one last time we honked our horns, waved goodbye and turned the corner to drive out.
Just like that…
We were on our way to Mongolia.
---
Read More
Christina Noble Foundation: Making A Difference in Mongolia
20 Essential Tips for Driving The Mongol Rally
Gear for the Mongol Rally, What you Really Need
SaveSave
SaveSave
SaveSave