Planes, Trains and Automobiles. That movie was Dave's favourite when we first met in 1991!
Who couldn't resist the lovable John Candy getting up to all kinds of craziness while chasing Steve Martin across the country?
We've had our share of zany stories from our time on the road and most came from taking different modes of transport. From arduous train rides in India to epic bus rides in Myanmar, they all have added something rich to our experience and helped us save on travel.
Save on travel with liligo
When visiting Northern Michigan earlier this year, we had the option to fly.
We looked into flights and saw that between arriving early at the airport, time spent during layovers and waiting for our luggage once we arrived, the 6-hour drive would be much faster than the nine hour trip by air.
Driving also saved a lot of money.
That's something we love about the new comparison site liligo.com.
It thinks outside the box and gives you choice when you travel. So many people think that they need to book a flight to go somewhere, but often times bus, train or car rental might be the better option.
We don't usually review travel sites, but when we started using liligo.com we wanted to tell you about it.
It's an excellent way to save on travel by doing all the work for you.
We know it can be a pain to look everything up on your own, so liligo has decided to make things simple.
All you have to do is punch in your destination and your dates of travel and liligo will give you all the options from flights to trains to buses.
If you are looking to save on travel this holiday season, both on money and time, alternative travel plans may fit the bill.
Bus travel has come a long way baby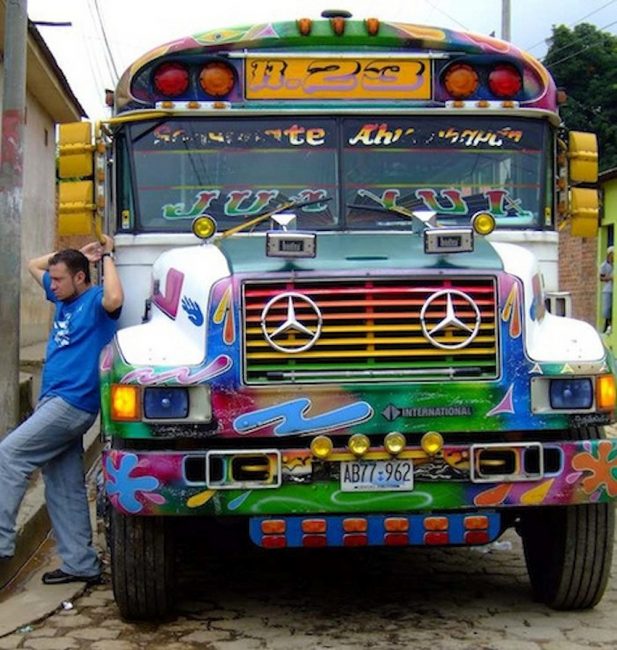 Dave and I took the bus to New York a couple of years ago and we were amazed with the comfort and convenience.
Bus stops are often located all the way downtown and take you from city centre to city centre.
They now have free wireless Internet, comfortable reclining seats, and restrooms.
It feels like you are on an airplane except there are no middle seats. You have extra legroom and all the added hassle of check-in and security lines have disappeared.
We actually take the bus a lot when traveling abroad.
With today's technology, I can get a lot of work done on a bus without distractions.
Having to show up at the airport three hours early can really cut into travel time, so if a trip is less than 8-10 hours overland, we often opt for the bus or train. It's just easier.
Train travel is the Ultimate way to travel
We just returned from Scandinavia, where we traveled by every mode of transportation possible.
Train, bus, ferry, cruise, flight, and yes, even Uber.
Taking the slow route and trying all modes of transportation is not only a great way to travel like a local and take in the views, it is also a great way to save money, and believe it or not, sometimes time!
Recently while traveling in Norway, I edited a travel video during my train trip.
I also stretched my legs walking to the dinner car. I slept in relative comfort in my recliner seat and I marvelled at the magnificent mountains we passed through.
I would have missed it all had we flown.
Not only did I get work done, we managed to snap photographs and create a story out of our time on the train.
It was probably only a couple of hours longer than flying, but I used my time on the train more efficiently.
Train travel is one of our favourite ways to travel. Seats are much larger than planes or buses, and trains normally go through some of the most scenic routes in the country.
I never understood why more people don't travel by train in North America. The rest of the world relies on train travel and with good reason.
Benefits to all modes of transportation
There are benefits to all types of travel and it always depends on the situation.
Naturally, we fly a lot. It is usually the quickest and most convenient.
But we can't always be certain. One would assume that flying is the most expensive, but that's not always the case.
Liligo sorts all our questions out quickly and conveniently.
For us, liligo is an excellent choice because it's not only for travel in North America, it offers comparisons worldwide.
My favourite result I found was from Paris to Rome.
I would have expected the train to be my best bet to save on travel expenses.
But surprisingly, flying was hands down our best option at just $61 per person.
Wow! The train was a whopping $200 per person and a bus was $115. I never would have expected that.
As I said earlier in my post, we often travel by train when in Europe!
Check out liligo.com for your own travel comparison
But when I decided to do a random search for the same dates, I found out that flights can be cheaper than a bus in North America too.
I punched in Chicago to Seattle for the same dates and saw that a flight on Alaska Air was only $271 per person compared to $313 per person for the bus.
I would have expected the bus to be a bargain compared to flying that far, but a flight was definitely the way to go.
I never could have known that had I not had liligo directly in front of me.
I'm loving this website so much, I keep playing games where I randomly choose destinations just to see what is the better deal.
Saving time is just as important when traveling
In the New Year, we are planning on going to New York City for the New York Times Travel Show.
We expected flights to be a huge expense compared to taking the bus. But when I punched in my travel dates, I saw that a flight for two to NYC was just $176.
The Greyhound, however, was $52 per person.
But when I saw that it is a 13 hour and 30-minute trip, I decided that flying was the way to go for just $100 more.
For us, saving time when traveling, is just as important as saving money if it isn't too big of a difference.
Information at our Fingertips
Having the information right in front of us at our fingertips helps us make informed decisions.
Many times we're influenced by price alone, but when we can see that a flight isn't much more, and that the flight saves 12 hours of our time, it is a no brainer.
For this trip to NYC, we are going with a flight. It even gave us airline comparisons so that we could decide if we wanted to go with our usual airline partner or choose a different alliance.
Another benefit of liligo is that once you decide on your booking, it takes you to websites that you already know and trust.
When we clicked through to book, it took us to sites like Expedia, Busbud and edreams.
There were no surprises and no hidden fees. How refreshing is that?
So as you can see, choosing how to travel is becoming almost as complicated as deciding where to go.
It could take a lot of legwork to decide which mode of transportation is best for your budget. But from now on when we travel, we're going to check in with liligo first.
This post is brought to you by liligo.com but all opinions expressed on ThePlanetD are our own.
Read Next:
You Might Also Enjoy