We had seen the ads for months throughout Asia.  "Qatar Airways, the world's five-star airline."  Wow, it must be good.
Qatar Airways
We were surprised to find Qatar Airways had one of the most reasonable flights out of Kathmandu to Toronto when we booked our tickets online.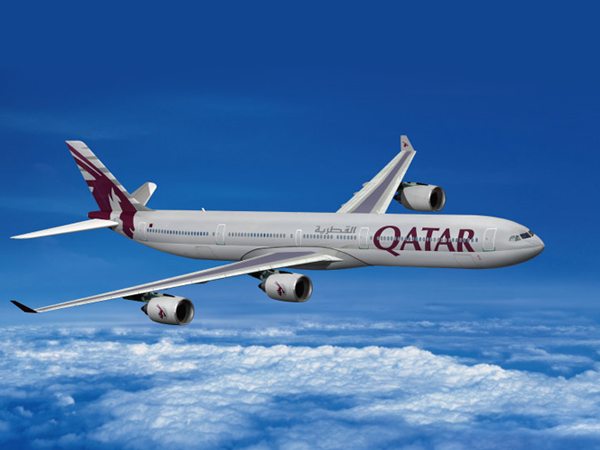 We had checked everywhere and the only flights cheaper were on Air India through Delhi. We all know about the new Visa Rules in India.
You have to be out of the country for two months before they will let you back in. We had heard horror stories of people being denied entry even if they were in transit.
Diverting our Flight
Delhi's airport doesn't have a transit lounge so we would have to go through immigration when we changed flights from Kathmandu so we didn't want to risk it.
A couple thousand dollars is a lot to throw away if bureaucracy wins out.
Weren't we lucky to find a reasonable flight out of Kathmandu through Doha in the Middle East instead?
Booking Qatar Flight Online
We went directly to the Qatar Airways website to book our tickets.  We had tried other booking sites, but going to the source seemed like the best choice and it was.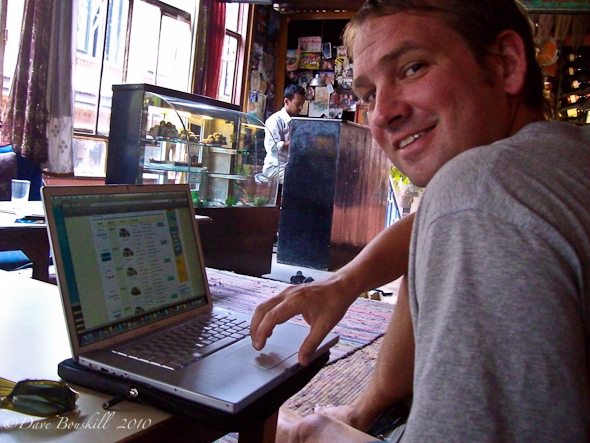 The site was easy to navigate, but it always kept timing out for us.
It took an entire afternoon to book the ticket.
Luckily we had Wifi at a coffee shop.
We weren't sure if it was the Qatar Airways site or the connection in Kathmandu.  Whatever it was it took forever.
But once we got through the process we had our seats secured and ready to go.
We could even pick our seats online and we chose prime ones at the front with extra legroom.
One Big Problem
When we boarded the plane someone was in our seats.
We had duplicate tickets and the woman in the seat had no intention of moving. We promptly walked to the flight attendant to tell her about our dilemma.
She took our tickets and exchanged them with other seats with barely a glance in our direction.
I told her that we were very upset because we specifically booked these seats because of the extra leg room.
She didn't let me finish my sentence and interrupted me by saying "You have been upgraded to business class ma'am."
Upgraded to Business Class?
No Way!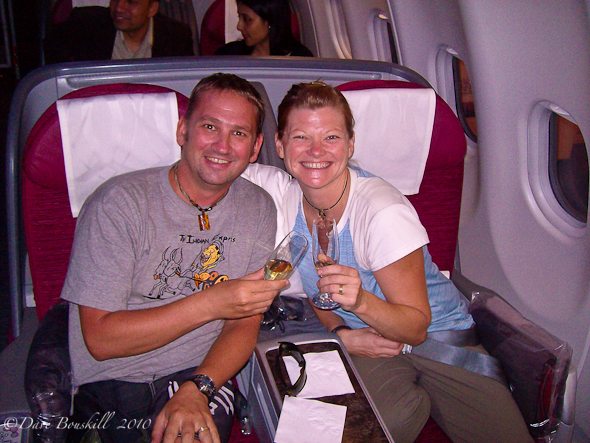 Not only are we flying one of the best airlines in the world, we get to fly it in style.  We have only been upgraded once before in our lives and we made a point of enjoying it.
We didn't worry that we looked ridiculous taking our photos sipping champagne.
We weren't worried that everyone in business class knew that we were the upgraded people who really couldn't afford the flight.  We relished every minute of it.
As a matter, a fact other passengers decided to join in and asked us to take their photos sitting in their comfy seats as well.
Maybe everyone was upgraded?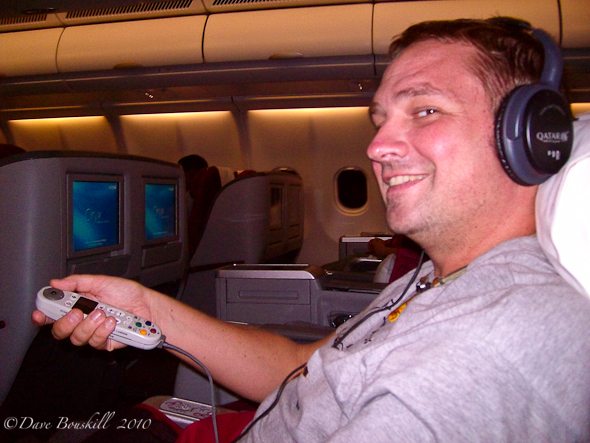 The First Class Experience on Qatar
We ordered our wine and set put our seats in the perfect position to relax and enjoy the entertainment system.
The headphones were so much better than anything in general seating.  They blocked out every sound and we had to tap each other on the shoulder to speak.
Our seats reclined right back into beds and they were motorized. They even gave us a massage as we laid back watching our movies.
I know there are many of you out there that have flown in style, but Dave and I are economy travelers.
We normally fly routes like our scary trip to Lukla from Kathmandu. We don't normally enjoy this type of service so we were in heaven.
First Class Meals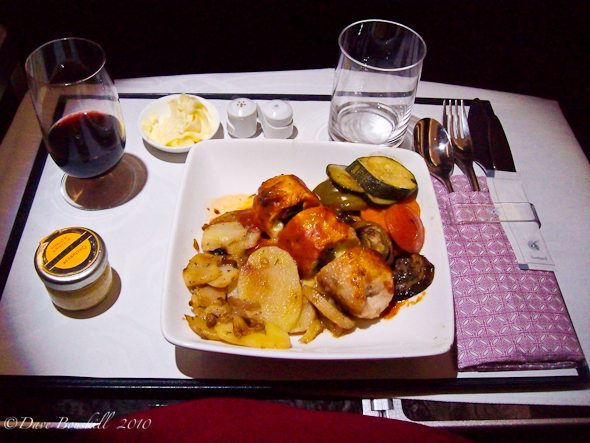 We both commented on the fact that you can eat your meal with proper cutlery in Business Class.
We used real metal utensils!
Do airlines assume that only poor people are a threat? I can't bring on nail clippers, but buddy in business class gets to cut his steak with a knife.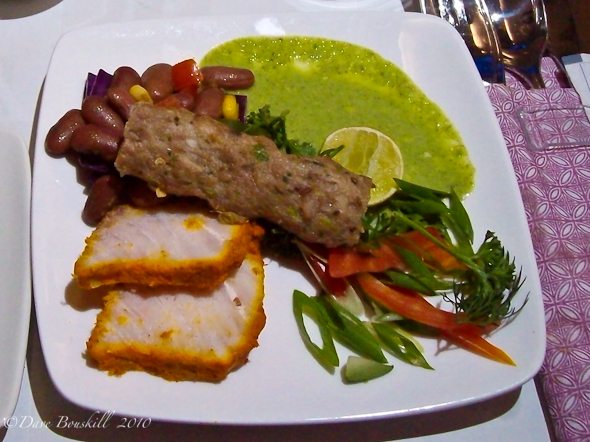 We were served four courses on china with proper wine in wine glasses.
I accompanied our goose liver pate, our salad, stuffed chicken with roasted vegetables, our raspberry coulis under a custard pudding finishing off with and fine chocolate…and more wine.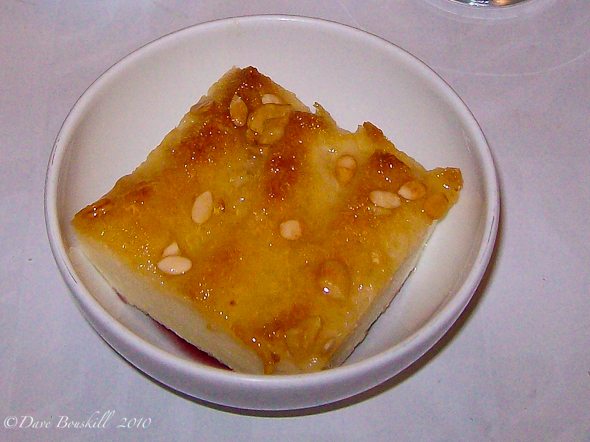 We didn't want to sleep we were enjoying the flight so much.  But when you are this comfortable sleep is inevitable.
We cozied up under our soft blankets, put our seats back into their beds and fell into a deep sleep.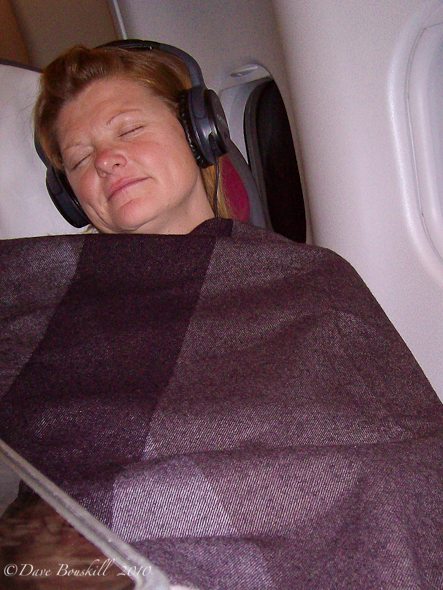 The Downside of an Upgrad
We could get used to this.  How can we go back to the crowded cabin in the back?
How can we share our toilet with hundreds of other people?  We want our private, clean toilet in the front that we never have to wait for, we want our unlimited wine and welcome champagne with orange juice, we attention from the flight attendants.  We want our metal cutlery!
Lucky for us our next flight is to Paris on Air France's Premium Voyageur Class.  We leave next week.  It looks like we get milk the decadence for a couple more flights anyway.
Read More:
Fly in Style to Dubai with Air Canada
Cathay Pacific Premium Economy Vs. Business Class
Flying Just Got Better – Premium Service Direct to Dubai
You Might Also Enjoy