It seems pretty straight forward. You pull into a gas station, either ask them to fill her up or grab the hose yourself and start pumping.
On the Mongol Rally, things are not so simple.
Once we crossed into countries like the Ukraine, Russia and Kazakhstan, filling up the gas tank became a choreographed ballet of tasks for each person.
We were quite awkward at first, but once we got the hang of the art of the fill up, we passed through gas stations with ease.
How to Fill Up a Car on the Mongol Rally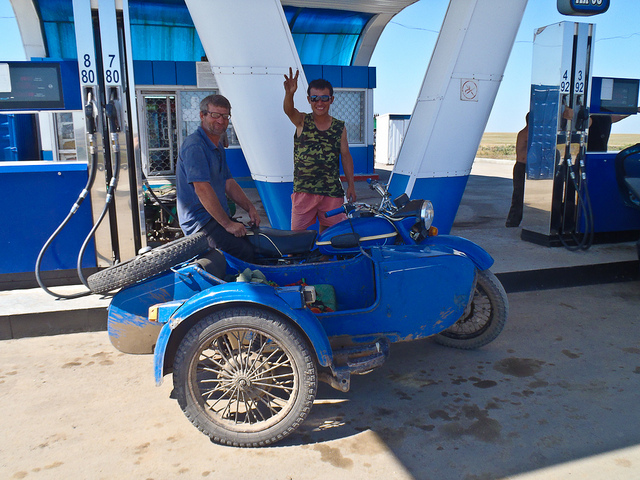 Know Your Tank
The first order of business was to look at how much gas we had in the car. You must know how much fuel your tank holds or this could get you in some trouble and cost you money. Our tank holds 50 litres.
Why do you need to know how much gas your gas tank holds you ask? Well, you have to prepay and it can't be in a monetary value. You need to tell the attendant (almost always a well dressed woman wearing either a matching pant suit or high heels) how many litres you need and what type of gas you want.
We aimed low on our first attempt so that we don't overpay for gas. Although we have a gerry can to put the excess in if it ever does happen. We were below the half way mark but didn't' want to throw away our precious dollars, so we told her to put in 20 litres.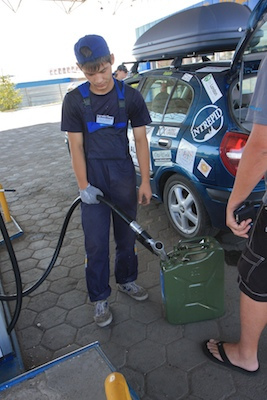 Language Barriers
It's still not that simple, you need to know what type of gas you need. Unlike Canada, diesel spouts aren't a different size than gasoline and nothing is clearly marked. The Cryllic Alphabet doesn't resemble English so we shout the words "Nyet Diesel" (No Diesel) and pray that they understand. Nyet and Da go a long way when communicating in this part of the world.
Once we figured out that gasoline grade of 95 was what we wanted, life became easier. We now knew to ask for 95.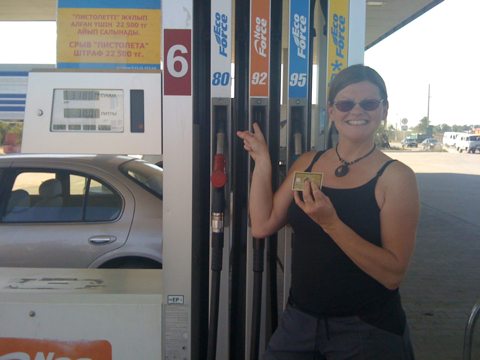 How did we learn all this? I am sure that you think we are very clever don't you?
Well, we aren't at all. It was all understood a few fill ups into our trip. After bumbling our way through, we happened upon a gas station that had a friend who spoke English. The attendant put her friend on the phone and she translated for us.
She said, how many liters do you need? I guessed about 30. She then said that you need to figure out what grade you want. We decided 95 was good. Another team told us to never go for 92, it was crap. 95 would get us to Mongolia. That is until you reach Kazakhstan, then a whole other number is introduced and now we use 93.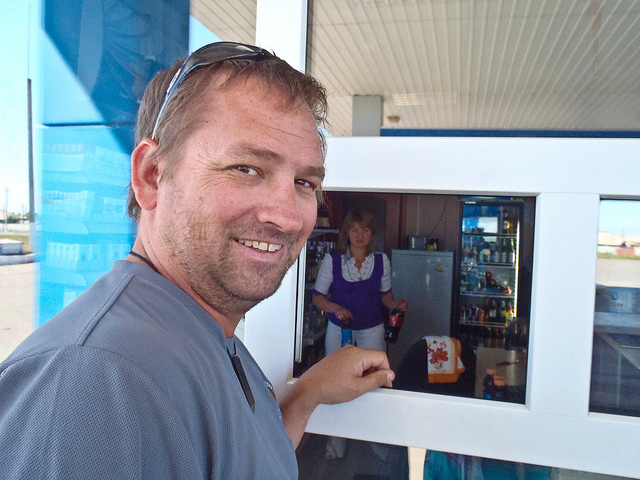 After stumbling through the conversation, we wrote down the following on a piece of paper and have never stopped using it..
30 Litres
95 Petrol
These two phrases have made life easier.
We now pull into the station when we are at a half of tank of gas and fill up like a well oiled machine. We all have our tasks.
Sherry normally runs to the outhouse and then comes back to give us the update as to whether we should pee here or not, Rick buys us some snacks, Dave stands by the gas pumps to figure out how much we will owe and to make sure the attendant fills up with the right grade, while I go in to ask for the amount of litres to buy and pay.
The oddest thing is that most gas stations don't allow you inside. A woman sits in a little dark office behind bars and you hand her your credit card or cash along with your note and hope that she understands. She then spits out the change or reciept and you never really get to see her face.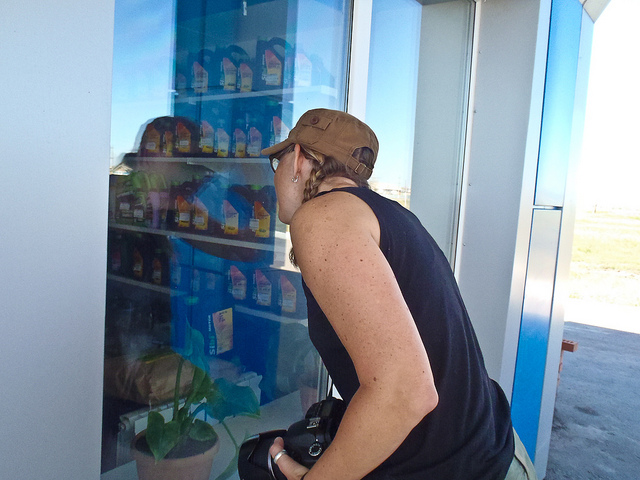 When you do want to buy snacks, you press your nose up against the dark glass to see what they have. In your broken English you point at the products while they try to decipher what you want.
I'll have the chips on row two? And she heads to the Coke on the top shelf. You nod your head no and keep pointing until she gets it right. We never seem to get exactly what we want, but it will do.
We now have a full tank, a few treats to eat on the road, some empty bladders to head on for another 500 or so km until we have to find a place to lay our head for the night.
Just another day on the Mongol Rally.
Read More
Tips for Driving the Mongol Rally
Mongol Rally – Punctures are Part of the Game