The call to prayers are playing in the distance as I write my first entry from Cairo enjoying a local beer on the rooftop patio of the Dahab Hostel. The mystical city that tops almost everyones must see list has finally revealed itself to us.
Hello Cairo
We arrived 1 1/2 hours late on January 3rd, but our driver was waiting patiently to pick us up at the airport. We cannot tell you what a great feeling it was to see our names written on cardboard after 12 hours of travelling. I don't think that we could have handled trying to find a taxi, haggle over a price and make our way to our hotel with our backpacks and giant bike boxes in tow.
The Cataract Pyramid Hotel was pleasant enough with swimming pool, a couple of restaurants and close to the pyramids, but quite isolated from everything. We made our way downtown to a small guest house in the heart of the city and we feel more at home experiencing the real Cairo, eating local food and chatting with local people.
But before I go on, I have to tell you about our day at the "Main Event," here in Egypt. The Pyramids.
We have been to Machu Picchu, Tikal, Angkor Wat and Chitzen itza, but there has always been a draw to see the mother of all temple and ruins, the Pyramids of Giza. And they have delivered.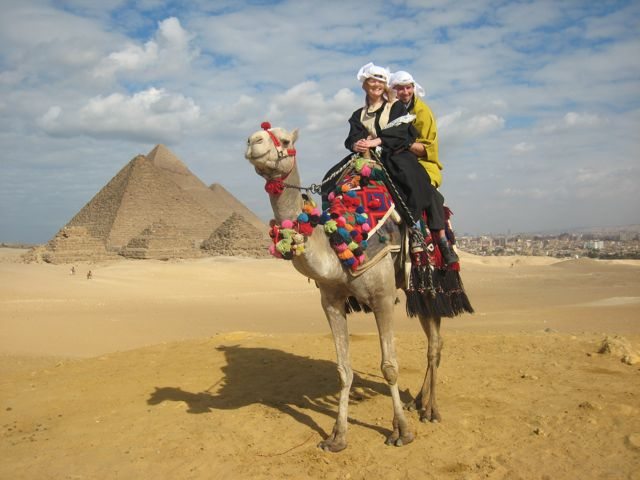 Exploring Cairo
We rode around the massive desert grounds on camel and horseback, checking out the Sphinx and the 3 main pyramids, Cheops, Chephren and Mycerinus. It was magical. We were so happy that our driver, Iman talked us into seeing them by camel.
We mounted our rides at a small shop several blocks from the sight and made our way through the labyrinth of alley ways where we entered the sight through the back door. Three hours exploring the grounds stopping for photos and learning about the history gave us our fill and we topped it off with a nice shot of Turkish Coffee while we were treated to a display of fragrances with hopes that we would buy.
Little did they know that we may have smiles on our faces, but we had no intention of buying a thing! Our pyramid tour was now over and on to the rest of the attractions.
The Cataract
Our day today consisted of checking out of the Cataract who is storing our bikes and moving to the Dahab.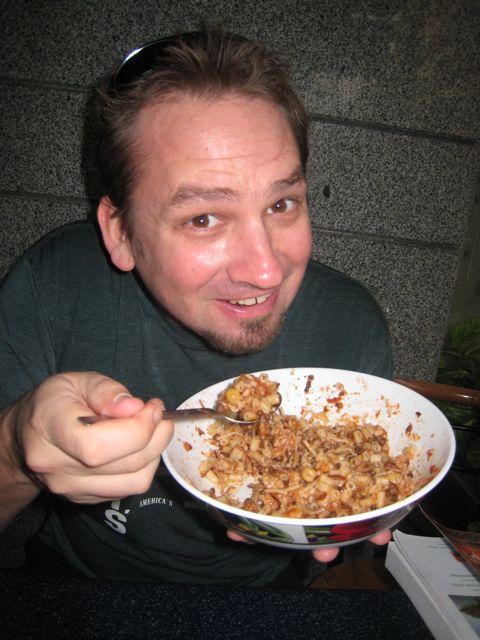 I highly recommend this place. Quiet, friendly and a fantastic location We walked to the Egyptian Antiquities Museum just a couple of blocks away and had a great lunch a the El Tahir restaurant trying the local dish Kushani, a noodle, rice lentil and onion dish in a spicy tomato sauce.
Mmm Mmm Good and even better that it was less than a dollar per person.
We are off to the white desert tomorrow for 3 days, so we will be off line for a little bit, but back with more pictures on the evening of the 8th. On the 9th, we are visiting a Plan Canada Project which we are really looking forward to and we will be posting our photos from the experience that evening.
The 11th is our riders meeting and can you believe it, we leave the next day for our 12,000 km odyssey. Man we are psyched.
Be sure to check out our photos in our gallery. We have the pyramids added!
Read More
42 Amazing Ancient Ruins of the World
Egypt – A photographic journey
Surviving Scary Moments While Traveling the World