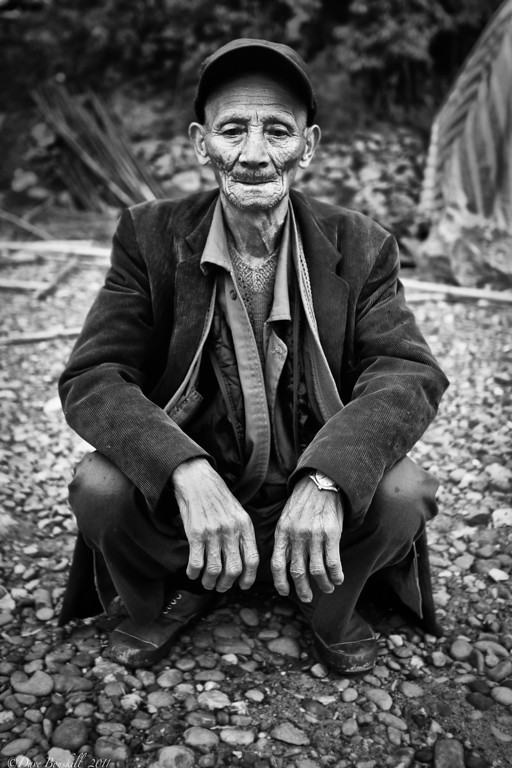 We had just stepped off our bamboo raft on the Li River in China.
It had been a glorious morning witnessing the incredible karst formations of Yangshuo. The pier was busy with fishermen heading out for the day and bamboo rafts getting ready for their tours. We were grateful for starting our tour so early as we barely saw another person on the river.
Fisherman Rests after long day on the Li River in Yangshuo, China in Black and White
As we walked up the river bank, this kind old man was sitting by the stairs greeting people as they walked by. As we walked near he smiled and waved. His toothless grin was contagious and I motioned to ask him if I could take his photo.
He was extremely happy to pose for me.
As I set up the shot, he suddenly became very serious. You know the face that people do when they don't have their pictures taken often? He put on his, "I'm having my picture taken," face. This man's entire demeanor changed as he sat for my photo. He stared into the camera concentrating on being a still and a good model, and a very good model he was.
Immediately after I snapped the picture, I showed him my camera and he started laughing and returned back to his jovial self. He slapped his knee, shook my hand and laughed and laughed at his image on my camera.
It was a very good day.
Read More
Things to do in China – Must-See Attractions and Places to Visit