Who hasn't dreamt of going to Egypt?
We were recently in Seattle talking with the executives of Expedia.com and while all of them are well travelled and have been all over the world. When we told them they were going to Egypt next, they talked of how it was either their favourite destination or for those who hadn't been there, their dream destination.
Egypt Attractions
It is filled with iconic landmarks and remarkable landscapes. It has a rich history and strong culture and it boasts world class diving, incredible beaches and exciting nightlife.
Egypt has it all.
In honour of our current trip to Cairo where we are speaking to the tourism industry about working with Travel Bloggers, we thought that we would revisit our favourite sites in Egypt. We spent a few weeks there before and during our cycling race from the top of Africa to the bottom of the continent and we are so excited to be going back to see more!
Pyramids of Giza
We hired a camel, a horse and a guide to take us to see the pyramids. Weaving through the back streets of Cairo on our trusted steeds, we entered what seemed like a shady opening to the grounds. Are we going to get anywhere near them? Well actually yes!
We road our camels through the desert right up to the massive structures. Our guide urged us to walk up the steps and we weren't sure if we were allowed or not, but we graciously accepted.
After touring around the 3 main temples, they took us to a high dune overlooking the complex. Yes, we were being scammed and taken to the cleaners by the nice old man that kept layering us in robes and head dresses, but even though it cost us a bit of cash, we couldn't put a price on securing this photo.
White Desert
We arranged a $15 a day tour to the White Desert through the Dahab Guesthouse in downtown Cairo. It ended up being an incredible trip. We were told, if there is one thing you should do in Cairo, it sees the White Desert. We listened and it didn't disappoint.
Giant White structures jutted out of the desert landscape creating incredible formations. Brought on by erosion, these chalky mounds create the illusion of massive mushrooms, eagles and turkeys and even one that looks like a camel.
Experiencing a true Bedouin experience, we camped out under the stars. With just 3 walls made of blankets to blog the cold desert wind, we slept under thick sleeping bags and blankets grateful for the warm tea that our guides made us after our delicious Bedouin meal.
Abu Simbel
Located on Lake Nassar we caught a glimpse of this monument from our ferry to the Sudan.  The staff of the ferry told us to make sure we were out early in the morning to witness this wonder as we passed by.
Originally located on The Nile, Abu Simbel needed to be moved when the Egyptians created the Nile Dam project. It would have been engulfed by water never to be seen again until the government came to its rescue taking it apart piece by piece and rebuilding it high on the banks of the lake.
Built as a monument for Ramses the IV, this would definitely be enough to deter invaders from entering his kingdom.
Nile River Cruise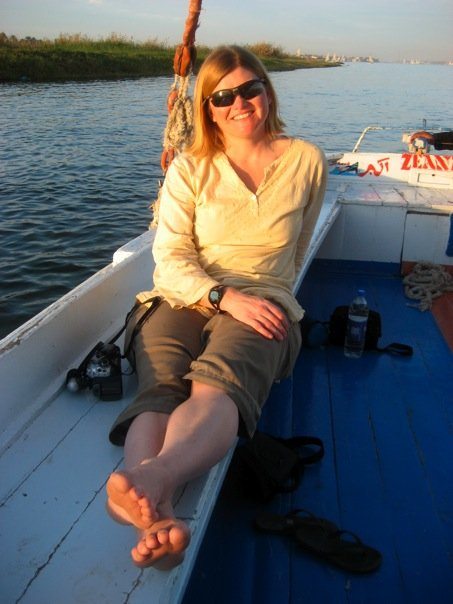 When in Cairo, you must book a dinner cruise on the Nile. It is here that you can sample Egyptian entertainment such as belly dancing and the Whirling Dervishes. Pass along the cityscape while you enjoy authentic Egyptian cuisine and imagine what legendary heroes and villains floated along these waters over the centuries.
Valley of the Kings
We were all fascinated with King Tut as children and it is here that you can visit his tomb. It is here that you can visit every King of the Pharoahs tombs. Ramses, I-V and everyone else in between were laid to rest here in extravagant tombs filled with riches and jewels.
You won't see the treasures in these tombs today, but you will see the paintings and hieroglyphics drawn on the walls of these massive chambers that are as big as a house.
The tombs are impressive but the valley itself is even more incredible. I can see why the ancient Egyptians chose this as the resting place of their most important leaders.
Temple of Hatshepsut
This impressive temple is dedicated to the female King Hatshepsut. Leader for 27 years, she has a monument to rival even the greatest of kings. Built between 1490-1460BC.
It is impossible to imagine that the Nile reached the grounds of this temple complex and that the area surrounding it was lush and green. Today the desert is dry, but the temple is no less impressive.
Felucca Ride in Luxor
So your Egypt holidays are going great.  You've done a Nile dinner cruise in Cairo, now its time to feel the wind in your hair on a sail boat in Luxor. We simply walked down to the river to find ourselves a boat for the afternoon. We walked along until we found a captain we felt comfortable with and negotiated a deal for him to take us out for a few hours.
Sailing along the fabled Nile, I wondered exactly what bank Moses was left on? I don't know a lot about the bible, but I do know that he was sent floating down the Nile somewhere!
The sun was shining as we lazily drifted pass the cityscape. Camels and goats walked along the river banks and the day was silent as we fulfilled yet another one of our dreams.
Red Pyramid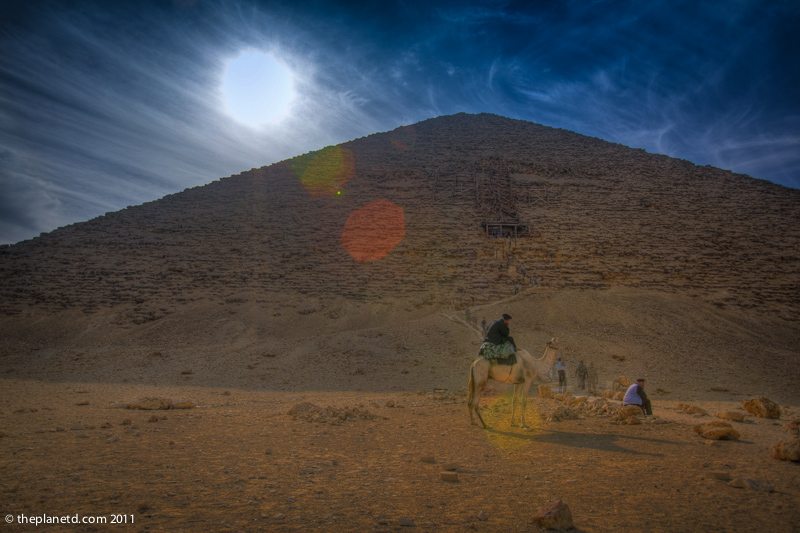 Checking off the Bucket List
When visiting Egypt, you will check off many of those items on your bucket list. For us it was Sleep in the Desert, Sail on the Nile, See the Pyramids and Visit King Tuts tomb. We did it all and what do you do when you've accomplished something?
Add to it of course.
We now have a new bucket list that is ever evolving.
This time in Egypt, we'll actually make it inside the Egyptian museum and take a tour to Alexandria. Stay tuned for more coming from Egypt.
Read More
Discovering Egypt: A Photo Story
10 Reasons Why El Gouna, Egypt is the Perfect Beach Holiday