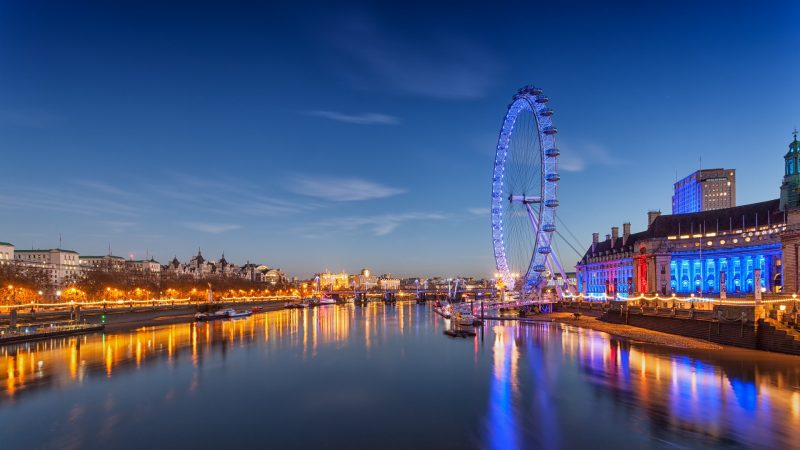 England is a great place to visit. Full of history, it is an impressive place to visit. See iconic landmarks like Big Ben, royal palaces, historic buildings, and sights like Stonehenge, which dates back to the stone age.
England is also home to more fast-paced cities like London, which offers great shopping and nightlife and many events.
Add in great natural beauties like the River Thames and popular sports like football (soccer to the U.S.) and it has something to offer for everyone.
This England travel guide will help you plan your next vacation.
Fast Facts
Power voltage is 230V at 50 Hz.
The official currency is the Pound Sterling and 1 Pound Sterling is equal to 1.22 USD.
The best way to get around is by bus (coach) or car.
To enter, you will need a U.S. passport.
Vodafone, 02, Three, and EE Mobile are the main mobile provider and a prepaid SIM card can be purchased through any of them.
The value-added tax (VAT) rate is 20%.
Budgeting
Accommodation
Budget – You can find prices for hostels in the range of 12-70 pounds sterling per night. Enjoy dorm-styled or private rooms, free Wi-Fi, great city locations, lounge areas, and a bar.
Mid Range – For mid-range hotels, expect to pay between 80-160 pounds sterling per night. These hotels come with private rooms and suites, free Wi-Fi, a hotel restaurant and bar, a fitness center, a spa, and occasionally a pool.
High End – Upscale hotels can range from 160-750 pounds sterling per night. These luxury hotels are set in high-end neighborhoods and feature polished rooms and suites with flat-screen TVs and kitchens, fine dining with international cuisines, a gym, a spa and hot tub, business centers, 24/7 room service, an indoor pool, and the highest-quality of service.
Check out our favorite booking platforms Booking.com, Tripadvisor and Air B&B for the best deals on accommodation in England
Food
Food: England cuisine is influenced by European, Indian, and international cuisines, and because of that is hard to pin down. For example, one of Britain's national dishes is chicken tikka masala, an Indian curry. There are more British-centric dishes to try as well. Look for fish and chips (chips being the equivalent of French fries) and Shepherd's pie (meat pie) when out and about or try bangers and mash (sausage and mashed potatoes). In total, expect to pay around 30 pounds sterling per day for food.
Transportation
Getting to: Heathrow Airport, located 14 miles from Central London, is the main international airport. Manchester and Edinburgh both have their own airports as well.
Flights: You can check for the best flights to England on Skyscanner.
Train: Trains are a good way to go between cities. Travel from London to Manchester in as little as 2 hours and payjust 24 pounds sterling when booked in advance, or about double that price when booked later.
Metro: London has its own underground metro (or Tube) that runs 24/7 and is considered one of the fastest ways to travel through the city. A typical fare is about 4.90 pounds sterling.
Bus: Buses are a cheap way to get around, with a typical fare being 1.5 pounds sterling. You can also find long-distance coaches to travel between cities. Go from London to Liverpool in about 6 hours for 8 pounds sterling.
Taxis: Taxis are a good way to get around. Taxis have a starting fee of 3 pounds sterling and increase 6-9 pounds sterling per mile traveled. Take a taxi from Heathrow Airport to Central London for about 50-90 pounds sterling depending on traffic.
Uber: Uber is available throughout England.
Rent a car: To rent a car, you need to be generally at least 21 years old (drivers under 25 have 30-40 pounds added on to their car rental price per day). Prices start at 35 pounds sterling per day.
You can also compare rental car prices here
Places to Stay
Point A Hotel, London Kings Cross St. Pancras: Perfect for those who are ready to explore London, this hotel is just a quick stroll to Kings Cross Station, as well as the popular Kings Cross neighborhood, which has numerous nightlife clubs as well as museums and churches. The hotel comes with private rooms that have flat-screen TVs and mood lighting, breakfast, and free Wi-Fi.
The Westin Birmingham: When in Birmingham, stay at the Westin, located close to the Birmingham Museum of Art, McWane Science Center, and Linn Park. Amenities include a heated outdoor pool, a variety of rooms from traditional to executive suite (with added living and dining areas), room service, a golf course and a fitness center, a hotel restaurant and bar, and laundry service.
Hotel Gotham: Stay in the retail district of Manchester at this artistic five-star hotel. The Manchester Art Gallery and National Museum are also nearby, as is the Palace Theatre. The hotel comes with private rooms with flat-screen TVs, a private bar/club with terraces that overlook Manchester, room service, and free Wi-Fi.
Packing Tips
Power Adapter: As the voltage is higher than the US, bring a power adapter to charge your electronics.
Walking Shoes: With so many outdoor activities, bring a pair of sturdy walking shoes to keep your feet comfortable.
Raincoat: Keep yourself dry by bringing a raincoat.
See our packing tips: packing tips
When to Go
The two best times to visit England are March-June and September-November. In these months, you can experience the great spring and fall seasons while avoiding the peak tourist crowds between July and August. In September and October in particular, you can find very good deals on flights. Since England has a fairly consistent climate, you will not miss out too much on summer sunshine, as the temperature stays between 50-70 degrees Fahrenheit for most of the year.
Things to Do
National Football Museum: If you're a fan of soccer (or football as it's known in the UK), you will love this museum in Manchester. Open daily, seenumerous artifacts and archives, including gold medals and historic footballs that range from the 1800s to the 2000s, at the world's largest football museum.
Big Ben: You've probably seen it in movies or postcards, so now see this iconic landmark up-close. Standing at 96 meters, this clock tower makes for some great and memorable photographs. While you may not be able to go inside the clock tower, you can take a tour of the Houses of Parliament located next to Big Ben.
Stonehenge: Considered one of the wonders of the world,step back in time and visit this prehistoric monument that dates back to the stone ages. See the stone circle, walk through Neolithic houses, and head to the exhibition center to see 250 artifacts (including tools and human remains) from a very different time.
Buckingham Palace: No trip to England would be complete without a stop at Buckingham Palace. Home to the Queen of England, this royal palace is full of history. Take a guided tour to explore the State Rooms and the magnificent gardens.
The Tower of London: Also known as Her Majesty's Royal Palace and Fortress of London, the tower isa historic castle that makes an excellent trip. Take a tour to see the inside and outside of this castle, including where the Crown Jewels are kept, and make sure to bring your camera.
Booking Resources
Whenever we travel to we make sure to start with these companies.
We have tried a lot of different ones over the years and all of these have consistently proven to be the best when it comes to offering great prices.
We have used every one of these personally and continue to do so.
Booking.com: This is our go site to when comparing prices for accommodation. It is usually the has the cheapest prices, not to mention you get free cancellation and you are guaranteed the best price.
Trip Advisor: What we like about Trip Advisor is that we can look at all the reviews and then book our accommodation.
Air BnB: Airbnb is the main search engine we use when we are looking for a home or apartment rental. It is the best way to stay in areas that offer a more local feel.
Skyscanner: This is the first place we check for flights. It consistently comes back with the cheapest and best options. It allows us to compare a lot of airlines to get the best price.
Hostelworld: With one of the largest databases of hostels in the world, Hostelworld is the go-to site when you are looking for budget accommodation.
Rome 2 Rio: If you want to see how to get somewhere by plane, train, bus, ferry or car Rome2Rio lays it all out for you as well as related costs. I love how they show it all to you on a Google Map and it works offline.
Get Your Guide: For all your day trip and city guide needs, we use Get Your Guide. It has the world's largest collection of things to do with more than 30,000 activities in 7500 destinations.
World Nomads Insurance: When traveling you should always have travel insurance. We do.
Related