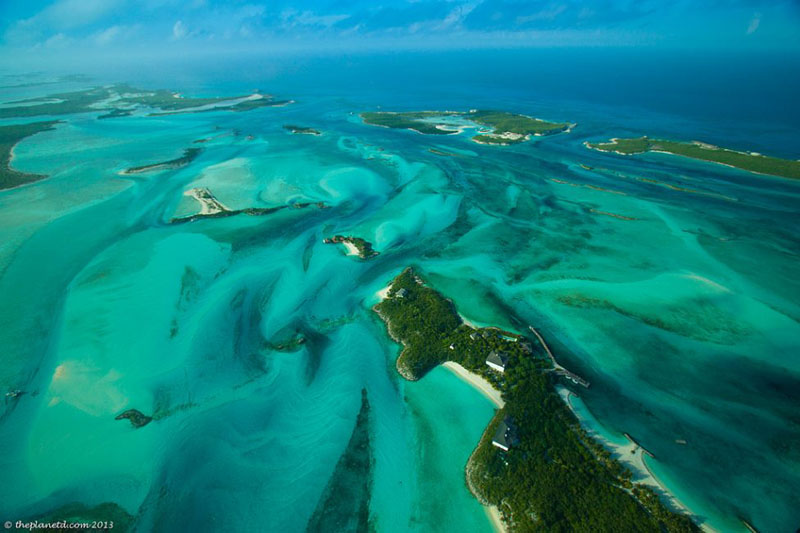 Located in the Atlantic Ocean, the Bahamas is a country in the Lucayan Archipelago of the Caribbean.
Consisting of 700 islands, it makes a dream (and popular) vacation. Stay at one of the many resorts and walk on white (and pink) sand beaches, dive and snorkel in underwater limestone caves, kayak in the ocean, swim with pigs, feast on great seafood, or just relax and enjoy the beautiful ocean views. There are many things to see and do in the Bahamas.
This Bahamas travel guide will help you plan your next vacation.
Fast Facts
Power voltage is 120 V at 60 Hz.
The official currency is the Bahamian Dollar and 1 Bahamian Dollar is equal to 1 USD. U.S. Dollars are accepted in the Bahamas, though the change will usually be in Bahamian Dollars.
The best way to get around is by bus.
To enter, you will need a U.S. passport. A visa is not required if your stay is under 30 days.
BTC and aliv are the main mobile provider and a prepaid SIM card can be purchased through any of them. You can find a SIM card at the company's official store, the airport, or local supermarkets.
The sales tax rate is 12%.
Budgeting
Accommodation
Budget: You can find prices for budget hotels in the range of 80 to 200 Bahamian Dollars per night. Enjoy private rooms, free Wi-Fi, good locations, an outdoor pool, and free breakfast.
Mid-Range: For mid-range hotels and resorts, expect to pay between 200 to 350 Bahamian Dollars per night. These hotels typically come with private rooms with ocean views, outdoor pools with lounge areas, a restaurant and bar, beach access, fitness areas, diving and snorkeling facilities, and more.
High-End: Upscale hotels can range from 350 to 950 Bahamian Dollars and beyond.
Take in the best with top-of-the-line hospitality, private suites with flat screen TVs and balconies, multiple fine dining options serving a variety of cuisines, babysitting services, kid clubs, casinos, golf courses, spa services, and more. For those traveling without kids, you can also find many adult-only resorts.
Check out our favorite booking platforms Booking.com, Tripadvisor and Air B&B for the best deals on accommodation in The Bahamas
Food
Food: Bahamian cuisine favors seafood (such as crab, lobster, and fish), tropical fruit, rice, potatoes, pigeon peas (a type of legume), and pork. Conch (sea snail) is considered the national dish.
Pigeon peas and rice is a popular side dish for meals, as is baked crab (with the crab baked inside of its shell and served with an egg). When out and about, you can look for street vendors that serve items like conch fritters (fried conch) or tropical fruit smoothies.
The Bahamas also has a variety of restaurants where you can sample authentic Bahamian cuisine. Expect to pay around 20 Bahamian Dollars per meal for most restaurants, or about 70 Bahamian Dollars for more expensive places.
Transportation
Getting to the Bahamas: The Lynden Pindling International Airport is the main airport to fly into and is located in Nassau, the capital of the Bahamas. The Grand Bahama International Airport in Freeport (found on the Grand Bahama Island in the northwest Bahamas) is another popular one.
Flights: You can check for the best flights to The Bahamas on Skyscanner.
Boat/Ferries: Boats are available in Nassau and Paradise Island regions daily from 9 AM to 6 PM. Fares come at 3 Bahamian Dollars.
Bus: Buses are a cheap way to get around, with a typical fare being 1.25 Bahamian Dollars. You can find a bus by going to a bus stop or waving one down.
Taxis: Taxis are a good way to get around and are generally metered, especially in major areas like Nassau and Freeport. Take a taxi ride from the Lynden Pindling International Airport to downtown Nassau, for example, for about 30 Bahamian Dollars. Cash only.
Rent a car: To rent a car, you need to be at least 25 years old and have a U.S. driver's license. Some places may rent to you if you are under 25, but there will be additional charges. Prices start at around 80-100 Bahamian Dollars per day.
You can also compare rental car prices prices here
Places to Stay
Sandyport Beach Resort: When in Nassau, stay at this top-rated hotel. Just minutes from numerous beaches, including a lagoon beach, this resort is known for its relaxing vibe. Choose from a variety of rooms (standard to three-bedroom suite) and enjoy amenities like a basketball court and tennis court, three swimming pools (including a kiddie pool with water slides), diving and fishing facilities, and the hotel restaurant. The Sandyport Marina Village, perfect for shopping, is close by.
Viva Wyndham Fortuna Beach: Just a quick trip to Lucaya beach and the Taino Beach, come stay at this all-inclusive resort in Freeport. Featuring its own private beach, this resort has numerous things to do. Swim in the outdoor pool, visit the high-tech fitness center, play some tennis, take a Caribbean dance lesson, relax in the jacuzzi, and enjoy nightly live entertainment, among other things.
Warwick Paradise Island Bahamas: Adults 16 years and older will love this adults-only hotel in Paradise Island. An all-inclusive resort that features a 10,000 square foot harbor terrace that oversees beautiful harbor marinas, as well as the hotel's private beach, this is sure to be a great getaway. The numerous amenities include the fitness center, an outdoor swimming pool with poolside bar, a game room, massage services, karaoke, bicycle rentals, and nightly entertainment.
Packing Tips
Swimsuit: With so many beaches to explore, make sure to pack a swimsuit.
Sunscreen: Protect your skin from the beautiful sun with some sunscreen.
Lightweight clothing: As the weather is hot all year, bring some lightweight clothing to keep you comfortable.
See our packing tips: packing tips
When to Go
The best time to go depends on your budget and what you hope to do in the Bahamas. For the cheapest airline tickets, go in January. If you want to see the Bahamas in their peak, go between December and April. For cheaper rates on hotels and fewer tourists, you can go in the fall, though be warned that hurricane season is between June and November and the weather can be more humid than in the spring.
Things to Do in The Bahamas
Thunderball Grotto: Diving fans will love this underwater cave in Staniel Cay.Featured in two James Bond films ("Thunderball" and "Never Say Never Again"), this site has great marine life like angel fish, coral reefs, and yellow-tail snappers, making it perfect for diving or snorkeling.
Lucayan National Park: This 40-acre national park is a great day trip.With an underwater limestone cave system (one of the largest in the world), nature trails, and the spectacular Rock Island Beach, there is plenty to do here.
Pig Beach: See something different at this uninhabited island that features pigs.Swim with the pigs in the water and take some fun photos.
Nassau Straw Market: If shopping is your thing, head down to this popular flea market. Open daily between 7:30 AM to 5 PM, this market has great handmade crafts like straw hats, conch shell jewelry, wood carvings, and dolls, as well as souvenirs.
Ardastra Gardens, Zoo and Conservation Centre: See pink flamingos, parrots, rabbits, Madagascar lemurs, and more at Ardastra. The only zoo in the Bahamas, it makes a great trip for the whole family.
Booking Resources
Whenever we travel to we make sure to start with these companies.
We have tried a lot of different ones over the years and all of these have consistently proven to be the best when it comes to offering great prices.
We have used every one of these personally and continue to do so.
Booking.com: This is our go site to when comparing prices for accommodation. It is usually the has the cheapest prices, not to mention you get free cancellation and you are guaranteed the best price.
Trip Advisor: What we like about Trip Advisor is that we can look at all the reviews and then book our accommodation.
Air BnB: Airbnb is the main search engine we use when we are looking for a home or apartment rental. It is the best way to stay in areas that offer a more local feel.
Skyscanner: This is the first place we check for flights. It consistently comes back with the cheapest and best options. It allows us to compare a lot of airlines to get the best price.
Hostelworld: With one of the largest databases of hostels in the world, Hostelworld is the go-to site when you are looking for budget accommodation.
Rome 2 Rio: If you want to see how to get somewhere by plane, train, bus, ferry or car Rome2Rio lays it all out for you as well as related costs. I love how they show it all to you on a Google Map and it works offline.
Get Your Guide: For all your day trip and city guide needs, we use Get Your Guide. It has the world's largest collection of things to do with more than 30,000 activities in 7500 destinations.
World Nomads Insurance: When traveling you should always have travel insurance. We do.
Related