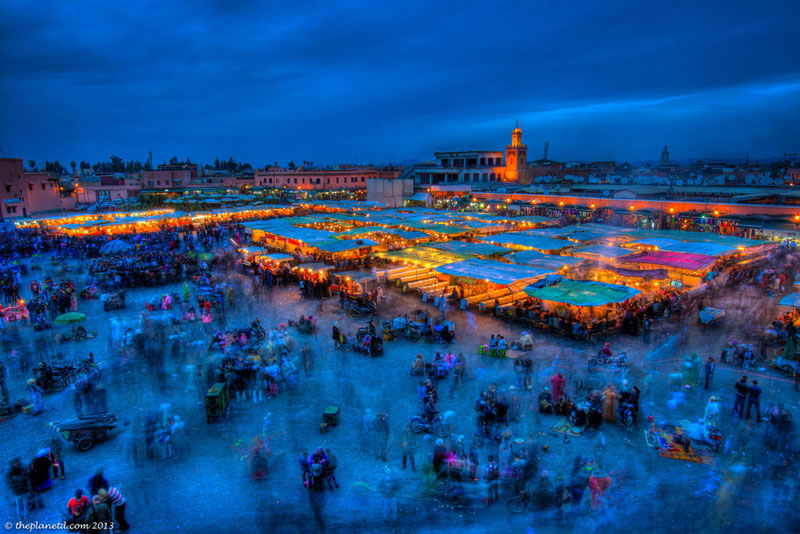 Morocco is a fascinating multicultural country blended from African, Arab and European influences.
It is our closest link to the continent of Africa and a diverse holiday destination.
The country offers an incredible amount of history, culture, art, and music along with a fascinating geographical landscape incorporating the Sahara desert, the snow-capped Atlas Mountains and the Atlantic coastline.
This Morocco travel guide will help you plan your next vacation.
Fast Facts
Moroccan power voltage is 127/220 V 60 Hz; Power sockets C & E
The local currency is the Moroccan Dirham (MAD) and is around 9.50 MAD to 1 USD
In the north of Morocco, visitors will find the Spanish enclaves of Ceuta and Melilla, claimed by Morocco and considered by the Moroccan state to be "occupied territory."
In these two towns, the main currency is the euro.
Tipping is a way of life in Morocco; almost any service can warrant a tip so make sure to bring small bills.
Haggling is also a way of life in Morocco.
NEVER pay the asking price, vendors often double or even triple the prices of an item to allow some wiggle room through the haggling process.
If you are not Muslim, you are not allowed in many of the mosques. Exceptions include the partially restored Almohad structure of Tin Mal in the High Atlas, the similarly disused Great Mosque at Smara in Western Sahara, the courtyard of the sanctuary-mosque of Moulay Ismail in Meknes and the Hassan II Mosque in Casablanca.
Moroccan laws towards alcohol are quite liberal however drinking alcohol in public places is not recommended. During Ramandan, try to avoid drinking, eating or smoking in public during the hours of fasting.
SIM Cards:
If you are traveling for a short time, we use KnowRoaming International SIM for all our travels.
Readers Receive a 30% Discount with our promo code DDSave30. You can order here and have it delivered or find out more at our post.
Budgeting
Accommodation
Budget:
Mid-Range:
High End:
Food
Meals Cost:
Transportation
Getting to Morocco:
Flights: You can check for the best flights to Morocco on Skyscanner.
Transportation:
Buses:
Car Rental:
Taxis:
Uber:
Packing Tips
Morocco is about the size of France with coasts upon the Atlantic and the Mediterranean Sea and has an arid climate.
The coastal regions generally have a Mediterranean climate, however as travelers move further inland the conditions can become more extreme and elevation can play a role in the changeable weather conditions.
Morocco is also a Muslim country
Modesty is respected and travellers are expected to follow the country's etiquette. In villages and small towns, and even in the medinas of large cities, many women still wear the veil and the street is seen as strictly the man's domain.
Women travelers should avoid wearing revealing clothes, like short shorts, low cut shirts or thin-strapped blouses.
Sarongs – I think we have sarongs in every packing list. From covering up when visiting mosques, being used as a towel or keeping cool on a hot night.
Pack loose clothing with breathable fabric – cover up with fabric you know will breathe, especially if you plan on heading into the Sahara desert or to one of the coastal regions.
Tunics are a great option as they can be dressed up or down, are lightweight and offer good coverage.
Footwear – Pack a pair of lightweight, durable and comfortable shoes. Moroccan streets can be dusty and unclean so if you are uncomfortable with the idea of getting your little piggies dirty then opt for closed-toe shoes instead of sandals/flip flops.
Kleenex / toilet paper – it is quite common that restaurant restrooms do not offer toilet paper to patrons, so make sure you are prepared.
Also, don't be surprised if you encounter squat toilets!
See our packing tips: packing list for smart travel
And see our Etiquette Tips for Travel to the Middle East
When to Go
The best time to visit Morroco is
Things to Do
Adventure
Enjoy a Four-Wheeling Adventure– join the guides of Dunes Desert Exploration and take a three hour tour in the desert on your very own dune buggy or quad bike.
Surf's up – Taghazout is a small fishing village 19 km north of the city of Agadir in the southwest of Morocco and houses some of the country's best surf spots. It is nestled amongst a set of small bays just south of the legendary surf breaks of Anchor Point, Killers, and Mysteries.
Culture
Go to a Hammam – A Hammam is a hot steam bath followed by a massage. Sounds simple enough doesn't it? It definitely can be quite the experience!
Visit Fes – Fes is the oldest city in the country and the Medina (or Fes el-Bali) is a World Heritage site. Fez is also famous for its leather products and most of it comes from the leather bazaar (souq). The souq is home to three ancient leather tanneries, the largest and oldest being the Chouara Tannery, which is almost a thousand years old.
Take a cooking course – learn how to cook traditional Morrocans dishes from a gourmet chef while enjoying great conversations, appetizers and tea.
What not to Miss
Places to Stay
Check out our favorite booking platforms Booking.com, Tripadvisor and Air B&B for the best deals on accommodation in Ireland.
Booking Resources
Whenever we travel to we make sure to start with these companies.
We have tried a lot of different ones over the years and all of these have consistently proven to be the best when it comes to offering great prices.
We have used every one of these personally and continue to do so.
Booking.com: This is our go site to when comparing prices for accommodation. It is usually the has the cheapest prices, not to mention you get free cancellation and you are guaranteed the best price.
Trip Advisor: What we like about Trip Advisor is that we can look at all the reviews and then book our accommodation.
Air BnB: Airbnb is the main search engine we use when we are looking for a home or apartment rental. It is the best way to stay in areas that offer a more local feel.
Skyscanner: This is the first place we check for flights. It consistently comes back with the cheapest and best options. It allows us to compare a lot of airlines to get the best price.
Hostelworld: With one of the largest databases of hostels in the world, Hostelworld is the go-to site when you are looking for budget accommodation.
Rome 2 Rio: If you want to see how to get somewhere by plane, train, bus, ferry or car Rome2Rio lays it all out for you as well as related costs. I love how they show it all to you on a Google Map and it works offline.
Get Your Guide: For all your day trip and city guide needs, we use Get Your Guide. It has the world's largest collection of things to do with more than 30,000 activities in 7500 destinations.
World Nomads Insurance: When traveling to Thailand you should always have travel insurance. We have found the best bang for your buck is by far World Nomads.
Related