Nobody really knows what to expect when going on an expedition to Antarctica. We know that we are going to see penguins and whales and a lot of snow and ice, but what is life like on the ship?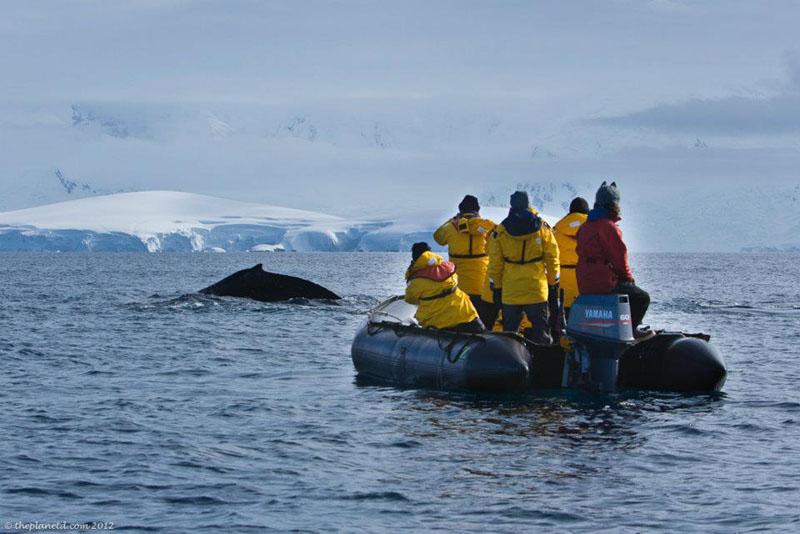 It's not like we're taking a cruise the Caribbean and are going to spend our days sipping pina colada's by the pool. Nope, a cruise to Antarctica is unlike any other cruise you will take in your life.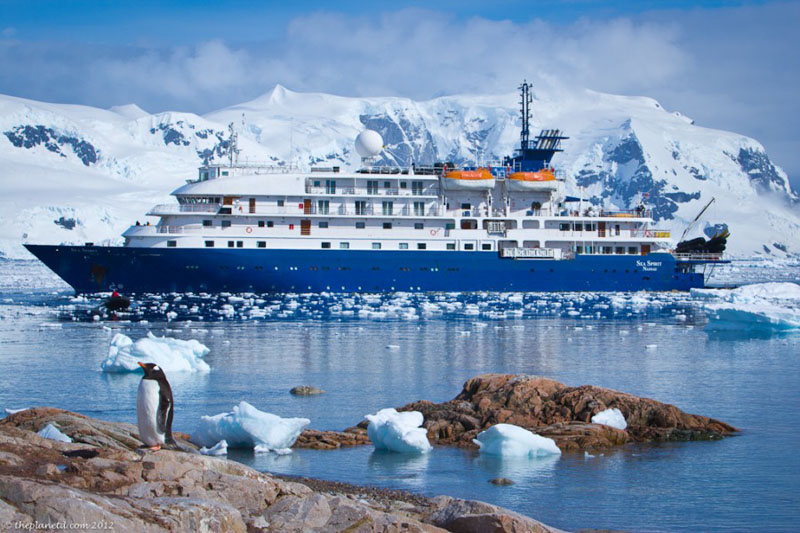 Antarctica Expedition
We had the honour of sailing on one of Quark Expeditions more luxurious ships, the Sea Spirit. They have since introduced the even more decadent  Ocean Diamond but for us, this is exactly how we dreamt Antarctica to be and wouldn't do it any other way if we had the choice again.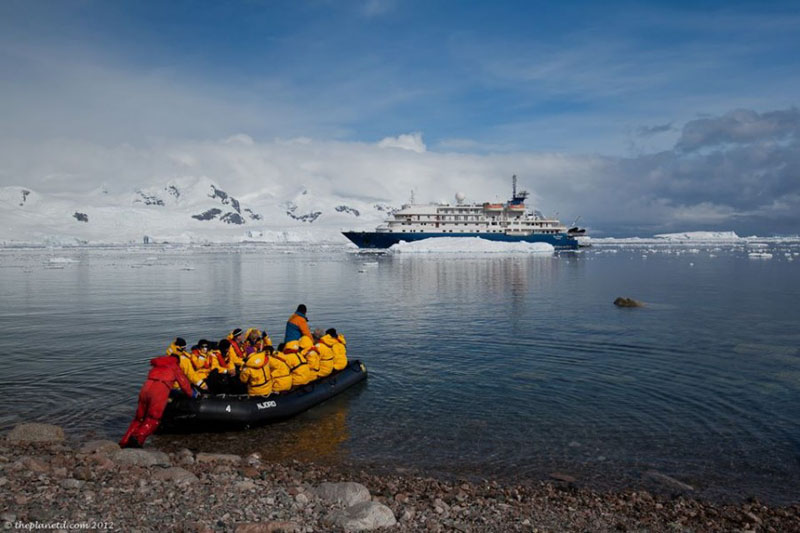 The Sea Spirit is a 90-meter long 112 passenger cabin, all suites ship. Each cabin has an outside view, flat screen tv and fluffy duvets for sleeping covered in a rich quilt like bed spread during the day.
Not that the room matters very much because you will rarely find yourself indoors.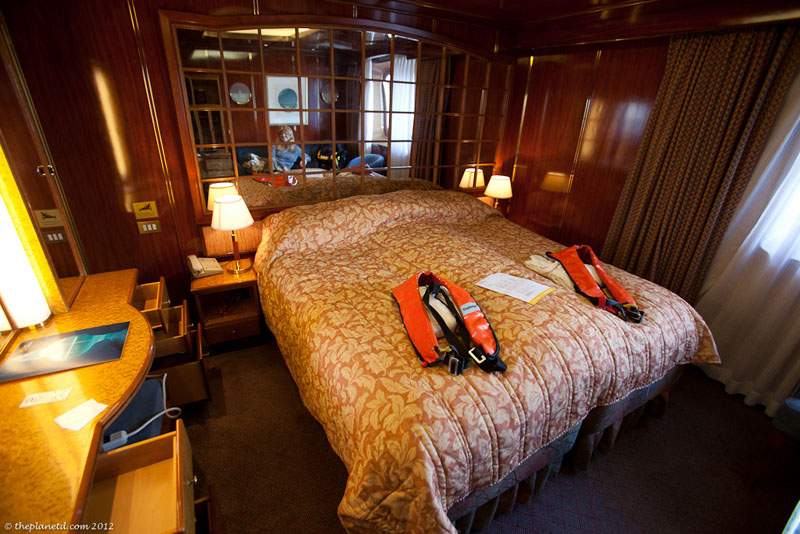 The first two days of the cruise are a time to get to know the extremely qualified expeditions staff and your fellow passengers as you cross the Drake Passage.
It's the roughest seas in the world so make sure to take your sea sick medication the minute you leave port because it doesn't take long before the water gets choppy.
There is no sense taking a chance, they say that if you wait until you start feeling nauseous it is too late.The trip starts with a pre cruise briefing where we learn about our muster stations.
We all have two sets of life jackets in our cabins. One inflatable one for our daily shore landings or zodiac tours and one regulation type life jacket for emergencies.
We also all have cold water survival suits under our beds.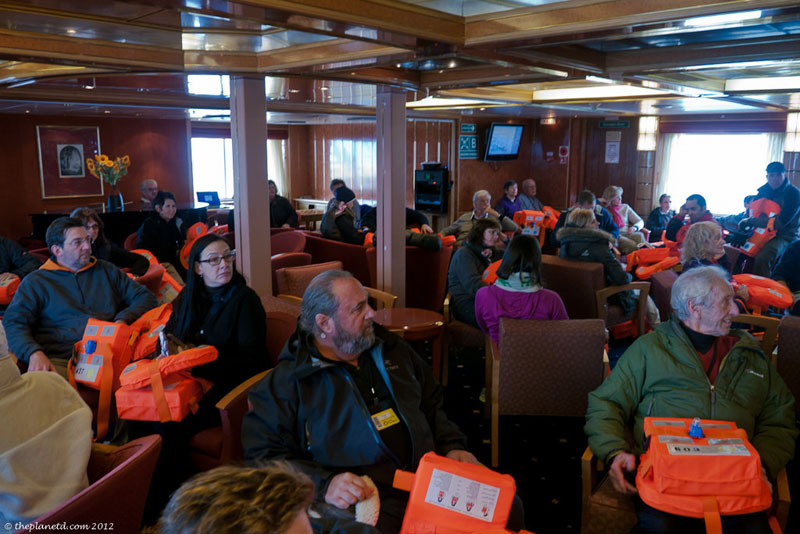 After the briefing there is free time to explore the ship and grab a drink at the bar before dinner.
The Sea Spirit has an open bar so the wine is flowing at our nightly four course meals prepared by top chefs and expert kitchen staff.
The passengers generally are a well-travelled group filled with a sense of adventure, and instant bonds are made over cocktails.
But it's an early night as the seas are already getting rough and before we fly out of our chairs, we head to the safety of our comfy king bed.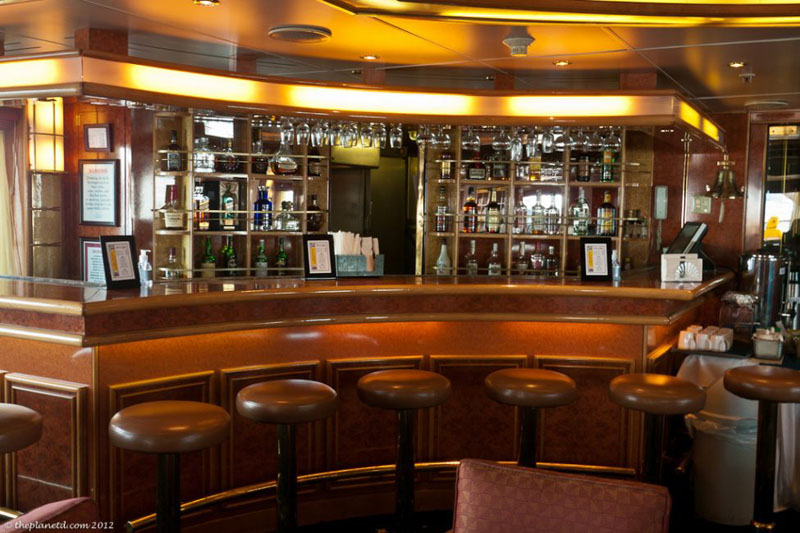 During the Drake Passage crossing is a time to get to know a bit about Antarctica.
The Quark Staff is filled with marine biologists and polar experts who lead talks on the wildlife and polar environment throughout the day.
At night before dinner we all meet for a recap of the day with snacks and drinks being served and talk about what will be happening tomorrow.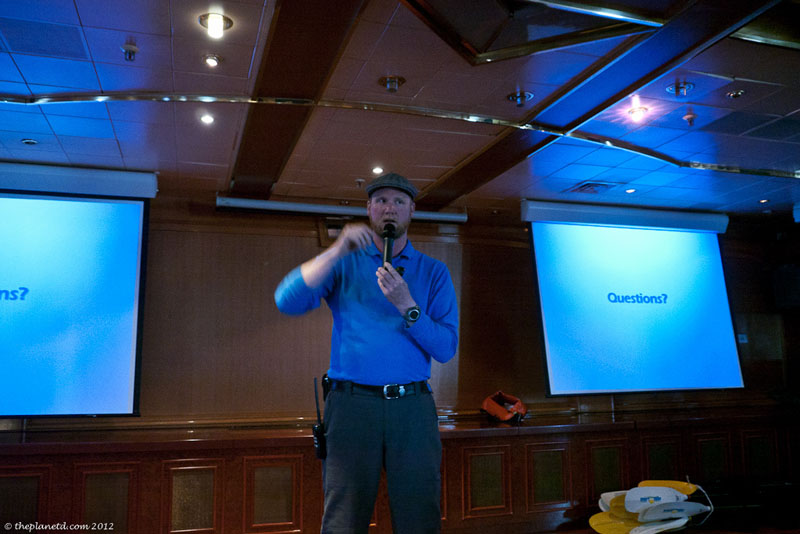 We were lucky as our Captain, Captain Peter had over a decade of experience in the Antarctic waters and we make it to the continent sooner than expected.
Not ones to slack off and take the early arrival as a chance to relax, the expedition team plans for an early landing.
Dressing for the Continent
Getting ready for landings is an arduous task at first.
We dress in our layers of long johns and micro fibre shirts, polar fleece mid layer, waterproof pants and then the signature yellow Quark Expedition parkas that are ours to keep after the journey.
They also supply rubber boots to keep our feet warm and dry and we were surprised how comfortable they ended up being.
We then put on our inflatable life vests and wait to be called out to the disembarkation station. They call our floor numbers and rotate them each day.
There are only 6 floors, so it moves quickly as we load 8-10 people at a time. It takes no time to load all 110 passengers.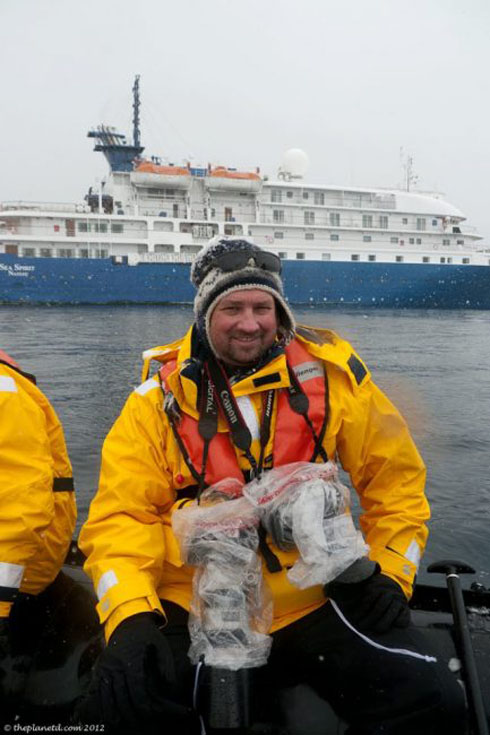 Each day is different. Some days we land on islands filled with thousands of penguins or visit an old whaling station.
Other times we spend and entire three hours on zodiacs surrounded by whales, seals and giant icebergs.
We stopped at a British research station one day and sent post cards home from the only post office in Antarctica and we visited a museum left as it was at the turn of the century giving us a peek into every day life for the early explorers.
You are never bored on an Antarctica Expedition.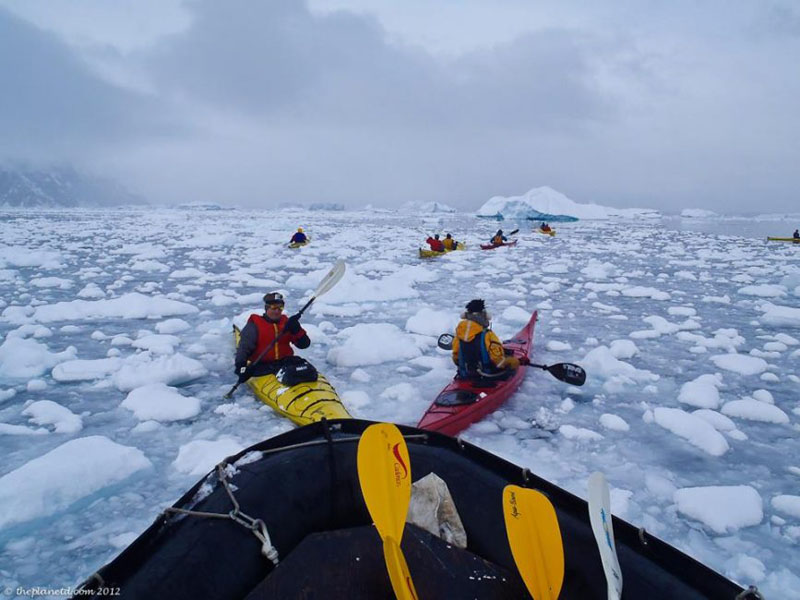 Wake up calls are early every morning, especially for the kayakers.
The kayakers met each morning at 6:50 am to discuss what we'd be paddling through each day.
Breakfast is served at 7:00 am, and by 8:30 we are all out on the zodiacs or kayaks taking part in our morning excursions.
After a few hours on shore, we head back to the ship for a buffet lunch. Some days were so beautiful that we ended up bar-b-queuing outside in the lido deck.
The relaxation doesn't last long though because as we're feasting on our meals, the captain is moving the ship to our next location.
By 2:00 pm we are back in the zodiacs exploring the next awe-inspiring location.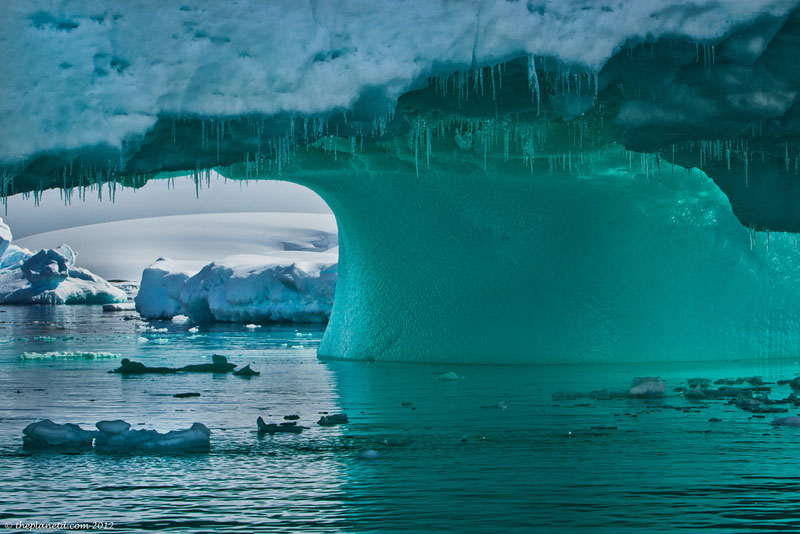 Each excursion is unique and exciting.
Some days we are checking out iceberg graveyards and others we are hiking high on a hill overlooking the Antarctic Peninsula and every chance we get, the kayakers are out paddling.
Each day is packed with activities from morning to evening.
After a full day outside, we all meet at the bar for a quick drink to exchange stories about out day.
Everyone is abuzz with the things that they saw and everyone can't wait to share what they did each day.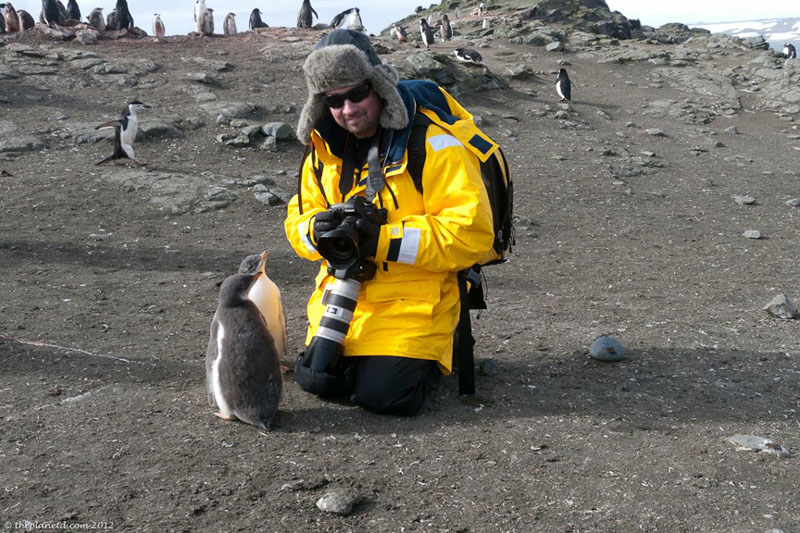 By 6:30 we meet for our daily briefing. The expedition staff's excitement is contagious.
We know that they have seen everything many times before, but they never seem to tire of it. They take turns talking about their field of expertise explaining everything that we saw.
We go through the biology right down to the krill, the history of the locations, the birds and the marine mammals and the photographic opportunities.
After our briefing it's off to dinner and as the days pass more and more people start to stay up for some mingling in the bar.
Many people head straight to their cabins as some took a few days to recover from the Drake Passage crossing and others are exhausted from all that fresh air each day.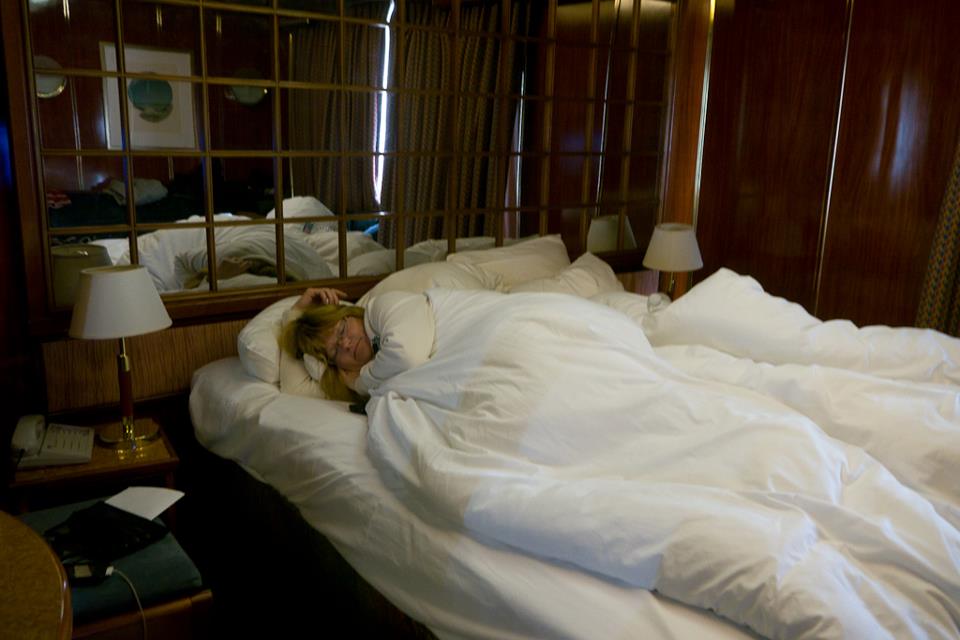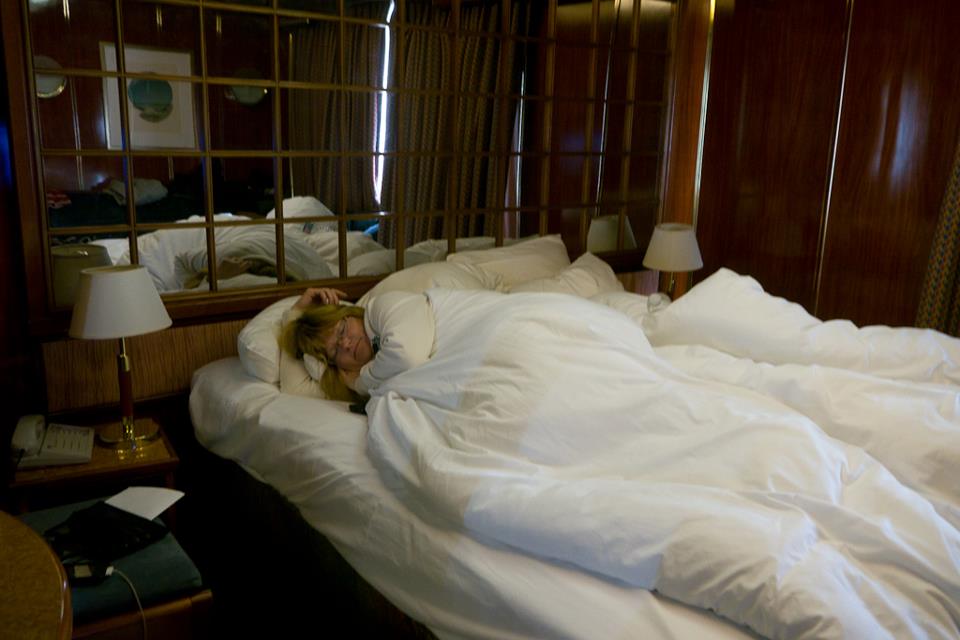 A small few stay up and get to know one another over drinks and you can guess what group Dave and I belong to.
Not that the party ever got out of control, the bar closes at 11:00 each night and it's a good thing too. That 6:00 am wake up call comes early.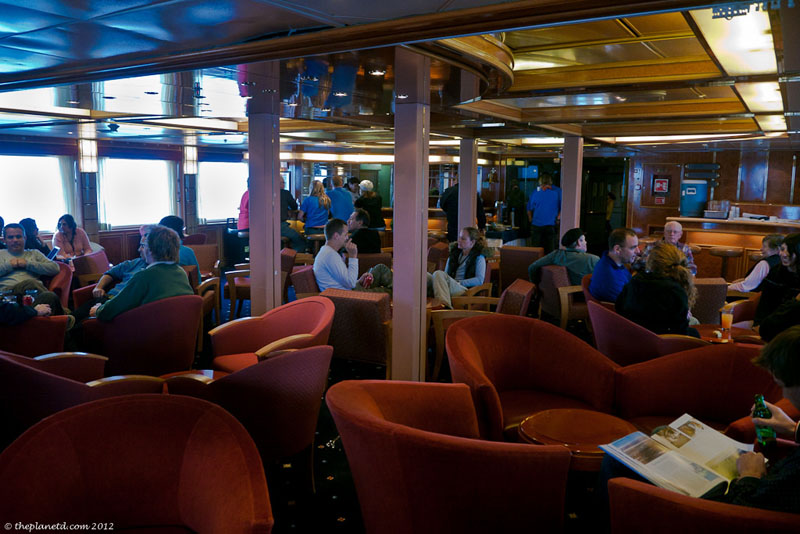 You don't have to sit in the bar and party each night, there is a great library on board and you can borrow any book that you want.
You can also sit by the grand piano sipping a scotch or specialty coffee to peruse the amazing assortment of Antarctica books.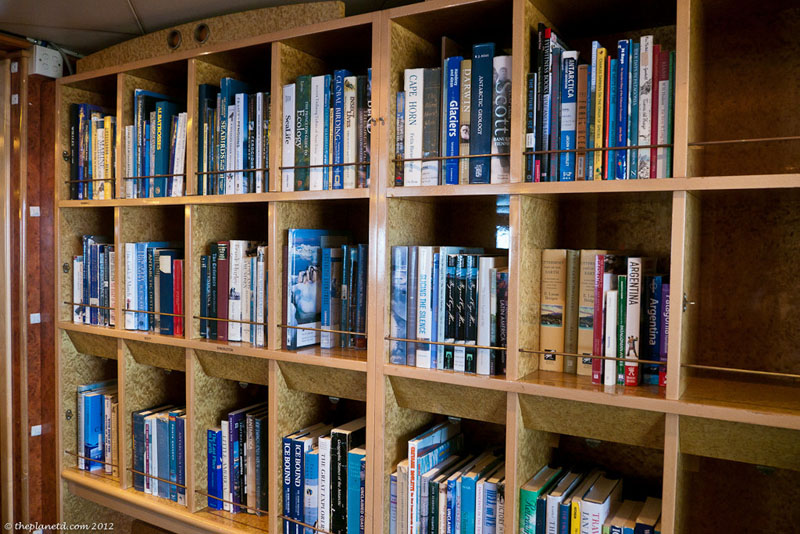 If you want to spend time in your cabin, you can sing out a movie or watch a documentary on Antarctica screened on the cabin TV's each night.
We never did read that book that we planned on checking out or watch the movie that we signed out from the library.
We were too busy having fun. I don't recall ever being so busy on vacation. We were running on pure adrenaline the entire voyage.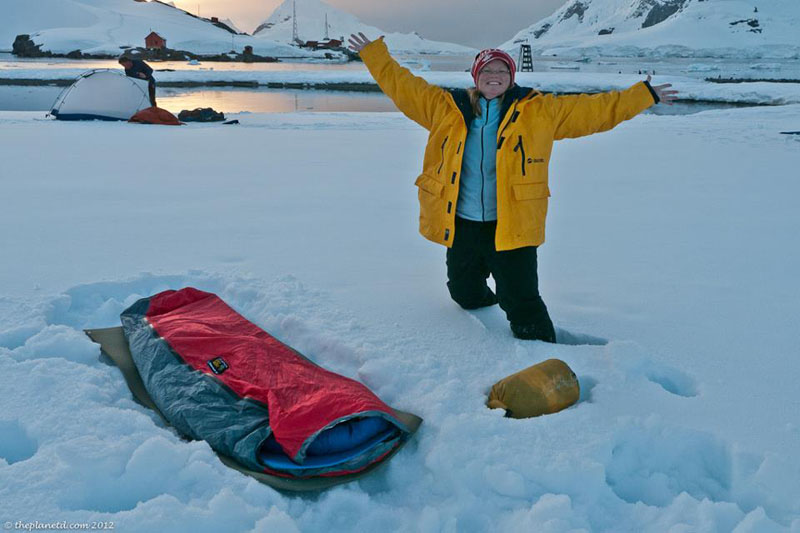 We didn't settle down and relax until our re-crossing of the Drake Passage.
It was then that we finally found ourselves laying flat and trying to relax for hours on end.
We had one of the worst Drake crossings of the season according to the expedition team and most of the ship, staff included was down for the count.
Lectures were cancelled, party nights were postponed and many a meal was missed over the course of 30 hours.
But that is another story…
Check out Quark Expeditions for planning your own Antarctic Expedition.
---
Read More
Antarctica Photography – 8 Easy Tips and Tricks
How to Pack for an Antarctica Cruise
11 of the Best Things to do in Antarctica
Arctic or Antarctica? How to Choose your Polar Expedition
SaveSave
SaveSave